Table of Contents
If you're on the hunt for the perfect topping that aligns with your low-carb lifestyle, look no further. This creamy cheese sauce recipe is not only grain-free but also a breeze to make, adding a velvety, rich layer to your favorite dishes. In just 10 minutes, you can transform simple ingredients into a sauce that's bound to become a staple in your kitchen. It's the kind of recipe that proves low-carb eating doesn't mean compromising on taste or texture.
Creamy Cheese Sauce: Why You'll Love It
Keto: Perfect for those following a low-carb diet.
Easy to Make: Less than 10 minutes and a few simple steps.
Versatile: Ideal as a topping for a variety of dishes.
Customizable: Easily adaptable with your favorite spices and herbs.
No Thickeners Needed: Achieve a luscious texture without flour or starch.
What is Cheese Sauce?
Cheese sauce, often called Mornay sauce, is a creamy blend of butter, flour, milk, and cheese, like cheddar. It's the heart of many comfort dishes, perfect for pasta, casseroles, or as a rich dip. Its creamy texture and rich flavor make it a kitchen staple. There's no flour in our cheese sauce recipe!
Ingredients & Substitutions
Heads up: For exact measurements, see the recipe card below.
Creating this sumptuous cheese sauce is straightforward—you'll need just 5 ingredients, plus optional add ons, to get started. Here's what you'll need for a smooth and creamy texture:
Heavy Whipping Cream: The base of your sauce, adding richness.
Butter: For that velvety finish and added depth of flavor.
Shredded Cheese: The main player for that cheesy goodness.
Cream Cheese: Gives the sauce body and creaminess.
Salt and Pepper: Just a pinch to enhance all the flavors.
Water (optional): To thin the sauce to your preferred consistency.
Optional Spices & Herbs: Customize with cayenne, garlic, onion powder, paprika, mustard powder, or fresh herbs for a personalized touch.
Spice Variations
Make this cheese sauce recipe your own with a few simple tweaks. Here's how you can play around with flavors:
Spicy Kick: For a bit of heat, sprinkle in some cayenne pepper.
Garlic Lover: Add garlic powder or fresh minced garlic for a punch.
Onion Lover: Onion powder can provide a subtle sharpness that complements the cheese.
Smoked Paprika: Offers a hint of smokiness and color.
Tangy Option: Dijon mustard or mustard powder will give it a tangy depth.
Herby Infusion: Fresh herbs like basil, parsley, thyme, rosemary, mint, or chives can be chopped and stirred in for a fresh twist.
Cheese Options
You can use different types of cheese to adjust the taste and texture:
Soft Cheese: Start with full-fat cream cheese for a smooth, neutral base, or choose goat's or sheep's cheese for more character.
Hard Cheese: Cheddar is a classic, but feel free to explore with hard goat's cheese, Manchego, Gouda, Emmental, Edam, or Swiss varieties like Gruyere.
Bold Flavors: Mix a mild cheese with something punchier like Gorgonzola, Roquefort, Brie, or Camembert for complexity.
Remember, combining a neutral cheese with one that has a stronger taste can create the perfect balance for your palate. Here are some combinations to get you started:
Cream cheese with hard goat's cheese for a tangy edge.
Cream cheese and Swiss for a mellow, nutty flavor.
Soft sheep's cheese paired with Pecorino Romano for an earthy, robust profile.
Soft goat's cheese and Parmesan for an intensely savory experience.
How To Make Creamy Cheese Sauce
Combine All Ingredients. Place the butter, cream, cream cheese, and shredded cheese into a saucepan. This is where the magic starts, as each element will contribute to the rich, creamy texture of your sauce.
Heat Until Melted. Cook the mixture over medium heat, stirring continuously. Watch as the ingredients meld together, becoming a smooth, unified sauce.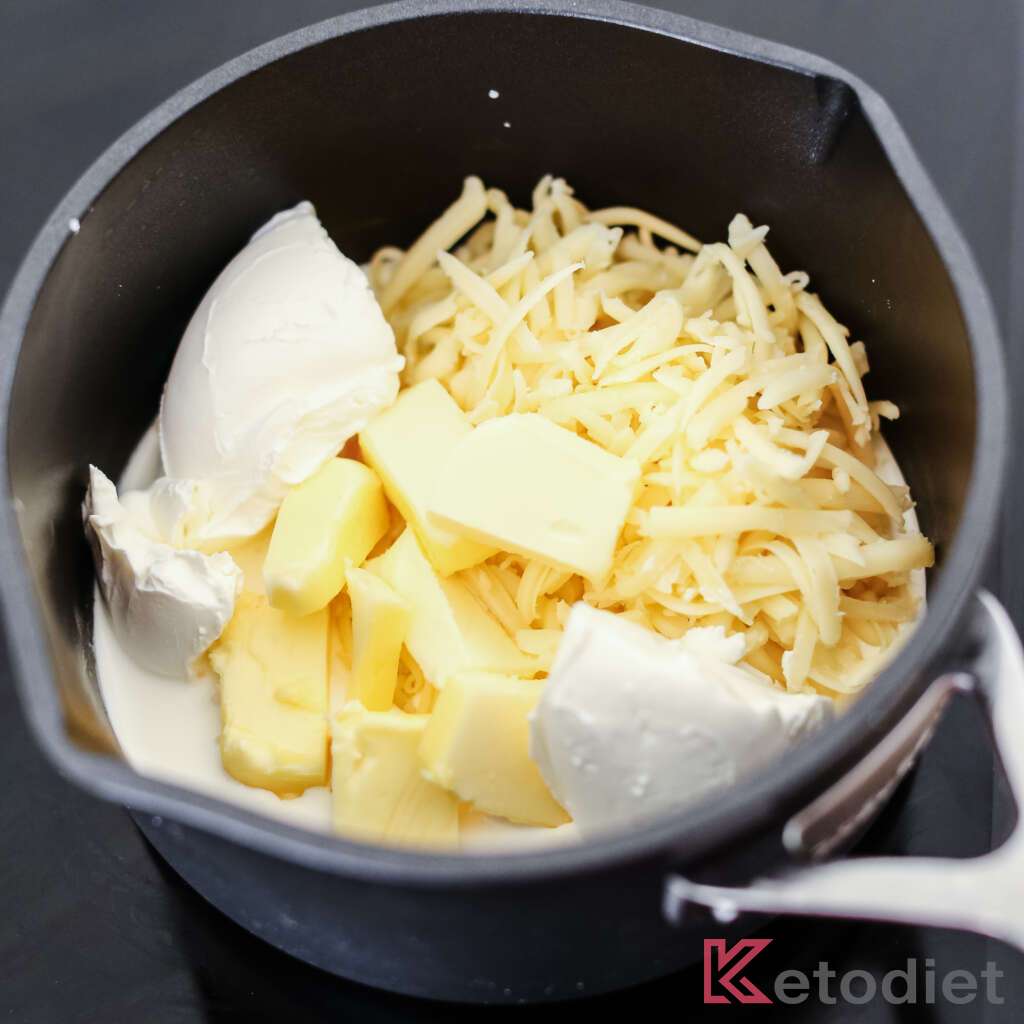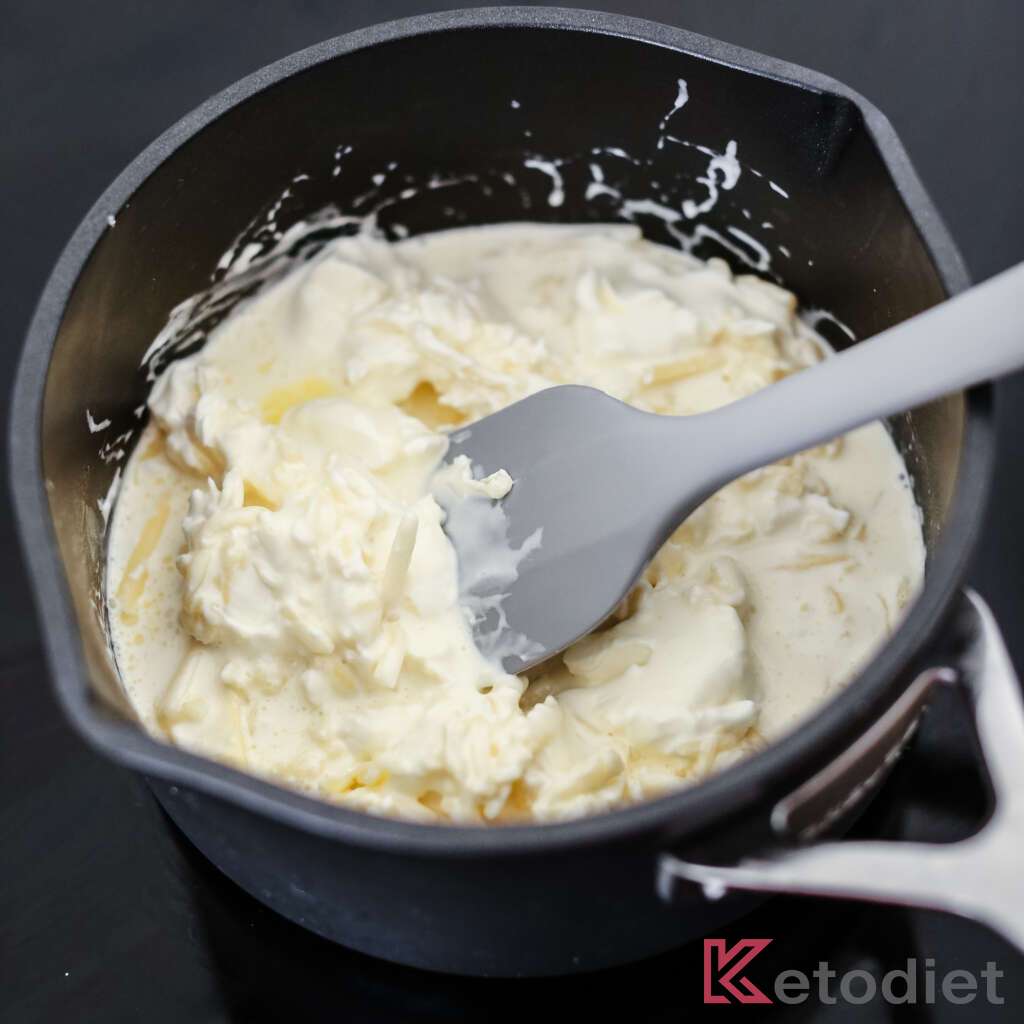 Season and Adjust. Incorporate your chosen seasonings, such as salt, pepper, and any optional spices or herbs. If the sauce is too thick, thin it with a touch of water until you reach your desired consistency.
Finalize and Serve. As you stir, feel free to adjust the thickness to your preference. If it's too thick, a splash of water can loosen it up. Once everything is perfectly melted and combined, remove it from the heat. You're ready to drizzle this luscious sauce over your favorite dishes.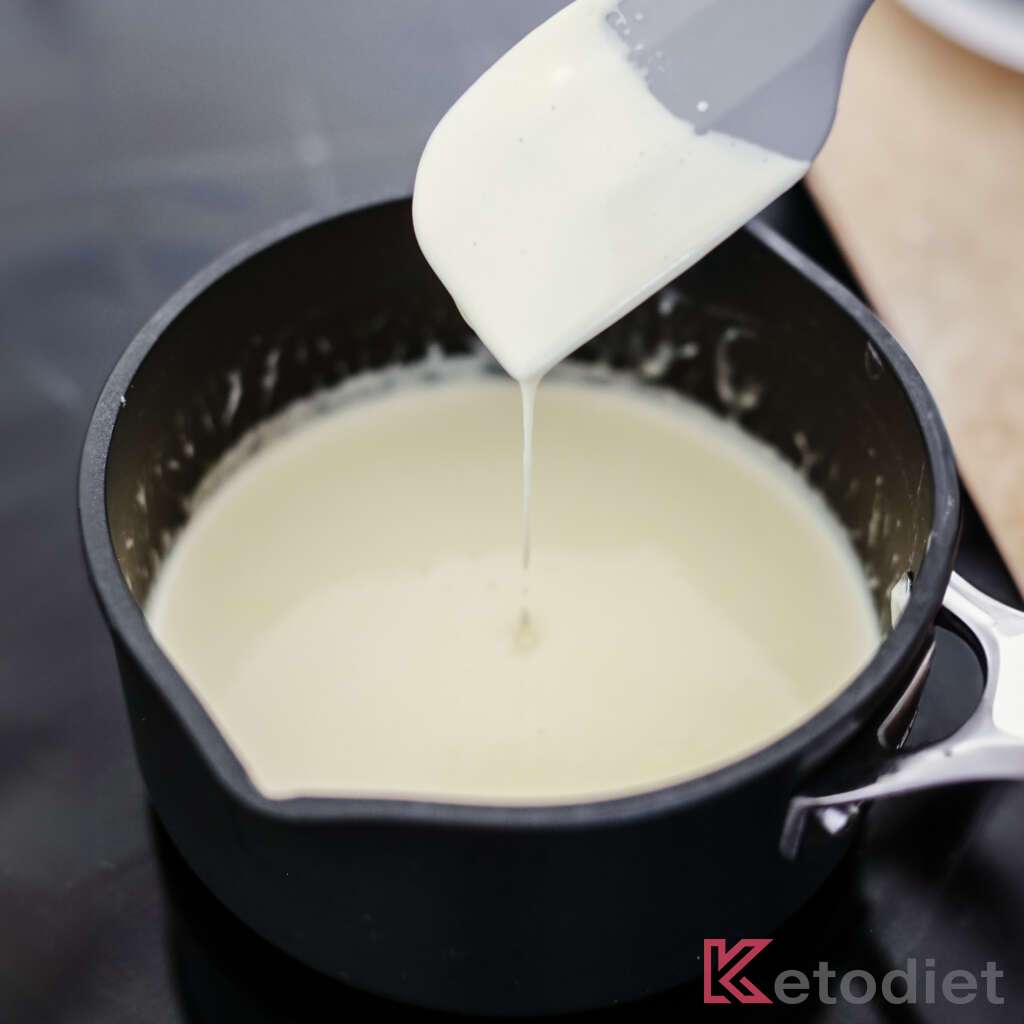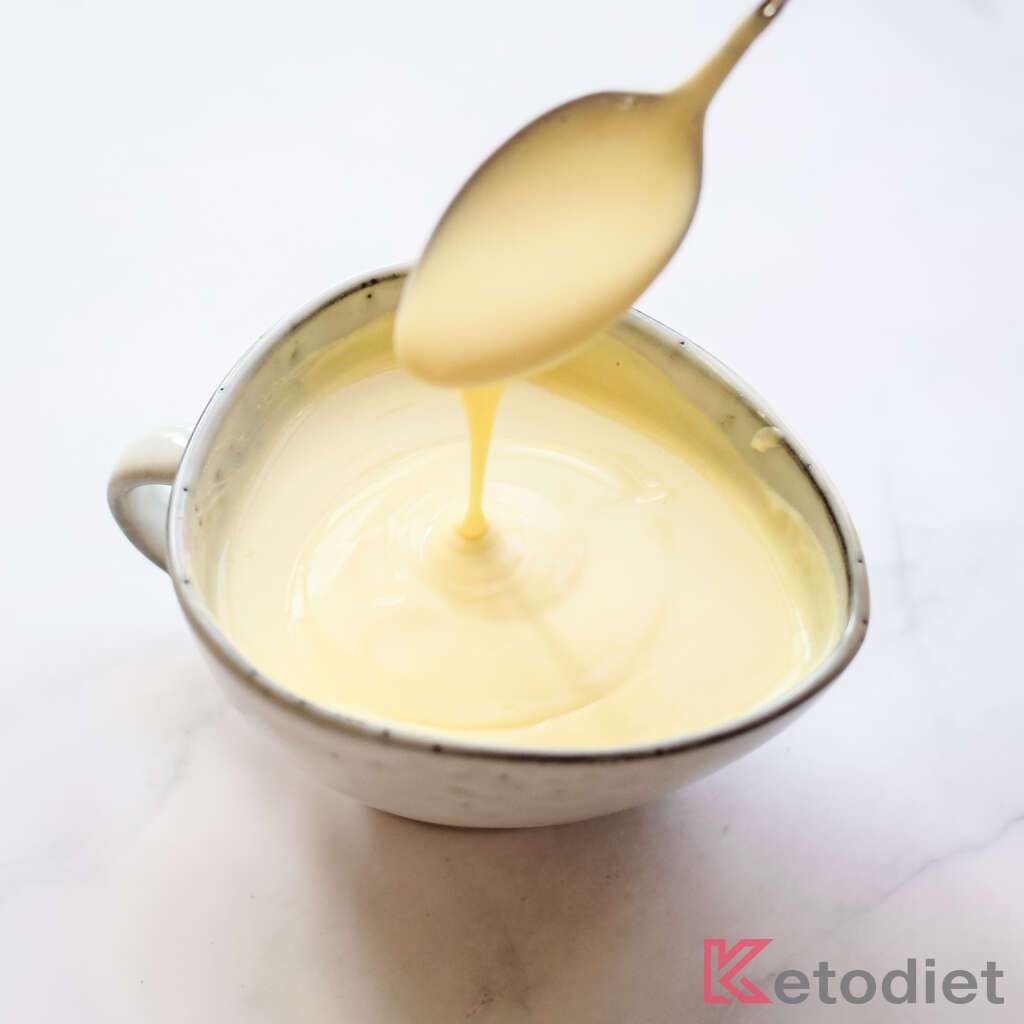 Tips for the Best Cheese Sauce Recipe
Creating the perfect cheese sauce is simple, and with these tips, you'll be a master in no time:
Consistent Heat: Maintain a medium heat to prevent the sauce from burning or becoming grainy.
Stir Constantly: Keep the sauce moving in the pan for even cooking and a smooth texture.
Cheese Quality: Use freshly grated cheese rather than pre-shredded varieties, which often contain anti-caking agents that can affect the sauce's smoothness.
Add Liquids Slowly: If thinning is needed, add water or cream little by little to reach the perfect consistency.
Season to Taste: Don't forget to taste as you go and adjust the seasoning with salt, pepper, or spices to suit your palate.
Reheating tips: To reheat, gently warm the sauce in a saucepan over low heat, stirring frequently to maintain a smooth consistency. If the sauce has thickened in the fridge, you can whisk in a small amount of cream or water while heating to bring back the creamy texture.
Storage Instructions
How long will cheese sauce last?
Stored in an airtight container, it will keep well in the refrigerator for up to 5 days.
Can I freeze cheese sauce?
Yes, although the texture may change slightly upon thawing. Freeze it in an airtight container for up to 3 months. When ready to use, thaw in the fridge overnight.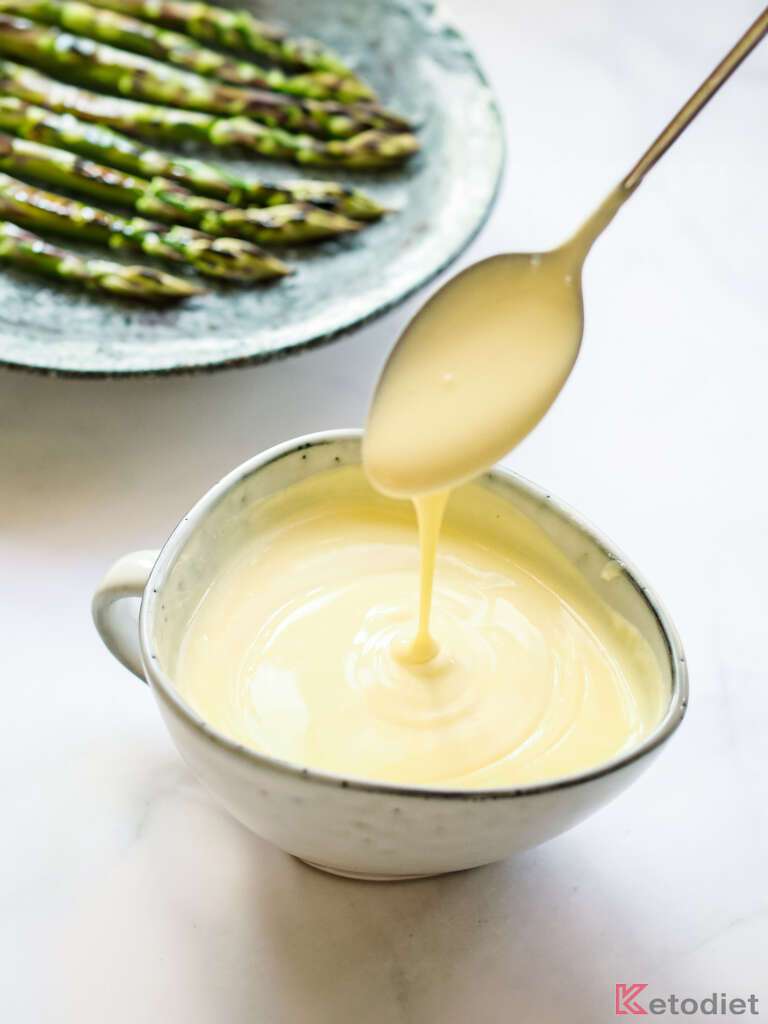 How to Use Cheese Sauce
This velvety cheese sauce recipe is incredibly versatile. Here are some delicious ways to incorporate it into your meals:
Over Vegetables: Drizzle it over steamed broccoli, roasted cauliflower, or a medley of sautéed greens for a comforting, keto-friendly side dish.
With Pasta: If you're low-carb, serve with zucchini noodles, spaghetti squash noodles, palmini noodles or shirataki noodles.
With Proteins: Elevate grilled steaks, chicken breasts, or pork chops by spooning a generous amount of this sauce on top.
Low-Carb Dishes: Use it as the key ingredient in a Keto Mac 'N' Cheese, substituting traditional pasta with cauliflower and/or shirataki noodles or penne.
Dipping Sauce: It's the perfect companion for raw veggies or low-carb crackers as a snack or appetizer.
Breakfast Boost: Give your morning eggs a cheesy twist by adding this sauce to scrambled eggs or a veggie-filled omelet.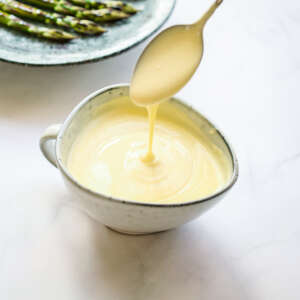 Creamy Cheese Sauce
Create a rich, satisfying cheese sauce without grains in just 10 minutes! Ideal for drizzling over vegetables or enhancing your meats, this sauce adds creamy texture and cheesy goodness to any low-carb meal.
Print
Pin
Rate
Ingredients
¼

cup

cream

(heavy whipping )

2

tbsp

butter

(unsalted )

¼

cup

cream cheese

(or soft goat's cheese)

½

cup

grated cheddar

(or hard cheese of choice)

pinch

of sea salt

(optional)

2

tbsp

water

(optional)

spices & herbs of choice

(optional)
Instructions
In a saucepan, add the heavy whipping cream, butter, cream cheese, and shredded cheddar.

Place the saucepan over medium heat, stirring the mixture continuously until the cheeses melt and the sauce becomes smooth.

Add a pinch of sea salt and any optional spices or herbs to taste. If the sauce is too thick, gradually stir in water or additional cream to achieve your desired consistency.

Once creamy and smooth, remove from heat and serve the sauce immediately over your chosen dishes.
Recipe Video
Nutrition
Calories:
203
kcal
Net Carbs:
1.4
g
Carbohydrates:
1.4
g
Protein:
4.8
g
Fat:
20.7
g
Saturated Fat:
12.7
g
Sodium:
149
mg
Magnesium:
6
mg
Potassium:
41
mg
Sugar:
0.9
g
Notes
Serving Size: ¼ cup (60 ml).
Fresh is Best: Grate your cheese fresh to avoid pre-packaged cheese with anti-caking agents that can affect the sauce's smoothness.
Smooth Finish: If you encounter lumps, use a whisk to smooth out the sauce as it heats.
Flavorful Variations: For a different taste, try adding different types of cheese, like smoked gouda or a tangy blue cheese, remembering to balance strong flavors with more neutral ones.
Keep it Creamy: To prevent the sauce from becoming too thick upon cooling, keep it covered or store in an airtight container if you've made it in advance.
Related Posts