Table of Contents
lifestyle? Look no further than this Cheesy Cauliflower Mash recipe. This dish is not just a substitute for traditional mashed potatoes; it stands out with its own unique, creamy texture and rich, cheesy flavor that can win over any crowd.
This Cheesy Cauliflower Mash is a testament to how versatile and delightful cauliflower can be. With just a handful of ingredients and a simple cooking process, you can whip up this comforting side dish in a matter of minutes. Whether you're pairing it with a Sunday roast, Air Fryer Chicken Thighs or a simple grilled chicken breast, it's guaranteed to make your meal more enjoyable. Plus, it's a dish that keeps on giving, staying fresh and delicious for days after making it.
Why You'll Love This Cauliflower Mash Recipe
Low-Carb: Perfect for anyone looking to reduce carbs without sacrificing taste.
Quick & Easy: From kitchen to table in 20 minutes—ideal for busy weeknights.
Kid-Friendly: A cheesy, delicious way to include more veggies in your family's diet.
Versatile: Complements any main dish, from grilled meats to baked fish.
Customizable: Easy to adjust the recipe to suit any dietary needs or taste preferences.
Ingredients & Substitutions
Heads up: For exact measurements, see the recipe card below.
Creating this Cheesy Cauliflower Mash is straightforward, with just a few key ingredients that come together to make a dish full of flavor. Here's what you'll need:
Cauliflower: The star of the show, cauliflower provides a smooth texture and is a great low-carb base.
Butter: Adds a rich, creamy element to the mash, enhancing the mouthfeel and flavor.
Parmesan Cheese: Brings a savory, nutty taste that melds perfectly with the cauliflower. Pecorino Romano is a good option for those who can't tolerate cow's milk products.
Sea Salt: Essential for bringing out the flavors of all the ingredients.
Ground Black Pepper: Adds a slight kick and depth to the mash.
Fresh Herbs (optional): A garnish of fresh herbs like parsley can add a pop of color and a fresh flavor contrast.
With these ingredients, you're on your way to creating a side dish that's not only tasty and satisfying but also fits beautifully into a health-conscious diet.
Substitutions & Variations
Looking to personalize your Cheesy Cauliflower Mash recipe? It's easy! Cheese is wonderfully versatile, and there are plenty of options that can change the profile of your dish. Also, Parmesan is not technically vegetarian io these might be better options for those who follow a vegetarian diet:
Sharp Cheddar: Swap out Parmesan for a bold, tangy flavor that melts beautifully into the mash.
Smoked Gouda: Introduce a smoky note to your dish with this flavorful cheese.
Mozzarella: For a milder, stretchy cheese experience, mozzarella is a great choice.
Vegan Cheese: Cater to dairy-free diets by choosing a plant-based cheese alternative. You will also need to sub the butter with some olive oil.
You can also enhance your mash with these add-ins:
Chives or Green Onions: For a mild onion flavor that doesn't overpower.
Garlic Powder: For a hint of garlic, stir in a pinch or two.
Rosemary or Thyme: These herbs can offer a warm, aromatic touch.
Red Pepper Flakes: Sprinkle in a few for a bit of heat and color.
Bacon Bits: For a non-vegetarian twist, crispy bacon adds texture and a savory note.
How to Make Cheesy Cauliflower Mash
Steam the Cauliflower. Begin by washing the cauliflower and cutting it into smaller florets for even cooking. Place the florets in a steaming basket over a pot of boiling water, cover, and steam for about 10 to 12 minutes or until they are tender enough to pierce with a fork. When done, remove the lid to let the steam escape.
Blend the Ingredients. Once your cauliflower is steamed to perfection, transfer the florets to a blender or food processor. Add in the unsalted butter, grated Parmesan cheese, sea salt, and ground black pepper. If you're opting for any additional herbs or spices, toss them in now.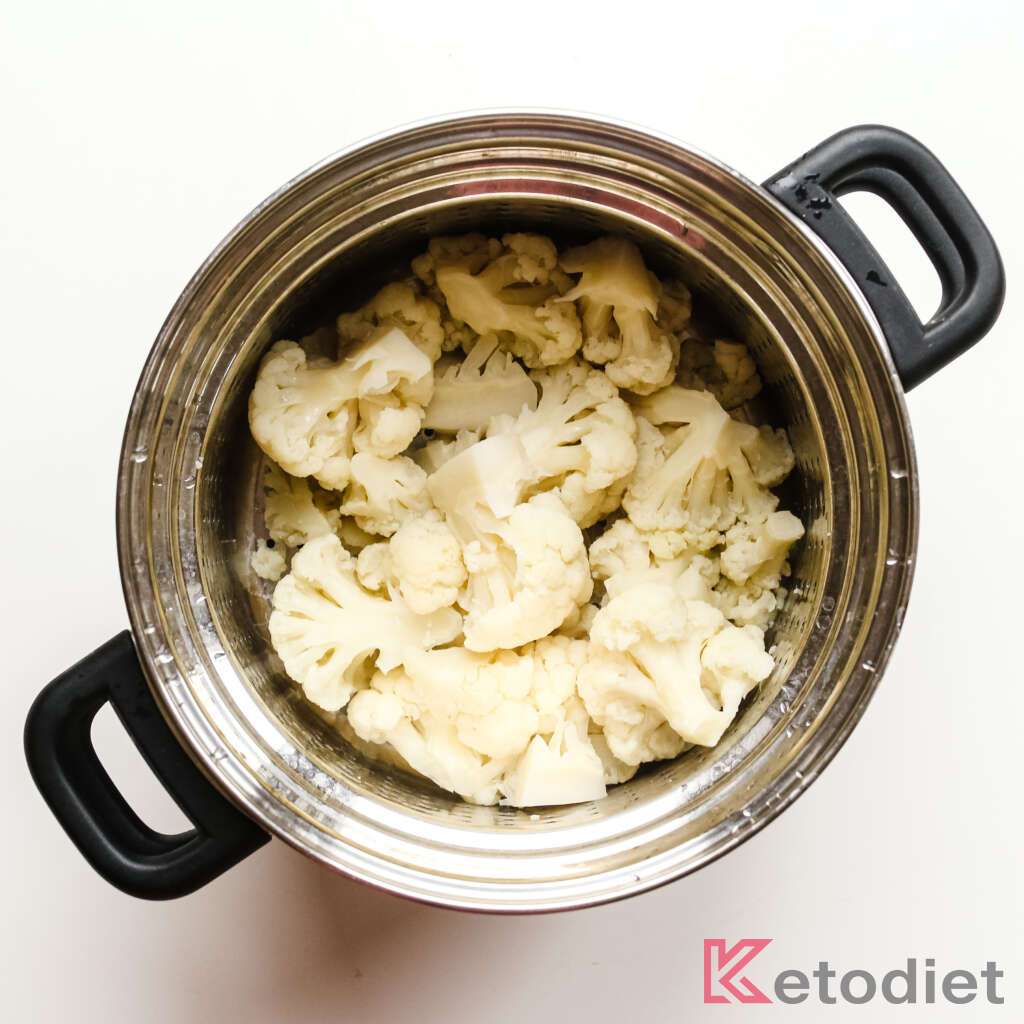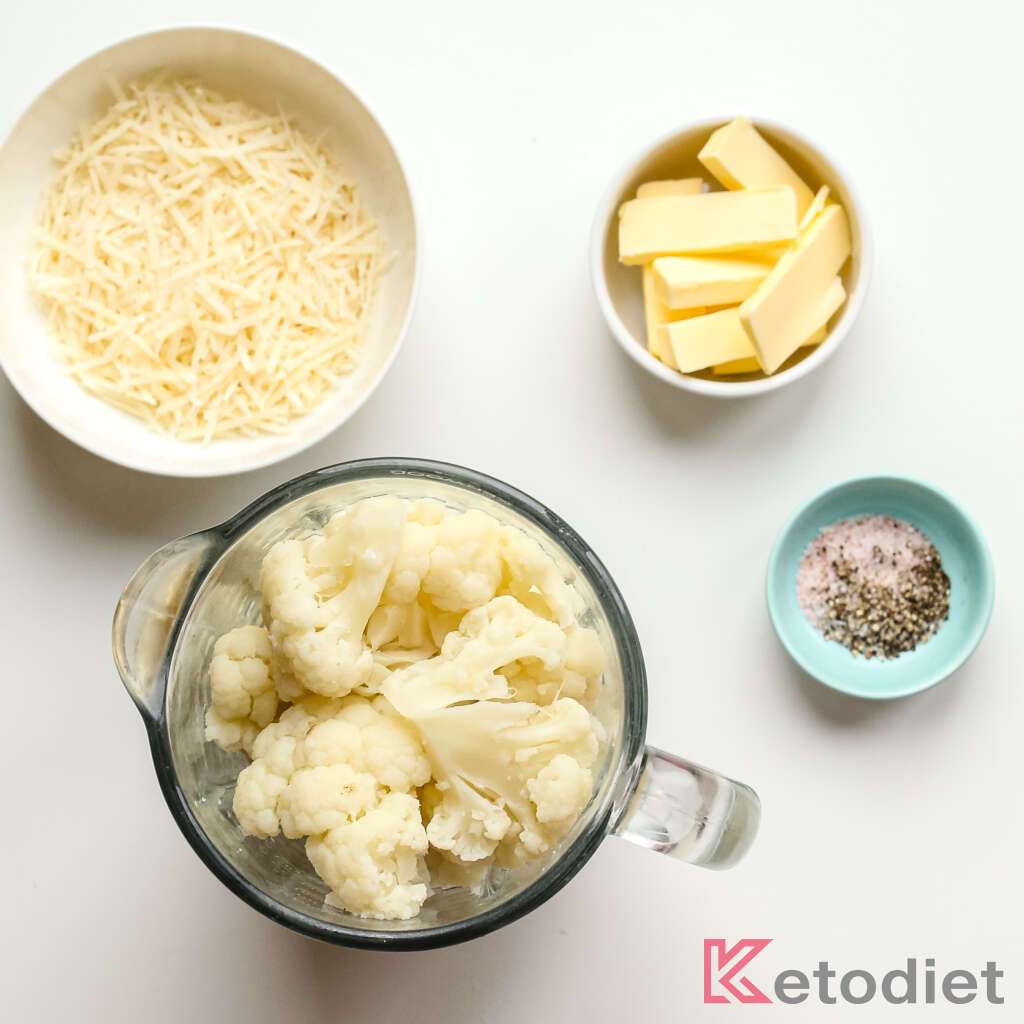 Process to Creamy Smoothness. Pulse the mixture until you achieve a creamy, smooth consistency. If the mash is too thick, you can add a tablespoon or two of the steaming water to reach your desired texture.
Serve it Up. Transfer your Cheesy Cauliflower Mash to a serving bowl. If desired, garnish with an extra sprinkle of cheese, fresh herbs, or a touch of spice for added color and flavor.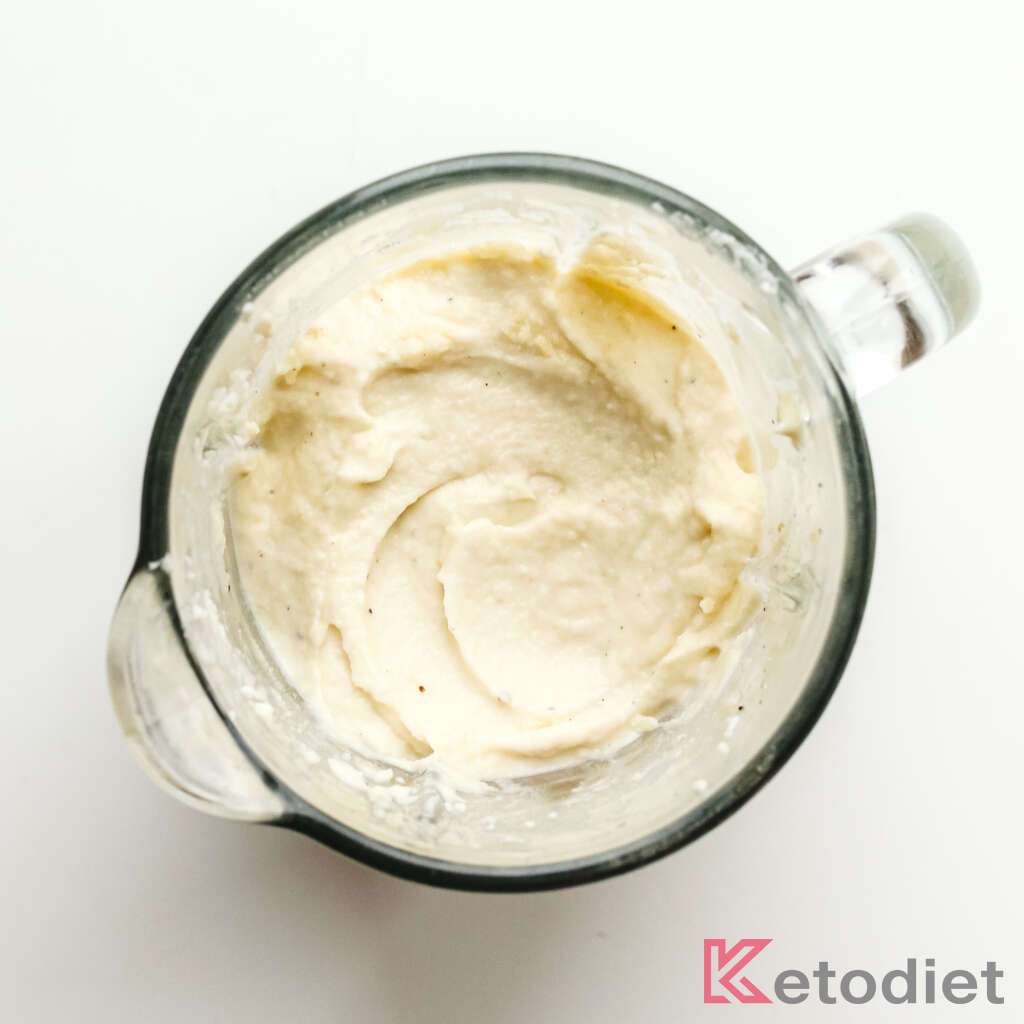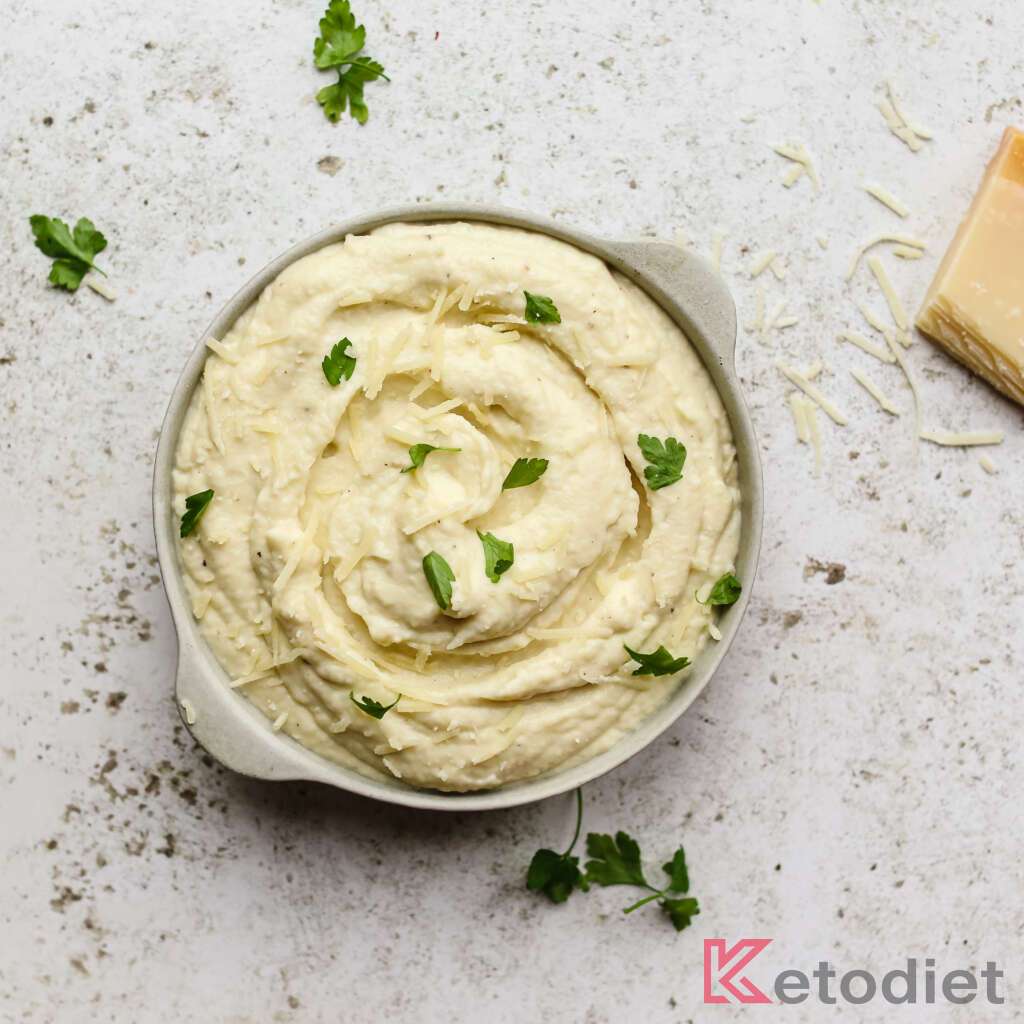 Tips for Best Cauliflower Mash
To turn a simple cauliflower mash recipe into a dish that's truly exceptional, keep these tips in mind:
Consistency is Key: For the creamiest mash, ensure your cauliflower is fully tender before blending. Undercooked cauliflower won't blend smoothly.
Cheese Choices: Parmesan adds a lovely savory note, but you can experiment with other cheeses for different flavors. Remember, harder cheeses will provide a stronger taste and a less gooey texture.
Blend, Don't Mash: For an ultra-smooth texture, use a blender or food processor rather than mashing by hand. This will give you a silky finish that's just like traditional mashed potatoes.
Season Well: Don't be shy with the salt and pepper. Proper seasoning brings out the flavors of the cauliflower and cheese. Taste and adjust accordingly.
Garnish Wisely: A sprinkle of fresh herbs not only adds a dash of color but also a burst of freshness. Consider chives, parsley, or thyme for a complementary touch.
With these tips, your cauliflower mash will be a go-to side dish that's both delicious and perfectly suited for a healthy, low-carb diet.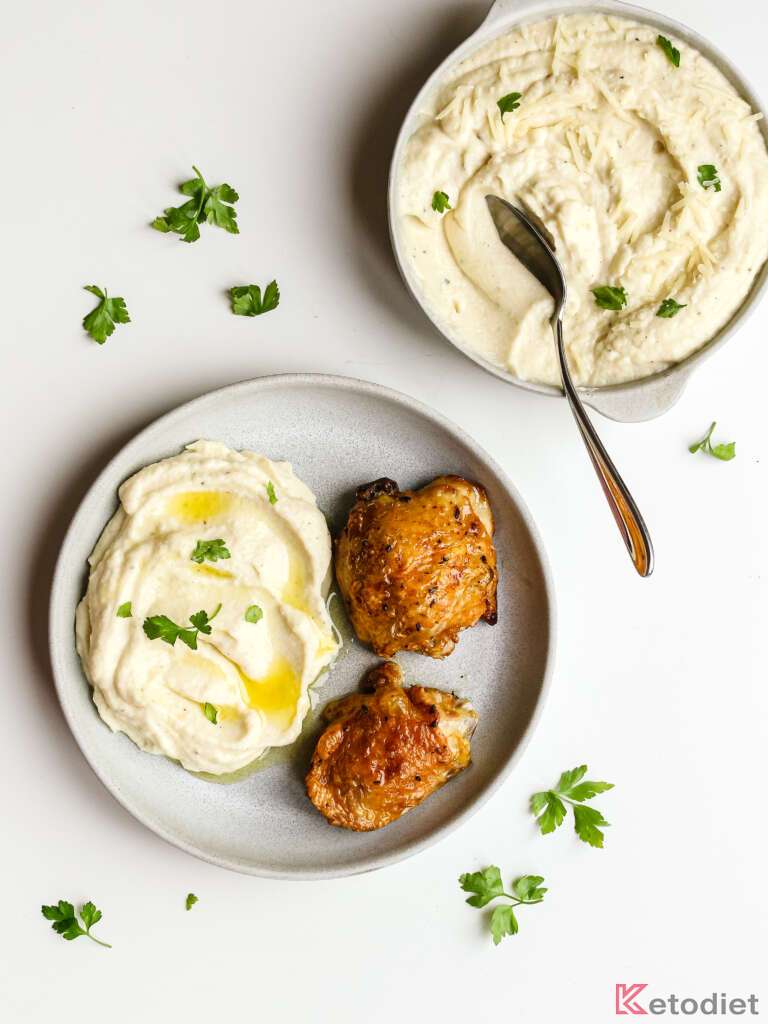 Storage Instructions
Making a big batch of Cheesy Cauliflower Mash recipe? No problem! Here's how to keep it fresh:
How long can I keep Cheesy Cauliflower Mash in the fridge?
You can store the mash in an airtight container in the refrigerator for up to 4 days. Make sure it cools to room temperature before sealing to maintain freshness.
Can I freeze Cheesy Cauliflower Mash?
Absolutely! Spoon the mash into a freezer-safe container or zip-lock bag and freeze for up to 3 months. For the best texture, thaw it overnight in the fridge before reheating.
What's the best way to reheat Cheesy Cauliflower Mash?
Reheat it on the stove over medium heat, stirring occasionally until hot. If it's a bit too thick, add a splash of full-fat milk or cream as you warm it up. You can also reheat it in the microwave, using a microwave-safe dish and stirring at intervals for even warmth.
Serving Suggestions for Cheesy Cauliflower Mash
This Cheesy Cauliflower Mash recipe is so versatility! Here are some delicious ways to incorporate it into your meals:
Perfect Pairing: It's a fantastic low-carb replacement for traditional mashed potatoes alongside any protein like roast chicken or seared salmon. Try with our Crispy Air Fryer Garlic Chicken Thighs!
Under a Gravy: It makes a great bed for your favorite gravies and hearty stews, absorbing all those delicious flavors.
With Roasted Veggies: Pair it with roasted vegetables for a comforting vegetarian meal.
In a Layered Casserole: Layer it in a casserole for added richness and flavor.
As a Pie Topping: Top a shepherd's pie with this mash for a low-carb alternative.
Whether you're dishing it up for a weeknight dinner or a special occasion, this mash is sure to complement and elevate your meal.
Tools for Cheese Cauliflower Mash
Steamer Basket: A must-have for cooking the cauliflower evenly and to perfection without making is soggy.
Blender or Food Processor: These are essential for achieving that dreamy, creamy texture we're after.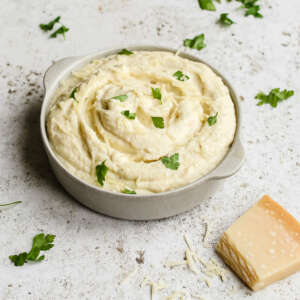 Cheesy Cauliflower Mash
Enjoy a creamy, cheesy cauliflower mash, the perfect low-carb companion to your favorite proteins. Whipped up in under 20 minutes for a quick, tasty side.
Print
Pin
Rate
Ingredients
1

large 2 lbs cauliflower

(cut into florets)

¾

stick unsalted butter

1

cup

grated parmesan cheese

(or hard cheese of choice)

1

tsp

sea salt

(or more to taste)

½

tsp

ground black pepper

fresh herbs of choice

(optional)
Instructions
Prepare the cauliflower florets and steam them over boiling water for

10-12 minutes

until they are tender.

Place the tender cauliflower in a blender, adding in the butter, grated Parmesan cheese, sea salt, and black pepper.

Process the mixture until it reaches a smooth and creamy consistency. If needed, add a little of the reserved steaming water to adjust the thickness.

Transfer the cauliflower mash to your serving dish, garnishing with extra cheese and fresh herbs if you like.
Nutrition
Calories:
235
kcal
Net Carbs:
5.7
g
Carbohydrates:
9.2
g
Protein:
9.9
g
Fat:
18.9
g
Saturated Fat:
11.7
g
Sodium:
806
mg
Magnesium:
34
mg
Potassium:
532
mg
Fiber:
3.5
g
Sugar:
3.4
g
Notes
Serving Size: About

¾

cup (200 g).
Storage: To store, place in a container and refrigerate for up to 4 days. For longer storage, this mash can be frozen for up to 3 months. If planning to freeze the mash, skip the garnish until you're ready to serve it after reheating for the best presentation and taste.
Cheese: Freshly grated Parmesan cheese is recommended for its superior melting quality and full flavor. Other types such as Cheddar, smoked Gouda or Pecorino Romano are good options.
Equipment: A high-powered blender will produce the smoothest mash, but a food processor or hand mixer can also be effective.
Seasoning: Always taste your mash and consider adding more salt or pepper to suit your flavor preferences.
Related Posts