Table of Contents
Ever crave something warm and cozy that's also good for you? Our Cream of Asparagus Soup is just that – a simple, yummy soup that's perfect for anyone watching their carbs. It's so easy to whip up, you'll want to make it all the time!
Fresh asparagus is the star here, and it's amazing how it turns into something so creamy and satisfying in this soup. Great for a quick lunch or a relaxing dinner, this soup is all about big flavor without the fuss. Whether you're all-in on keto or just like tasty, healthy food, this Cream of Asparagus Soup is a winner. Let's get cooking and see why this soup is a favorite!
Why You'll Love This Cream of Asparagus Soup Recipe
Quick & Easy: Ready in just 20 minutes, making it perfect for busy days.
Low-Carb Comfort: Fits right into your keto lifestyle without skimping on the comfort food vibe.
Flavorful: Packed with the fresh, natural taste of asparagus enhanced by rich cream.
Versatile: Great as a starter or a light meal, and pairs wonderfully with any low-carb bread.
Nutrient-Rich: Asparagus is loaded with good-for-you vitamins and minerals.
Ingredients & Substitutions
Heads up: For exact measurements, see the recipe card below.
Making this low-carb Cream of Asparagus Soup is super straightforward – you only need a handful of ingredients to create something really special. Here's what you'll need:
Asparagus: The main attraction. Fresh spears bring a vibrant, slightly earthy flavor that's the soul of this soup.
Onion: Adds a subtle sweetness and depth, rounding out the flavors.
Cooking Fat: Butter or ghee are ideal for sautéing. They give a rich, comforting base to the soup.
Garlic: Just a clove for that punch of aroma and taste.
Chicken Stock: The liquid gold that brings everything together. Vegetable stock works great too for a vegetarian option.
Cream: Heavy whipping cream adds richness and smoothness.
Sea Salt and Pepper: To season and enhance all the other flavors.
Olive Oil: Extra virgin, a drizzle for serving that adds a hint of fresh, peppery taste.
Can I make this dairy-free?
Absolutely! Swap out the heavy cream for coconut cream. It's a fantastic way to keep the soup creamy without any dairy.
How can I add more protein to this soup?
Easy! Stir in some chopped leftover roast chicken. It adds a nice protein boost and makes the soup even more filling.
I want to serve this as a main dish. Any suggestions?
Definitely. Pair it with our keto bread rolls for a satisfying meal. The bread's nutty flavor complements the soup beautifully, and it's great for soaking up every last bit!
How To Make Cream of Asparagus Soup
Prep the Asparagus. Start by trimming any woody stems from the asparagus. Cut off the tough ends, and if needed, use a vegetable peeler to carefully peel the thicker stems.
Cook the Onion and Garlic. Melt the butter or ghee in a saucepan over medium heat. Once melted, add the chopped onions and garlic. Cook them gently until they're soft and fragrant, just a few minutes.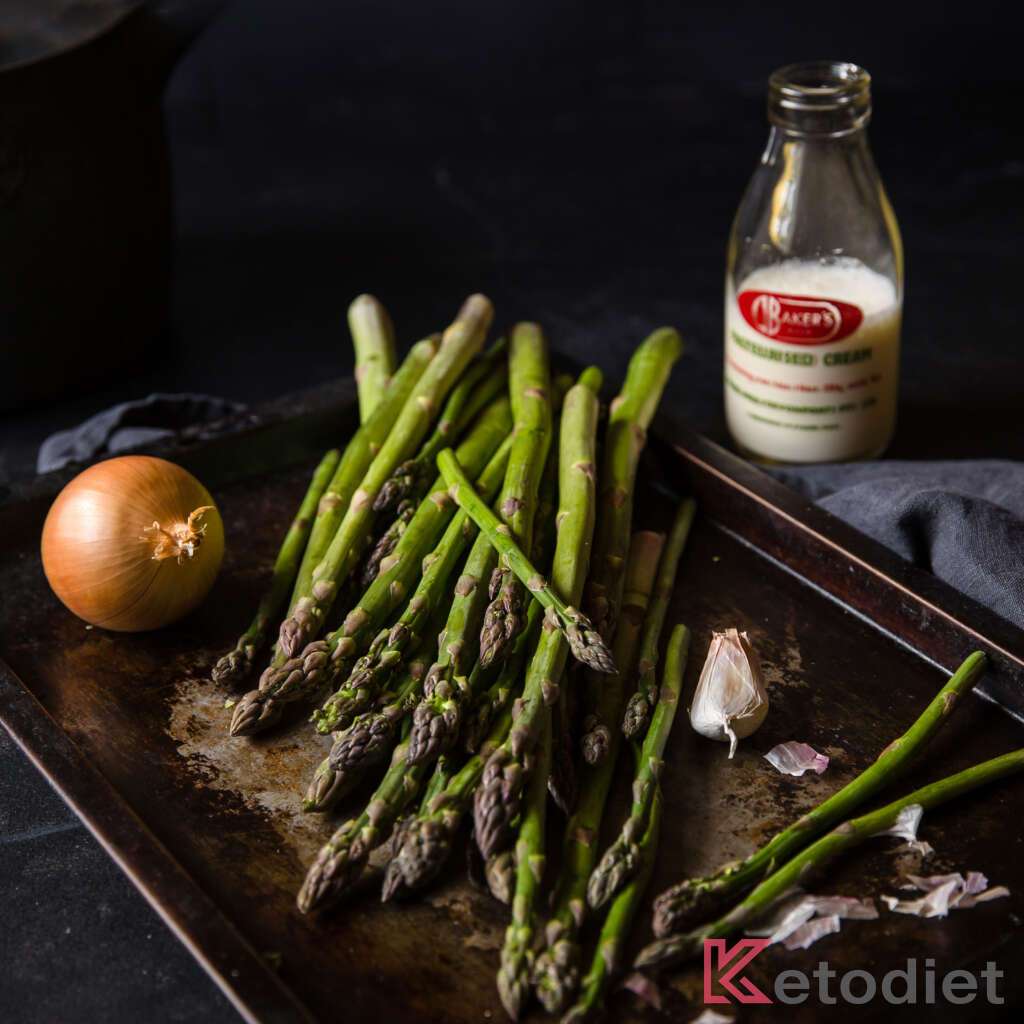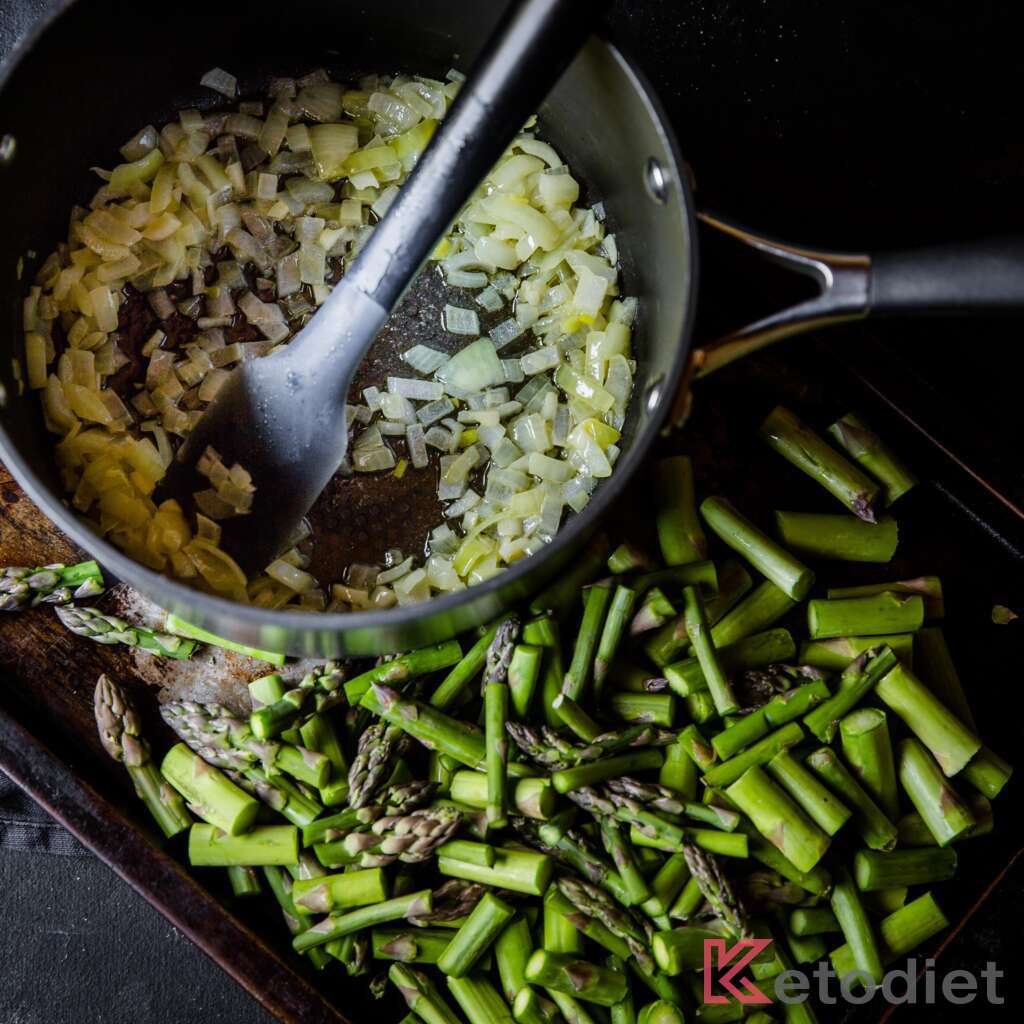 Add Asparagus and Stock. Next, chop the asparagus into small pieces and toss them into the pot. Pour in the chicken stock and turn up the heat to high. Let it cook until the asparagus is tender but still has some bite – you don't want it too soggy.
Blend the Soup. Once the asparagus is cooked, take the pot off the heat. Use an immersion blender right in the pot to blend everything until smooth. If you don't have one, a regular blender works too. Just be careful with the hot liquid!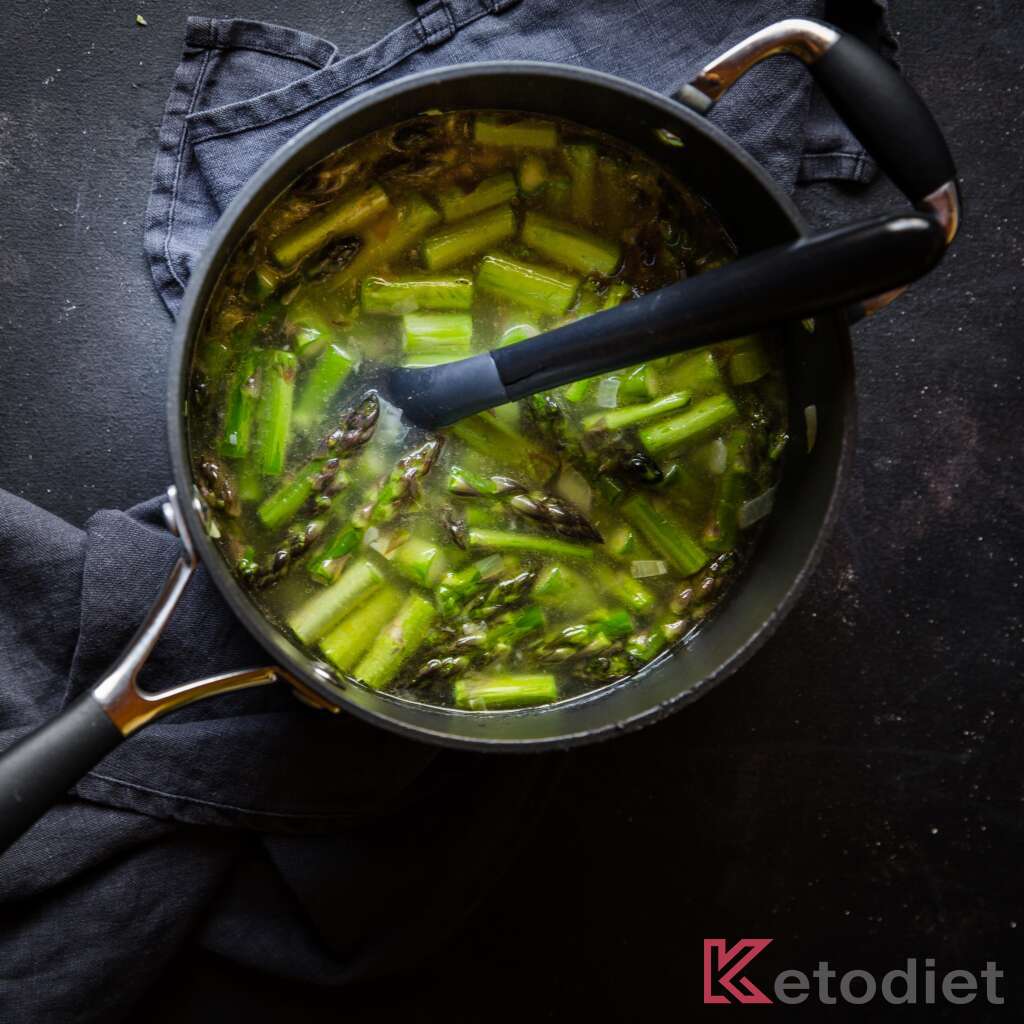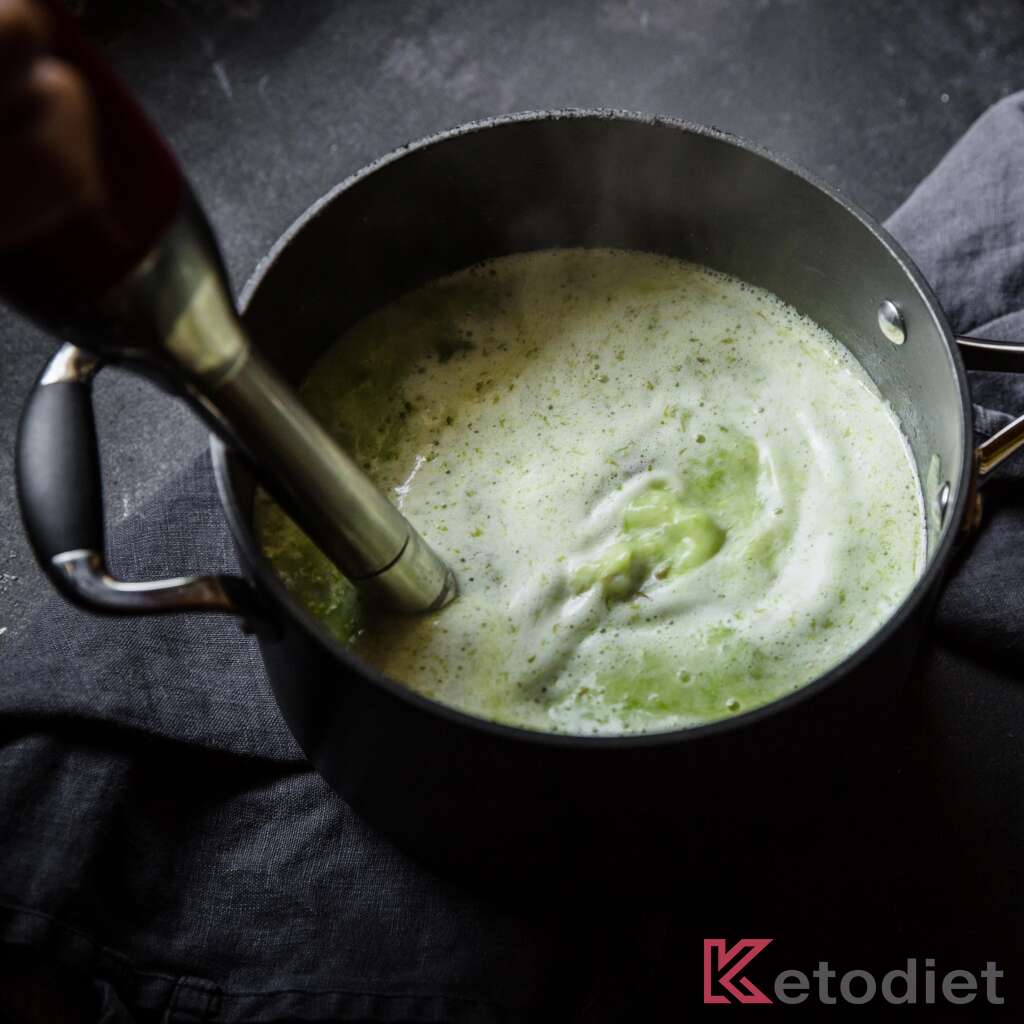 Strain the Soup. For an extra smooth texture, pour the blended soup through a fine mesh sieve. It's an optional step, but it really makes the soup silky.
Add Cream and Season Return your strained soup to the saucepan. Stir in the cream and season with salt and pepper. Heat it gently until it's hot, but watch out – don't let it boil.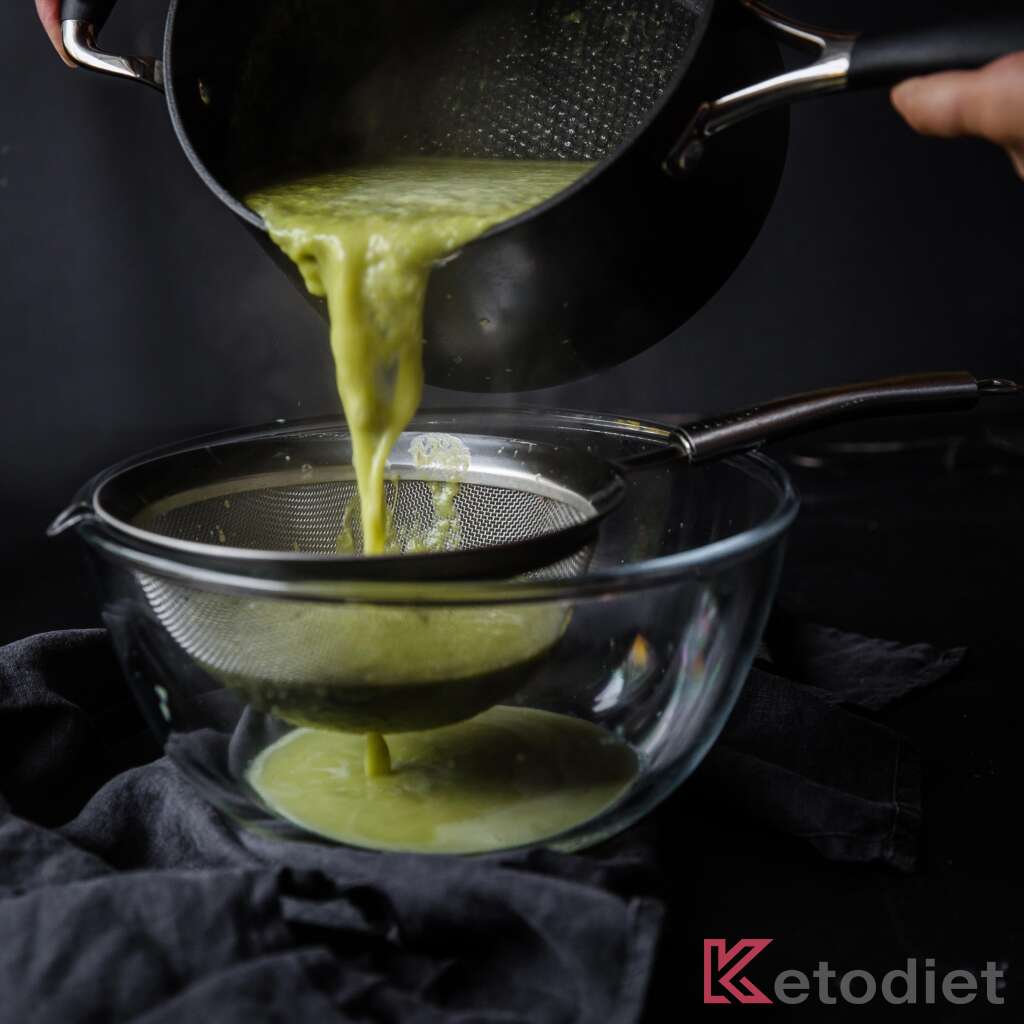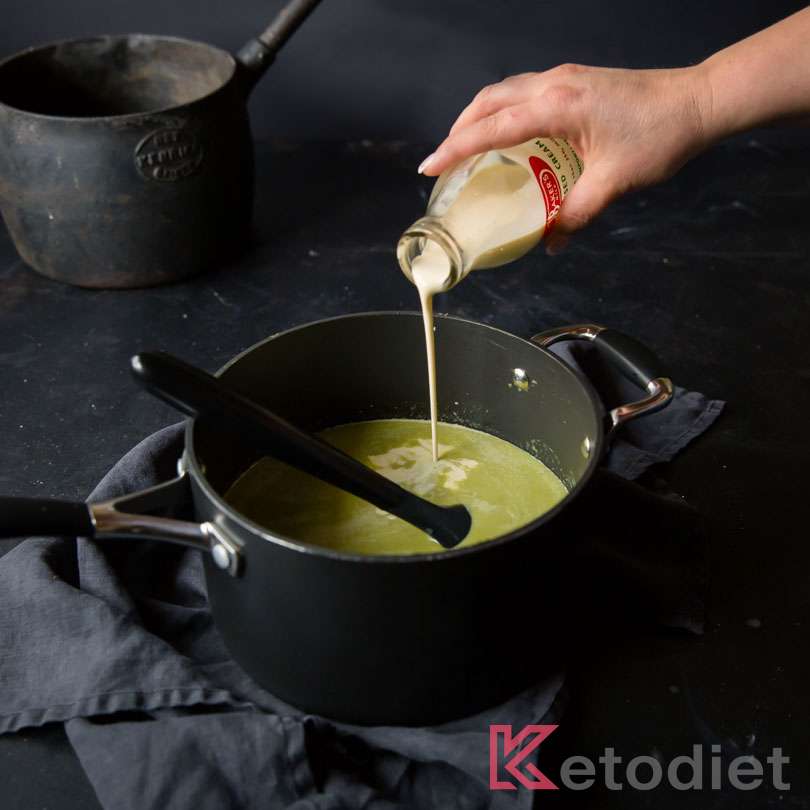 Serve with a Drizzle. When you're ready to serve, ladle the soup into bowls. Drizzle a bit of extra virgin olive oil over each serving for that final touch. Enjoy!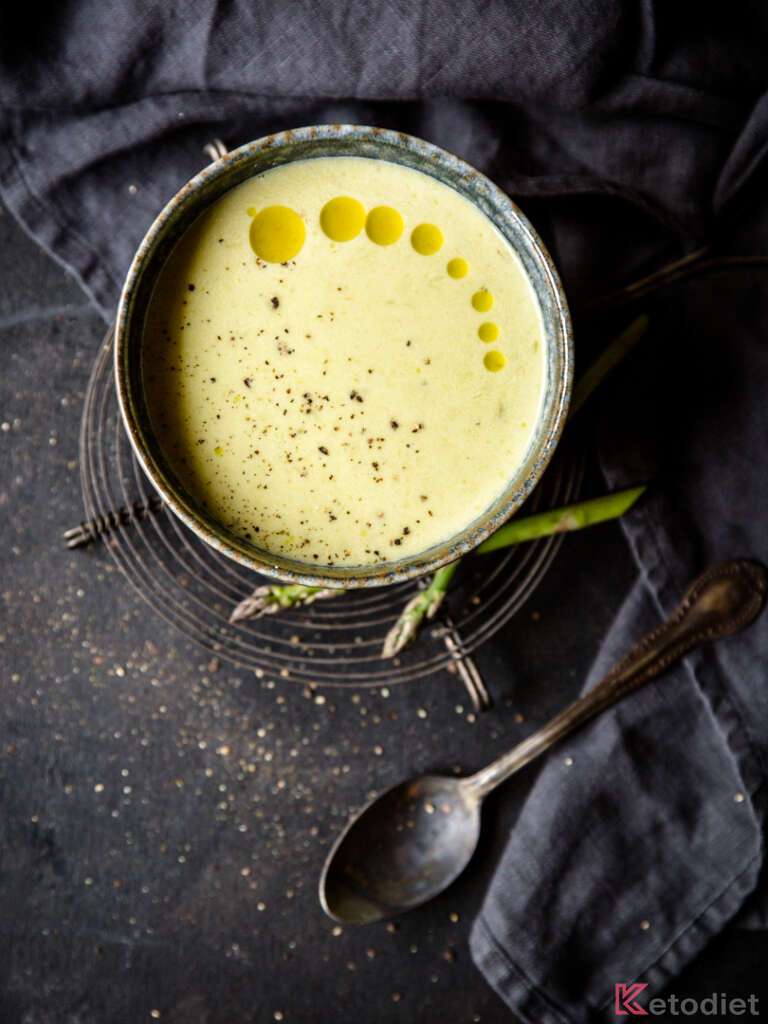 Tips for Best for Cream of Asparagus Soup
Best Asparagus to Use: The fresher the asparagus, the better your soup will taste. Look for firm, bright green spears with tightly closed tips. Thinner asparagus spears are more tender and less fibrous, making them ideal for a smooth soup.
Low and Slow: When cooking the onions and garlic, keep the heat medium to low. You want them soft and sweet, not too browned or burned.
Blending Basics: If using a standard blender, blend the soup in batches to avoid overflow and ensure smooth consistency.
Season to Taste: Always taste your soup before serving. Adjust the salt and pepper as needed – it can really make the flavors pop.
Garnish Game: Garnish with a sprinkle of chopped herbs, grated Parmesan, or a few steamed asparagus tips for a fancy touch.
Storage Instructions
This cream of asparagus soup is perfect for meal prep. You can make a big batch on the weekend and enjoy it throughout the week. It's a great grab-and-go option for a quick and healthy lunch or dinner. Here are some storage tips.
How long can I keep this Cream Of Asparagus Soup in the fridge?
You can store this soup in the fridge for up to 4 days. Make sure it's in an airtight container to keep it fresh.
Can I freeze this creamy asparagus soup?
es, you can freeze it! Pour the cooled soup into freezer-safe bags or containers. It'll keep well for up to 3 months. Just remember, the texture might change slightly after thawing due to the cream. To reheat, thaw the soup overnight in the fridge. Then, warm it slowly over low heat in a saucepan. Stir occasionally to keep the texture smooth.
How to Serve Cream of Asparagus Soup
As an Appetizer: Dish it out in small bowls for a tasty start to your meal. It's light but full of flavor and really kicks things off right.
As a Hearty Main Dish: Have a bigger bowl with some leafy greens on the side for a filling, low-carb dinner that hits the spot.
Add Some Protein: Toss in some leftover shredded roast chicken or roast turkey to bulk it up. This is great for when you're extra hungry and need more than just veggies.
With Keto Bread: Serve it with a slice of toasted keto bread or low-carb bread rolls. It's perfect for dipping into the soup and makes everything more satisfying.
Tools for Cream of Asparagus Soup
Blender or Immersion Blender: Crucial for pureeing the soup to that smooth, creamy texture. An immersion blender is super handy for blending directly in the pot.
Fine Mesh Sieve: Optional, but it's a game-changer for achieving an extra silky soup. It's worth using to strain out any fibrous bits.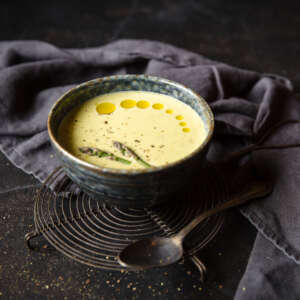 Cream of Asparagus Soup
Creamy, comforting, and super easy to make, this Cream of Asparagus Soup is a low-carb treat. Fresh asparagus blended into a silky smooth soup, with a hint of garlic and onion, finished with a touch of cream. Perfect for a quick lunch or a cozy dinner. Ready in just 20 minutes!
Print
Pin
Rate
Ingredients
1.1

lbs

fresh asparagus spears

(20-25 medium spears, woody ends snapped off)

1

small brown onion

(finely chopped)

2

tbsp

butter

(or ghee or olive oil)

1

garlic clove

(finely chopped)

4

cups

good quality chicken stock

(or chicken bone broth or vegetable stock)

¾

cup

heavy cream

(or coconut cream)

sea salt and pepper

(to taste)

4

tsp

extra virgin olive oil

(for serving)
Instructions
Trim off the woody ends of the asparagus spears. For thicker stems, use a vegetable peeler to peel them lightly.

In a saucepan, melt the butter or ghee over medium heat. Add chopped onions and garlic. Cook until they are soft, stirring occasionally.

Chop the asparagus into smaller pieces and add them to the pot. Pour in the chicken stock (or vegetable stock). Increase the heat to high and cook until the asparagus is tender but not overly soft.

Remove the pot from heat. Use an immersion blender to blend the soup until smooth. Alternatively, carefully transfer to a blender to puree.

For an extra silky texture, strain the soup through a fine mesh sieve back into the pot.

Stir in the heavy cream (or coconut cream for a dairy-free option). Season with salt and pepper. Heat gently until hot, but not boiling.

Ladle the soup into bowls. Drizzle with extra virgin olive oil before serving.
Nutrition
Calories:
234
kcal
Net Carbs:
3.1
g
Carbohydrates:
5.1
g
Protein:
5.8
g
Fat:
21.6
g
Saturated Fat:
11.7
g
Sodium:
222
mg
Magnesium:
22
mg
Potassium:
398
mg
Fiber:
2
g
Sugar:
3.1
g
Notes
Serving Size: About 1 cup (240 ml) as an appetizer, or more if served as a main course.
Texture Tip: For the smoothest soup, don't skip straining it through a sieve. This extra step makes a big difference.
Flavor Boost: If you want a deeper flavor, let the onions and garlic cook until they're just starting to brown before adding the asparagus.
Serving Suggestion: Serve with a slice of keto bread for a complete, satisfying meal.
Storage: Cool the soup completely before storing. It keeps well in the fridge for up to 4 days and freezes beautifully for up to 3 months.
Reheating: Reheat gently on the stove over low heat, stirring occasionally. If frozen, thaw in the fridge overnight before reheating.
Related Posts