Table of Contents
The arrival of fall signals a time for dishes that warm you from the inside out. Our Creamy Chicken Mushroom Soup does just that, serving up a combination of deep flavors and smooth textures that's perfect for a rainy day.
Not only does this soup provide a taste of comfort, but it's also a nutritious ally against the chill, rich in essential electrolytes. Whether served as a light main dish or a satisfying starter, this soup is a heartwarming addition to your mealtime.
Why You'll Love This Soup
Comfort in a Bowl: Perfect for cozy, cool weather meals.
Rich Flavor: Juicy chicken and earthy mushrooms create a savory taste.
Nutritious: Packed with protein and electrolytes for health benefits.
Creamy Texture: Indulgent creaminess without starchy thickeners.
Versatile: Half serving is ideal as a starter, while full serving as a main course.
Ingredients & Substitutions
Heads up: For exact measurements, see the recipe card below.
Making creamy chicken mushroom soup is easy and you'll only need a few common pantry staples:
Chicken Thighs: A budget-friendly and juicy alternative to breast meat.
Mushrooms: A mix of varieties for an array of earthy tastes.
Cooking Fat: Ghee or duck fat for sautéing, providing stability and flavor.
Shallot: Adds a mild, sweet flavor.
Garlic: For that essential aromatic kick.
Herbs: Thyme and oregano for a hint of garden freshness.
Chicken Stock: A flavorful liquid base for the soup.
Cream: For the creamy signature texture.
Thickeners: Xanthan gum or glucomannan for a low-carb solution.
Seasoning: Simple salt and pepper.
Can I make dairy-free Creamy Chicken Mushroom Soup?
Absolutely, substitute the heavy cream with coconut cream for a dairy-free version.
How To Make Creamy Chicken Mushroom Soup
Prepare the Ingredients. Begin by prepping your chicken thighs, cutting them into small, bite-sized pieces for easier cooking and eating. Clean and slice the mushrooms, and finely chop the shallot and garlic for a base full of flavor.
Brown the Aromatics. Heat the ghee or duck fat in a large pot over medium heat. Once hot, add the chopped shallot and garlic, sautéing until they become translucent and fragrant.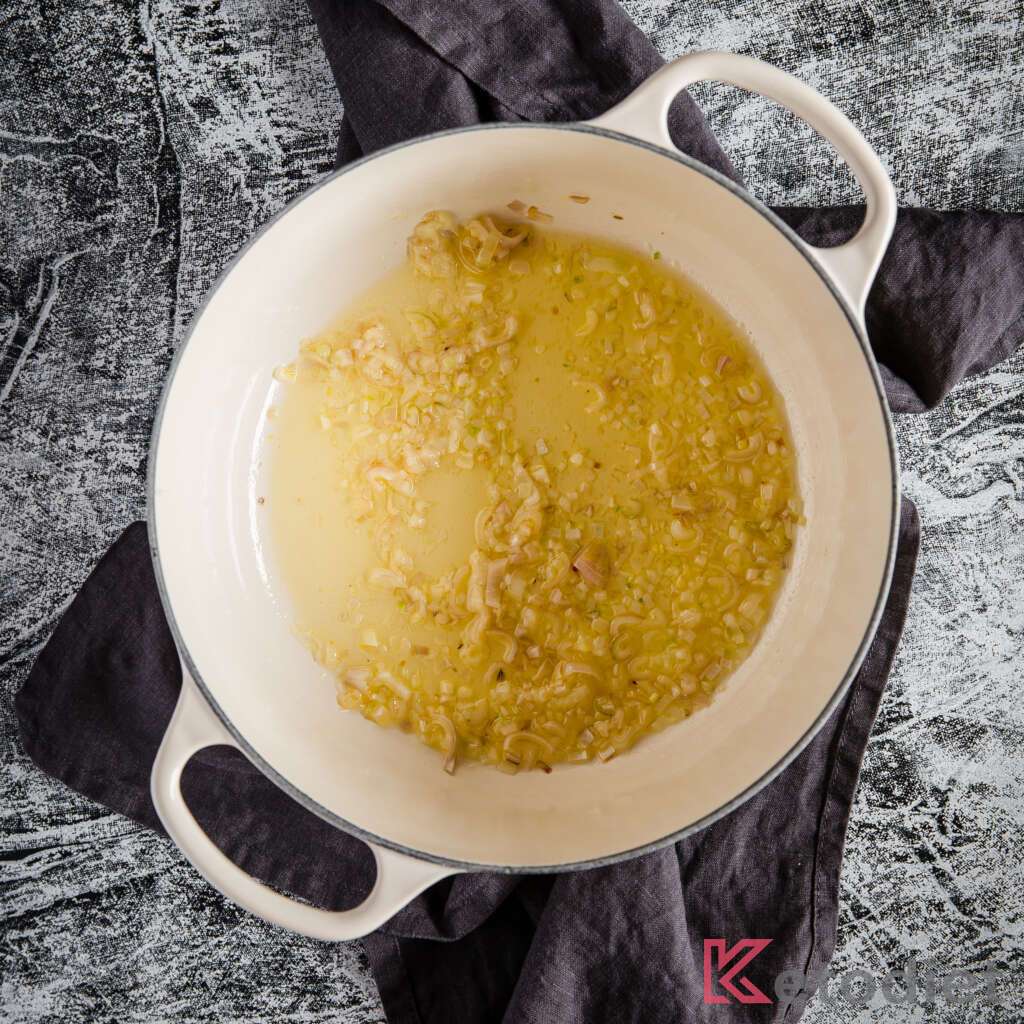 Brown the Chicken. Increase the heat to medium-high and add the chicken pieces. Cook the chicken until it is thoroughly browned and cooked through, which should take about 5-7 minutes.
Cook the Mushrooms. To the pot, add the sliced mushrooms and the fresh herbs (thyme and oregano). Sauté with the chicken until the mushrooms have softened and released their moisture, which will enrich the soup with their earthy flavor.
Simmer the Soup. Once the mushrooms are cooked, pour in the chicken stock. Bring the mixture to a simmer, then reduce the heat to maintain a gentle simmer. Allow the soup to cook for about 20 minutes, letting the flavors meld together.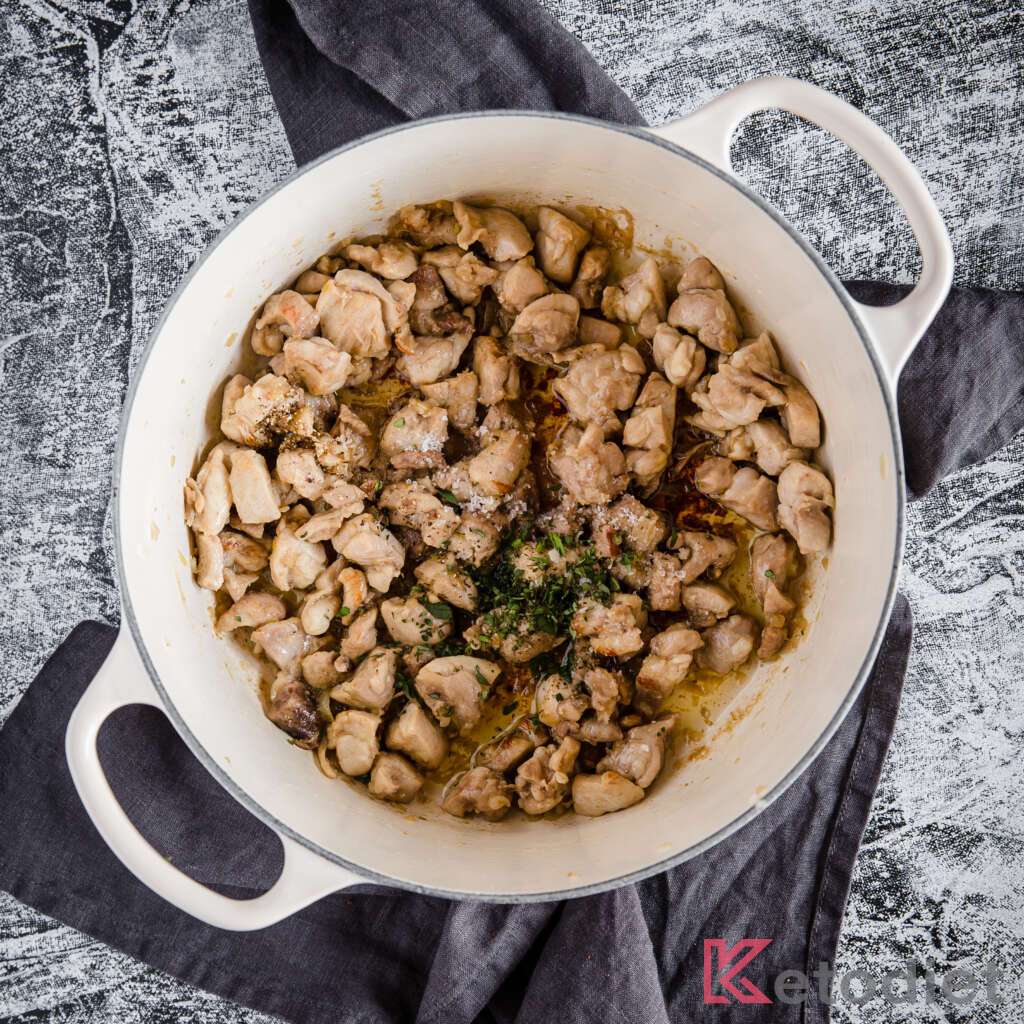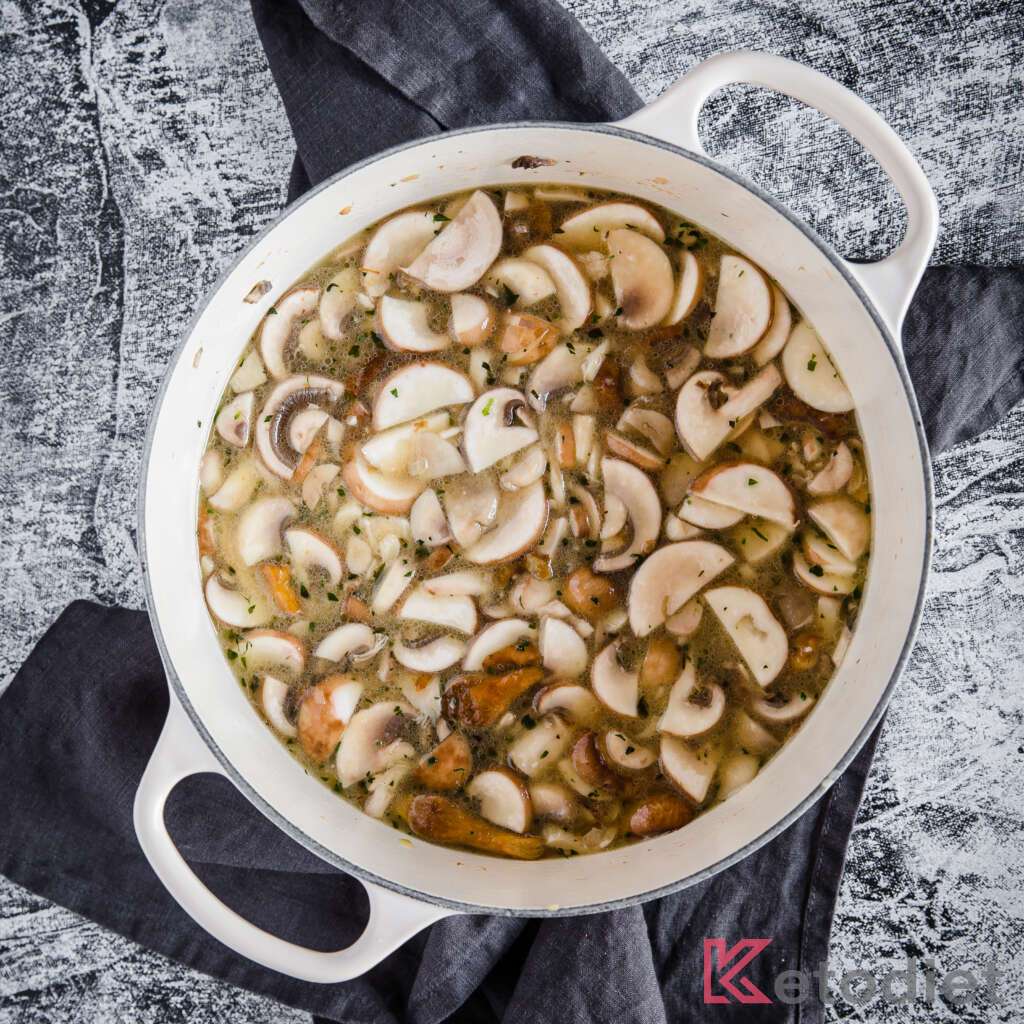 Add Cream and Thicken. After the soup has simmered and the flavors are well combined, stir in the heavy whipping cream or coconut cream for a dairy-free option. If you are using a thickener, this is the time to sprinkle ½ teaspoon of xanthan gum or glucomannan powder over the soup. Whisk it thoroughly to ensure there are no lumps and the soup is evenly thickened.
Final Touches. Let the soup simmer for another 10-15 minutes after adding the thickener so it reaches the perfect consistency. Taste and adjust the seasoning with salt and pepper to your preference. If the soup is too thick, you can thin it with a little extra stock or water.
Serve. Ladle the hot Creamy Chicken Mushroom Soup into bowls. If desired, garnish with additional fresh herbs, a drizzle of cream, or extra sautéed mushrooms on top for presentation and added texture.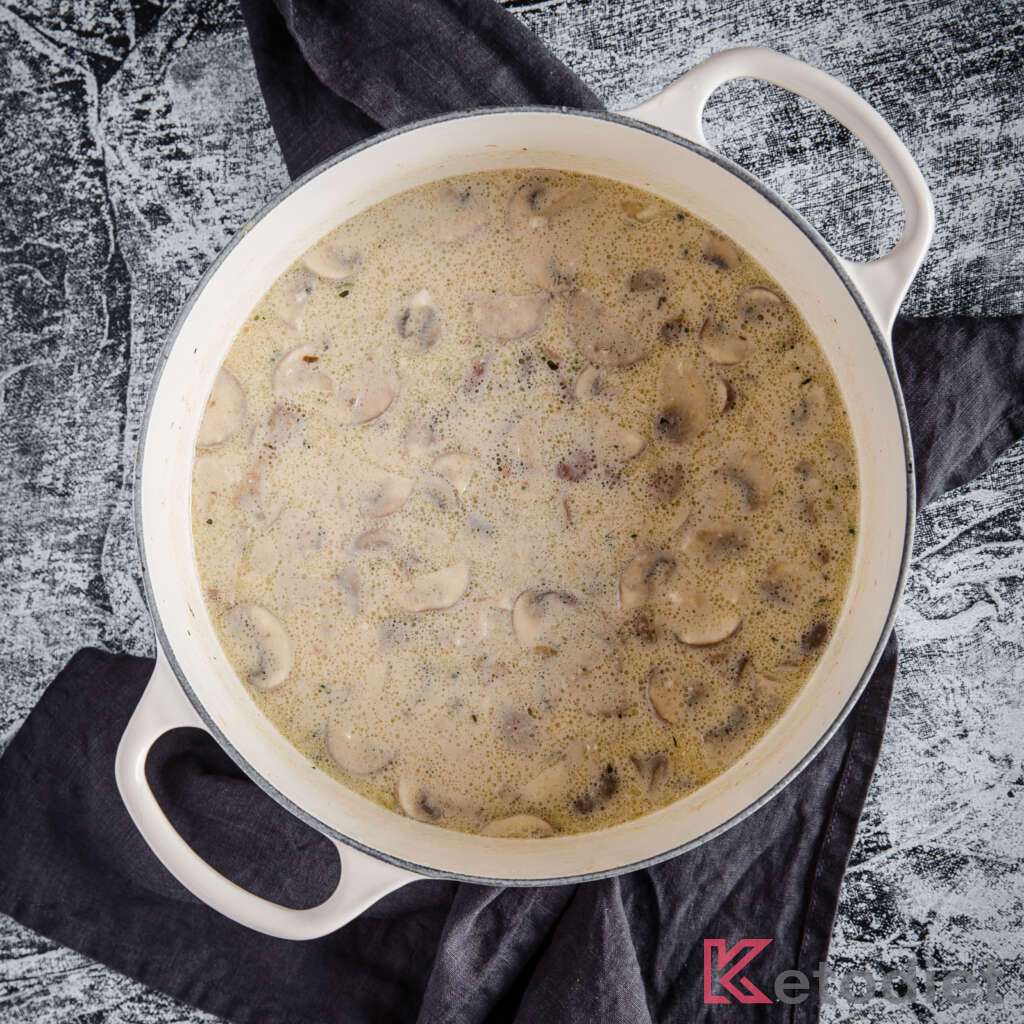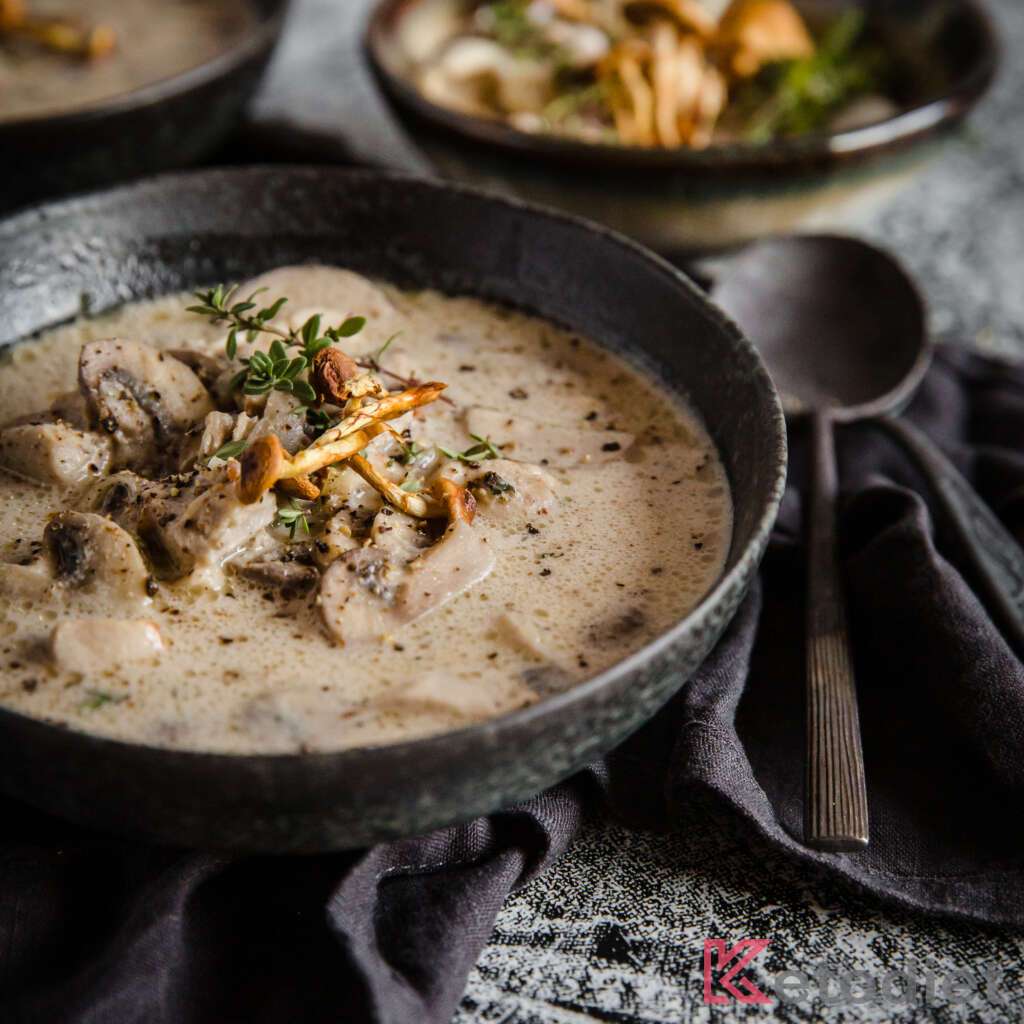 How to Thicken Creamy Chicken Mushroom Soup Without Flour: 4 Ways
Achieving the perfect consistency in any low-carb soup is easy with these alternatives to flour:
Xanthan Gum: Just ½ teaspoon needed to thicken the entire pot.
Glucomannan Powder: This fiber-rich thickener should be used in the same quantity as xanthan gum.
Egg Yolks: Whisk 4 to 6 yolks with a cup of the hot stock before incorporating it into the soup for a velvety finish.
Blended Soup Technique: Blend a third of the soup until smooth, then reintroduce it for a thicker texture.
You can find even more ways to thicken soups, sauces and more in this comprehensive guide to low-carb thickeners.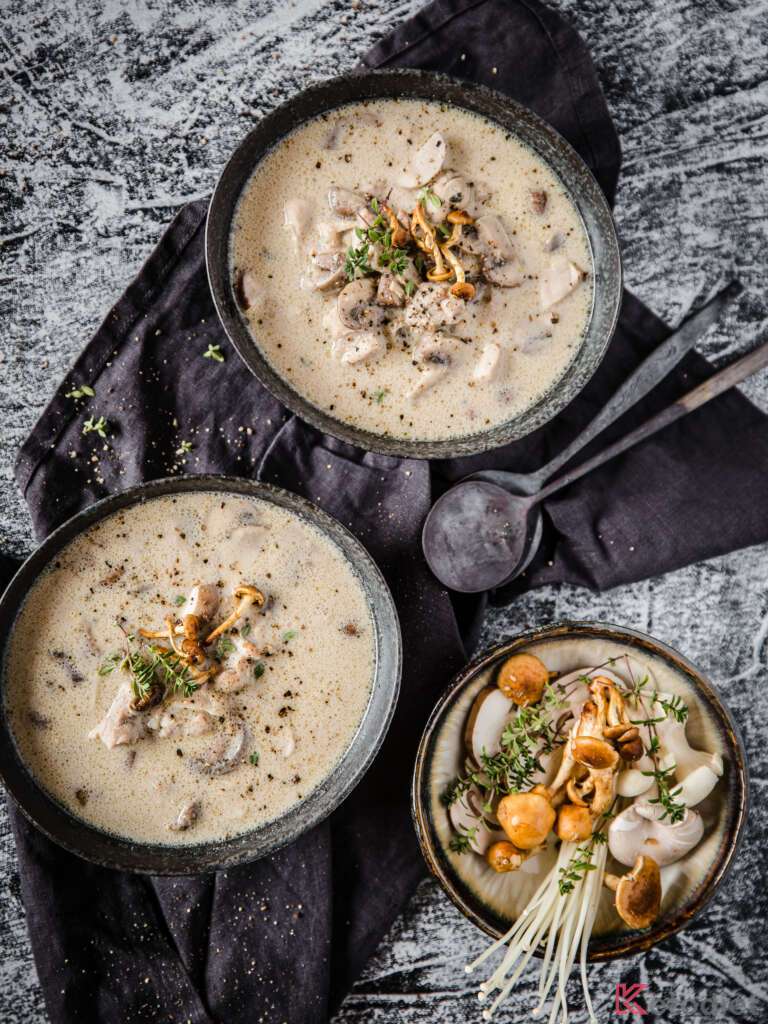 Storage Instructions
What's the best way to store leftovers?
Keep the soup in an airtight container in the fridge for up to 5 days. To freeze, it's best to omit the cream when cooking, then freeze, and finally add fresh cream when reheating.
Can I make this Creamy Chicken Mushroom Soup ahead of time for meal prep?
Yes, it reheats beautifully and can be stored in the fridge for several days.
How to Serve Creamy Chicken Mushroom Soup
Half serving of this creamy soup is ideal as a starter, while full serving will be enough for a main course. You can serve this creamy chicken soup with a slice of toasted Quick Keto Bread for a more satisfying lunch of dinner option.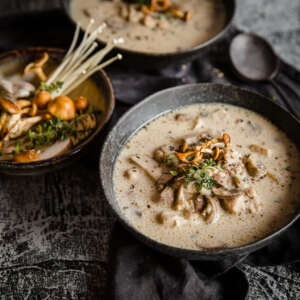 Creamy Chicken & Mushroom Soup
This Creamy Chicken & Mushroom Soup recipe brings a hearty blend of flavors and textures to your table. It's a quick and satisfying meal that's sure to comfort on any chilly day.
Print
Pin
Rate
Ingredients
1.1

lb

chicken thigh pieces

(skinless and boneless)

8.8

oz

mixed mushrooms

(such as white brown and chanterelle)

2

tbsp

ghee

(or duck fat)

1

shallot

(chopped finely)

2

tsp

minced garlic

(about 2 cloves)

1

tsp

fresh thyme

(or ½ tsp dried)

1

tsp

fresh oregano

(or ¼ tsp dried)

4

cups

chicken stock

(or bone broth)

½

cup

heavy whipping cream

(or coconut cream)

½

tsp

xanthan gum

(optional)

sea salt and pepper

(to taste)
Instructions
In a large pot, heat the ghee over medium heat. Sauté the shallot and garlic until fragrant.

Raise the heat to medium-high, add the chicken thigh pieces, and cook until browned, about

5-7 minutes

.

Mix in the sliced mushrooms and herbs, and sauté until the mushrooms are tender.

Pour in the chicken stock and bring to a simmer. Let cook for

20 minutes

to allow flavors to develop.

Stir in the heavy whipping cream. If using a thickener, sprinkle ½ teaspoon of xanthan gum or glucomannan powder over the soup, stirring well to combine.

Allow the soup to simmer for an additional

10-15 minutes

to reach the desired thickness.

Taste and adjust seasoning with salt and pepper as needed. Serve the soup hot, garnished with additional fresh herbs or a drizzle of cream if desired.
Nutrition
Calories:
396
kcal
Net Carbs:
4.6
g
Carbohydrates:
6.3
g
Protein:
30.5
g
Fat:
27.4
g
Saturated Fat:
13.9
g
Sodium:
718
mg
Magnesium:
160
mg
Potassium:
1024
mg
Fiber:
1.7
g
Sugar:
2.4
g
Notes
Serving Size: About 2 cups (480 ml) as a main course, or 1 cup (240 ml) as a starter.
Storage: Store in an airtight container in the fridge for up to 5 days. The soup can also be frozen. If freezing, it's best to add the cream after thawing and reheating the soup to maintain the best texture.
Thickening Tip: If you prefer a thicker soup without using xanthan gum, consider blending a portion of the soup with an immersion blender or by transferring it to a stand blender. For an added thickness, blend with a few cooked cauliflower florets.
Flavor Tip: To enhance the soup's flavor, consider sautéing the mushrooms until they're golden before adding them to the soup.
Dairy-Free Option: For a dairy-free version, coconut cream can provide the same creamy texture without the lactose.
Related Posts