Table of Contents
Ready for some air fryer magic? Let's talk about turning ordinary chicken into extraordinary with your trusty kitchen sidekick. These air fryer chicken thighs are your ticket to a no-fuss, finger-licking dinner that comes together in no time. We're going all in for that irresistible crunch and the kind of tender juiciness that only an air fryer can deliver. Whether it's a hectic weekday or a chill weekend, this dish is your shortcut to yum town.
Just grab some chicken thighs, a bit of avocado oil, a dash of lemon, and a pinch of garlic — that's it. You can let them bathe in those flavors or just season and cook if you're racing against the clock. Once they hit the air fryer basket, you're minutes away from a meal that'll have everyone buzzing. So, let's not wait any longer and whip up some air fryer chicken that'll have you winning dinner time like a pro.
Why You'll Love This Air Fryer Chicken Recipe
Quick & Crispy: Get that satisfying crunch with minimal prep — a fast favorite!
Four Ingredients: Only four ingredients, plus salt and pepper.
Tender Inside: Each bite is packed with juicy goodness.
Foolproof: With just a few common ingredients, this dish is a breeze to make.
Versatile: Perfect for pairing with any of your favorite sides.
Low-Carb & High-Protein: Compatible with a healthy, high-satiety diet.
Ingredients & Substitutions
Heads up: For exact measurements, see the recipe card below.
Whipping up these air fryer chicken thighs is as easy as pie, and you only need a handful of kitchen staples to get started. Here's what you'll need to bring this dish to life – only four ingredients plus seasoning:
Chicken Thighs: The star of the show, providing a rich and succulent base.
Lemon Juice: Adds a zesty tang and helps tenderize the chicken.
Garlic: For that punchy, aromatic flavor we all crave.
Avocado Oil: A heart-healthy oil that helps crisp up the skin beautifully.
Sea Salt & Pepper: Simple seasonings that enhance the natural flavors.
Substitutions & Variations
Wondering how to switch things up with this recipe? Here are a few easy swaps:
Spices/Seasonings: Not a fan of garlic or looking to spice things up? Feel free to mix in your favorite herbs like rosemary or thyme, or add a sprinkle of paprika for a smoky kick. To do that, mix chopped herbs with some olive oil or avocado oil to marinate the thighs. Before placing the chicken in the air fryer, brush the herbs off to avoid burning.
Boneless Thighs: Prefer boneless over bone-in? Go right ahead! Boneless thighs will cook a bit faster, so start checking for doneness around the 15-minute mark to ensure they're just right.
Chicken Breasts: Leaner than thighs and just as tasty. If you opt for chicken breasts, keep an eye on the time — they'll need about 12-15 minutes in the air fryer, depending on their size. You're aiming for an internal temperature of 165°F (74°C) for juicy perfection.
With these simple tweaks, you can tailor the dish to your taste and dietary preferences without missing out on the delicious results.
How to Make Crispy Air Fryer Chicken Thighs
Prep the Chicken. Pat the chicken thighs dry with a paper towel to remove any excess moisture. This helps the skin get extra crispy. In a small bowl, mix the avocado oil (or ghee if you prefer) with crushed garlic, and brush it all over the chicken. A generous sprinkle of sea salt on both sides will enhance the flavors beautifully.
Marinate (Optional). If time allows, let the chicken marinate. This could be 30 minutes on the counter or up to overnight in the fridge. The longer it sits, the more infused the flavors will be. If you're in a rush, you can skip this step and go straight to cooking.
Air Fry. Before placing the chicken in the air fryer, scrape off any large pieces of garlic or herbs to prevent burning. Set your air fryer to 400°F (200°C) and cook the chicken thighs skin-side up for about 18-20 minutes. There's no need for flipping, as the air fryer's circulation cooks them evenly.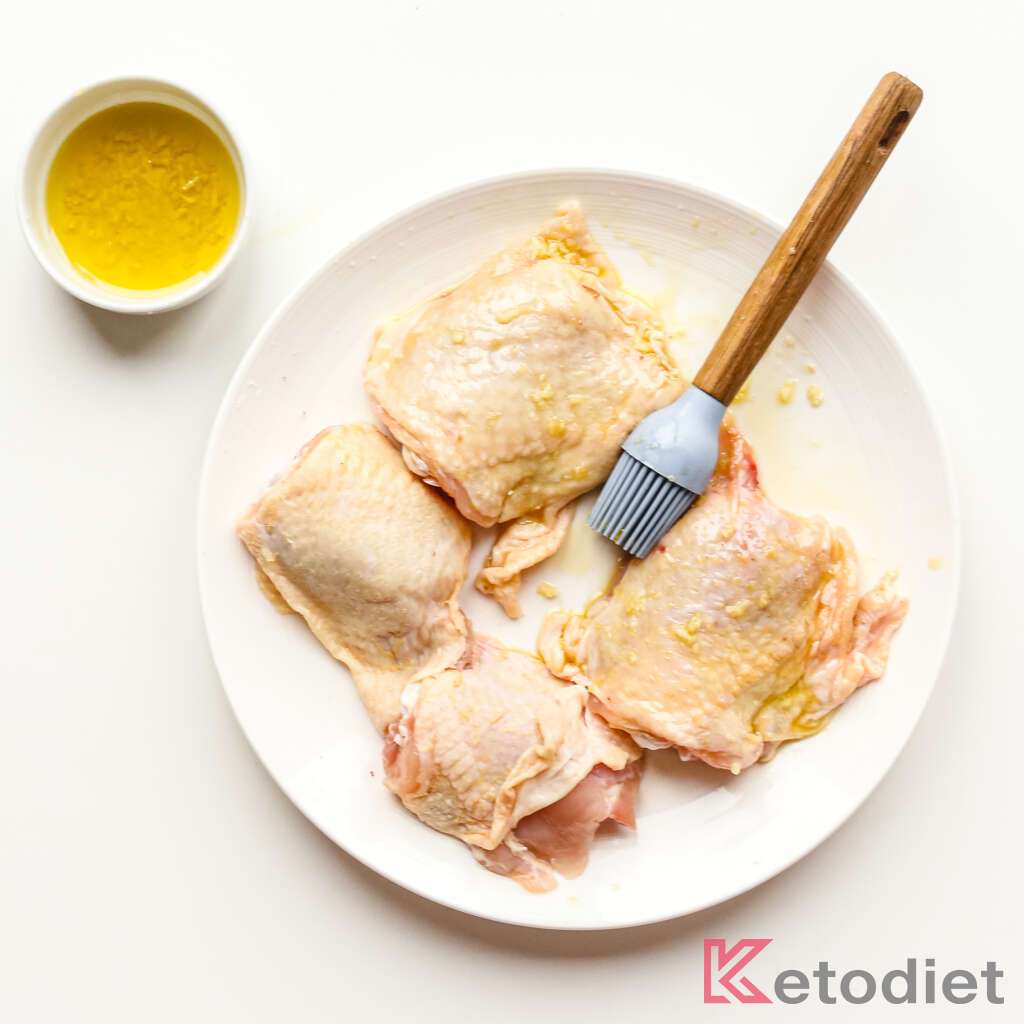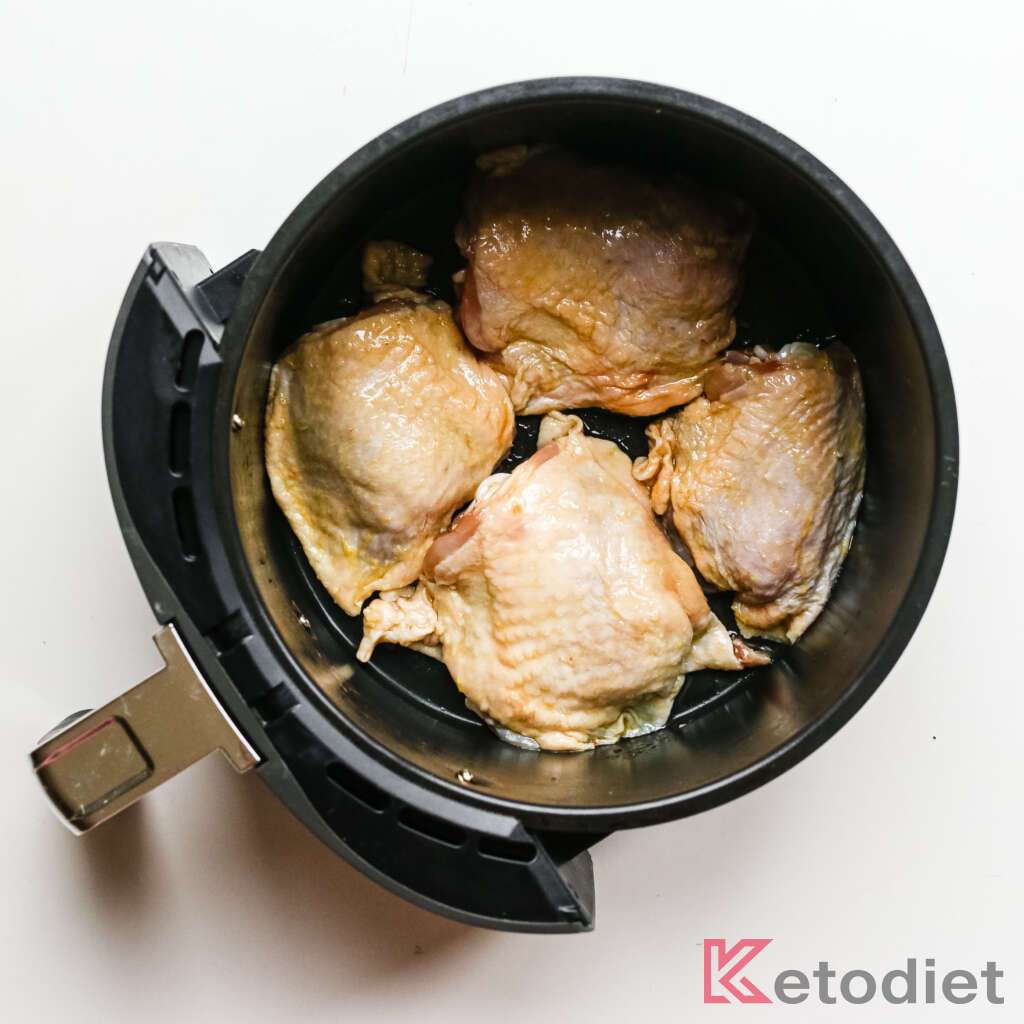 Check for Doneness. After cooking, ensure the chicken has reached an internal temperature of at least 165°F (74°C) by using a meat thermometer. The skin should be a glorious golden brown, and the meat should be wonderfully tender and juicy.
Rest and Serve. Let the chicken rest for a few minutes after cooking. This allows the juices to redistribute, ensuring each bite is moist. Serve hot, with your choice of sides or a simple salad to round out the meal.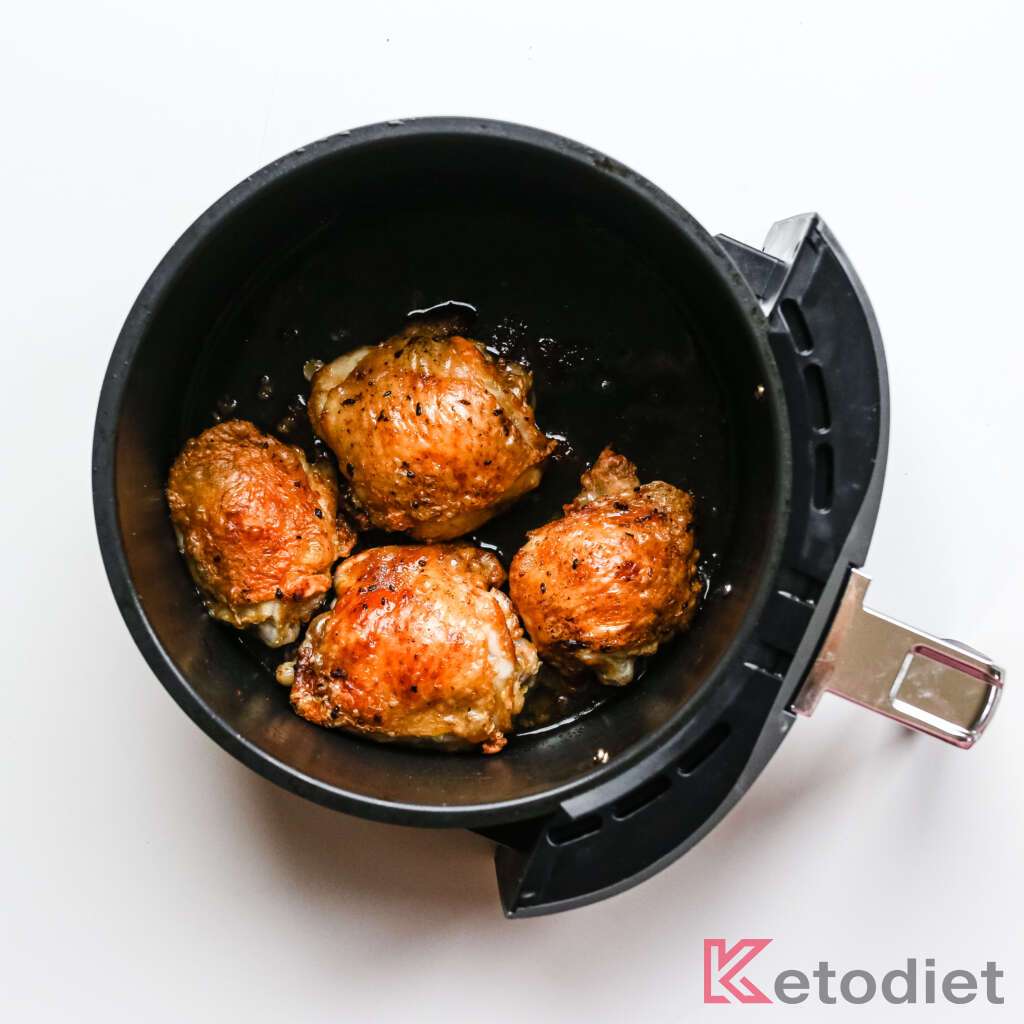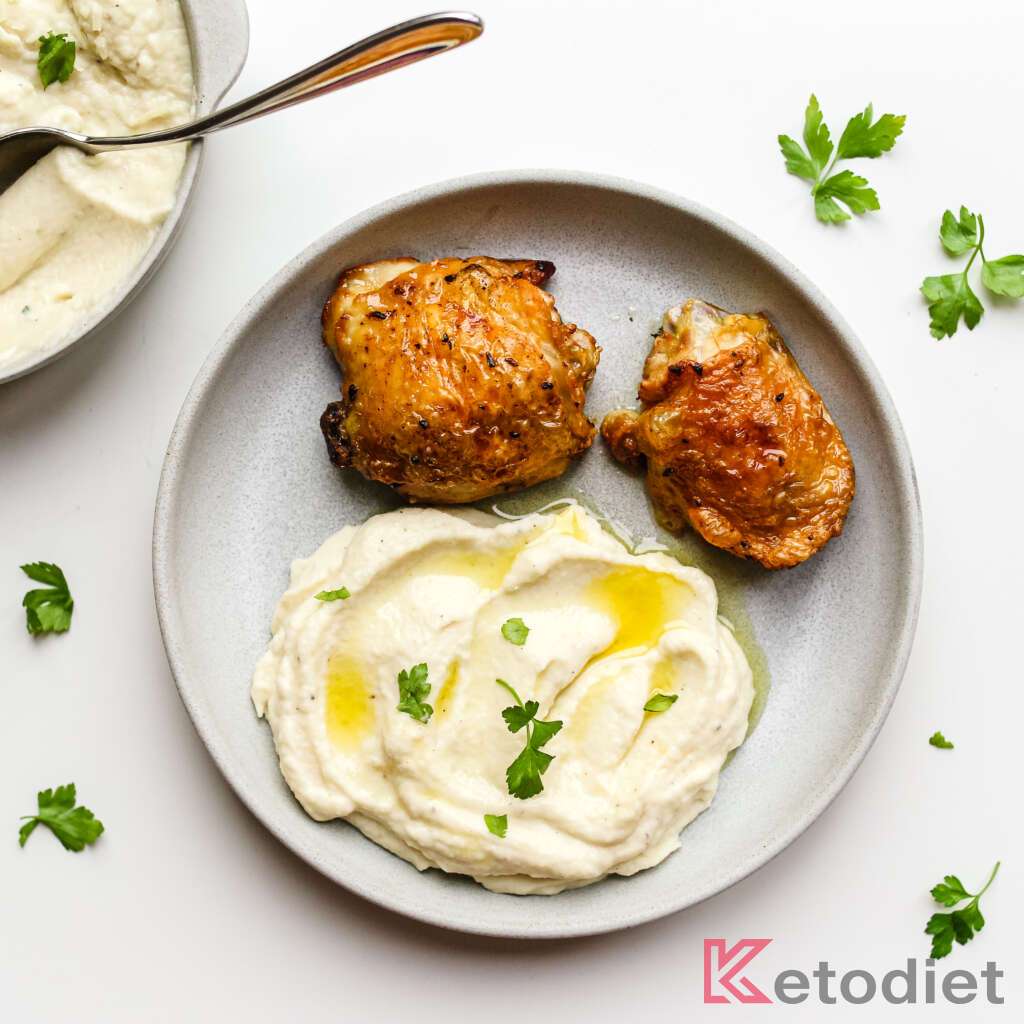 Tips for Best Air Fryer Chicken
Here are our top tips for air fryer chicken perfection:
Preheat Your Air Fryer: If your model has a preheat setting, use it! Starting with a hot air fryer helps the chicken skin start crisping up right away.
Don't Overcrowd: Give your chicken thighs room to breathe in the air fryer basket. Air circulation is key to getting that even, all-around crisp.
Skin-Side Up: Always cook the chicken thighs skin-side up. This ensures the skin gets the direct heat it needs to become deliciously crispy.
Internal Temp is Key: Use a meat thermometer to check that the thickest part of the thigh reaches 165°F (74°C). Safety and juiciness go hand-in-hand!
Rest Before Serving: Let the chicken sit for a few minutes after cooking. This little break lets the juices settle back into the meat, keeping it moist and flavorful.
Watch for Aromatics: Bits of garlic and herbs can burn quickly in the high heat. Brush them off before cooking to prevent any bitter flavors. Alternatively, you can press any aromatics under the skin for more flavor without burning.
Storage Instructions
Got leftovers? Here's how to keep your chicken tasting great for later:
How should I store leftover air fryer chicken thighs?
Seal the cooled leftovers in an airtight container and refrigerate. They'll be good for up to three days.
What's the best way to reheat them?
For that just-cooked crispiness, reheat the chicken in the air fryer at 350°F (175°C) for a few minutes. Alternatively, warm them in a preheated oven at 375°F (190°C). The microwave is quick but may soften the skin.
Can I freeze the cooked chicken thighs?
Yes, you can! Wrap each thigh in foil and place them in a freezer bag. They'll last for about 3 months. Thaw in the fridge before reheating.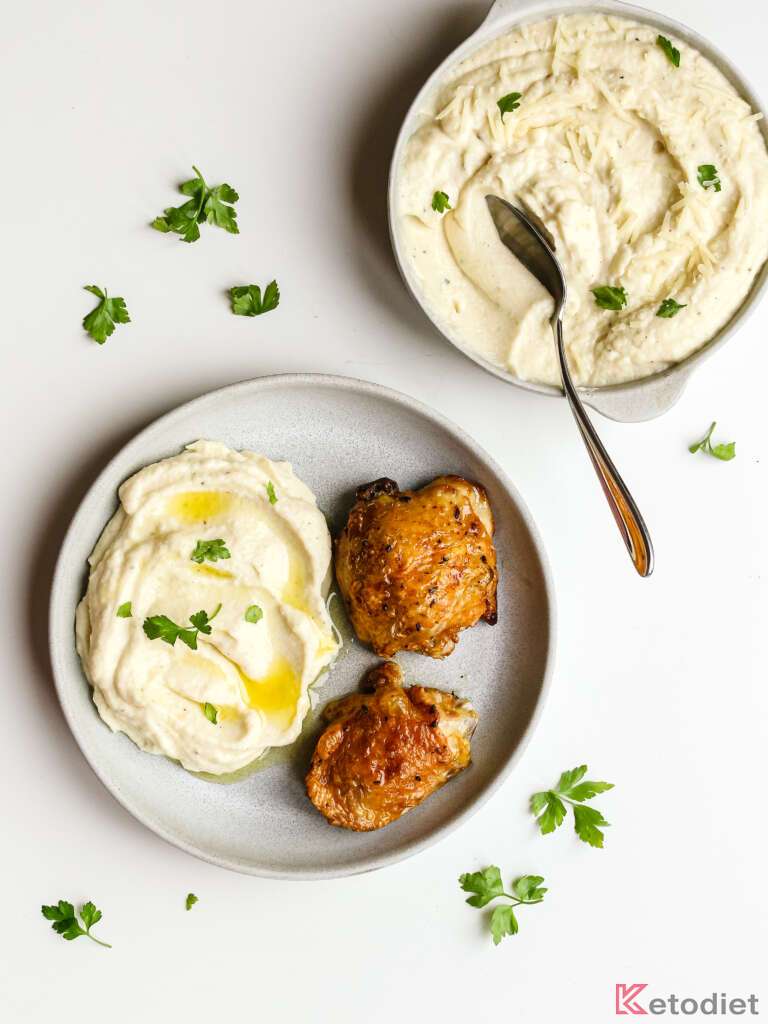 How to Serve Crispy Air Fryer Chicken Thighs
Looking for the perfect pairings for your crispy chicken? These serving suggestions are sure to round out your meal:
Mix and match these suggestions to suit your taste or dietary needs, and enjoy a meal that's both satisfying and balanced!
Tools for this Crispy Air Fryer Chicken Recipe
Air Fryer: As you might have guessed, the key appliance for achieving that perfect crispy skin and juicy interior.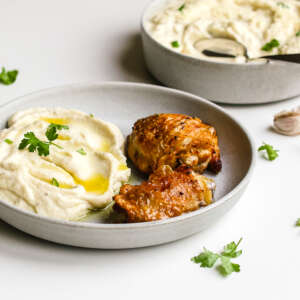 Air Fryer Garlic Chicken Thighs
Enjoy the perfect blend of crispy and tender with these Air Fryer Garlic Chicken Thighs. Ideal for a quick and satisfying dinner, they promise a burst of garlic flavor and a texture that'll have everyone asking for seconds.
Print
Pin
Rate
Ingredients
4

chicken thighs

(skin on, bone in)

1

tbsp

fresh lemon juice

1

clove

garlic

(crushed)

2

tbsp

virgin avocado oil

(or ghee)

sea salt and pepper
Instructions
Pat the chicken thighs dry and rub them with a mixture of lemon juice, avocado oil, and crushed garlic. Season with sea salt.

For deeper flavor, let the chicken marinate for

30 minutes

or up to overnight in the fridge. If short on time, you can skip this step.

Set your air fryer to

400

°F

(

200

°C

). Place the chicken thighs skin-side up in the basket and cook for 18-20 minutes, until the skin is crispy and a meat thermometer reads

165

°F

(

74

°C

)at the thickest part.

Allow the chicken to rest for a few minutes before serving to let the juices redistribute.
Nutrition
Calories:
566
kcal
Net Carbs:
0.9
g
Carbohydrates:
1
g
Protein:
35.7
g
Fat:
47
g
Saturated Fat:
10.8
g
Sodium:
421
mg
Magnesium:
31
mg
Potassium:
302
mg
Fiber:
0.1
g
Sugar:
0.2
g
Notes
Serving Size: 2 thighs.
Avoid Burning Aromatics: Remove large bits of garlic or herbs before air frying to prevent burning.
Even Cooking: Ensure the chicken is spaced out in the air fryer for even cooking.
Crispiness: For extra crispiness, pat the chicken skin dry before seasoning.
Safe Cooking: Always check the chicken's internal temperature reaches 165°F (74°C).
Serving Options: Enjoy these thighs fresh from the air fryer for the best flavor and texture.
Storage: Best eaten fresh but can be stored in the fridge for up to 3 days.
Related Posts