Table of Contents
Are you in the mood for something irresistibly crispy and utterly delicious? Let me introduce you to my latest creation: Crispy Spatchcock Chicken with Ginger and Lime. This isn't just any chicken recipe – it's a game-changer in the world of easy, mouth-watering meals. Delicately spiced with ginger, this is a great option for your holiday table as well as any other occasion.
Imagine the perfect blend of zesty ginger and tangy lime, coupled with the ultimate crispiness that we all crave in a chicken dish. Spatchcocking the chicken isn't just a fancy chef move; it's your ticket to a perfectly cooked, evenly crispy delight that's ready in a jiffy.
And guess what? It's surprisingly simple to do at home. Whether you're cooking for a cozy family dinner or prepping for a special gathering, this recipe is sure to win hearts and tantalize taste buds. So, let's dive in and get those taste buds dancing with our crispy spatchcock chicken!
Why You'll Love This Crispy Spatchcock Chicken
Crispy & Juicy: Enjoy the ultimate crispy skin and juicy meat with every bite.
Zesty Flavors: Ginger and lime are perfect together.
Easy & Quick: Speedy preparation and cooking for busy evenings.
Versatile: Great as a main dish or in salads and wraps.
Low-Carb and High-Protein: Ideal for a healthy keto-friendly lifestyle.
Carnivore-Friendly: Skip the root vegetables and it's suitable for a carnivore diet (if you allow aromatics).
What is Spatchcock Chicken?
Spatchcock Chicken involves removing the backbone of a whole chicken to flatten it out, a technique also known as butterflying. This method ensures even and faster cooking, allowing the chicken to lay flat in the pan for better heat distribution. It results in a deliciously crispy skin while keeping the meat juicy. Simple to do at home with kitchen scissors, spatchcocking is a great way to prepare chicken for roasting, yielding a flavorful and evenly cooked meal.
Ingredients & Substitutions
Heads up: For exact measurements, see the recipe card below.
Creating this delicious dish is a breeze, and you only need these simple ingredients:
Chicken: Ideally organic, perfect for yielding tender meat and crispy skin.
Extra Virgin Olive Oil: For that rich, moist texture. Melted butter or ghee are great alternatives.
Ginger: Freshly grated ginger brings a warm, zesty kick to the chicken.
Garlic: Finely chopped garlic cloves or a subtle, aromatic flavor.
Lime Juice: Adds a fresh, citrusy tang to balance the flavors.
Coconut Aminos: For a hint of savory depth. Tamari sauce is a good alternative.
Fresh Parsley: Chopped parsley enhances the dish with a light, herby touch.
Salt & Pepper: Essential for seasoning to perfection. Sea salt or pink Himalayan salt are great options.
Lemon: Sliced organic lemon for extra flavor.
Veggies: Celeriac, carrots, and onion for a hearty side.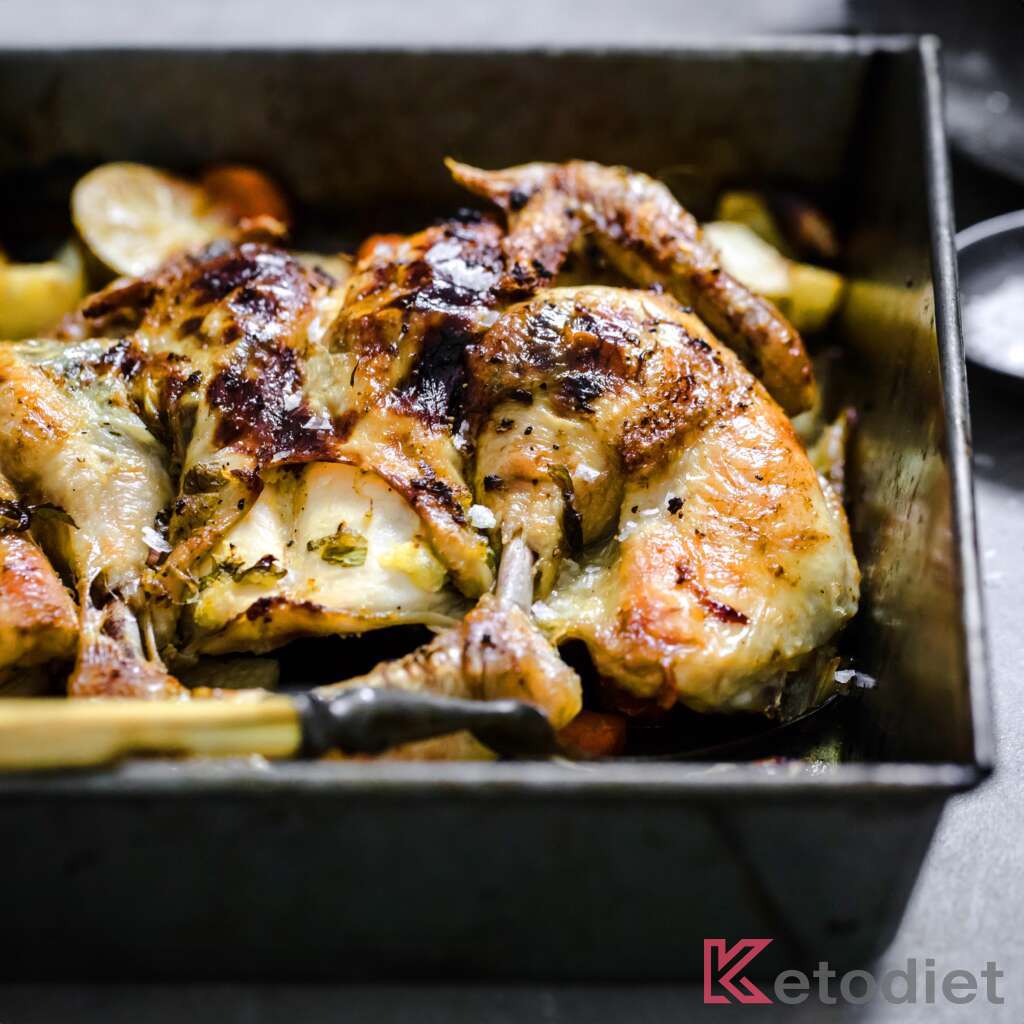 Other Herb & Spice Variations
Looking to mix things up a bit? Here are five delicious herb and spice combinations you can try with this crispy spatchcock chicken recipe:
Lemon & Thyme: Swap the lime juice for lemon and ginger for fresh thyme for a classic, aromatic flavor.
Rosemary & Garlic: Replace ginger with finely chopped rosemary for a fragrant, earthy twist.
Cumin & Coriander: Combine ground cumin and coriander for a warm, Middle Eastern-inspired taste.
Smoked Paprika & Oregano: Use smoked paprika and oregano for a slightly spicy, Mediterranean vibe.
Maple & Mustard: A sweet and tangy alternative using (sugar-free) maple syrup and Dijon mustard instead of ginger and lime.
How To Make Crispy Spatchcock Chicken with Ginger and Lime
Preheat the Oven. Preheat the oven to 400°F (200°C) fan assisted), or 425°F (220°C) conventional.
Spatchcock the Chicken. Place the chicken breast side down with the legs towards you. Using a good pair of scissors, cut out the backbone. Open the chicken, turn it over, and flatten with the palm of your hands. Reserve the backbone for making chicken soup or chicken stock.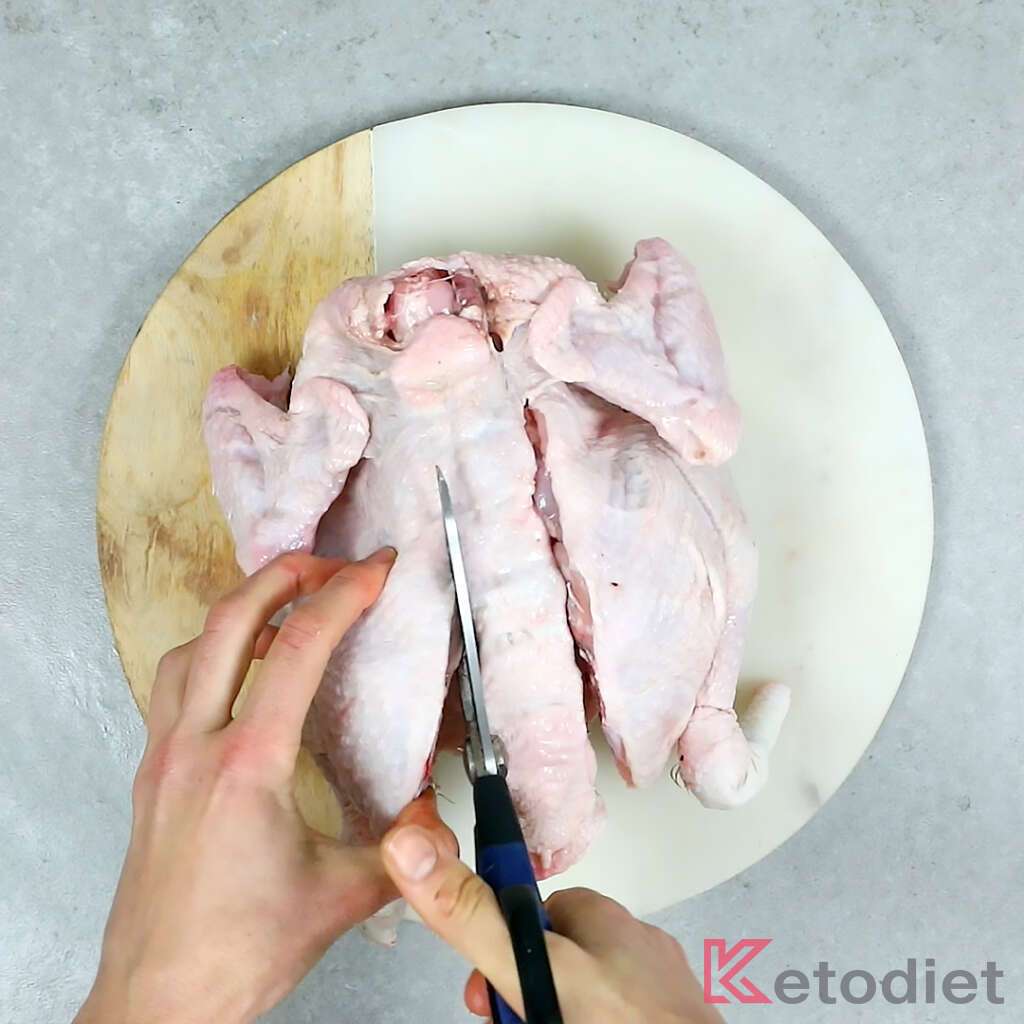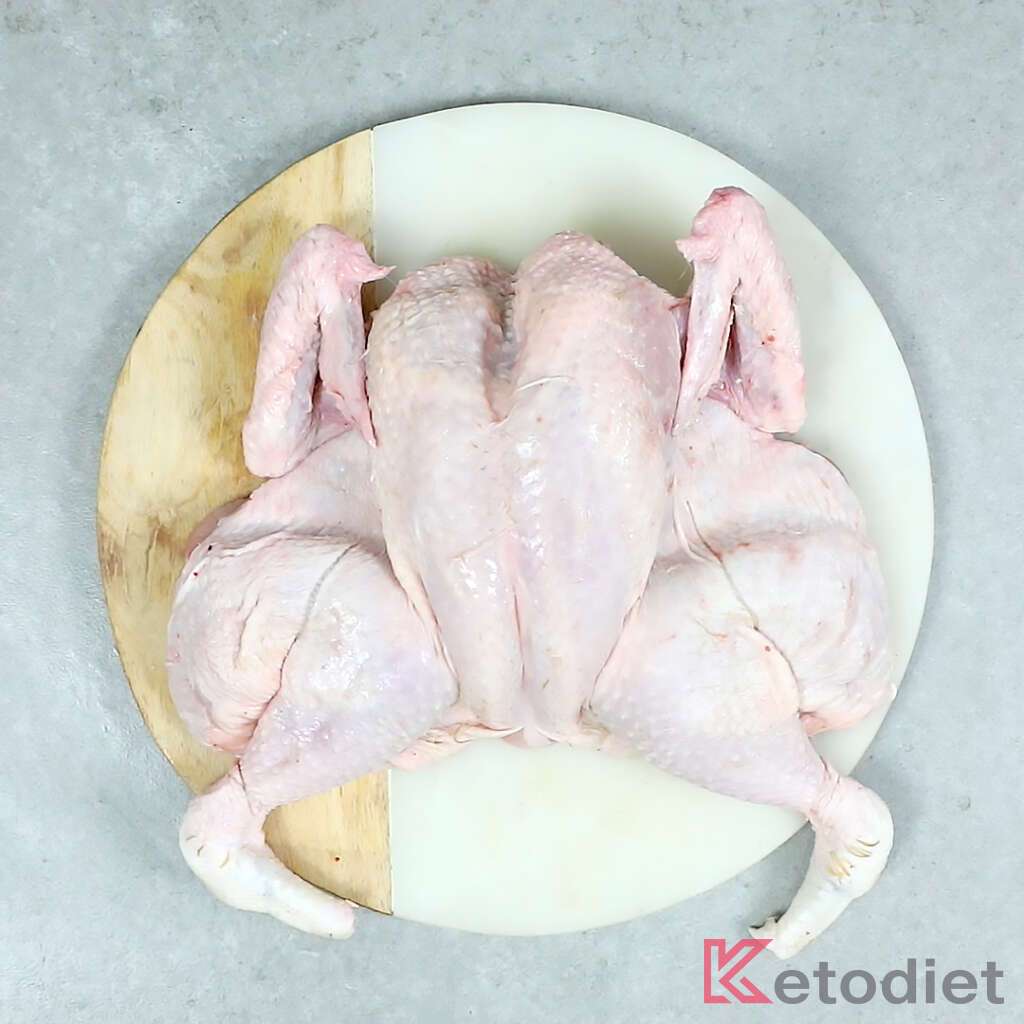 Prepare the Marinade. In a small bowl, mix the olive oil, ginger, garlic, parsley, lime juice, coconut aminos (or tamari sauce), and a good pinch of salt and pepper. Reserve a little fresh parsley for garnishing before serving, if desired.
Stuff the Chicken with the Marinade. Loosen the skin from the meat of the chicken and stuff it with half of the marinade, spreading it evenly.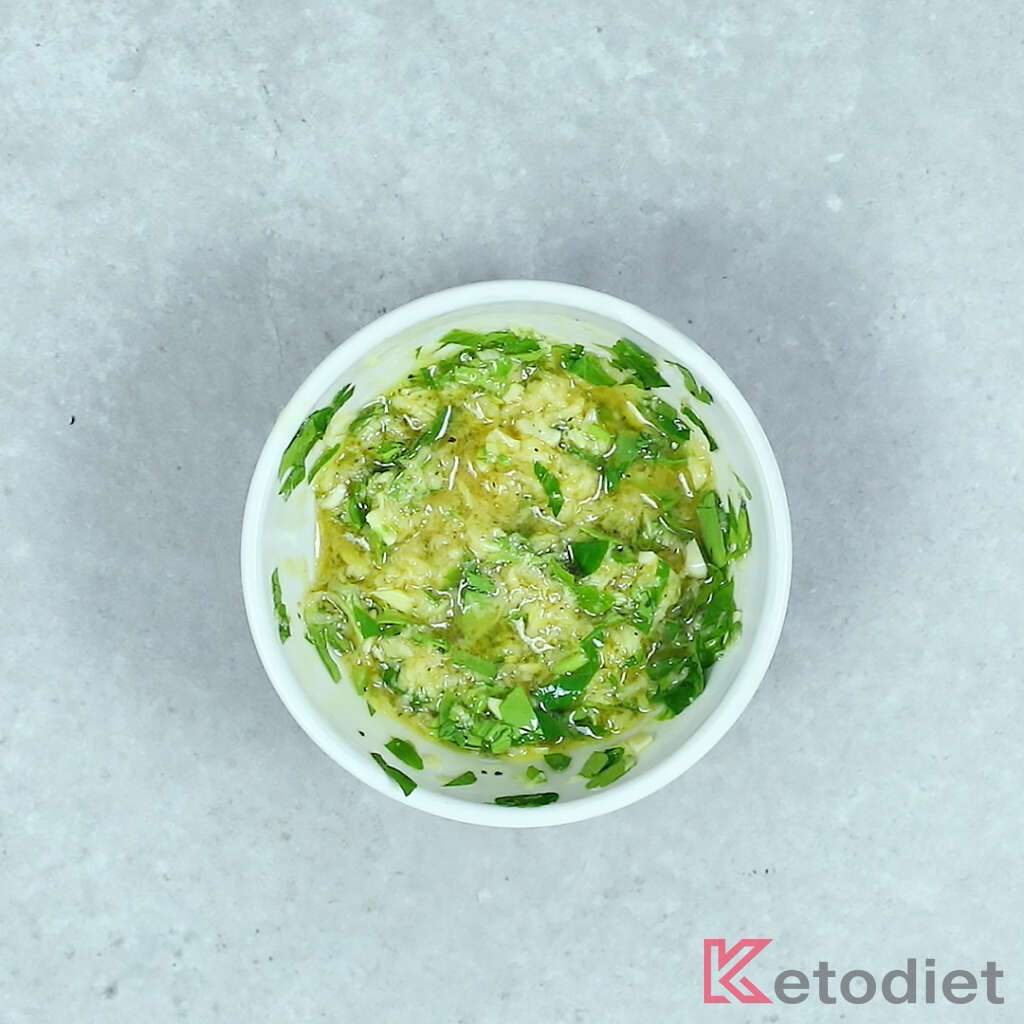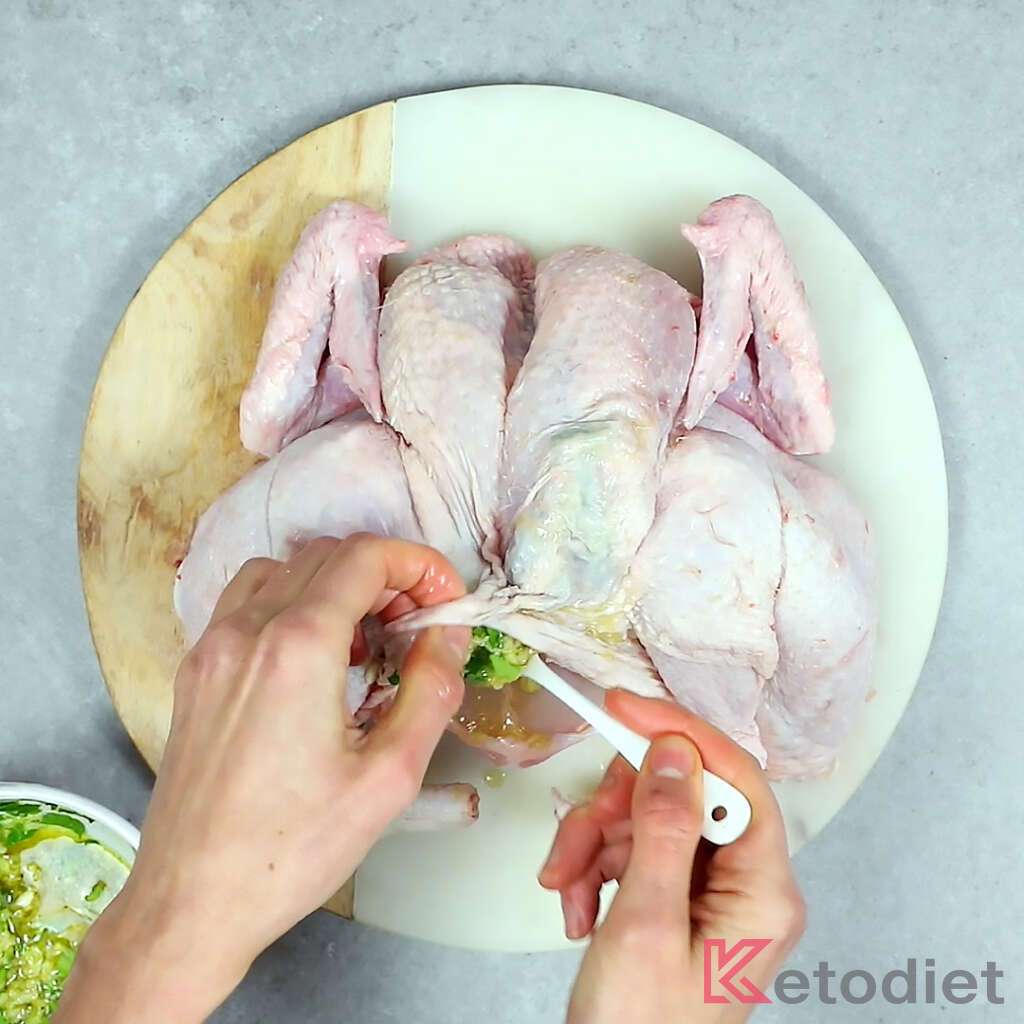 Marinate the Chicken. Brush the skin and the bottom side of the chicken with the rest of the marinade. Let the chicken marinate for 30 minutes on the kitchen counter, or up to 2 hours In the fridge. For avoiding burnt aromatics, you can brush the aromatics off before baking.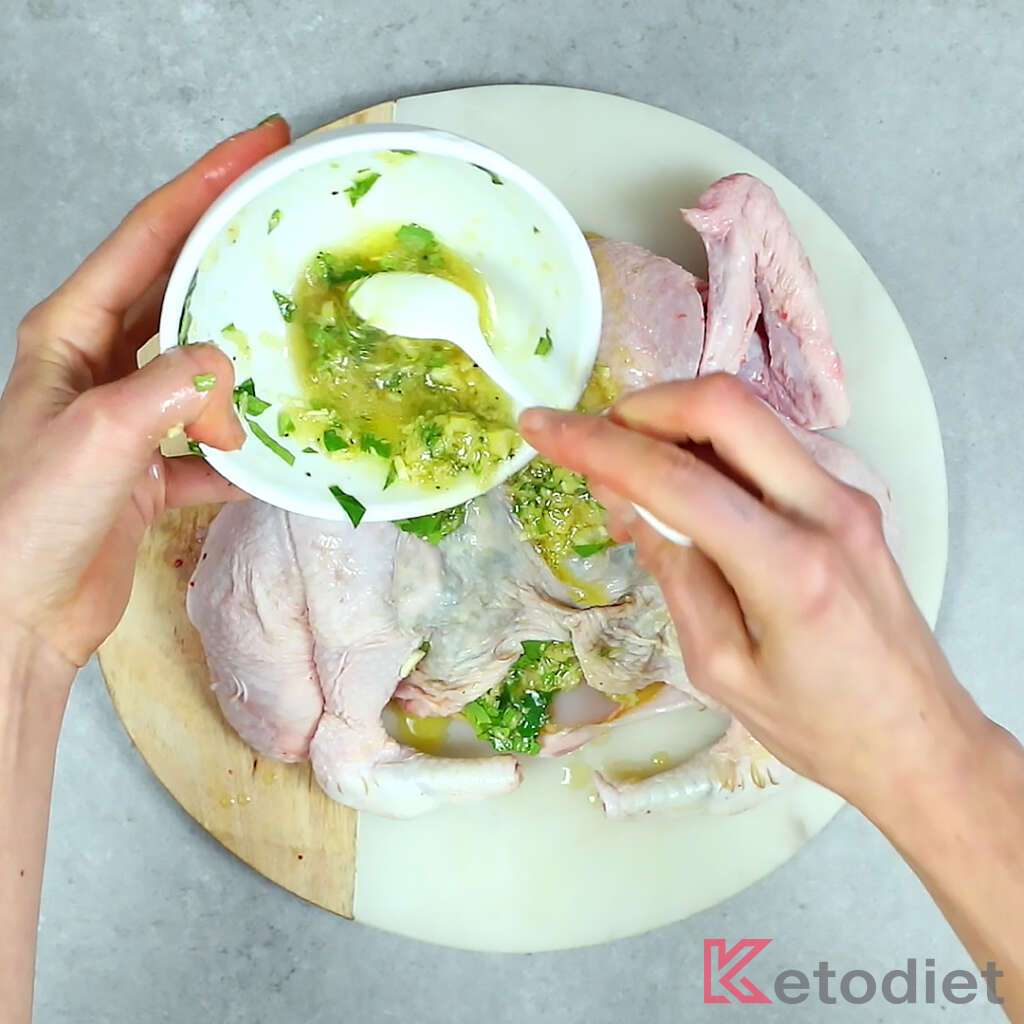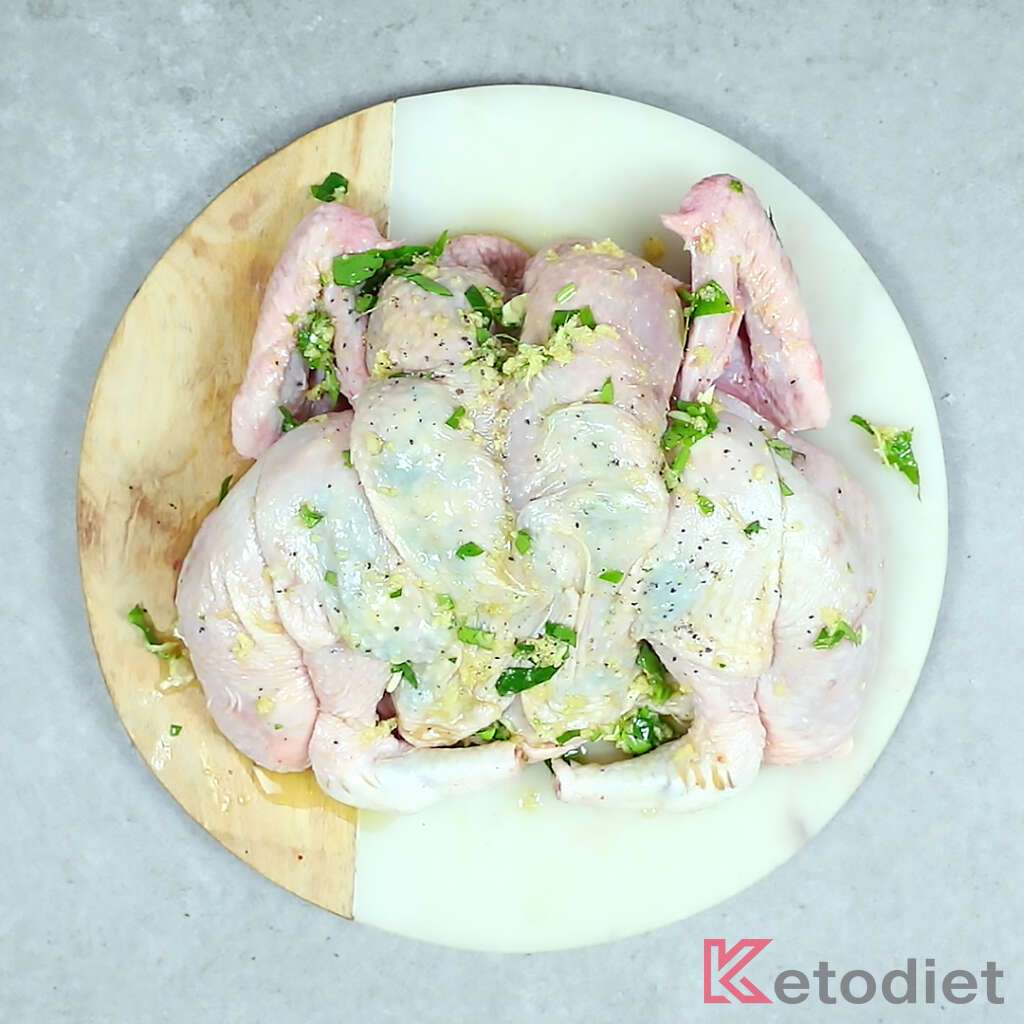 Vegetable Preparation. Peel and chop the celeriac and carrot into 1-inch chunks. Peel the onion and cut it into small wedges. Place them in a deep baking tray, lay the chicken on top, breast side up, and add halved lemon for flavor.
Roasting. Roast the chicken for approximately 45 minutes (uncovered) until the skin is crisp and the meat is cooked through. You may want to drain the juices to crisp up the vegetables further.
Rest and Serve. Once your crispy spatchcock chicken is cooked, let the chicken rest for 5 minutes. Then, pull off the meat, sprinkle with fresh parsley, and serve with a drizzle of the juices. Reserve the bones for making stock.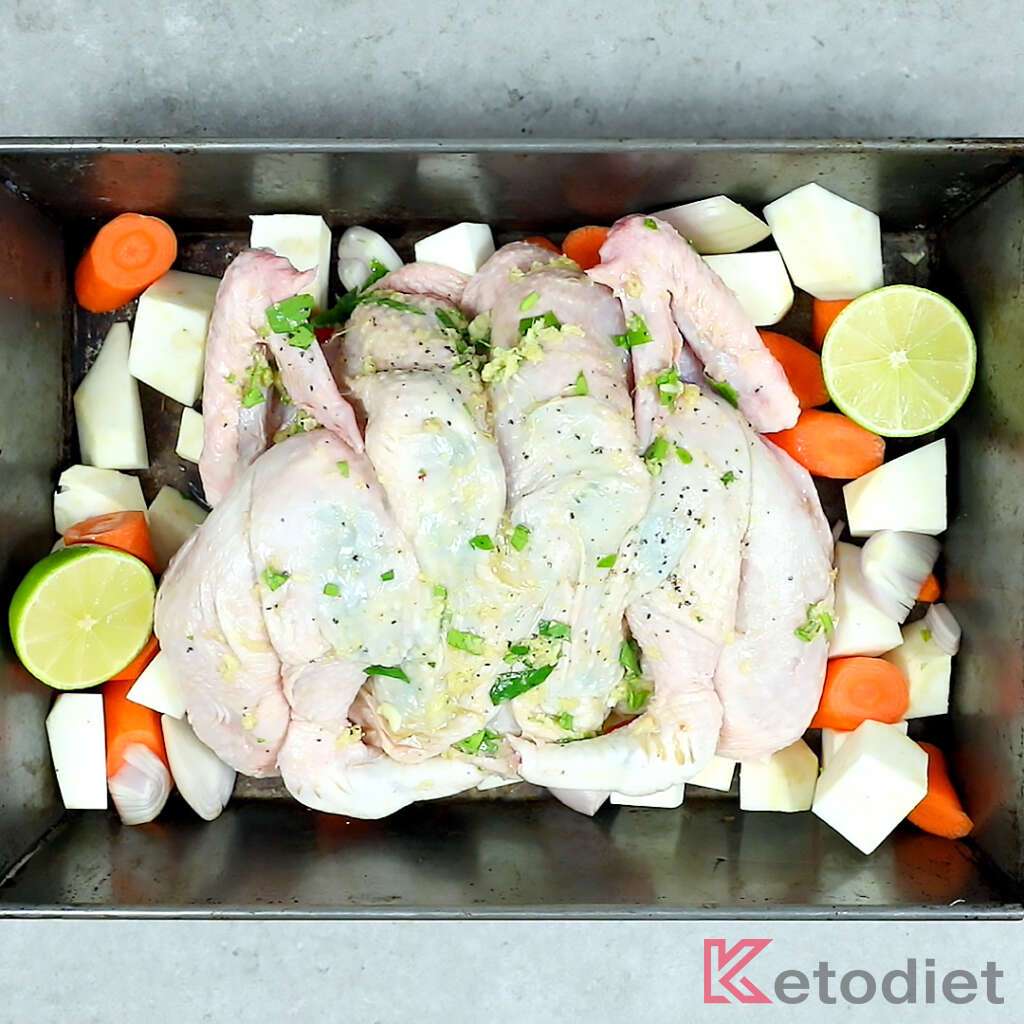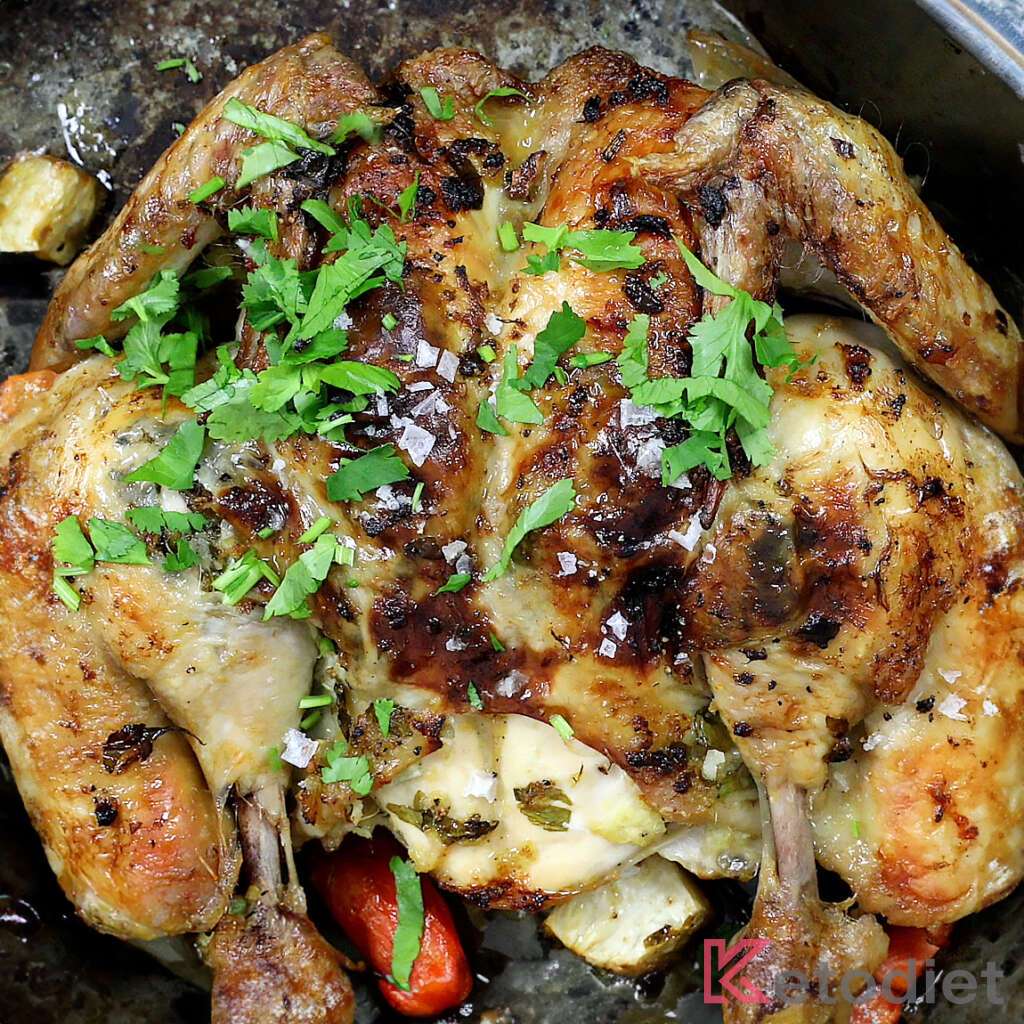 Tips for Best Crispy Spatchcock Chicken
Making this crispy spatchcock chicken is easy, but here are a few tips to ensure it turns out perfectly every time:
Even Spreading of Marinade: Make sure to get the marinade under the skin and all over the chicken for maximum flavor.
Avoid Overcooking: Keep an eye on the chicken as it roasts to ensure it doesn't dry out. Crisp skin is great, but juicy meat is key.
Use a Meat Thermometer: For perfectly cooked chicken, the internal temperature should reach 165°F (75°C). A thermometer takes the guesswork out of it.
Let it Rest: Allowing the chicken to rest for 5 minutes after roasting helps retain its juices, making it more succulent.
Save the Backbone: Don't throw away the backbone you remove. It's perfect for making stocks and broths, adding extra value to your meal prep.
Storage Instructions
Keeping your delicious crispy spatchcock chicken fresh and tasty is easy with these storage tips:
Refrigerator Storage: Store any leftovers in an airtight container. They will stay fresh in the refrigerator for up to 3-4 days.
Freezing: You can freeze the cooked chicken for longer storage. Wrap it well or use a freezer-safe container. It will keep for up to 3 months.
Reheating: When reheating, ensure the chicken is heated thoroughly to retain its flavor and moisture. An oven or microwave works well for this.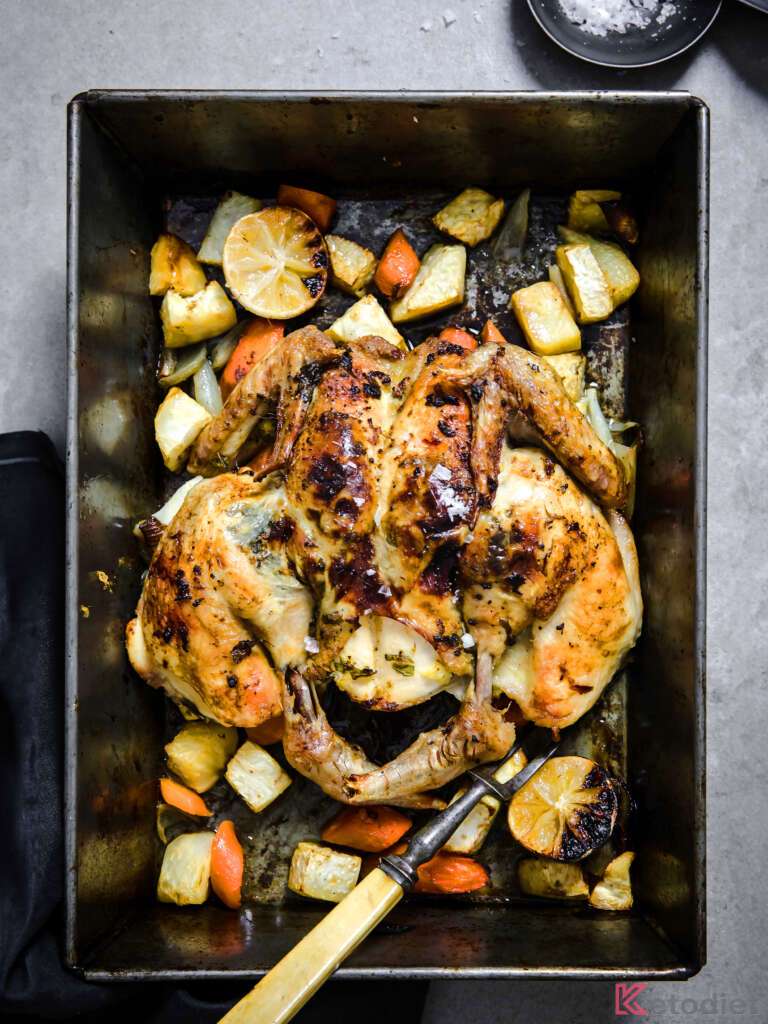 How to Serve Crispy Spatchcock Chicken
This versatile chicken dish can be enjoyed in a variety of delicious ways:
As a Standalone Main Course: Serve it as the star of your dining table, perfect for a family dinner or a special occasion. For more veggies you can always add more root vegetables, or swap them with lower-carb options such as turnips, radishes, zucchini, eggplant, cauliflower or broccoli.
With Low-Carb Sides: Pair it with low-carb vegetables like cauliflower mash, cauliflower rice, sautéed greens, braised cabbage, or a fresh salad for a complete keto-friendly meal.
In Wraps or Sandwiches: Shred the leftover chicken and use it in low-carb wraps or lettuce sandwiches (try with our Quick Keto Bread) for a quick and tasty lunch.
In Soups and Stews: A great way to use leftovers! Add chunks of the chicken to soups or stews for an extra protein boost and a burst of flavor.
As a Salad Topper: Elevate your salads by adding slices of this flavorful chicken, perfect for a light yet satisfying meal.
Tools for Crispy Spatchcock Chicken
To make this recipe a success, you'll need a couple of key tools:
Kitchen Scissors: A sturdy pair of kitchen scissors is crucial for spatchcocking the chicken easily and efficiently.
Roasting Tin or Baking Tray: Use a large roasting tin or baking tray to accommodate the chicken and ensure even cooking.
Basting Brush (Optional): Helpful for evenly applying the marinade over the chicken.
Meat Thermometer (Recommended): For perfectly cooked chicken, a meat thermometer can be very useful to check for doneness.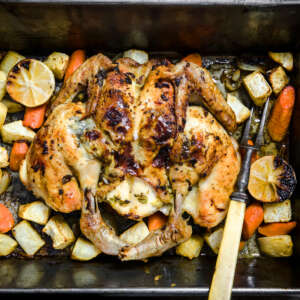 Crispy Spatchcock Chicken with Ginger & Lime
Satisfy your dinner cravings with this finger-licking Ginger Spiced Spatchcock Chicken. A simple, low-carb recipe, bursting with the zesty flavors of ginger and lime. Perfectly crispy and juicy, it's ideal for a wholesome family meal.
Print
Pin
Rate
Ingredients
1

medium

chicken, about 2.2 lb bird

(preferably organic)

4

tbsp

extra virgin olive oil or melted butter

2

tbsp

grated ginger

2

garlic cloves

(finely chopped)

juice of 1 small lime

(about 2 tbsp)

1

tbsp

coconut aminos

(or tamari sauce)

2

tbsp

chopped parsley

½

tsp

sea salt

(or to taste)

¼

tsp

black pepper

(or to taste)

2

medium carrots

(cut into chunks)

1

small celeriac

(cut into chunks)

1

small yellow onion

(cut into small wedges)

halved lemon

(for flavor)
Instructions
Preheat oven to

400

°F

(

200

°F

),

425

°F

(

220

°C

).

Spatchcock chicken by placing the chicken breast side down with the legs towards you. Using a good pair of scissors, cut out the backbone. Open the chicken, turn over and flatten with the palm of your hands.

Combine olive oil or melted butter, grated ginger, chopped garlic, lime juice, coconut aminos or tamari sauce, chopped parsley, salt, and pepper in a bowl.

Rub this mixture under the skin and over the chicken. Arrange peeled and chopped celeriac, carrots, and onion in a roasting tin. Add halved lemon.

Place chicken on the vegetables, breast side up. Roast for about

45 minutes

or until skin is crispy and chicken is cooked through, with internal temperature reaching 165°F (75°C).

Let rest for

5 minutes

before serving, garnished with fresh parsley and cooking juices.
Recipe Video
Nutrition
Calories:
585
kcal
Net Carbs:
8.5
g
Carbohydrates:
10.9
g
Protein:
37.8
g
Fat:
44.1
g
Saturated Fat:
10.3
g
Sodium:
509
mg
Magnesium:
49
mg
Potassium:
637
mg
Fiber:
2.4
g
Sugar:
3.9
g
Notes
Serving Size: ¼ chicken with vegetables.
Marinade: Ensure the marinade is spread evenly under the skin and over the chicken for maximum flavor infusion.
Cooking Time: Keep an eye on the chicken as it cooks to prevent overcooking. Crispy skin is great, but juicy meat is key. Preferably, use a meat thermometer to ensure the chicken is fully cooked, reaching an internal temperature of 165°F (75°C).
Utilize the Backbone: Save the removed backbone for making broth or stock, maximizing the use of the chicken.
Storage: In the fridge for up to 3-4 days, or freezer for up to 3 months.
Related Posts