Table of Contents
When it comes to adding a burst of color and flavor to your meal, nothing beats a side of Easy Braised Red Cabbage. This dish is not just a feast for the eyes with its striking pink-purple hue; it's also a treat for the taste buds, balancing savory notes with a hint of sweetness. Whether you're planning a cozy family dinner or looking to impress at a winter dinner party, this recipe is a surefire hit.
What makes this braised red cabbage so special is its versatility. It's a wonderful complement to a range of main dishes, especially richer meats like crispy duck, succulent pork belly, or a classic roast chicken. And the best part? It's incredibly simple to make. With just a few ingredients and minimal hands-on time, you can whip up a side that not only looks gourmet but tastes amazing too. Plus, it's a fantastic choice for those following a low-carb lifestyle.
Why You'll Love this Braised Red Cabbage
Colorful: Adds a splash of vibrant color to your plate.
Versatile: A perfect match for meats like duck, pork belly, and chicken.
Low-Carb: Ideal for those on a ketogenic diet.
Simple: Quick and easy to make.
Tasty: Deliciously savory with a sweet undertone.
Budget-Friendly: Made with affordable ingredients.
Meal Prep Ready: Keeps well, perfect for preparing in advance.
Ingredients & Substitutions
Heads up: For exact measurements, see the recipe card below.
Here's what you'll need for this tasty side Braised Red Cabbage recipe:
Red Onion: Sweet and a bit sharp. Red's great for color, but yellow or white are fine too.
Cooking Fat: This is where the rich flavor kicks in. Ghee or duck fat work best but options like bacon grease and olive oil can be used instead. Ghee's got a nutty taste, but duck fat is also awesome for an extra flavor punch.
Red Cabbage: The star of the show! It's got that perfect mix of sweet and earthy.
Apple Cider Vinegar: Adds a zing that balances out the sweetness.
Water: Just enough to cook the cabbage right – tender but not mushy.
Low-Carb Sweetener: For a bit more sweetness, if you like, and no carb worries. Allulose, monk fruit or stevia are good options.
Sea Salt and Black Pepper: The classic duo to bring all those flavors to life.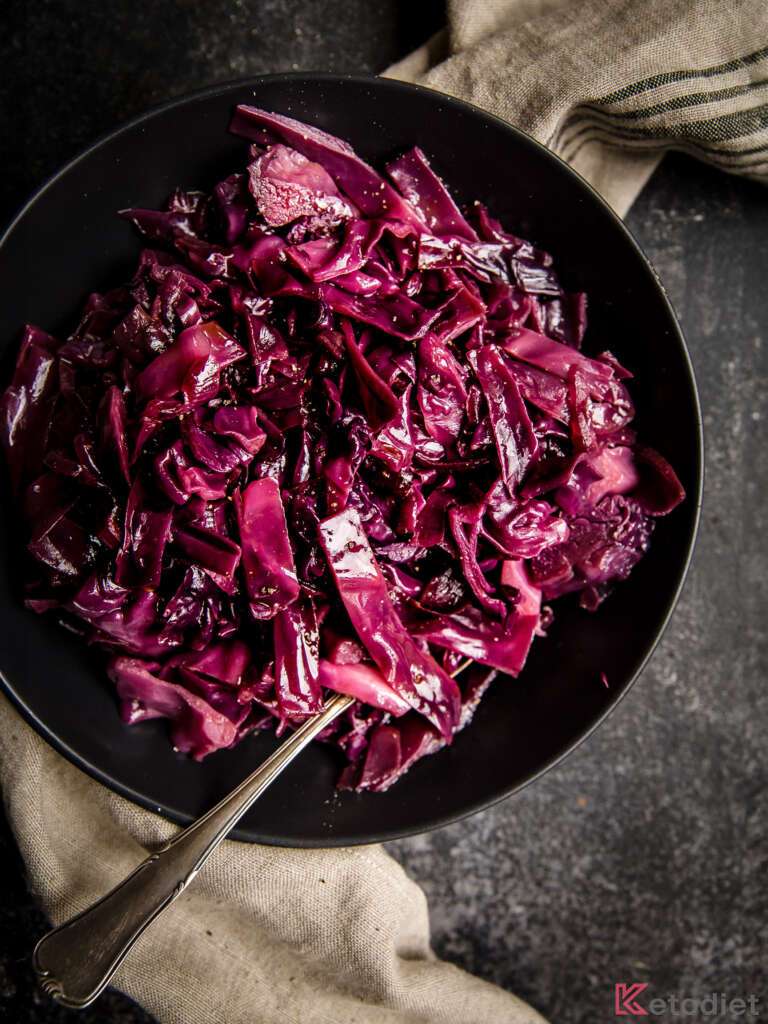 Can I use a different type of cabbage?
Yes! White cabbage is a great alternative to red cabbage. It has a slightly different texture and a milder flavor but works just as well in this recipe.
What if I don't have apple cider vinegar?
No problem! Lemon juice is a fantastic substitute. It provides a similar tangy flavor that balances the sweetness of the cabbage. Just use the same amount as you would vinegar.
Can I sweeten the dish without a low-carb sweetener?
Sure thing! If you're not following a low-carb diet, a bit of regular sugar or honey can be used to sweeten the cabbage. Just add to taste. Or simply skip the sweetener altogether if you don't want to use any.
How To Make Braised Red Cabbage
Sauté the Onion. Start by heating your pot over medium-high heat. Add in the ghee (or duck fat) and let it melt. Toss in the sliced red onion and sauté for a few minutes until it starts to soften.
Prep the Cabbage. While the onion is doing its thing, halve the red cabbage and remove the core. Get your cabbage chopped up into nice, even slices.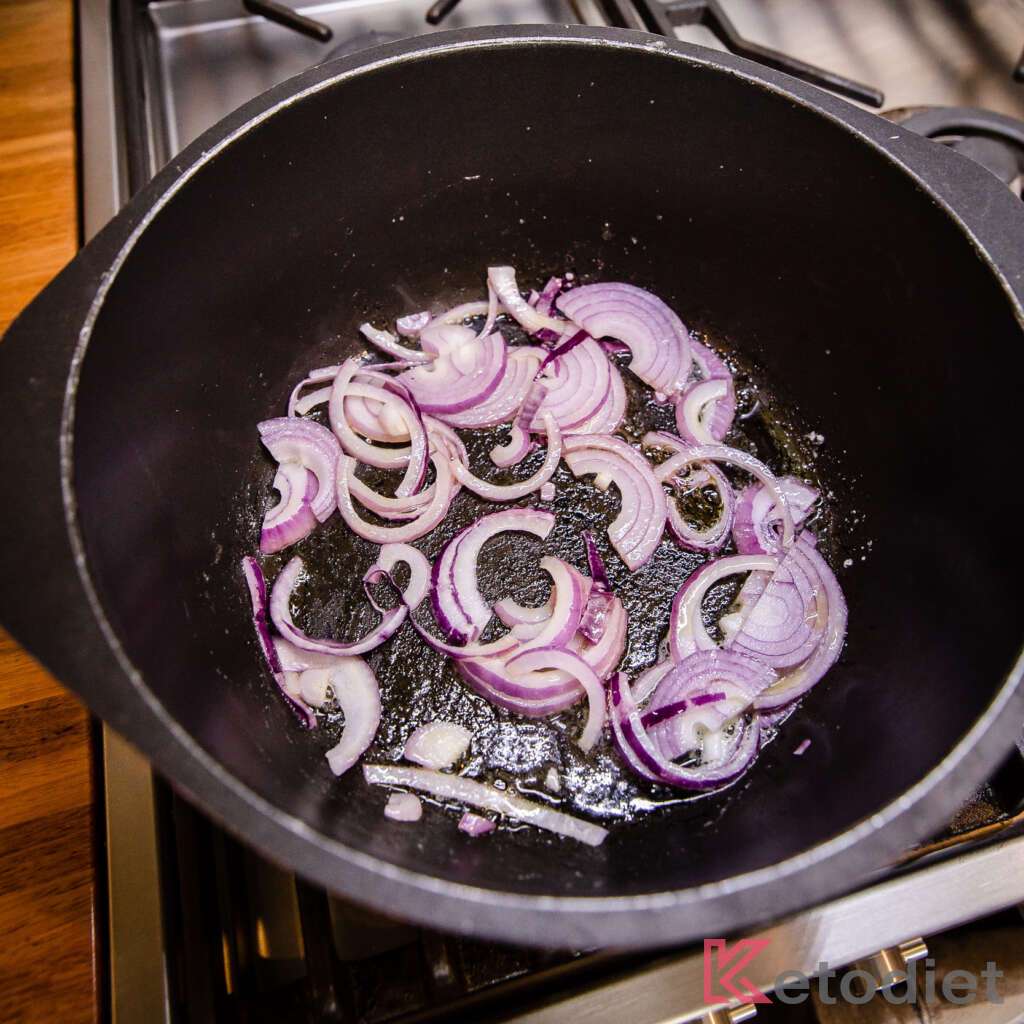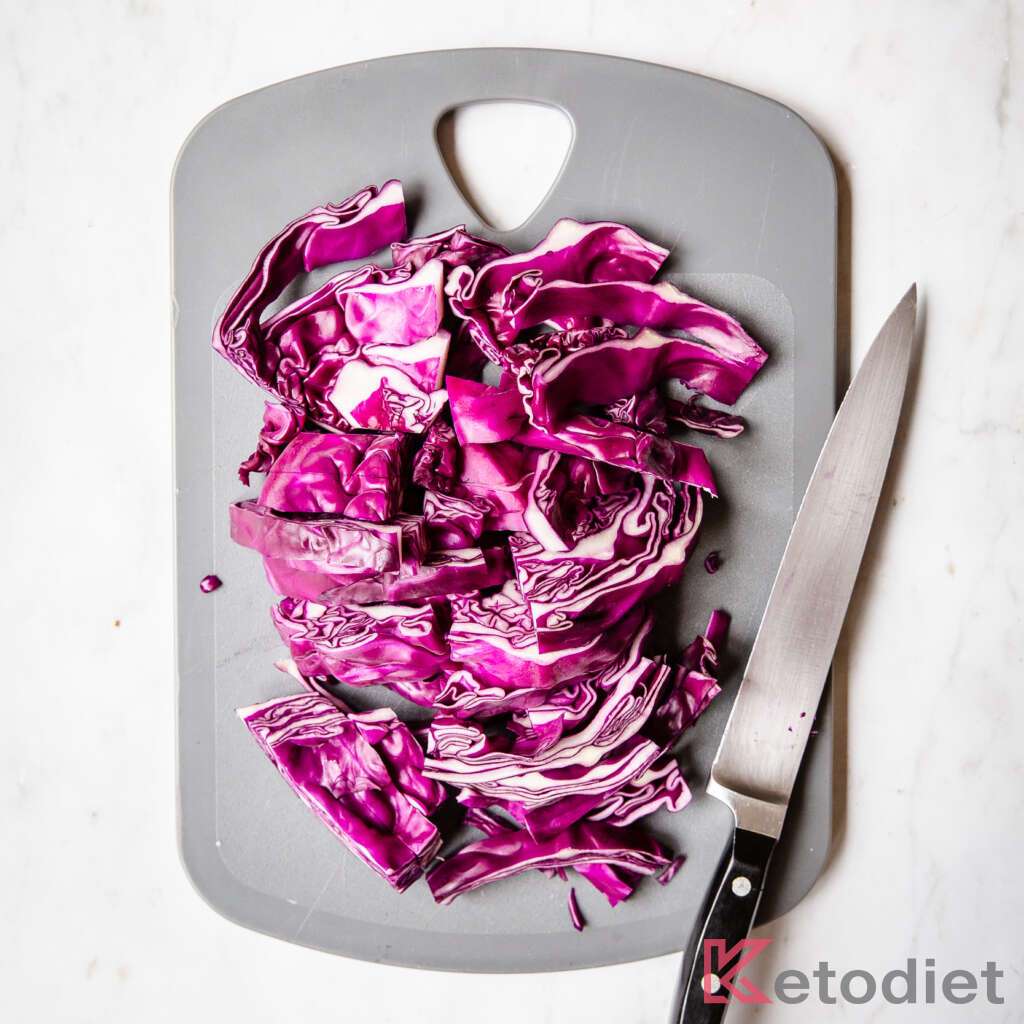 Combine Everything. Now, throw in all the remaining ingredients: the sliced red cabbage, apple cider vinegar, water, and if you're using it, the low-carb sweetener. Give everything a good stir until the cabbage looks glossy.
Slow Cook. Turn down the heat to as low as it'll go, pop a lid on your pot, and let it all simmer away. You're aiming for about 50-60 minutes here, but keep an eye on it. You want the cabbage tender but still with a bit of bite. Stir occasionally to make sure it cooks evenly.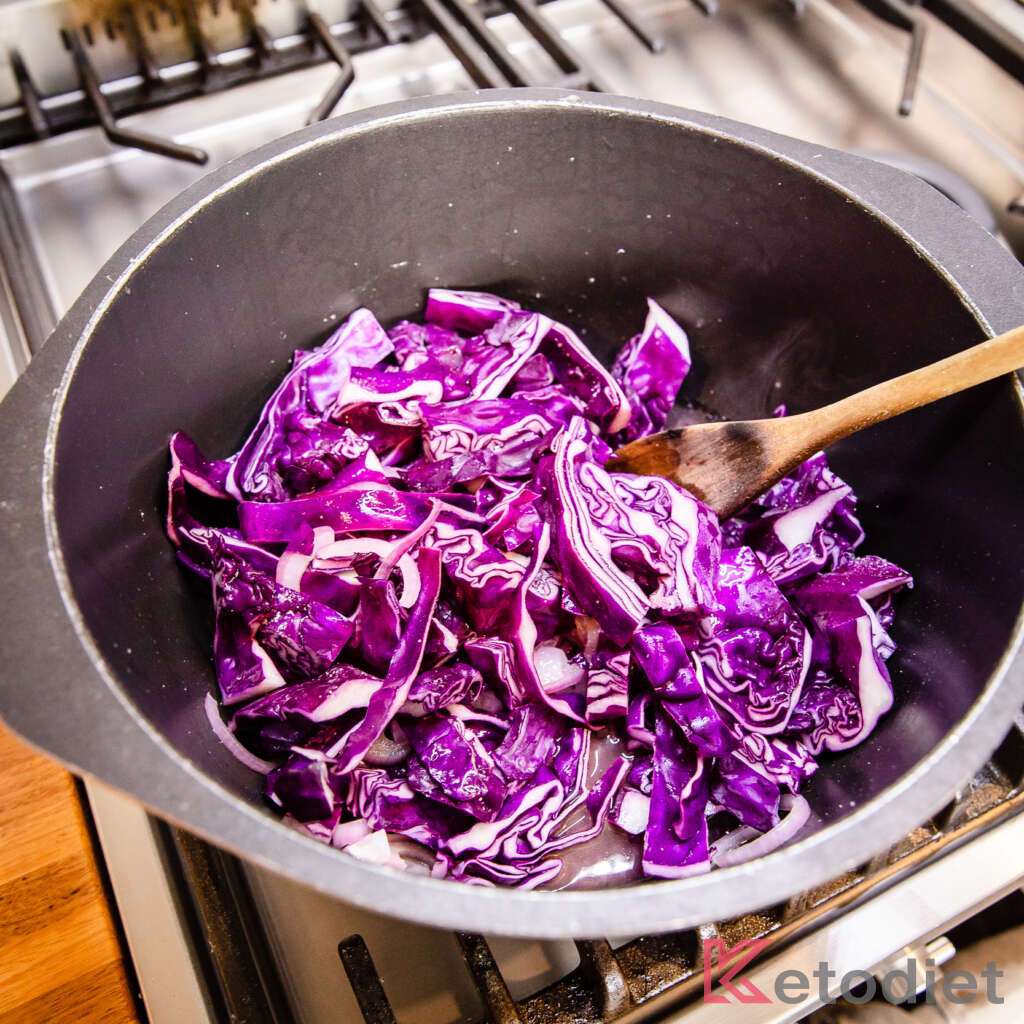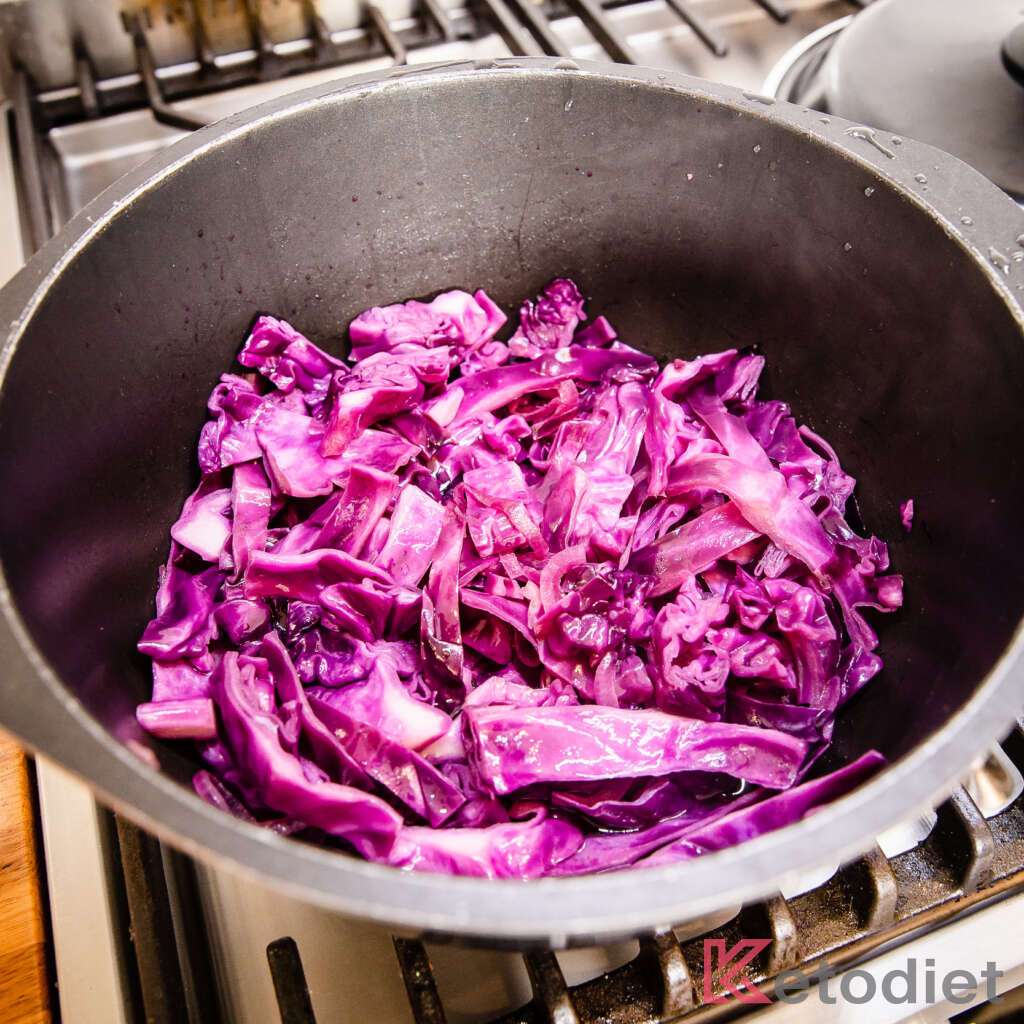 Season and Serve. Once it's done, give it a taste and add some salt and pepper as needed. And that's it! You've got yourself a beautiful, tasty side dish ready to go.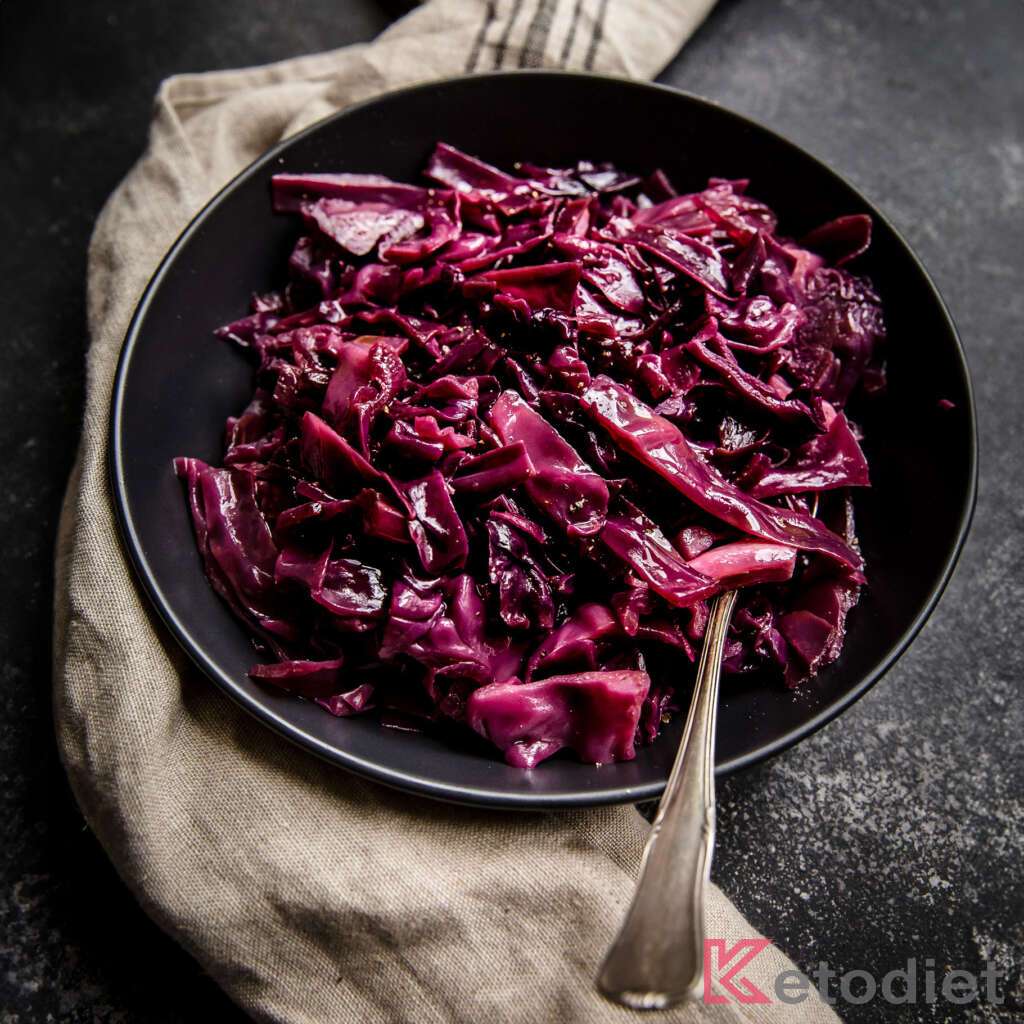 Tips for Best Braised Red Cabbage
Here are a few handy tips to ensure your braised red cabbage turns out great:
Temperature Matters: Start by sautéing the onion over medium-high heat for slight caramelization to add flavor. When it's time to add the cabbage, reduce the heat to the lowest setting for a gentle simmer. This slow cooking process is key to perfectly tender cabbage.
Stir Occasionally: Occasional stirring is important to cook the cabbage evenly and prevent sticking. This also helps to distribute flavors throughout the dish.
Adjust Sweetness: The sweetness of red cabbage varies, so adjust your low-carb sweetener or sugar to taste. Start with a small amount and add more if needed after the cabbage has cooked for a while.
Consistency Check: Keep an eye on the cabbage's texture towards the end of cooking. You're aiming for tender but still slightly crisp, not mushy.
Season to Perfection: Don't forget to season with salt and pepper at the end. This last step can really elevate the flavors and bring the dish together.
Storage Instructions
How long will the braised cabbage last in the fridge?
Stored in an airtight container, it'll be good for up to 5 days. The flavors even improve a bit over time!
Can I freeze this dish?
Yes, you can freeze braised red cabbage. Just put it in a freezer-safe container. It should keep well for up to 3 months. Thaw in the fridge overnight before reheating.
What's the best way to reheat braised red cabbage?
You can reheat it in a microwave or on the stovetop. If using a microwave, stir it occasionally to heat evenly. On the stovetop, reheat it over medium heat, stirring frequently until it's warmed through.
How to Serve Braised Red Cabbage
This versatile side dish can be served in a variety of delicious ways:
As a Side with Meats: It pairs beautifully with hearty dishes like crispy duck, pork belly, or a classic roast chicken. The acidity and sweetness of the cabbage cut through the richness of these meats perfectly. Try with our Ginger Spiced Pork Roast or Crispy Air Fryer Chicken.
In a Festive Spread: Include it in your holiday meals or winter dinner parties for a colorful and tasty addition.
With Grilled Sausages: For a more casual meal, serve it alongside grilled sausages for a comforting and satisfying dinner.
In Sandwiches or Wraps: Use it as a tangy, crunchy addition to sandwiches or wraps made with keto bread, adding a unique twist to your lunch.
As a Topping for Burgers: Elevate your burgers by adding a spoonful of this cabbage as a flavorful topping. Make healthy burgers using our Keto Bread Rolls!
No matter how you choose to serve it, this Easy Braised Red Cabbage recipe is sure to add a delicious and colorful touch to your meals.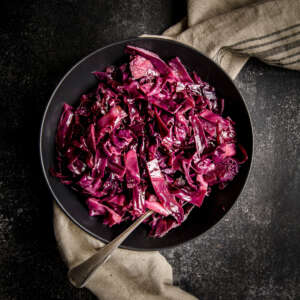 Braised Red Cabbage
Make your meals stand out with Easy Braised Red Cabbage, a healthy, colorful side that's low in carbs. Perfectly complements meats like duck, pork belly, and chicken, and adds a tasty twist to your dinner table. Simple to prepare, it's a must-try for any cozy meal.
Print
Pin
Rate
Ingredients
1

large red onion

(halved and sliced)

4

tbsp

ghee

(or duck fat or olive oil)

1

small head red cabbage

(core removed and shredded)

½

cup

apple cider vinegar

4

tbsp

water

4 tsp granulated low-carb sweetener

(optional)

sea salt and black pepper

(to taste)
Instructions
Begin by heating a large pot over medium-high heat. Add the ghee or duck fat to melt. Add sliced red onion to the pot and sauté for

3-4 minutes

until it softens.

Meanwhile, halve the cabbage and remove the core. Chop the red cabbage into slices and add it to the pot along with apple cider vinegar, water, and optional sweetener. Stir well.

Reduce the heat to the lowest setting, cover the pot, and let it simmer for

50-60 minutes

. Stir occasionally. The cabbage should be tender but still have a slight crunch.

Finally, season with salt and pepper to taste. Serve warm as a side dish.
Nutrition
Calories:
117
kcal
Net Carbs:
7.9
g
Carbohydrates:
10.8
g
Protein:
2
g
Fat:
7.8
g
Saturated Fat:
4.5
g
Sodium:
323
mg
Magnesium:
23
mg
Potassium:
370
mg
Fiber:
2.9
g
Sugar:
5.6
g
Notes
Serving Size: About 5 oz (150 g).
Cooking Cabbage: Keep the heat low for sautéing cabbage to ensure perfect texture. Stir the cabbage occasionally while simmering to prevent sticking and ensure even cooking. Aim for cabbage that is tender yet retains some crunch to avoid it becoming mushy.
Sweetness Adjustment: Depending on your taste preference and the natural sweetness of the cabbage, adjust the amount of sweetener.
Seasoning: Always taste before serving and adjust salt and pepper as needed.
Storage: Store in an airtight container in the fridge for up to 5 days, or freeze for up to 3 months.
Related Posts