Table of Contents
Who says you can't enjoy the rich flavors of Italy on a low-carb diet? With these Easy Italian Meatballs with Marinara Sauce, you're in for a treat that's both mouthwateringly delicious and perfectly low-carb. This recipe is a real game changer for those busy weeknights when you crave something hearty but don't have hours to spend in the kitchen. Thanks to the focus on nutrient density, healthy fats, high protein, and low carb count, it's a great example of a Mediterranean keto approved recipe.
Imagine biting into these tender, flavorful meatballs, smothered in a savory marinara sauce. They're so versatile, too! Whether you're twirling them with zucchini noodles, spaghetti squash noodles, piling them atop a bed of cauliflower mash, or enjoying them with low-carb Palmini pasta, these meatballs are sure to hit the spot. Best part? You won't believe how simple they are to make. Let's get started in the kitchen and prepare a batch of these Italian marvels, which are bound to become a frequent favorite on your dinner menu!
Why You'll Love These Italian Meatballs with Marinara
Keto & High in Protein: Perfect for a low-carb, high-protein diet.
Quick & Easy: Ready in 25 minutes, ideal for busy schedules.
Versatile: Great with zoodles, spaghetti squash, cauliflower mash, or low-carb pasta.
Family Favorite: Loved by both kids and adults.
Meal Prep Friendly: Easy to store and reheat for later.
Ingredients & Substitutions
Heads up: For exact measurements, see the recipe card below.
Getting these Italian Marinara Meatballs on your table is a breeze with just a handful of simple ingredients. Each component plays a key role in creating the rich, savory flavors that make this dish a standout:
Ground Beef: The star of the show, providing a rich, meaty base.
Garlic Clove: Adds a punch of classic Italian aroma and taste. Garlic powder can be used instead (about 1/8th of a teaspoon of garlic powder per clove).
Onion Powder: Brings a subtle sweetness and depth to the meatballs.
Apple Cider Vinegar or Coconut Aminos: A touch of acidity to balance the flavors.
Sea Salt: Enhances all the other flavors in the meatballs.
Black Pepper: Adds a slight heat and complexity.
Dijon Mustard: A secret ingredient for a tangy twist.
Chopped Parsley or Basil: Fresh herbs for a burst of freshness and color.
Marinara Sauce: Coats the meatballs in a rich, tomatoey goodness. Homemade is always best!
Optional Fresh Herbs: More freshness and a beautiful garnish.
Substitutions & Variations
Wondering how to tweak these Italian Meatballs with Marinara to suit your pantry or taste preferences? Here are some easy swaps:
Ground Meat Varieties: While this recipe uses ground beef for its classic flavor, feel free to experiment! Ground turkey or chicken can be great lighter alternatives, while ground pork or a mix of meats adds extra richness. Each type of meat brings its unique taste and texture to the dish. Ground lamb will bring a Greek-inspired flair.
Herbs – Fresh vs. Dried: The recipe calls for fresh parsley or basil to add a pop of freshness. If you don't have fresh herbs on hand, dried herbs work too. Remember, dried herbs are more concentrated in flavor, so use them in smaller quantities. A good rule of thumb is to use one-third the amount of dried herbs compared to fresh.
How can I increase the protein content of these meatballs?
To boost the protein in these Italian Marinara Meatballs, consider the following tips:
Choose Protein-Rich Meats: Opting for leaner, protein-packed meats like ground turkey or chicken can increase the protein content. If you're using beef or pork, look for leaner options with 5% fat.
Adjust the Portion Size: Simply increasing the serving size of the meatballs can also boost your protein intake. Be mindful of your overall caloric intake, though.
Be Economical with Cooking Fat: When increasing portion sizes for more protein, be economical with added fats like oils or ghee. This helps maintain a healthy balance between protein and fat content, especially important if you follow a high-protein diet.
How to Make Italian Meatballs with Marinara
Making these meatballs is straightforward and rewarding. Here's how to bring this Italian dish to your table:
Prepare the Meatball Mixture. Next, place the ground beef in a large mixing bowl. Add garlic (clove or powder), onion powder, apple cider vinegar or coconut aminos, sea salt, black pepper, and Dijon mustard. Mix in the chopped parsley or basil for a fresh herb touch. Gently combine all the ingredients with your hands, making sure not to overmix.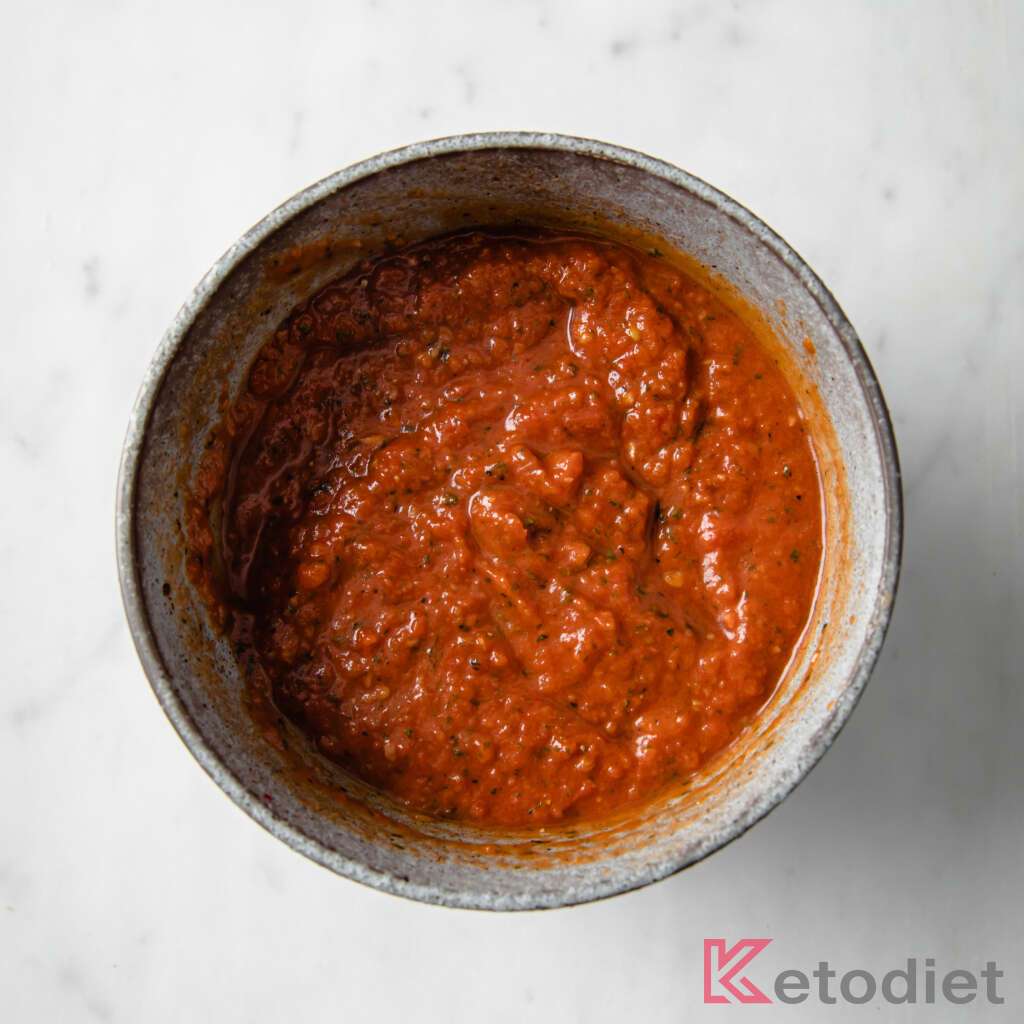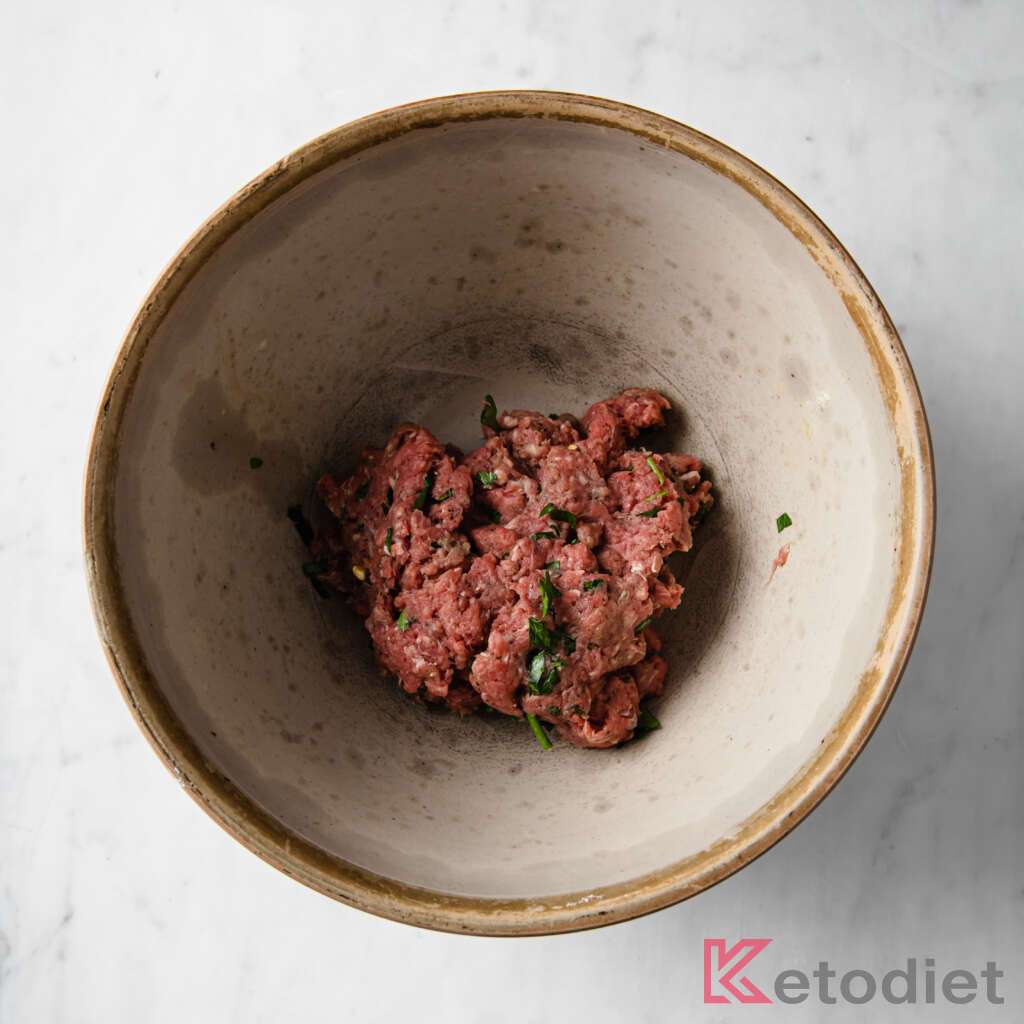 Shape the Meatballs. Once the mixture is ready, shape it into meatballs, each about 33 grams (1.2 oz), giving you around 16 meatballs. Place them on a greaseproof lined baking tray.
Cook the Meatballs. For oven-baking, preheat to 355°F (180°C) fan assisted, or 400°F (200°C) conventional, and bake for 12-15 minutes. For pan-frying, heat 1-2 tablespoons of ghee or avocado oil in a frying pan, add meatballs, and cook for 8-15 minutes, turning occasionally.
Add Marinara Sauce. Warm your homemade Marinara Sauce in a skillet. Add cooked meatballs to the sauce, simmering together for 2-4 minutes to blend the flavors.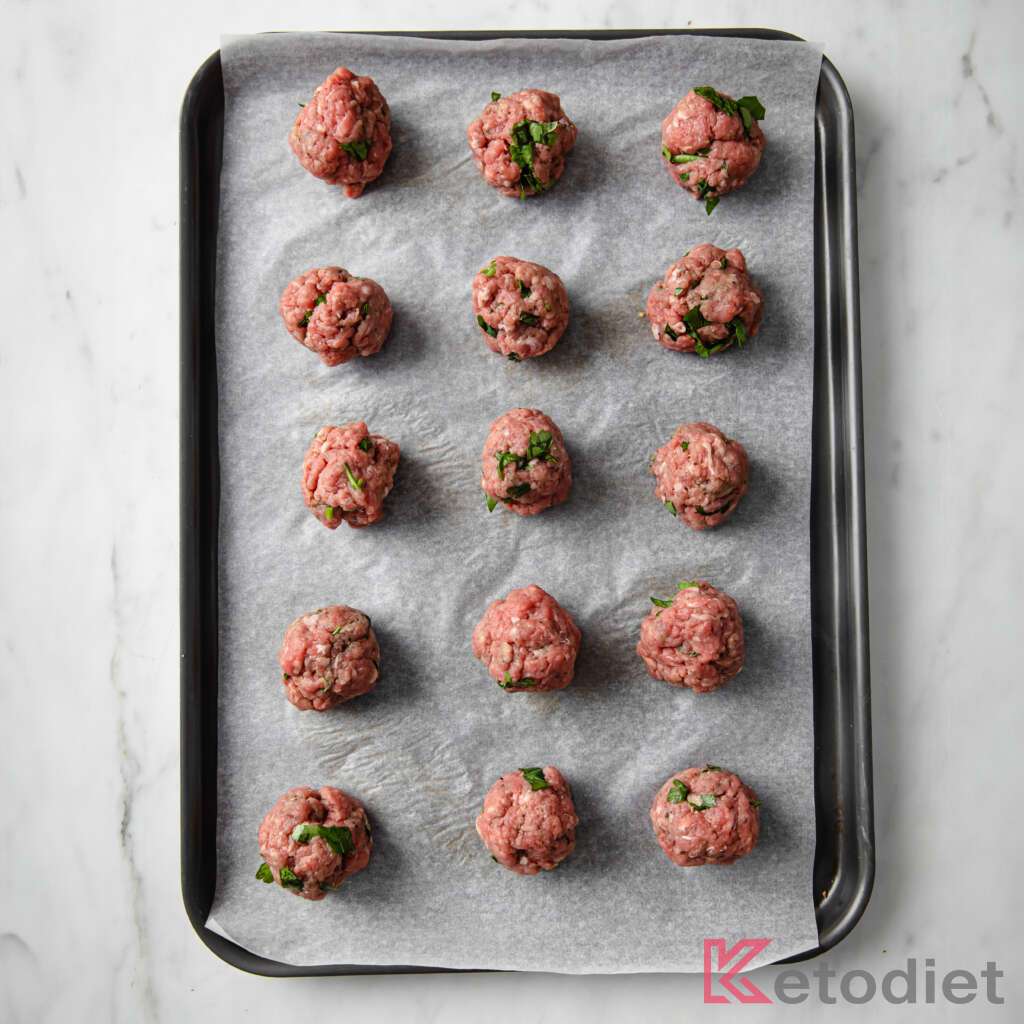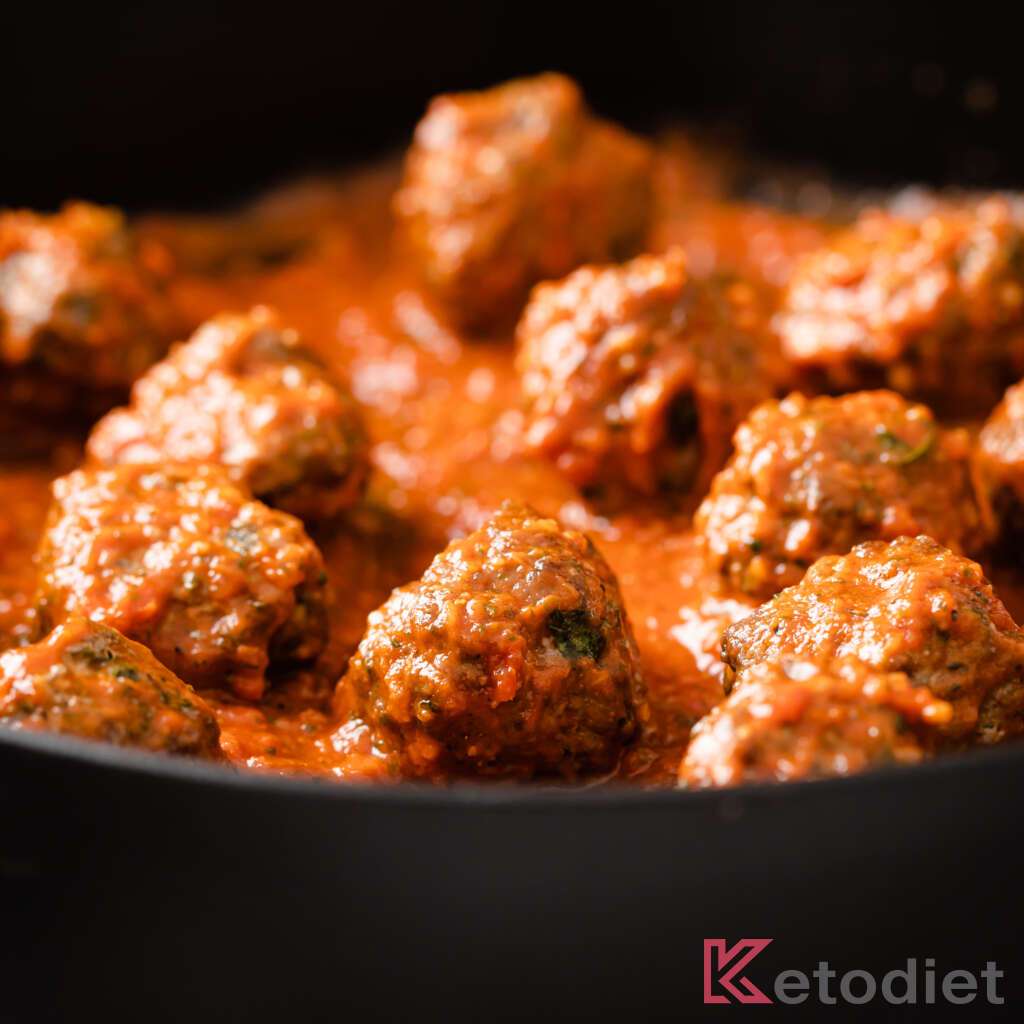 Pan-Frying Instructions for Italian Meatballs with Marinara
If you don't want to use the oven baking method above, pan-frying meatballs is an excellent way to achieve a flavorful, crispy exterior while keeping the inside juicy and tender.
Start by heating 1 to 2 tablespoons of ghee or virgin avocado oil in a non-stick or cast iron frying pan over medium heat. Carefully place the meatballs in the pan, ensuring they're not too crowded. Cook them gently, turning every few minutes to brown all sides evenly.
This process should take 10 to 15 minutes, depending on the size of your meatballs. It's important to turn them cautiously, particularly if you haven't used egg as a binder, to prevent them from falling apart.
Once they're nicely browned and cooked through, add them to your simmering marinara sauce, allowing them to soak up those delicious flavors for a couple of minutes before serving.
Tips for Best Italian Meatballs with Marinara
Don't Overmix the Meat: For tender meatballs, mix the ingredients until just combined. Overmixing can lead to tough meatballs.
Uniform Size for Even Cooking: Shape your meatballs to a uniform size. This ensures they cook evenly, preventing some from being overcooked while others are still undercooked.
Gentle Turning When Pan-Frying: If pan-frying, turn the meatballs gently and not too soon. This helps them retain their shape and prevents crumbling, especially if you're not using egg as a binder.
Let Them Simmer in the Sauce: After cooking, let the meatballs simmer in the marinara sauce for a few minutes. This helps them absorb the sauce's flavors, enhancing the overall taste.
Experiment with Herbs: Don't hesitate to experiment with different herbs like oregano, thyme, or basil to adjust the flavor profile to your liking.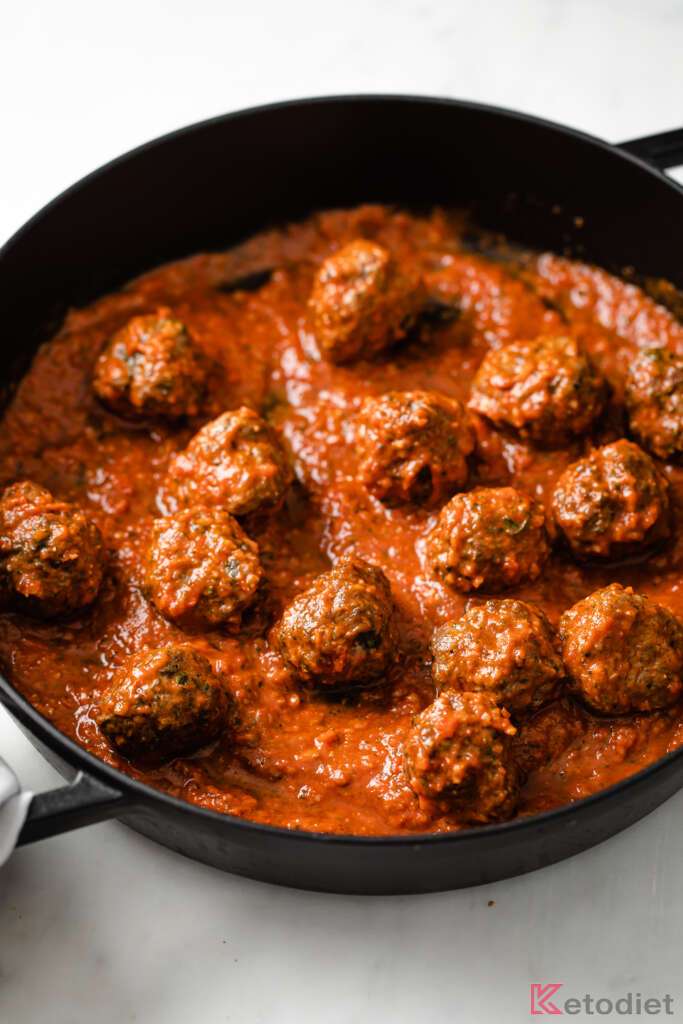 Is it necessary to include eggs and breadcrumbs in meatball recipes?
While eggs and breadcrumbs are common in many meatball recipes, they aren't strictly necessary, especially for a low-carb version like our Italian Meatballs with Marinara.

Eggs: They act as a binder, helping the meatballs hold together. If you prefer not to use eggs, as in this Keto recipe, the meatballs will still hold together but may be a bit more delicate.

Breadcrumbs: Traditional recipes use breadcrumbs to add lightness and absorb moisture. For a low-carb alternative, you can use almond flour, coconut flour, or flax meal (or simply make breadcrumbs from this keto bread recipe). These provide a similar binding effect without the added carbs.
Storage Instructions
Storing these Italian Marinara Meatballs is easy, ensuring you can enjoy their deliciousness even on busy days. Here's how to keep them fresh:
In the Refrigerator: Once cooled, store the meatballs in an airtight container in the fridge. They'll stay fresh and tasty for up to 4 days. This makes them perfect for meal prep or enjoying leftovers throughout the week.
Freezing for Later: These meatballs freeze beautifully. Place them in a freezer-safe container or bag, separating layers with parchment paper if stacking. They'll last in the freezer for up to 3 months. When you're ready to enjoy them, simply thaw in the refrigerator overnight and reheat.
Reheating: To reheat, gently warm the meatballs in a skillet over medium heat, or in a microwave, until heated through. If they've been frozen, ensure they're fully defrosted before reheating.
How to Serve Italian Meatballs with Marinara
These Italian Meatballs with Marinara are incredibly versatile, which makes them a fantastic addition to a variety of meals. Here's how you can enjoy them:
Classic Pasta Alternative: Serve them over zucchini noodles or spaghetti squash noodles for a low-carb twist on classic spaghetti and meatballs.
Hearty Sandwich Filling: Tuck them into keto-friendly buns for a satisfying meatball sub.
With Cauliflower Mash: Serve with our Cheese Cauliflower Mash for the ultimate comfort dish.
Protein-Packed Salad Topper: Slice or crumble the meatballs over a fresh salad for added protein.
Appetizer Option: Skewer them with toothpicks and serve as a crowd-pleasing appetizer, perhaps alongside a keto-friendly dipping sauce.
Comforting Casserole Ingredient: Incorporate them into a low-carb casserole dish, combining with vegetables and cheese for a comforting meal.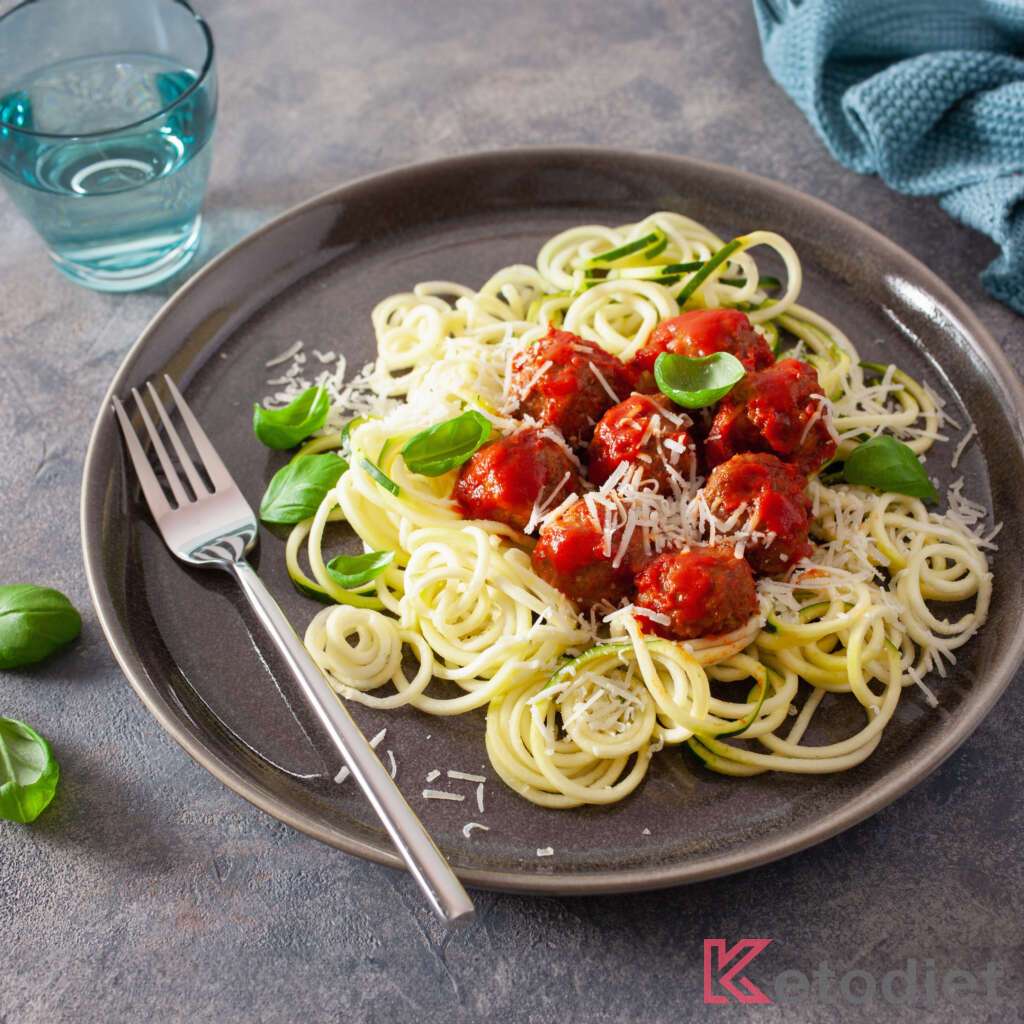 Tools for Italian Meatballs with Marinara
While this recipe doesn't require any specialized kitchen equipment, having the right tools on hand can make the preparation process smoother and more enjoyable. Here's what you'll find useful:
Frying Pan: A good cast iron frying pan is ideal for pan-frying the meatballs to get that deliciously crispy exterior. If you plan to finish the meatballs in the oven, get ovenproof!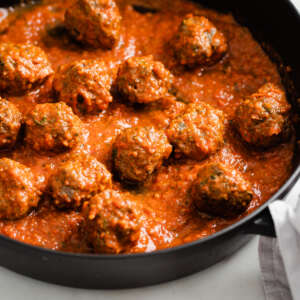 Italian Marinara Meatballs
Quick, easy, and Keto-friendly, these Italian Marinara Meatballs are a must-try! Perfect for a low-carb dinner, they pair wonderfully with zucchini noodles or cauliflower mash. Ready in just 25 minutes, they're an ideal choice for a busy weeknight meal.
Print
Pin
Rate
Ingredients
1.1

lbs

ground beef

1

garlic clove

1 ½

tsp

onion powder

1

tsp

apple cider vinegar

(or coconut aminos)

1

tsp

sea salt

½

tsp

black pepper

1

tsp

Dijon mustard

2

tbsp

chopped parsley

(or basil)

1

recipe

Marinara Sauce

(about 1 ½ cups)

fresh herbs such as parsley or basil

(optional)
Instructions
Begin by preparing your favorite Marinara Sauce or opt for a pre-made sugar-free-friendly variety.

If you're oven-baking the meatballs, preheat your oven to

355

°F

(

180

°C

) 180 C/ 355 F, or

400

°F

(

200

°C

).

In a large bowl, combine the ground beef with garlic, onion powder, apple cider vinegar or coconut aminos, sea salt, black pepper, Dijon mustard, and chopped parsley or basil, mixing just until combined.

Form this mixture into 15-16 meatballs, each about 33 g (1.2 oz), and place them on a lined baking tray.

If oven-baking, bake the meatballs for

12-15 minutes

, or if pan-frying, cook them in ghee or avocado oil, turning occasionally, for

10-15 minutes

until they're cooked through.

After cooking, add the meatballs to the marinara sauce in a skillet, letting them simmer together for

2-4 minutes

.

Serve the meatballs with a side of your choice, like zucchini noodles or cauliflower mash, and garnish with fresh herbs and black pepper to taste.
Nutrition
Calories:
451
kcal
Net Carbs:
4.3
g
Carbohydrates:
5.7
g
Protein:
22.6
g
Fat:
37.3
g
Saturated Fat:
11.1
g
Sodium:
832
mg
Magnesium:
31
mg
Potassium:
467
mg
Fiber:
1.4
g
Sugar:
2.6
g
Notes
Serving Size: 4 meatballs or more if needed.
Storage: Store in an airtight container in the fridge for up to 4 days or freeze for up to 3 months.
Serving Suggestion: Ideal with zucchini noodles, spaghetti squash noodles, cauliflower mash, or as a hearty sandwich filling.
Herb Variations: Feel free to experiment with different herbs like oregano or thyme for varied flavors.
Pan-Frying Tip: If pan-frying, turn meatballs gently to maintain their shape.
Meal Prep Friendly: Perfect for preparing in advance for quick and easy meals throughout the week.
Related Posts