Table of Contents
Looking for the perfect party snack that's both delicious and diet-friendly? Let me introduce you to these easy low-carb tarts! Imagine the rich taste of brie and the sweet touch of caramelized onions, all nestled in a homemade, grain-free crust. These Easy Low-Carb Brie Tarts with Caramelized Onion are not just a treat for the taste buds; they're a dream for anyone following a keto lifestyle.
Not only are these mini tarts incredibly tasty, but they're also super simple to make. Whether you're hosting a gathering or just craving something special, these tarts will hit the spot without the carb overload. So, let's get ready to impress your guests with a snack that's as satisfying as it is healthy!
Why You'll Love These Easy Low-Carb Brie Tarts
Quick & Easy: Assemble these tarts effortlessly for any occasion.
Keto-Friendly: Perfect for low-carb diets, without sacrificing flavor.
Versatile & Flavorful: Ideal for any gathering, with a delightful blend of brie and caramelized onion.
Customizable: Easily adaptable with your favorite herbs or additions.
Ingredients & Substitutions
Heads up: For exact measurements, see the recipe card below.
Creating these scrumptious Low-Carb Brie Tarts is a breeze with just a handful of key ingredients that come together perfectly.
Pie Crust: Our Low-Carb Pie Crust recipe forms the base of your tarts, giving them a perfect grain-free crunch.
Red Onions: Thinly sliced, they caramelize beautifully to add a natural sweetness.
Olive Oil: Extra virgin is best. Used for sautéing the onions, it enhances their flavor.
Balsamic Vinegar: Adds a tangy depth to the caramelized onions.
Low-Carb Sweetener: Balances the tartness of the vinegar and the onions' natural flavors. Allulose works best.
Salt: A pinch of sea salt to elevate the overall taste of the filling.
Brie Cheese: Creamy and rich, it melts perfectly to add luxuriousness to each tart.
Fresh Herbs (Thyme or Rosemary): These bring a fragrant, earthy touch to complement the brie and onions.
Can I make this with a nut-free crust?
Yes, absolutely! Try our Nut-Free Pie Crust recipe for a perfect alternative that still gives you that delicious, grain-free tart base.
What can I use instead of brie?
Goat's cheese or feta are fantastic substitutes. They both melt beautifully and offer a delightful flavor that complements the caramelized onions.
Are there alternatives to Allulose for caramelizing the onions?
Definitely. While Allulose is best for caramelization, other sweeteners like erythritol-based options or xylitol are also suitable and will work well in this recipe.
Can I make one large pie instead of 12 mini tarts?
Absolutely! Instead of dividing the crust into mini tartlets, you can press the entire batch of pie crust dough into a single, larger pie pan. Adjust the baking time slightly, as a larger pie might take a bit longer to cook through. This variation is perfect for a family meal or when you prefer a more traditional pie presentation.
How To Make Low-Carb Brie Tarts
Prepare the Crust. To do that, follow this recipe. Start by preheating your oven to 320°F (160°C) fan-assisted, or 355°F (180°C) conventional. Then, press our pie crust dough into 12 greased muffin tins. You can opt for 12 mini tartlets or one large tart.
Bake the Tart Shells. Bake the tart shells for 10 minutes. Remove them from the oven and allow them to cool slightly.
Caramelize the Onions. Heat extra virgin olive oil in a frying pan over medium heat. Add thinly sliced red onions, stirring occasionally until they start to soften, which takes about 12-15 minutes. Then, lower the heat, add balsamic vinegar, sweetener, and a pinch of sea salt, and continue to cook until the onions are dark and caramelized.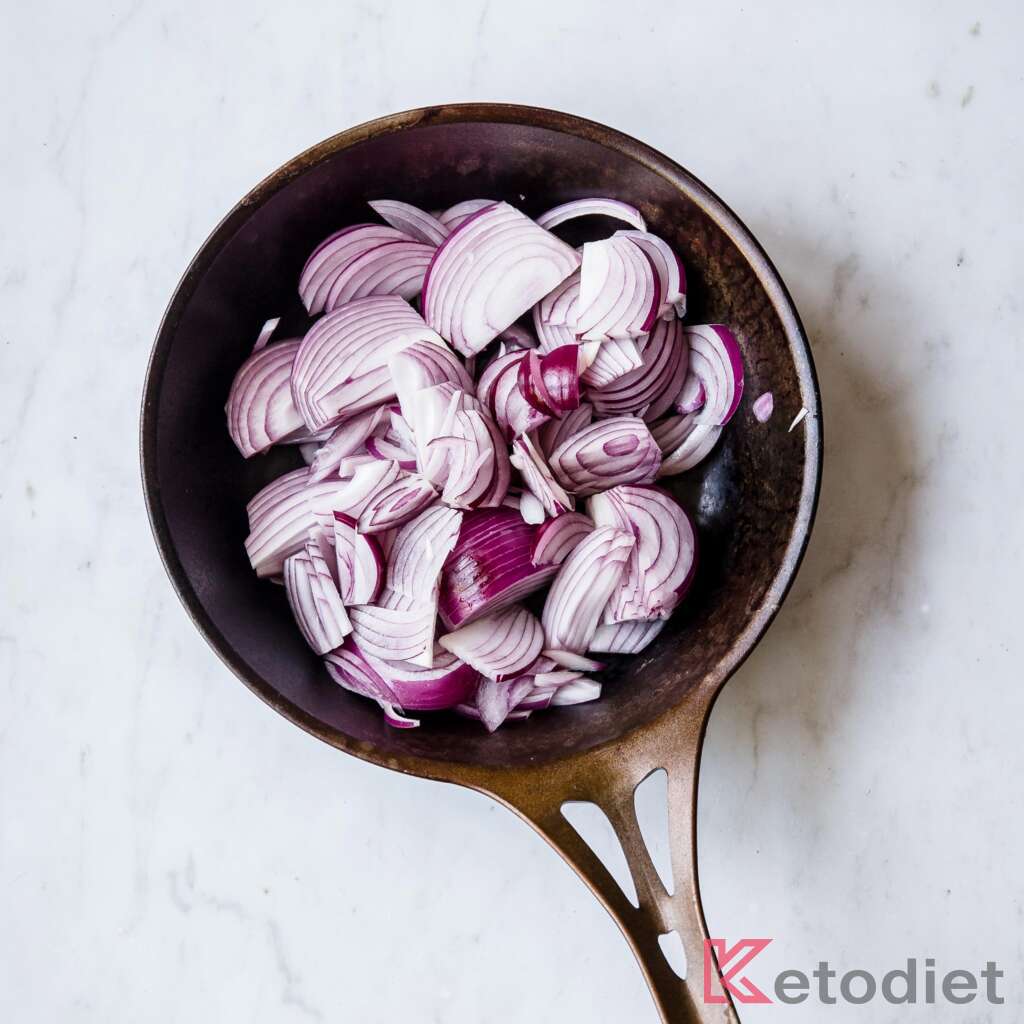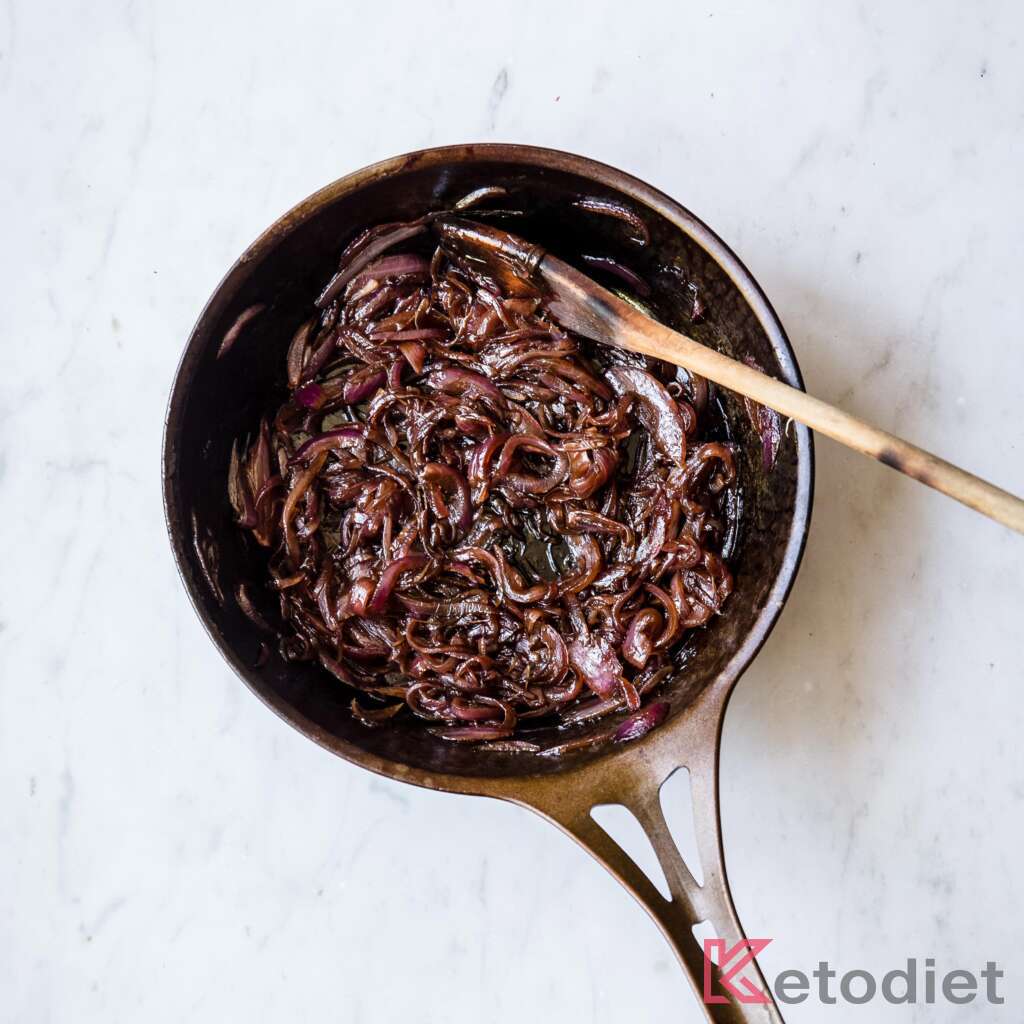 Assemble the Tarts. Divide the caramelized onions evenly among the tart cases. Chop the brie into 12 pieces and place them on top of the onions. Scatter your choice of fresh herbs, like thyme or rosemary, over the brie.
Final Bake. Bake the tarts for 10 to 15 minutes, until the brie has softened and the tops are starting to brown. Serve the tarts immediately, or let them cool down before storing.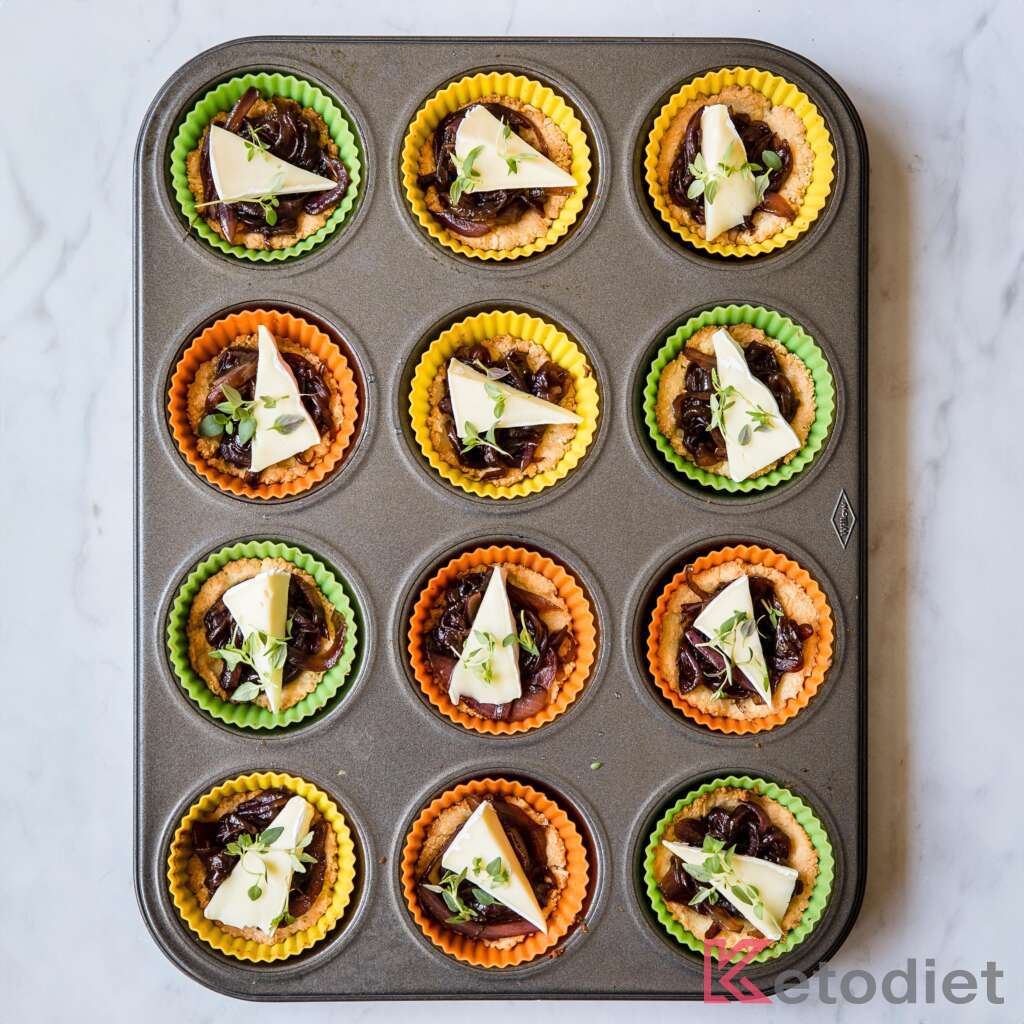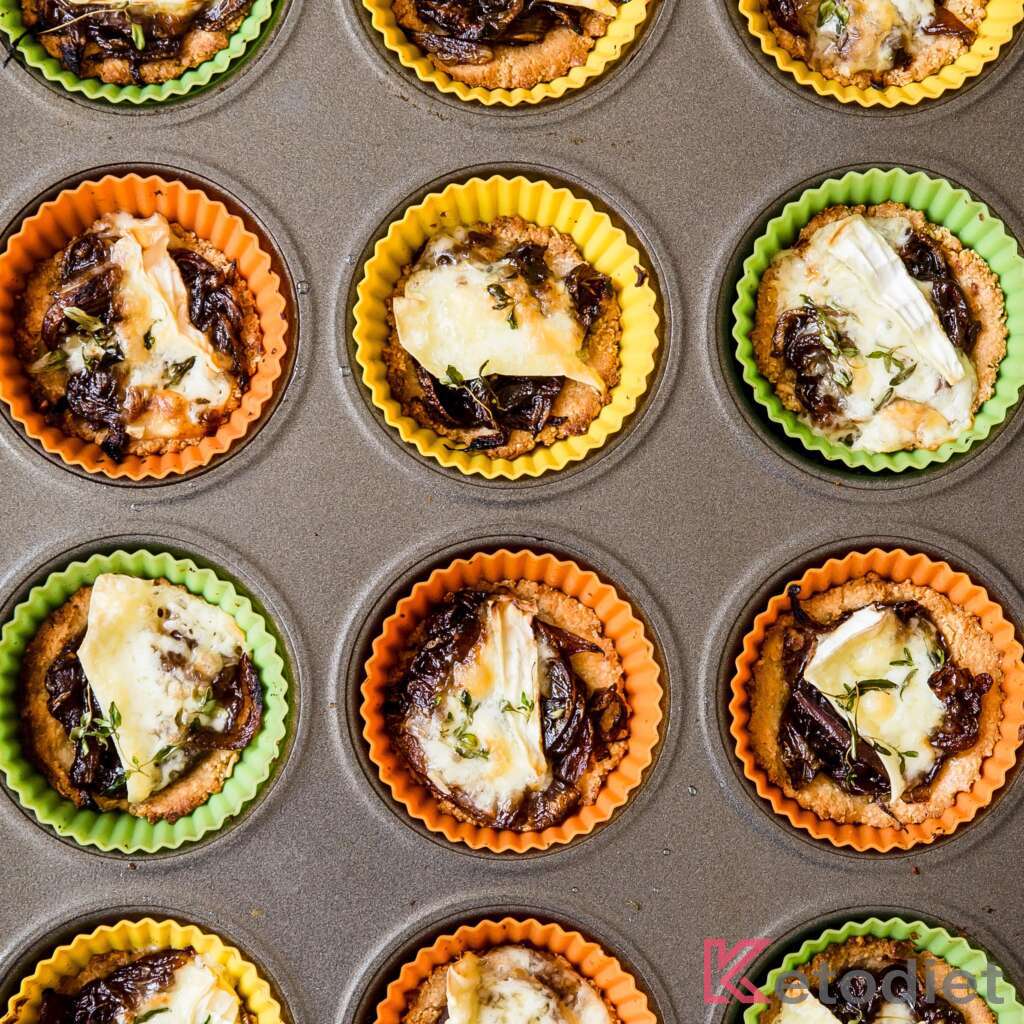 Tips for Best Low-Carb Brie Tarts
Even Caramelization: When cooking the onions, give them time and stir occasionally to ensure they caramelize evenly without burning. This step is key to bringing out their natural sweetness.
Pie Crust Thickness: For the tart base, aim for a consistent thickness in your pie crust for even baking. Too thin, and it might break; too thick, and it may overpower the delicate balance of flavors.
Herb Choices: Fresh herbs like thyme and rosemary not only add flavor but also aroma. Feel free to experiment with different herbs to find your favorite combination.
Storage Instructions
How long can I store these Brie Tarts?
They can be kept in the refrigerator for up to 5 days. Make sure to store them in an airtight container to maintain freshness.
Can I freeze these Brie Tarts?
Yes, you can freeze them. Once cooled, place the tarts in a freezer-safe container. They can be stored in the freezer for up to a month. To reheat, simply thaw in the refrigerator and then warm up in the oven.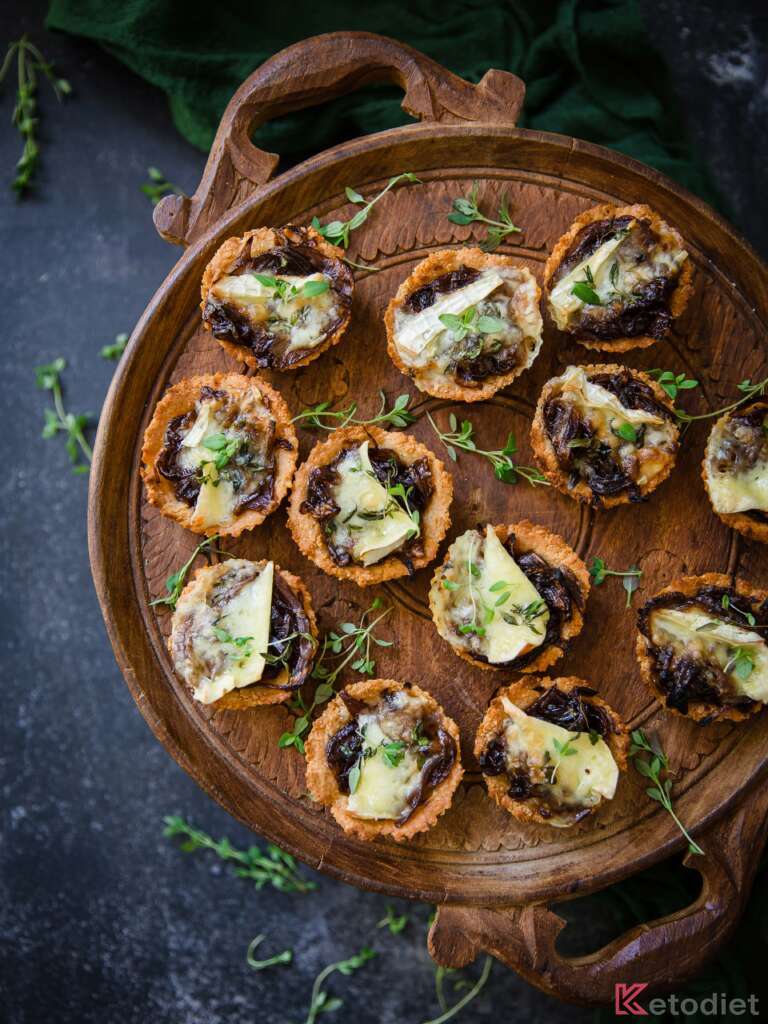 How to Serve Low-Carb Brie Tarts
These low-carb brie tarts are versatile in serving temperature. They're delicious whether served warm, fresh out of the oven, or cold as a refreshing snack. If serving them warm, gently reheat in the oven. If you prefer them cold, they're great straight from the fridge.
Tools for
Pie Pan or Muffin Tin: Essential for shaping your tarts. Whether you're making 12 mini tarts or one large tart, a sturdy pie pan or muffin tin is key to achieving the perfect shape and consistent baking.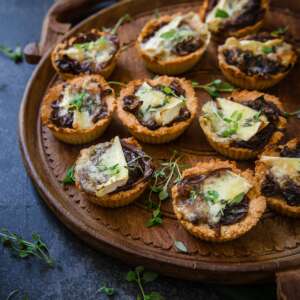 Low-Carb Brie Tarts with Caramelized Onion
Low-Carb Brie Tarts with Caramelized Onion are a keto delight. With a simple pie crust, sweet caramelized onions, and creamy brie in a crisp shell, these mini tarts are perfect for any gathering and quick to vanish!
Print
Pin
Rate
Ingredients
Pie Crust
Filling
2

medium red onions

(thinly sliced)

2

tbsp

extra virgin olive oil

2

tbsp

balsamic vinegar

1

tbsp

granulated low-carb sweetener

(such as Allulose or Swerve)

pinch

of sea salt

12

small wedges brie cheese

small bunch of fresh herbs

(thyme or rosemary)
Instructions
Set your oven to

320

°F

(

160

°C

), or

355

°F

(

180

°C

).

Press the pie crust dough into 12 greased muffin tins for mini tarts or a single larger pie pan for one large tart.

Place the tart shells in the oven and bake for

10 minutes

. Remove and let cool slightly.

In a frying pan, heat olive oil over medium heat. Add sliced onions, cooking until softened (about

12-15 minutes

). Reduce heat and add balsamic vinegar, sweetener, and a pinch of salt, cooking until dark and caramelized.

Distribute the caramelized onions evenly among the tart shells. Add a piece of brie cheese on top of each, and sprinkle with fresh herbs.

Bake for

10 to 15 minutes

, until the brie is soft and the tops are slightly browned.

Serve the tarts warm or cool to store.
Nutrition
Calories:
186
kcal
Net Carbs:
2.7
g
Carbohydrates:
5.3
g
Protein:
6.3
g
Fat:
16.5
g
Saturated Fat:
3.7
g
Sodium:
82
mg
Magnesium:
57
mg
Potassium:
175
mg
Fiber:
2.6
g
Sugar:
1.7
g
Notes
Serving Size: 1 to 3 tartlets (nutrition facts are per tartlet).
Storage: Keep in an airtight container in the fridge for up to 5 days. Freezable for up to a month.
Pie Crust Consistency: Ensure even thickness for the best texture.
Onion Caramelization: Cook onions slowly for optimal sweetness.
Cheese Choices: Brie is recommended, but goat's cheese or feta are great alternatives.
Serving: Delicious both warm and cold. Reheat gently if desired.
Related Posts