Table of Contents
Looking for a snack that meets all your dietary needs? Our Multiseed Low-Carb Crackers are here to save the day! These crispy, dunkable delights are not just low-carb; they're also free from common allergens like nuts, grains, dairy, and eggs.
In addition to their great taste and texture, these in these low-carb crackers are a powerhouse of essential nutrients, especially magnesium. Eating just one serving along with your usual keto meals can significantly help you meet your daily magnesium requirements without needing any supplements. These crackers are perfect for pairing with your favorite healthy dips such as Guacamole.
Why You'll Love These Keto Crackers
Allergy-Friendly: Ideal for those with food sensitivities, they're free from nuts, grains, dairy, and eggs.
Nutritious: Loaded with seeds, they provide essential nutrients in every crunchy bite.
Customizable: Spice them up to your liking for a personalized snack experience.
Perfectly Crispy: Their satisfying crunch makes them a great alternative to traditional snacks.
Easy Storage: They keep well, staying crisp and delicious for snack time anytime.
Crowd Pleaser: Bring them to any party and you won't believe how quickly they will disappear!
Ingredients & Substitutions
Heads up: For exact measurements, see the recipe card below.
Making these keto crackers is simple! You just need mixed seeds, seasoning and water:
Sunflower Seeds: Packed with Vitamin E.
Sesame Seeds: Known for antioxidants.
Flaxseeds: High in Omega-3s.
Chia Seeds: Adds fiber and texture without the need to use eggs.
Pumpkin Seeds: A magnesium-rich option.
Poppy Seeds: Provides a unique flavor twist.
Onion Powder: For seasoning. Garlic powder is another great option.
Black Pepper: Coarse grind offers a better crunch.
Salt: Sea salt or pink Himalayan options are best.
Water: The magic ingredient that binds it all. No eggs needed!
Can I substitute the sesame seeds in these low-carb crackers?
Yes, pumpkin or sunflower seeds can replace sesame seeds.
What if I only have granulated onion or garlic?
If you're using granulated onion or garlic, use double the recommended amount for powder.
Flavor Variations for Low-Carb Crackers
Earthy: Try adding cumin, coriander, and turmeric powder.
Cheesy: Add grated Parmesan, Pecorino, cheddar, or use nutritional yeast for a vegan option.
Smoky: Include smoked paprika.
Italian: Combine onion powder, garlic powder, and dried Italian herbs.
Rustic: Use whole or ground caraway seeds, onion powder and garlic powder.
Greek: Try dried oregano and chopped sundried tomatoes or olives.
How To Make Multiseed Low-Carb Crackers
Preheat the Oven. Set your oven to 180°C/ 355°F for a fan-assisted oven, or 200°C/ 400°F for a conventional oven.
Mix the Seeds and Seasoning. In a large mixing bowl, combine sunflower seeds, sesame seeds, flaxseeds, chia seeds, pumpkin seeds, and poppy seeds. Add Seasoning. Add in onion or garlic powder, black pepper, and salt. Optionally, include any additional spices like cumin or smoked paprika.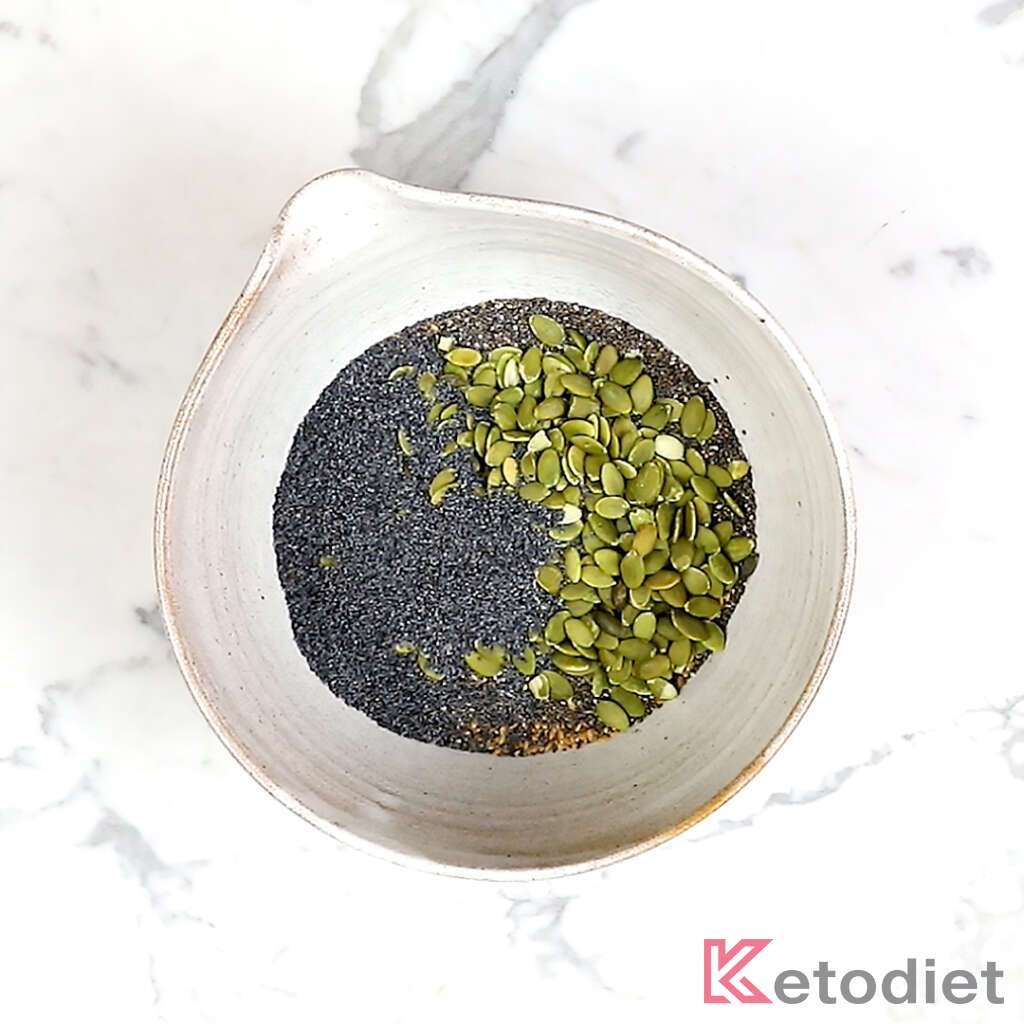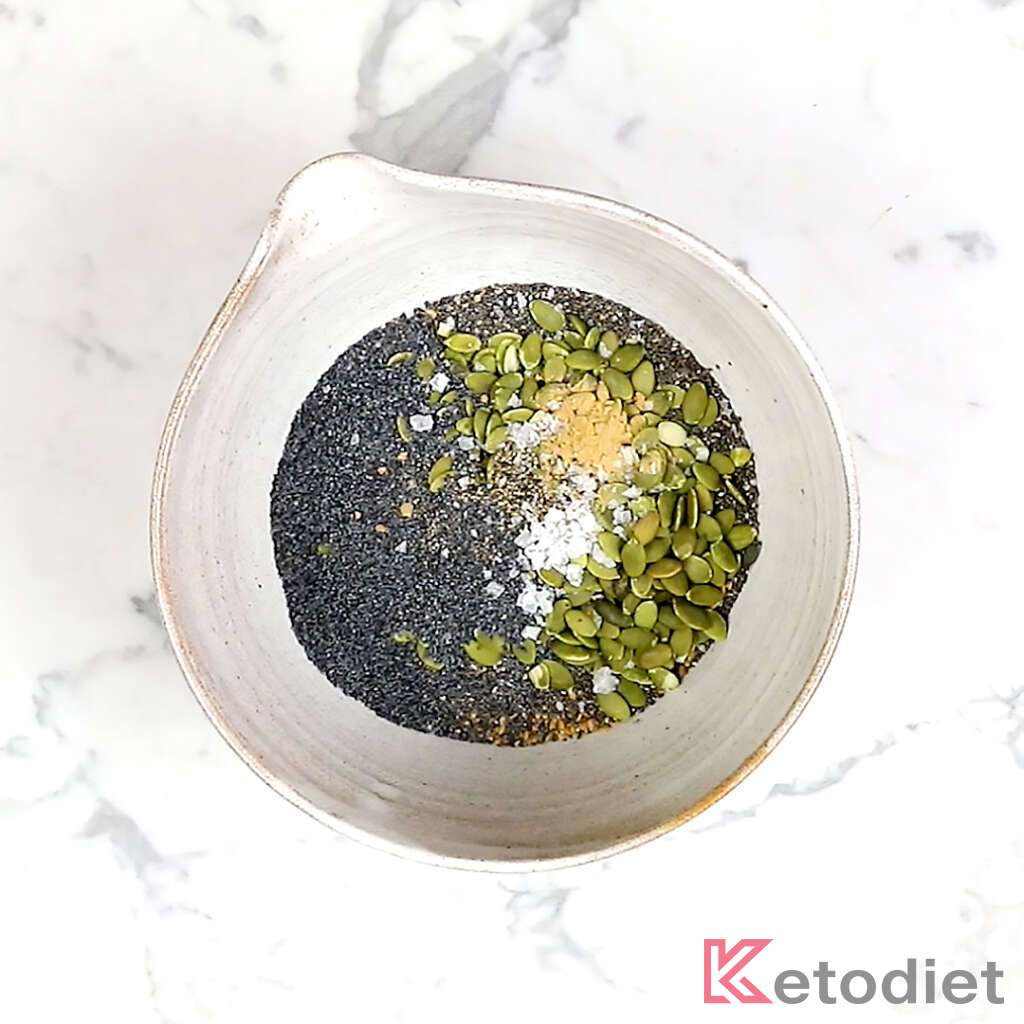 Partially Grind Seeds. Take about half of the seed mixture and place it in a food processor. Process until finely ground. Return the ground seeds to the bowl with the rest of the ingredients and mix well.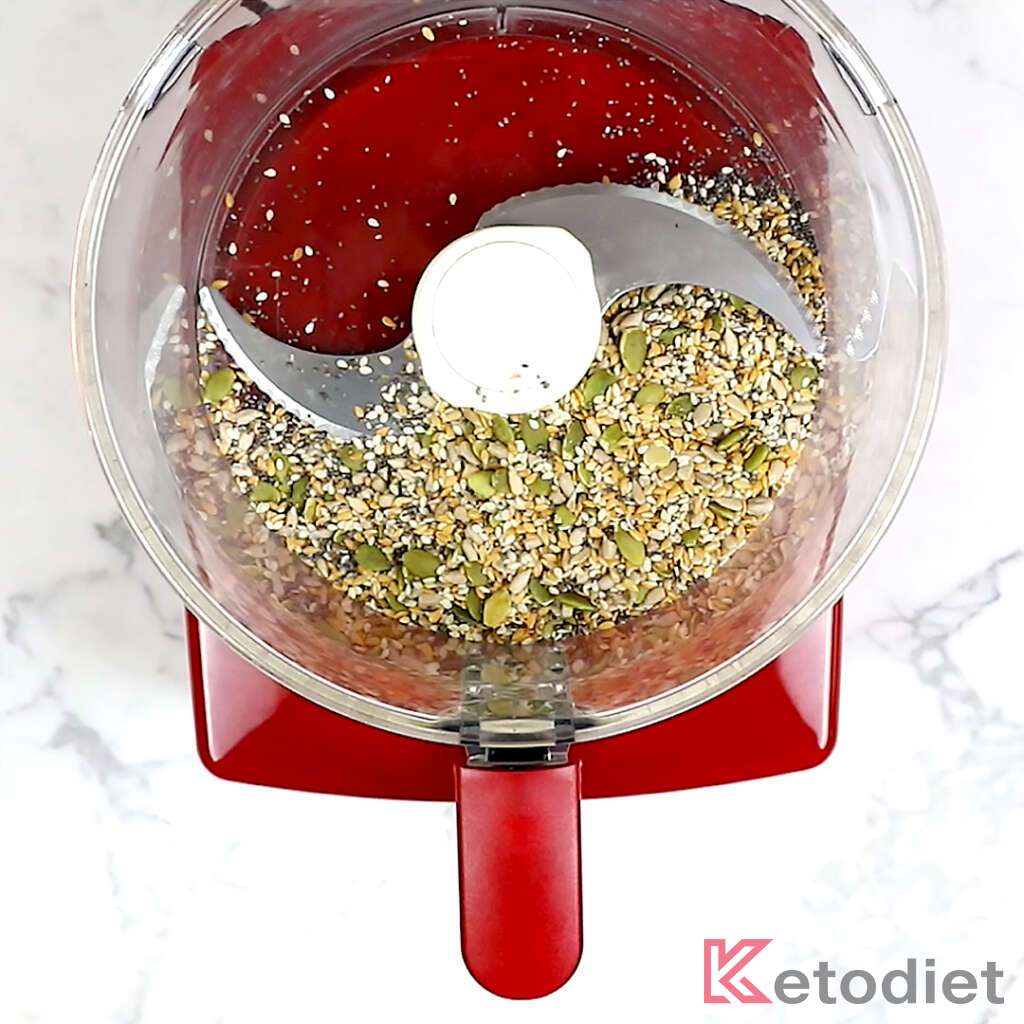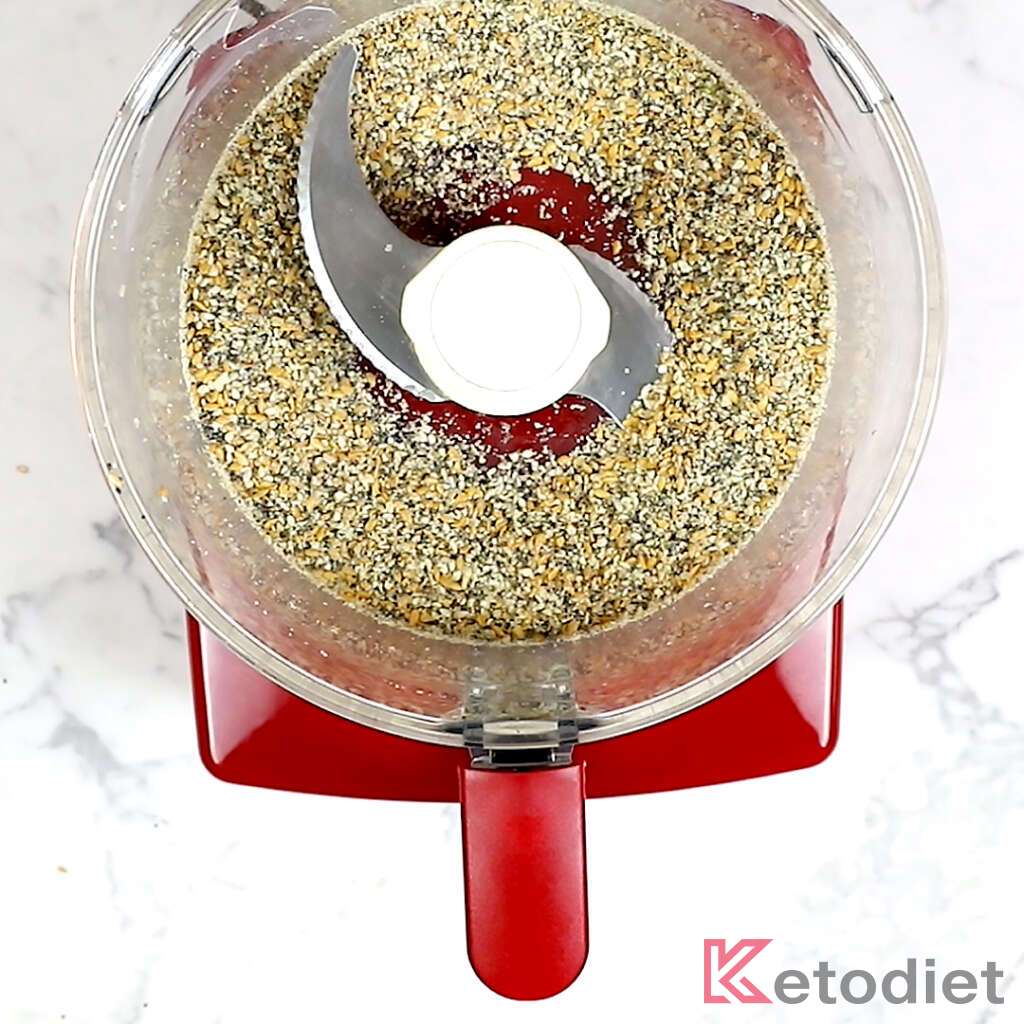 Add Water. Pour in 1 cup of water, stir, and let the mixture sit for 5-10 minutes.
Shape the Dough. Prepare Baking Sheet. Line a 10 x 14-inch baking sheet with a silicone mat or heavy-duty parchment paper. Use a rubber spatula to spread the dough evenly on the prepared sheet, aiming for a thickness of about 1/8 inch.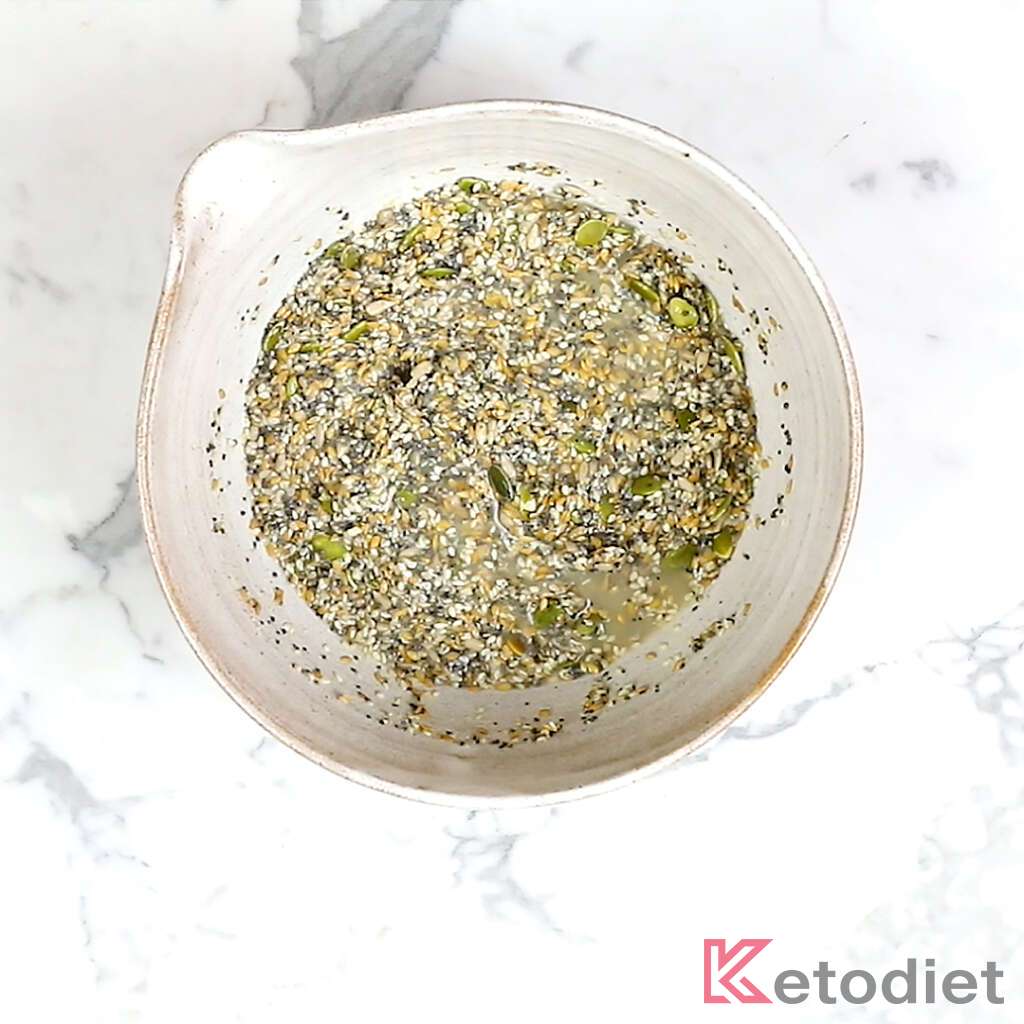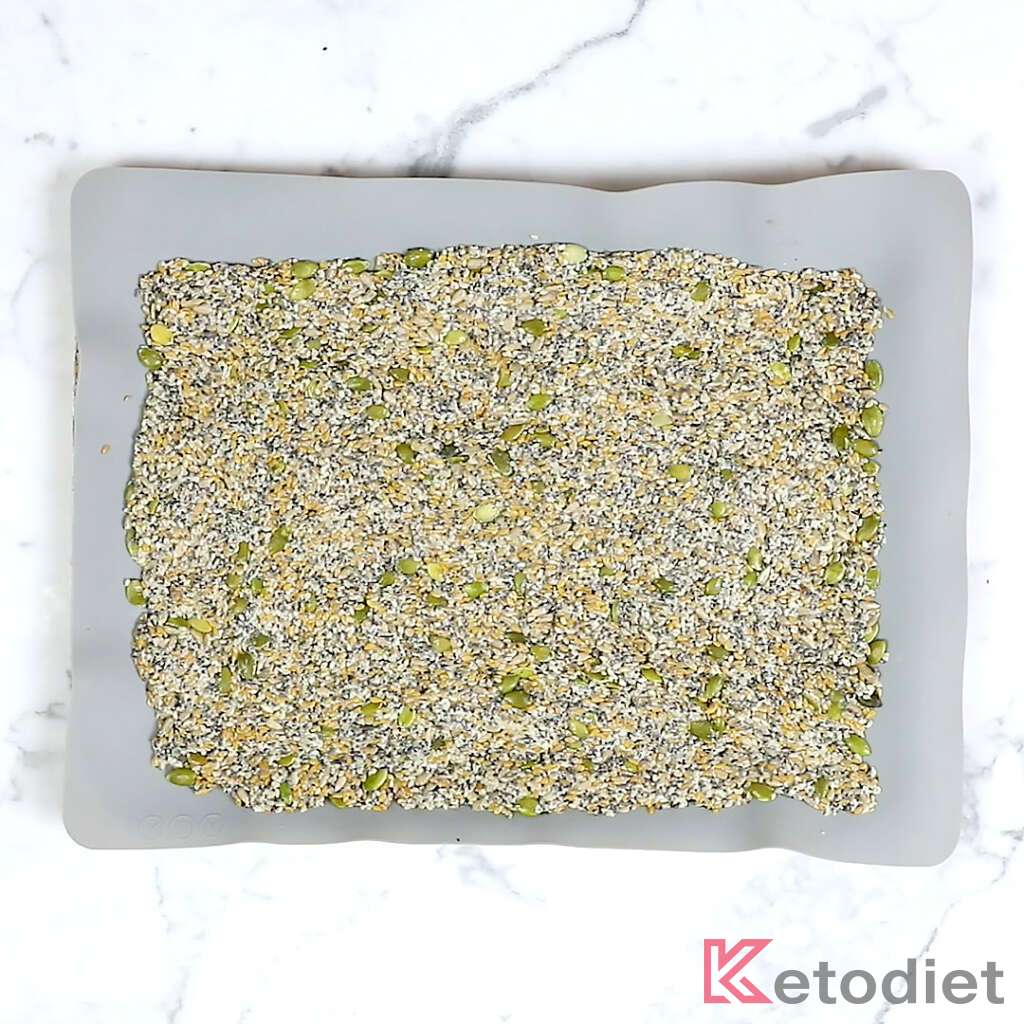 Pre-Cut the Crackers. Using a pizza cutter, slice the dough into 24 pieces, forming 6 rows and 4 columns.
Bake the Crackers. Place in the preheated oven and bake for about 40 minutes. Rotate the tray halfway through.
Final Cuts and Cooling. After baking, go over the pre-cut lines to separate the crackers. Allow them to cool and crisp up for 20-30 minutes.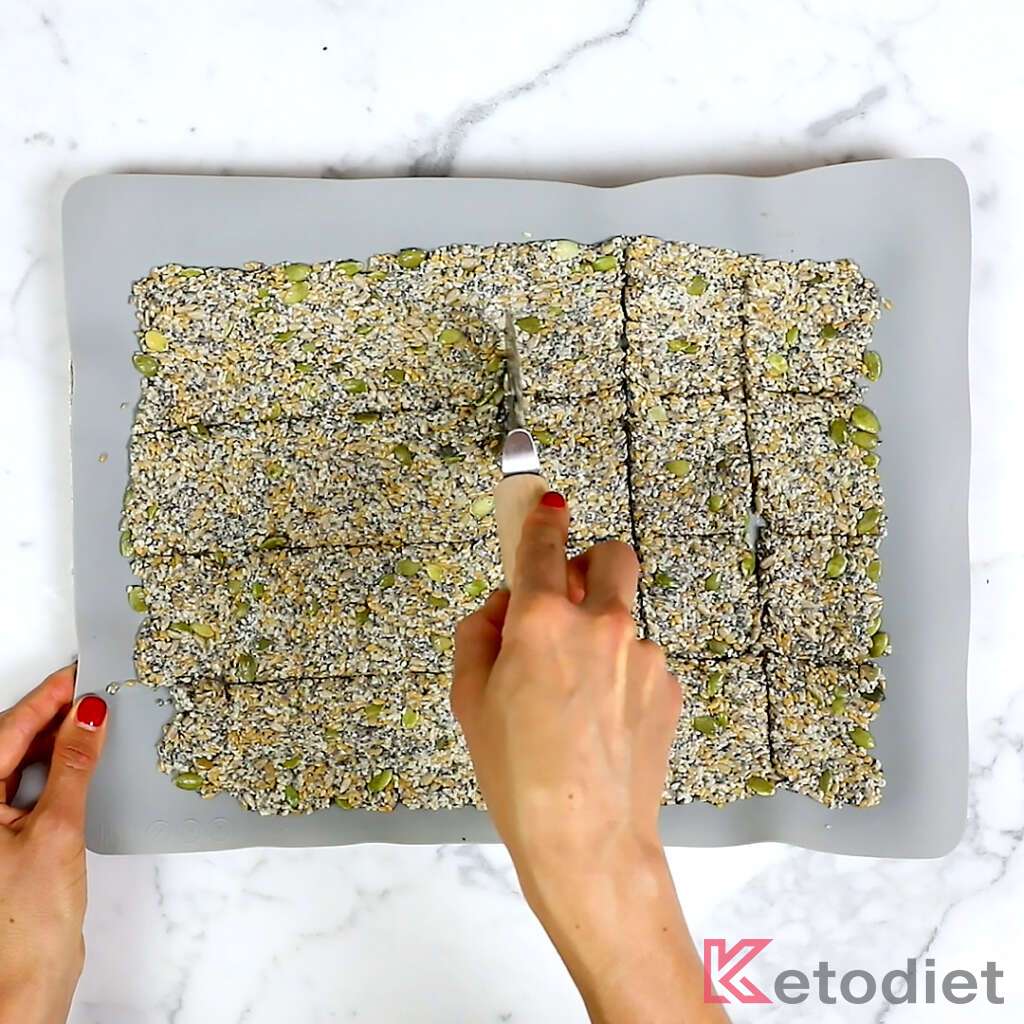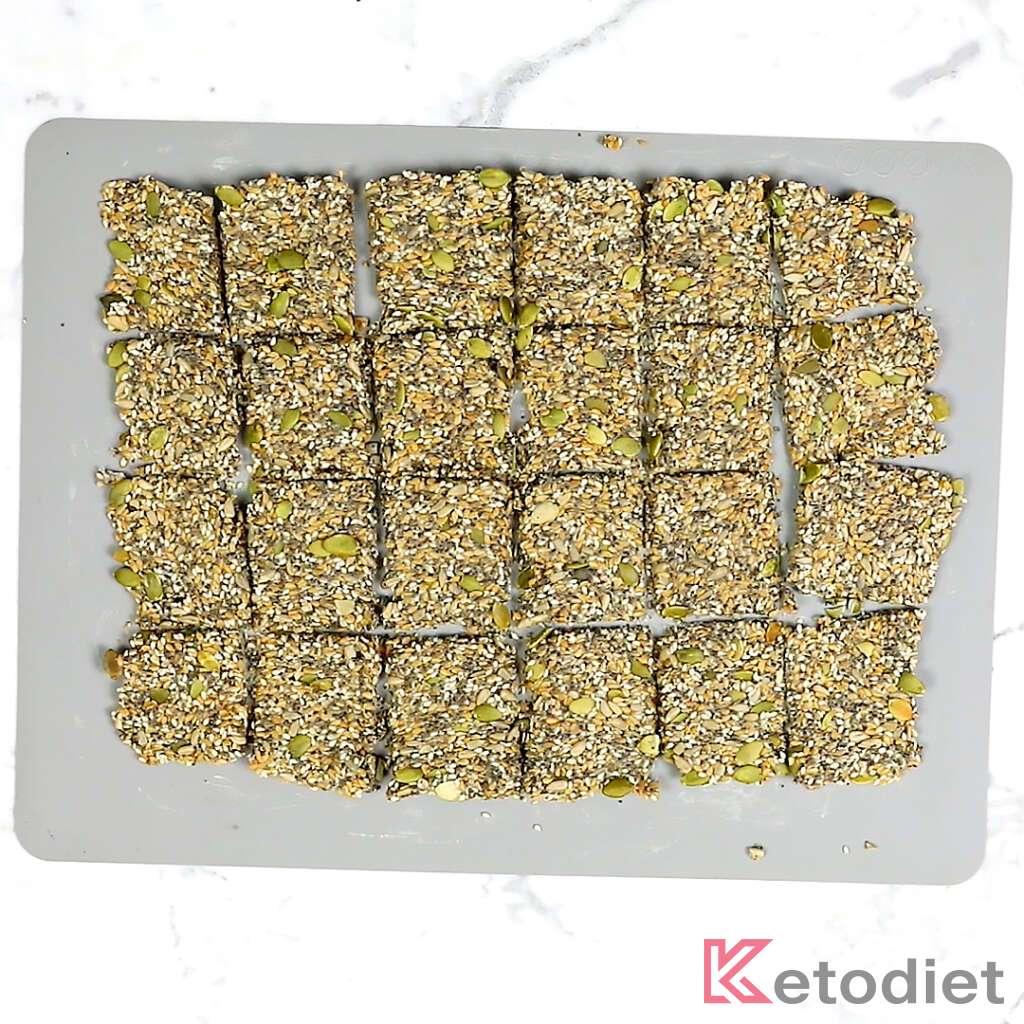 Serve or Store. Serve with any dips, or store for later.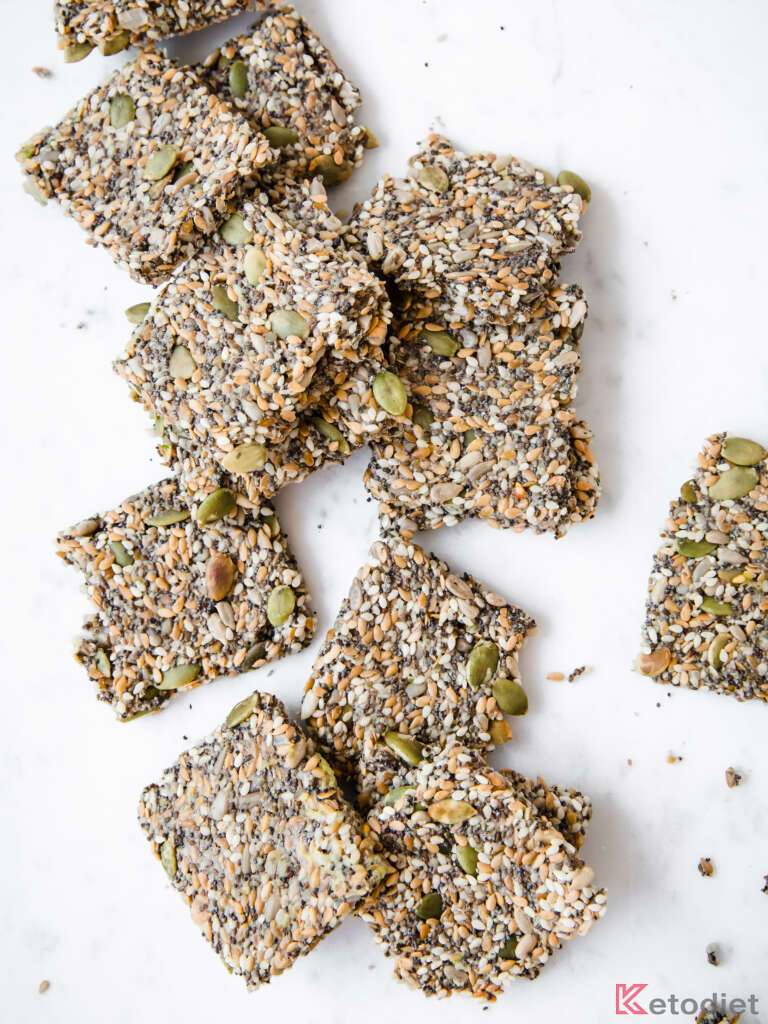 Tips for the Best Low-Carb Crackers
Freshness Counts: Use fresh seeds or seeds stored properly in the fridge or freezer to prevent rancidity. Seeds contain oils that can spoil, affecting both the health benefits and taste. Fresh seeds ensure your crackers will have the best flavor and nutritional value. Rancid seeds can have an unpleasant fishy or plastic-like smell, so always do a smell and taste test before using.
Balanced Moisture: Ensure your seed mixture has just enough water to bind together without being soggy. The dough should be sticky but not wet, which will help achieve a crisp texture once baked.
Even Thickness: When spreading the cracker dough, aim for a consistent thickness to ensure even baking. Uneven thickness can lead to some crackers burning while others are not yet crisp.
Slow and Low Baking: Bake your crackers at a low temperature to dehydrate them slowly, which helps achieve a perfect crunch without burning.
Seed Variety: Use a mix of seeds for a complex flavor and texture. Each type of seed brings a different nutrient profile and a variety of crunch.
Proper Storage: Store your cooled crackers in an airtight container to keep them crisp. If they soften, you can re-crisp them in the oven for a few minutes before serving.
Storage Instructions
How long will these crackers last?
Keep any remaining low-carb crackers in an airtight container at room temperature for up to two weeks.
Can I freeze keto crackers?
Yes, you can store them in the freezer for up to 6 months. Use a container rather than bag to avoid breaking them.
How To Serve These Keto Crackers
These crackers are delicious on their own or with any dips. Guacamole, hummus, or tzatziki are excellent choices!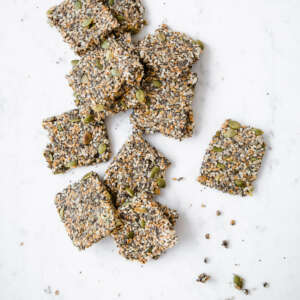 Multiseed Low-Carb Crackers
These Multiseed Low-Carb Crackers are not only crunchy and delicious but also nut-free, grain-free, dairy-free, and egg-free. They're the ultimate keto-friendly, allergy-conscious snack.
Print
Pin
Rate
Ingredients
⅓

cup

sunflower seeds

⅓

cup

sesame seeds

⅓

cup

flaxseeds

(whole )

¼

cup

chia seeds

(whole )

⅓

cup

pumpkin seeds

2

tbsp

poppy seeds

1

tsp

onion powder

(or garlic powder)

1

tsp

black pepper

(coarse )

1

tsp

sea salt

1

cup

water
Instructions
Preheat the oven to

285

°F

(

140

°C

), or

320

°F

(

160

°C

).

In a large bowl, mix all seeds and seasonings.

Take half of the mixture and grind it finely in a food processor.

Combine the ground and whole seed mixture in the bowl.

Add water and mix until it forms a sticky dough. Let the mixture sit for 5-10 minutes.

Spread the dough on a 10 x 14-inch (25 x 35 cm) baking sheet lined with a silicone mat. Spread until it is about ⅛ inch (¼ cm) thick.

Use a pizza cutter to divide the raw dough into 24 crackers (6 rows by 4 columns).

Bake for

40 minutes

, rotating halfway, until golden brown.

Remove from the oven and cut through the pre-cut crackers. Let them cool down and crisp up on a cooling rack for

20 – 30 minutes

before serving.
Recipe Video
Nutrition
Calories:
58
kcal
Net Carbs:
0.8
g
Carbohydrates:
2.7
g
Protein:
2.2
g
Fat:
4.7
g
Saturated Fat:
0.6
g
Sodium:
98
mg
Magnesium:
36
mg
Potassium:
74
mg
Fiber:
1.9
g
Sugar:
0.1
g
Notes
Serving Size: 2 to 4 crackers. Nutrition facts are per one cracker.
Storage: Store these crackers in an airtight container at room temperature for up to two weeks.
Allergy-Friendly Swap: If you're allergic to sesame seeds, pumpkin seeds make an excellent alternative.
Related Posts