Table of Contents
Looking for a no-fuss, super tasty dinner option? You've got to try this Easy Roast Pumpkin, Chorizo & Feta Sheet Pan recipe. It's an all-in-one wonder that mixes spicy chorizo, creamy feta, and sweet pumpkin. This easy low-carb sheet pan is perfect for those nights when you want something hearty but healthy, and you don't want to spend ages in the kitchen.
We're bringing pumpkin to the forefront in this recipe. It's not just for pies, you know! Pumpkin adds a lovely sweetness that balances out the kick from the chorizo. Plus, it's a dream for anyone keeping an eye on their carb intake. This dish is all about big flavors, minimal effort, and keeping things low-carb. So, grab your ingredients, and let's get this easy, tasty meal on the table!
Why You'll Love This Easy Low-Carb Sheet Pan Recipe
Super Simple: Quick prep with easy-to-find ingredients.
One-Pan Magic: Just one sheet pan needed, so cleanup's a breeze.
Rich in Flavor: The sweet pumpkin pairs perfectly with spicy chorizo.
Keto-Friendly: Low in carbs, fitting seamlessly into your keto lifestyle.
Gluten-Free & Diabetic-Friendly: Ideal for this with gluten sensitivities and blood sugar issues.
Ideal for Meal Prep: Great for preparing meals ahead of time.
Ingredients & Substitutions
Heads up: For exact measurements, see the recipe card below.
Whipping up this easy low-carb sheet pan meal is super straightforward. You only need a few key ingredients to create a fusion of flavors:
Pumpkin: Choose a variety like delicata or hokkaido for a sweet and tender texture.
Cooking Fat: Ghee, duck fat or olive oil add a rich, savory flavor to the pumpkin.
Rosemary: Either dried or fresh, it infuses an aromatic herbiness.
Salt and Pepper: Essential for enhancing all the flavors.
Sausage: Brings a hearty and satisfying element. Use gluten-free Italian sausage with low starch content.
Mexican Chorizo Sausage: Adds a spicy kick. Spanish chorizo works too!
Feta Cheese: Its saltiness contrasts beautifully with the sweet pumpkin.
Can I use a different cheese instead of feta?
Absolutely! Goat cheese is a fantastic alternative to feta. It offers a similar crumbly texture but with a slightly tangier flavor, complementing the other ingredients beautifully.
I'm looking for more protein in this low-carb sheet pan. What do you recommend?
If you're aiming to up the protein, feel free to add more of either sausage. Both the Italian-style and chorizo sausages are protein-rich and will enhance the dish's robust flavor. Just adjust the quantity to your preference!
Do I always have to peel pumpkin before roasting?
Whether you need to peel the pumpkin depends on the variety. Hokkaido and Delicata, both types of winter squash commonly referred to as "pumpkin", don't require peeling due to their tender skin. However, for most other types, like cooking pumpkin and butternut squash, peeling is necessary because their skin is tougher and doesn't soften as well during roasting.
How To Make Roast Pumpkin, Chorizo & Feta Sheet Pan
Prep the Pumpkin. Preheat the oven to 400°F (200°C) fan assisted, or 425°F (220°C) conventional. Halve the pumpkin and remove the seeds (these can be reserved for roasting). Then, slice the pumpkin into even pieces. This ensures uniform cooking and a perfect texture in every bite. If using options like Delicata or Hokkaido, you won't need to peel it.
Season and Roast the Pumpkin. Arrange the pumpkin slices on a baking sheet. Drizzle with ghee or duck fat, then sprinkle with rosemary, salt, and pepper. Roast in a preheated oven for about 10 minutes, until they start to soften and turn golden.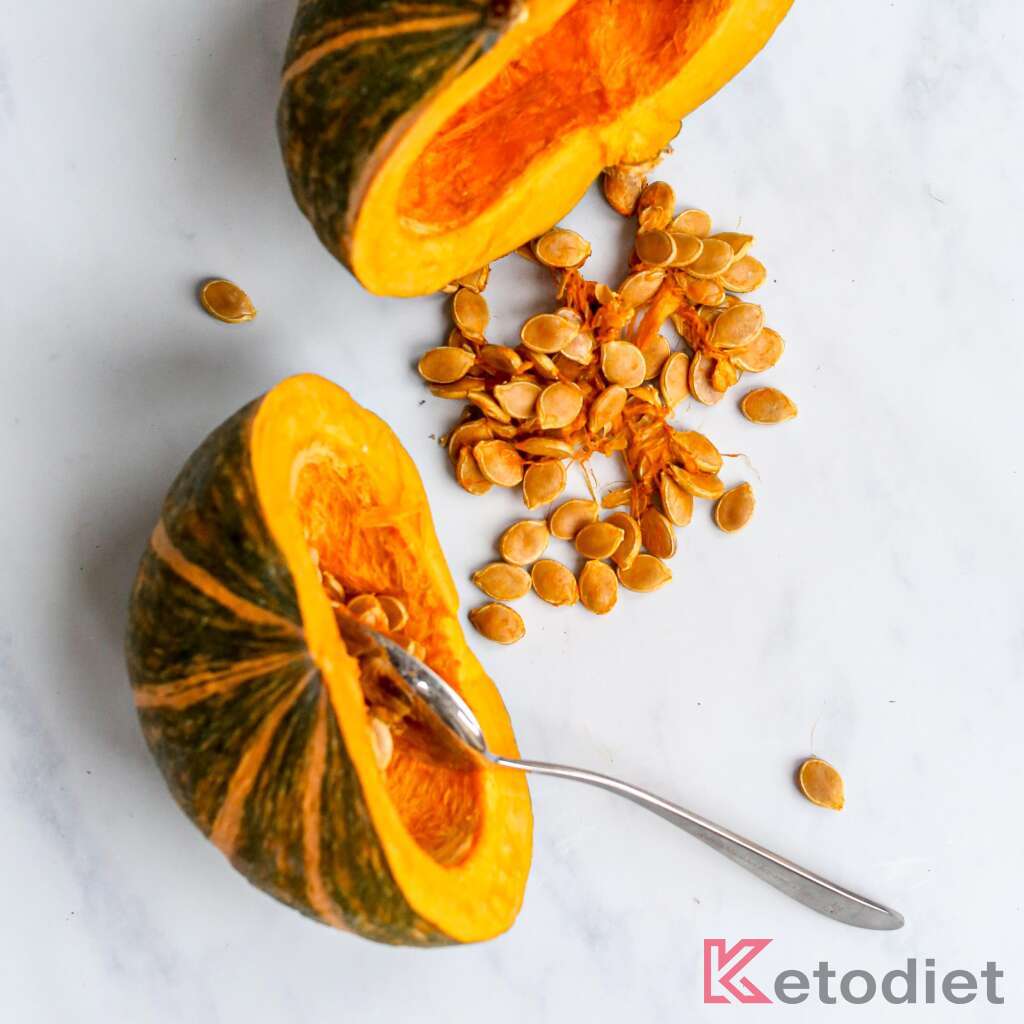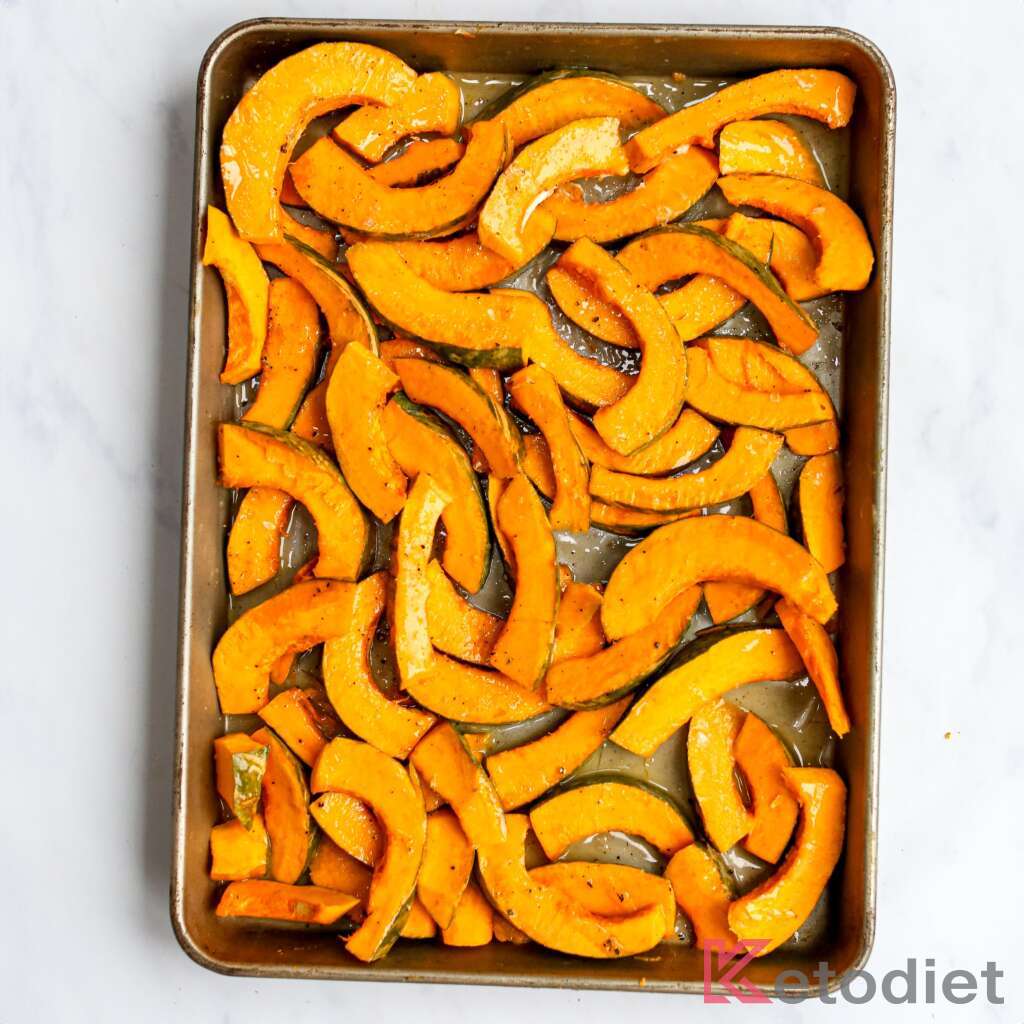 Slice & Roast the Sausages. While the pumpkin is roasting, slice your Italian-style and chorizo sausages. After the pumpkin has roasted for 10 minutes, add the sausage slices to the baking sheet with the pumpkin. Return to the oven and continue roasting for another 10 minutes.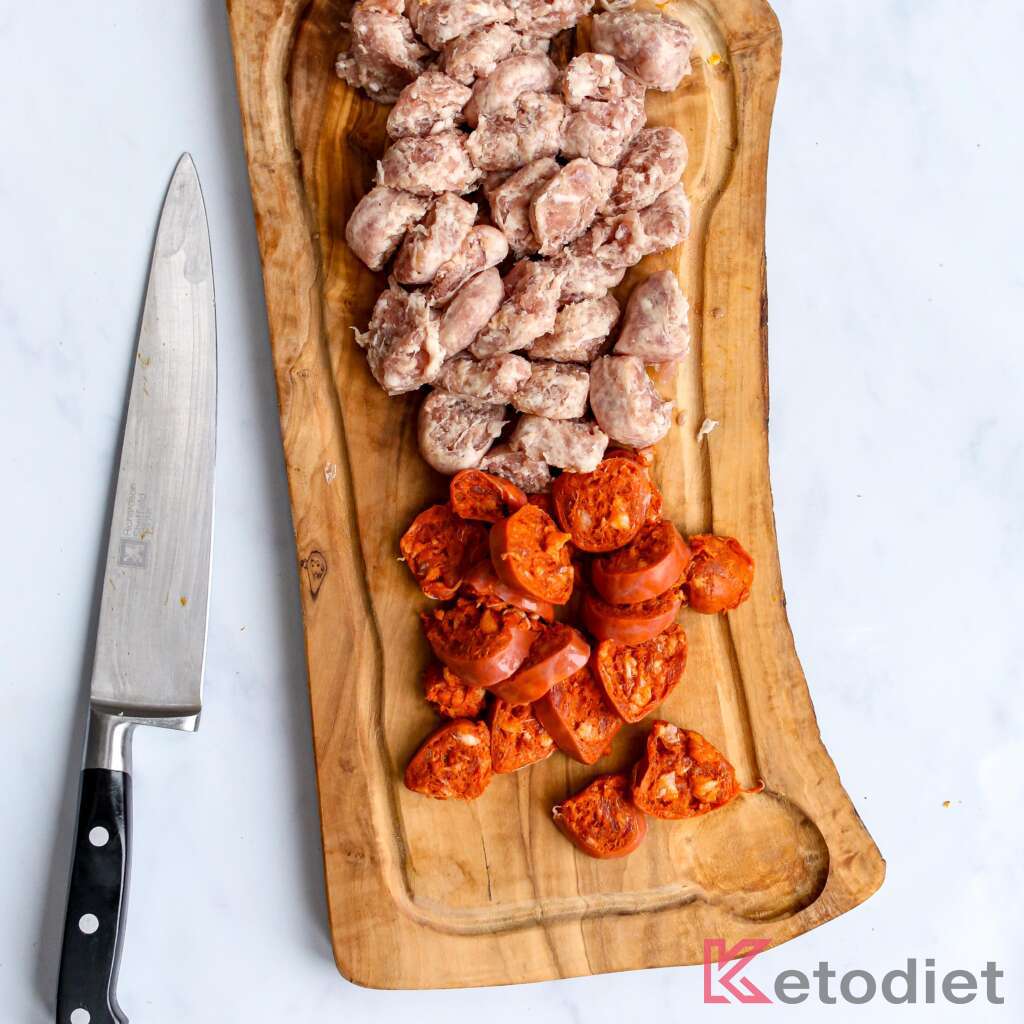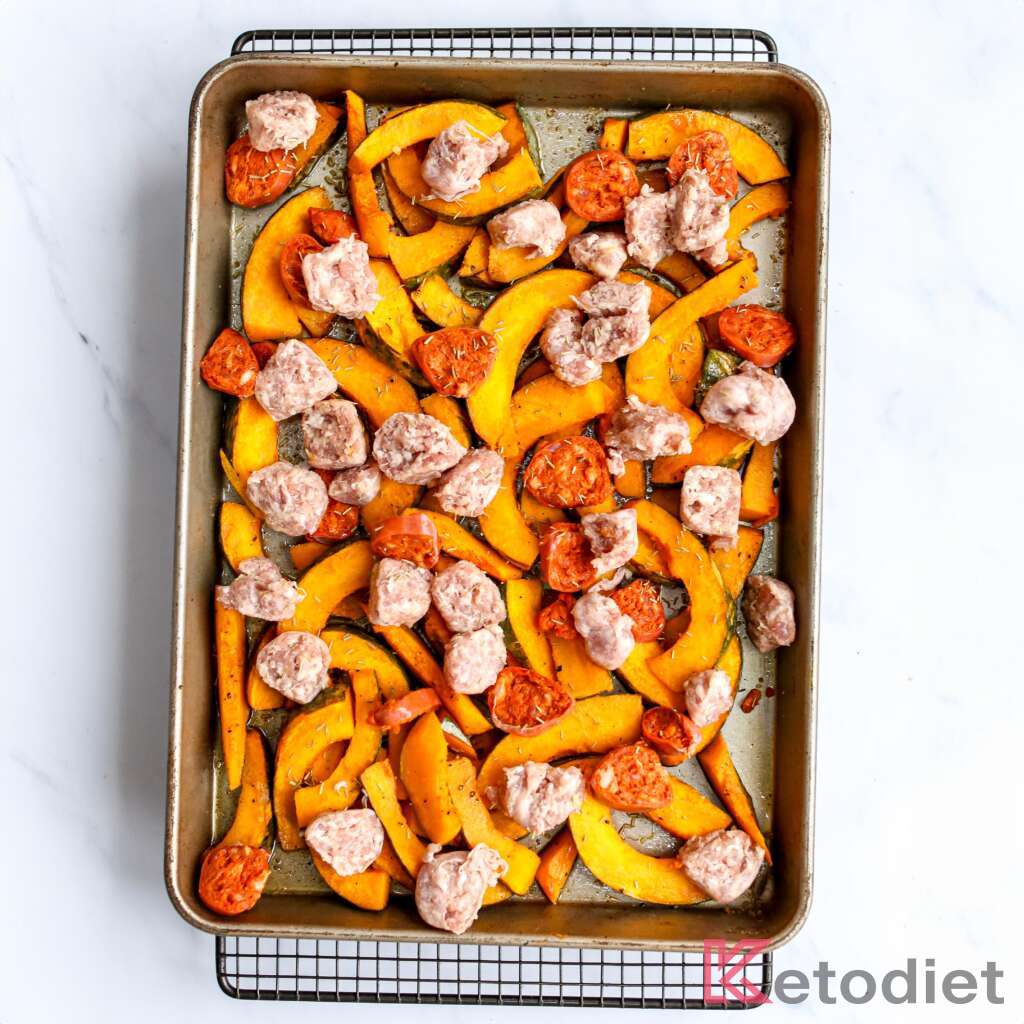 Top with Feta. After the pumpkin and sausages have roasted together, sprinkle crumbled feta over the top. Return the pan to the oven and roast for an additional 5 minutes.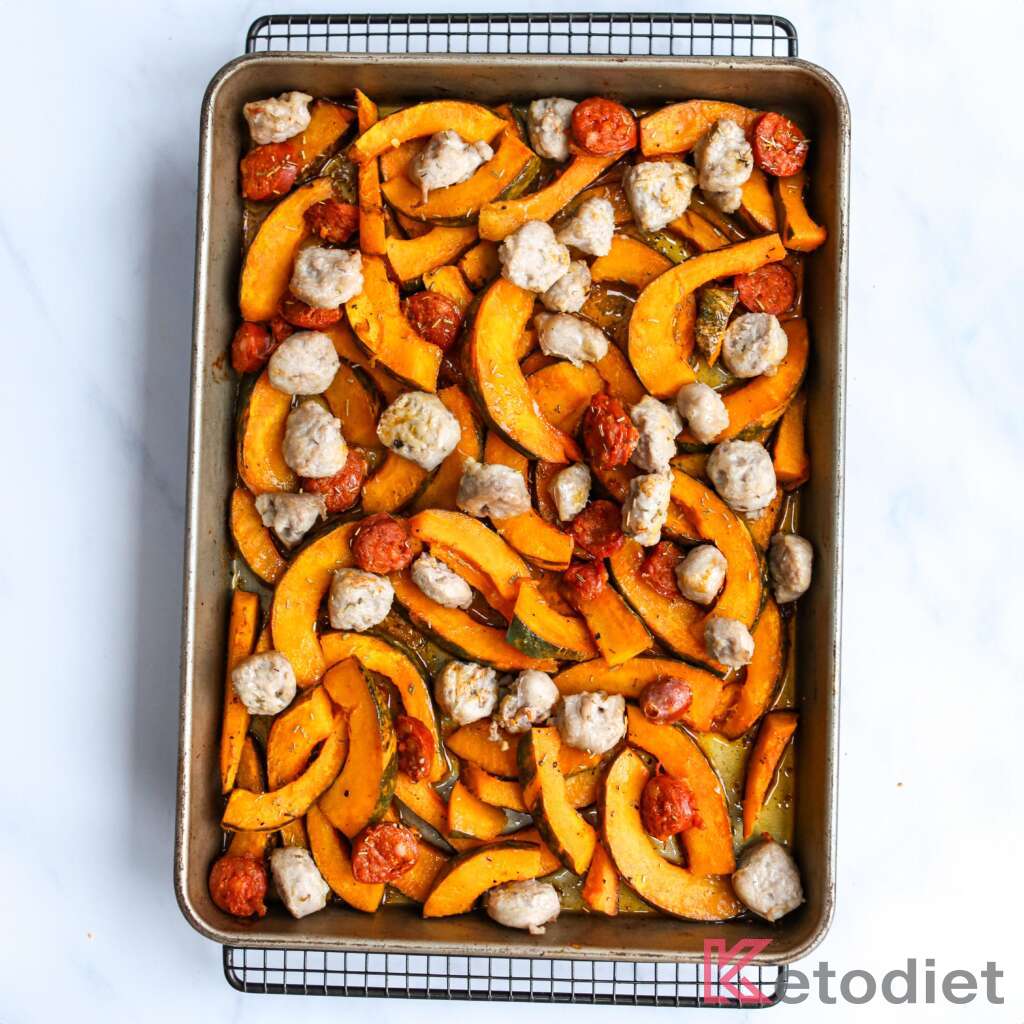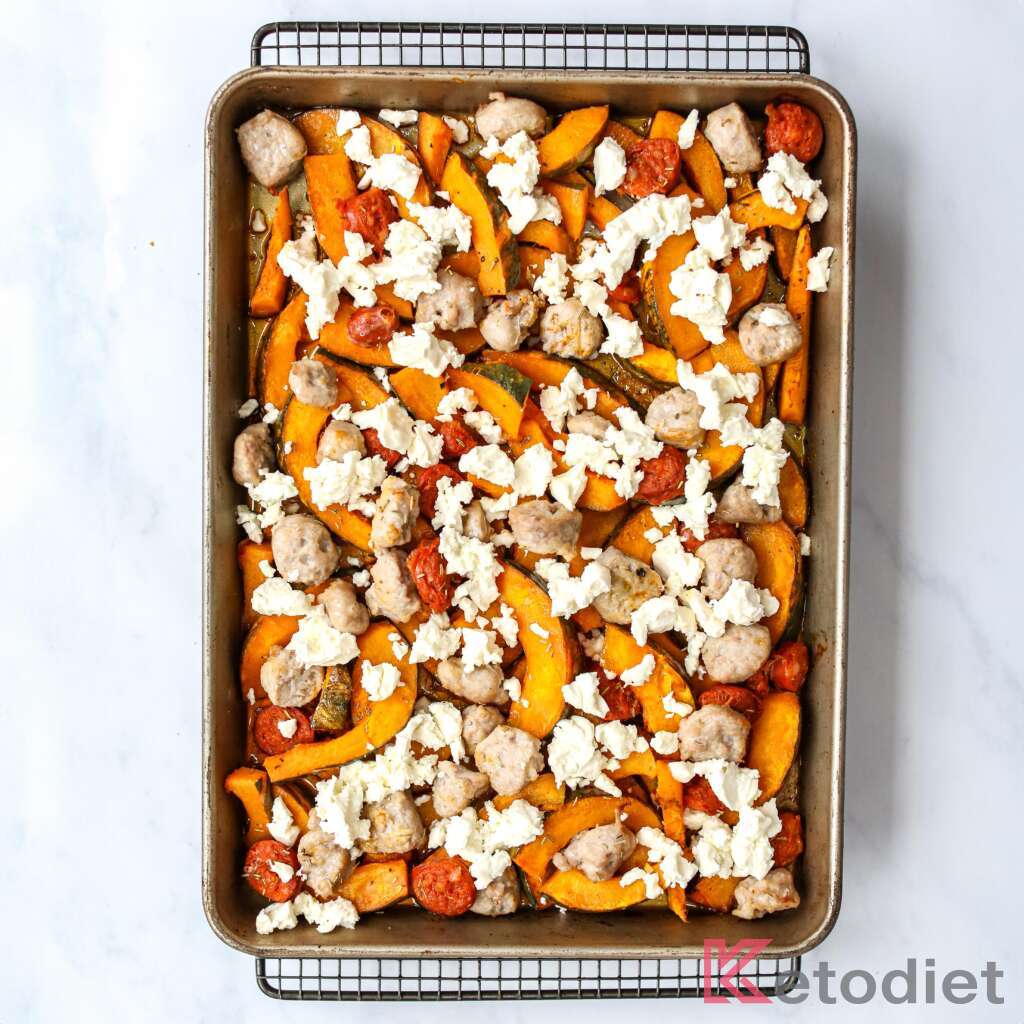 Serve and Enjoy. Once everything is cooked to perfection, take the sheet pan out of the oven. Allow it to cool slightly before serving. This easy low-carb sheet pan is delicious both fresh from the oven and as a meal prep option.
Tips for Best Roast Pumpkin, Chorizo & Feta Sheet Pan
Before you start, here's a quick rundown of handy tips to make your easy low-carb sheet pan a guaranteed hit:
Pumpkin Selection: Opt for Hokkaido or delicata squash for their sweet flavor and tender skin that doesn't require peeling. This makes your prep work easier and adds a delightful texture to your dish.
Sausage Variety: Feel free to experiment with different types of sausage to suit your taste. Each variety brings its own unique flavor, so the dish can be slightly different each time you make it. You can use just Italian sausage for a milder dish, or just chorizo for a spicier option.
Cheese Swap: While feta adds a lovely saltiness, don't be afraid to try other cheeses. Goat cheese, for instance, can add a nice tanginess.
Even Cooking: Make sure to cut the pumpkin into even slices. This ensures that every piece roasts perfectly, offering a consistent texture throughout the dish.
Roasting Time: Keep an eye on the oven as cooking times can vary depending on your oven and the thickness of the pumpkin slices. You want the pumpkin to be tender but not mushy.
Storage Instructions
How long can I keep this low-carb sheet pan in the fridge?
This sheet pan meal stays fresh in the fridge for up to 4 days. Just make sure it's in an airtight container to maintain its flavor and freshness.
Is it possible to freeze this dish for later use?
Yes, you can freeze it! The dish can be stored in the freezer for up to a month. I recommend dividing it into portions before freezing for easy reheating. Just thaw it in the fridge overnight and reheat in the oven or microwave when you're ready to enjoy it again.
How to Serve This Easy Low-Carb Sheet Pan
Enjoy It Warm: This dish is best enjoyed warm, straight from the oven. The flavors of the pumpkin, chorizo, and feta are most vibrant and the textures at their best when served fresh.
Reheating Tips: If you have leftovers, reheat them in the oven to maintain the dish's delightful textures. Simply preheat your oven and warm the dish until it's heated through. This method preserves the crispiness of the sausage and the tenderness of the pumpkin.
Pair with Greens: For a balanced meal, serve this sheet pan alongside some dressed greens. A simple salad with a light vinaigrette works wonderfully, adding a fresh, crisp element to complement the rich flavors of the main dish.
Love recipes with pumpkin and feta but looking for a vegetarian option? Try our Roasted Pumpkin & Feta Salad!
Tools for This Easy Low-Carb Sheet Pan
To get started on this delicious low-carb sheet pan meal, here are the basic kitchen tools you'll need:
Baking Sheet: Essential for roasting the ingredients together.
Chef's Knife: For slicing the pumpkin and sausages.
Cutting Board: To prep your ingredients safely and efficiently.
Spatula or Tongs: Useful for turning the ingredients halfway through roasting for even cooking.
Measuring Utensils: To measure out seasonings and oil.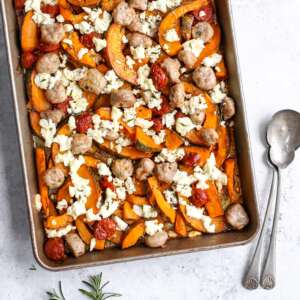 Roasted Pumpkin, Chorizo & Feta Sheet Pan
This Easy Roast Pumpkin, Chorizo & Feta Sheet Pan is a perfect combo of spicy, sweet, and savory. A low-carb, flavor-packed meal that's effortless to prepare and simple to clean up. Ideal for busy weeknights or a relaxing weekend dinner, it brings a nutritious and delicious feast to your table with minimal effort.
Print
Pin
Rate
Ingredients
1 ½

lbs

pumpkin

(such as delicata or hokkaido)

¼

cup

melted ghee

(or duck fat)

½

tsp

dried rosemary

(or ½ tbsp chopped fresh rosemary)

salt and pepper

(to taste)

14

oz

Italian-style sausage

(gluten-free, sliced)

7

oz

Mexican chorizo sausage

(sliced, or Spanish chorizo)

1

cup

crumbled feta cheese
Instructions
Preheat the oven to

400

°F

(

200

°C

), or

425

°F

(

220

°F

). Halve the pumpkin and remove the seeds. Slice into even pieces for uniform cooking.

Arrange pumpkin on a baking sheet. Drizzle with ghee or duck fat, sprinkle with rosemary, salt, and pepper. Roast for about

10 minutes

until starting to soften.

While the pumpkin roasts, slice the Italian-style and chorizo sausages. Place sausage slices on the baking sheet with the pumpkin. Roast for another

10 minutes

.

Sprinkle crumbled feta over the top and return to the oven for

5 more minutes

.

Let the dish cool slightly before serving. Enjoy warm.
Nutrition
Serving:
285
g
Calories:
510
kcal
Net Carbs:
12.6
g
Carbohydrates:
14.8
g
Protein:
20.2
g
Fat:
42
g
Saturated Fat:
19.2
g
Sodium:
908
mg
Magnesium:
81
mg
Potassium:
864
mg
Fiber:
2.2
g
Sugar:
6.3
g
Notes
Serving Size: About 10 oz (285 g).
Roasting Pumpkin: For the best results, ensure pumpkin slices are even for uniform cooking.
Sausage Choices: Experiment with different sausage types for varied flavors. Spanish chorizo (cured meat) can be used instead of Mexican chorizo (raw meat).
Seasoning: Go easy on the salt as there's more salt in the sausages and feta. You can always season it after baking.
Cheese Options: Try different cheeses like goat cheese for a tangy twist.
Serving Suggestion: Pair with a simple green salad for a balanced meal.
Related Posts