Table of Contents
Looking for a quick and healthy addition to your meal routine? Our Roasted Pumpkin Salad might just be your new favorite. It's not just any salad; it's a delightful mix of sweet, caramelized pumpkin, tangy feta, and fresh arugula, topped with crunchy pepitas.
This dish is a testament to how simple ingredients can create something truly special. Whether you're in need of a refreshing side or a light main course, this salad is versatile enough to fit the bill. Plus, it's a fantastic way to get those nutritious greens in your diet without compromising on taste. So, let's get started on this easy, flavorful journey that's bound to become a staple in your kitchen!
Why You'll Love This Roasted Pumpkin & Feta Salad
Effortless & Quick: Easy prep for a no-fuss meal.
Nutrition-Packed: A healthy blend of greens and pumpkin.
Adaptable: Ideal as a side or a protein-rich main.
Unique Flavors: Sweet pumpkin meets tangy feta.
Ingredients & Substitutions
Heads up: For exact measurements, see the recipe card below.
Making this Roasted Pumpkin Salad is straightforward, requiring only a handful of fresh, flavorful ingredients. Here's what you'll need:
Pumpkin: Forms the sweet, caramelized base of the salad.
Feta or Goat's Cheese: Adds a creamy, tangy contrast.
Arugula (Rocket): Brings a peppery, fresh green touch.
Extra Virgin Olive Oil: For dressing and roasting, enhancing the flavors.
Coconut Aminos: A hint of sweetness and depth.
Pepitas (Pumpkin Seeds): Adds a crunchy texture and nutty taste.
Salt and Pepper: Season to enhance the overall taste.
What can I use instead of pepitas?
Sunflower seeds or chopped nuts like almonds or walnuts can be a great alternative, adding a similar crunch and nutty flavor.
Is there a difference between using feta and goat's cheese in this salad?
Yes, there is a subtle difference. Feta cheese (made from sheep's milk) offers a tangier, saltier flavor, while goat's cheese is creamier and milder. Both work beautifully, so choose based on your preference!
What if I don't have arugula? Are there other greens that work well in this salad?
Definitely! Baby spinach, mixed salad greens, or even thinly sliced kale can be used. Each green brings its own unique flavor and texture to the salad.
How to Make Roasted Pumpkin & Feta Salad
Roast the Pumpkin. Set the oven to 400°F (200°C) for fan-assisted, or 425°F220°C) for conventional. Cut the pumpkin into bite-sized cubes. On a baking tray, spread the pumpkin, drizzle with 2 tablespoons olive oil and 1 tablespoon coconut aminos. Season with salt and pepper. Roast for 20-30 minutes until tender and caramelized, then let cool.
Roast the Pumpkin Seeds (Optional). Place the pumpkin seeds in a hot dry pan and roast for 1 to 2 minutes, tossing a few times to ensure even cooking. Once ready, the pumpkin seeds should pop and have a round shape. Alternatively, use raw seeds.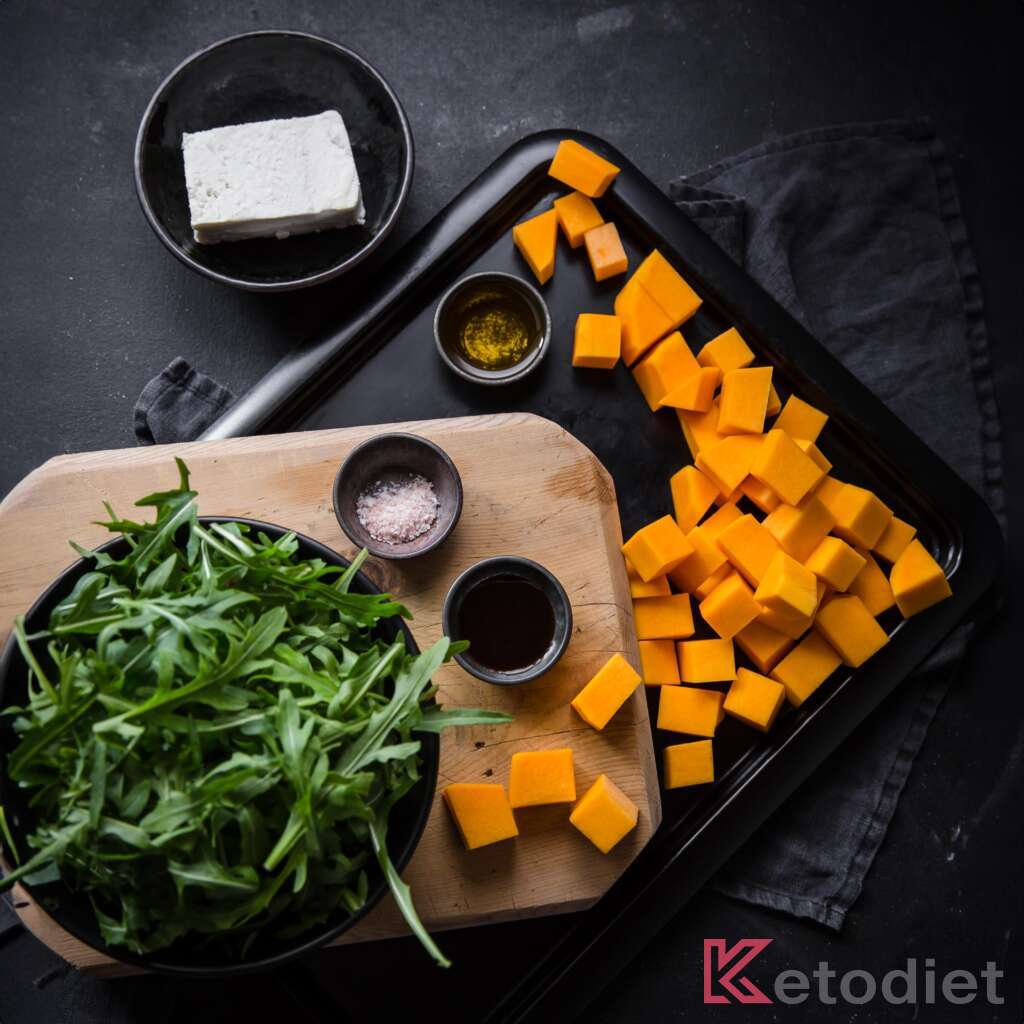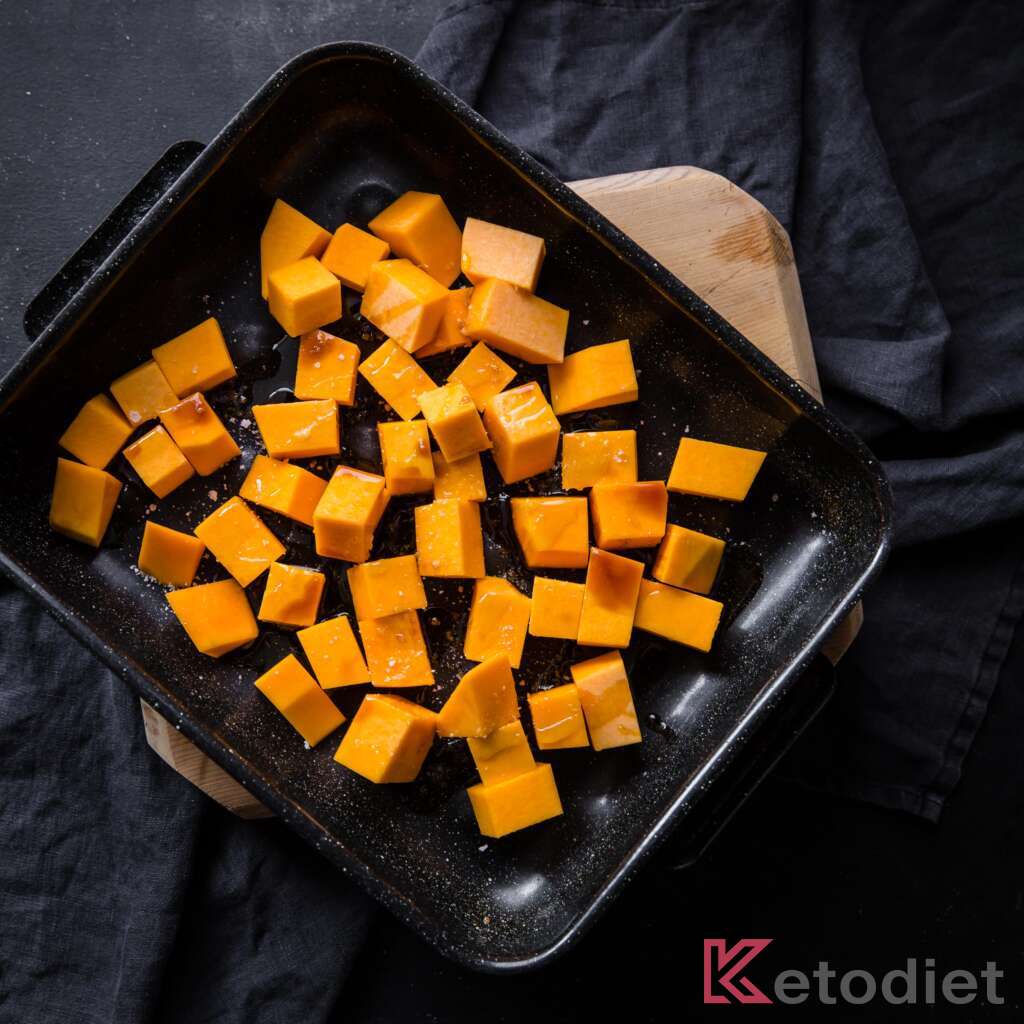 Assemble the Salad. Place arugula in a large serving bowl. Add the cooled roasted pumpkin and crumbled feta or goat's cheese on top. Sprinkle with pepitas, optionally toasted for extra crunch. Finish by drizzling the remaining olive oil over the salad. Serve as a refreshing side or a protein-enhanced main dish.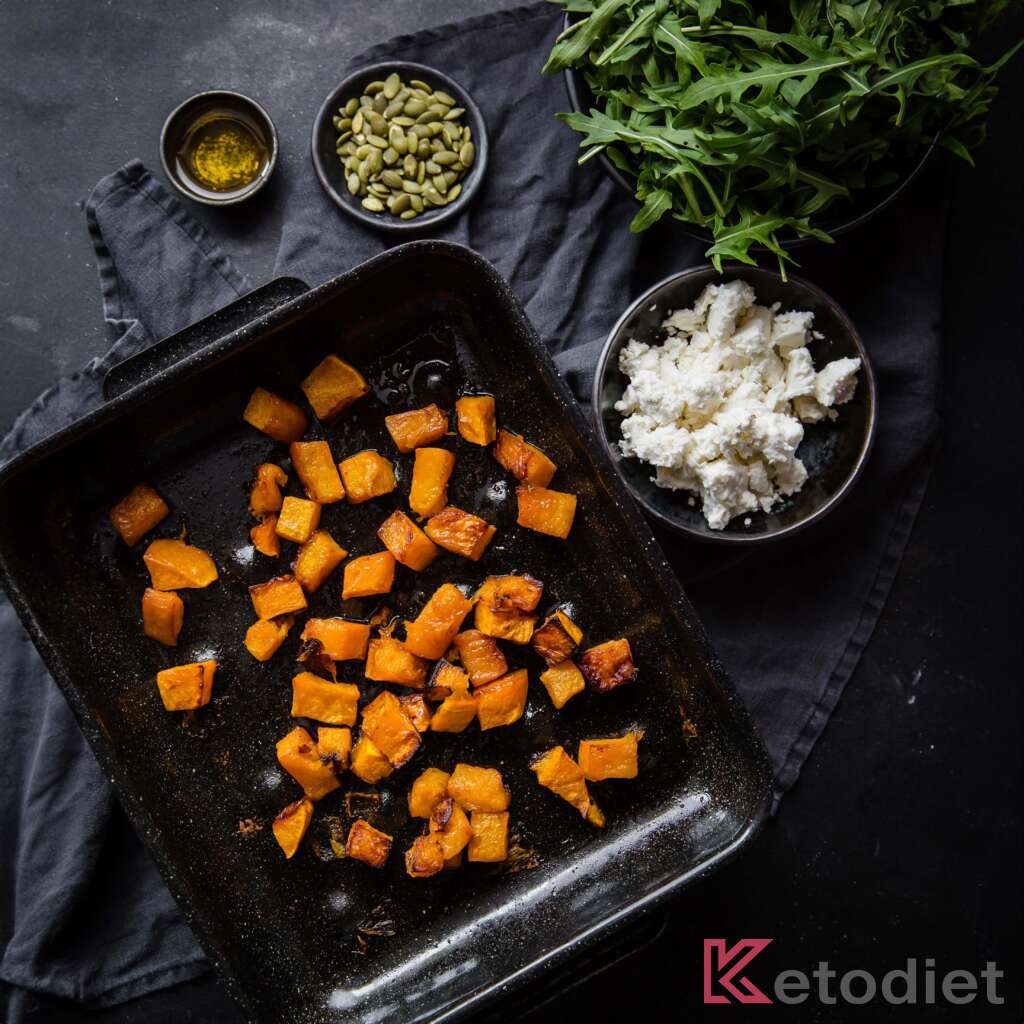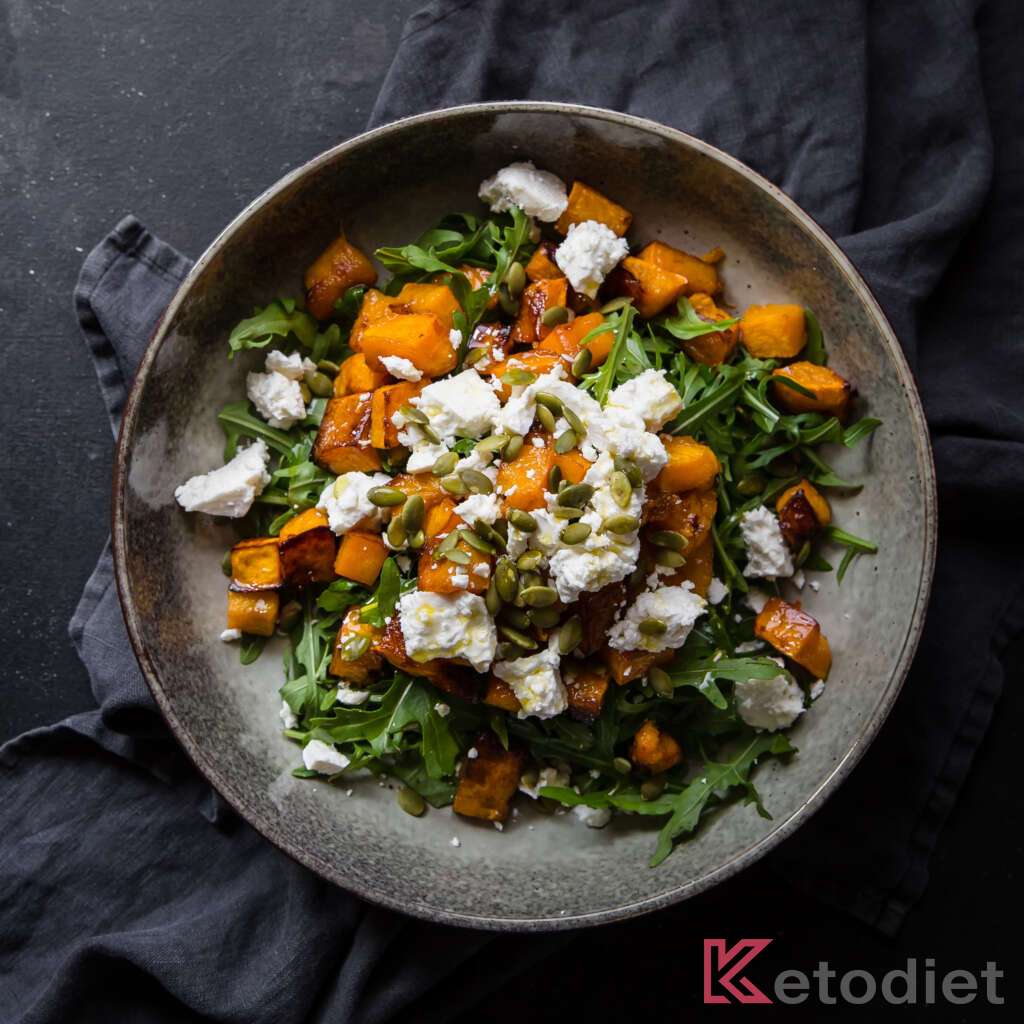 Tips for Best Roasted Pumpkin & Feta Salad
Roasting Perfectly: For perfectly caramelized pumpkin, ensure it's spread in a single layer on the baking tray. This allows for even cooking and caramelization.
Using Hokkaido? The skin is tender enough so you don't have to peel it!
Cheese Choices: Both feta and goat's cheese are great, but feta will give a saltier, tangier flavor, while goat's cheese is milder and creamier. Choose based on your taste preference.
Pepita Prep: Toasting pepitas in a dry pan for 1-2 minutes before adding them to the salad enhances their flavor and adds extra crunch.
Storage Instructions
How long can I keep the salad in the fridge?
This salad stays fresh in the refrigerator for up to 3-4 days. Store it in an airtight container to maintain its quality.
Can I prepare this salad in advance?
Yes, you can prepare the roasted pumpkin a day ahead and store it in the fridge. Assemble the salad with fresh arugula and feta just before serving to keep it crisp. If you anticipate leftovers, store the dressing separately and add it to individual servings. This keeps the arugula from becoming soggy.
Is this salad freezable?
Freezing is not recommended for this salad. The fresh greens and cheese may not hold up well to freezing and thawing, affecting the texture and taste.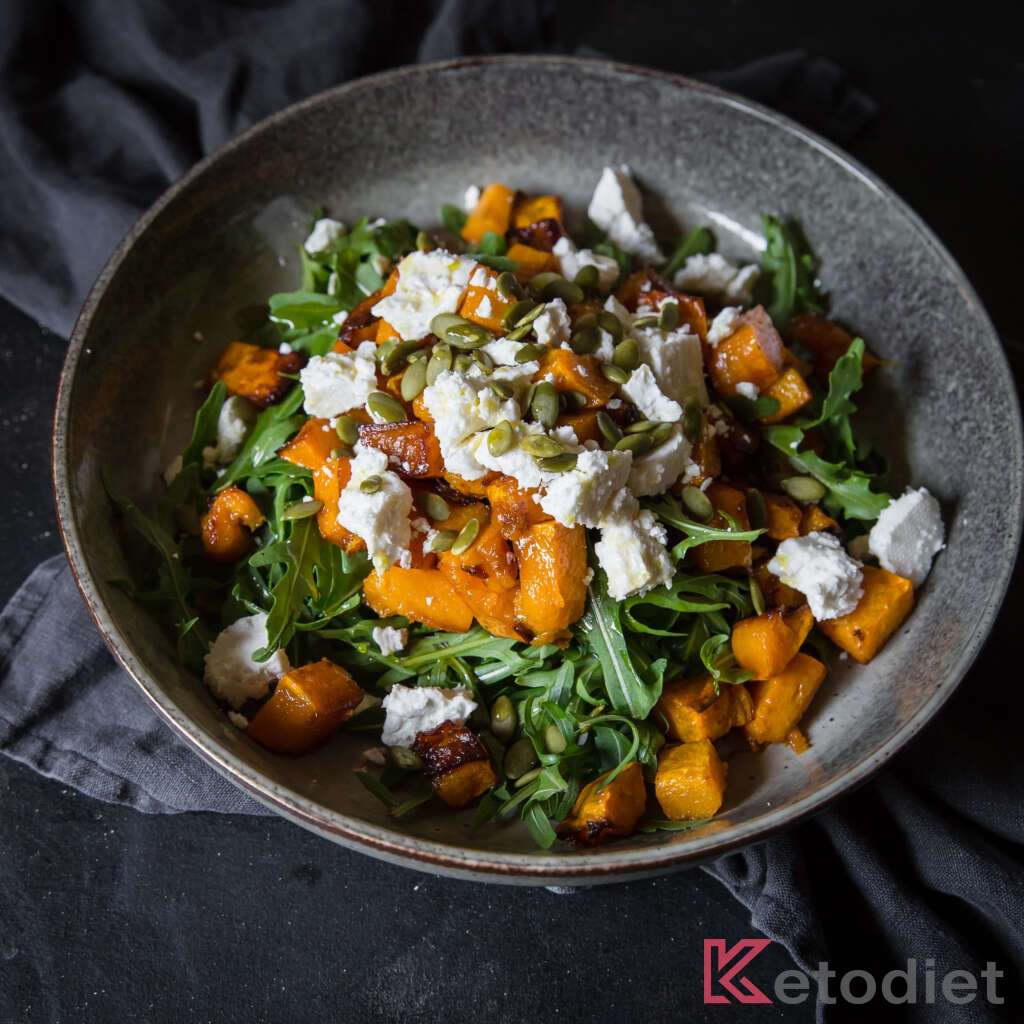 How to Serve Roasted Pumpkin & Feta Salad
This versatile salad can be enjoyed in a variety of ways, making it a perfect fit for any meal:
As a Standalone Meal: For a light and satisfying lunch, enjoy a larger portion of this vegetarian salad. It's filling yet refreshing.
Pair with Protein: Transform this light salad into a hearty dinner by adding grilled chicken, steak strips, or your favorite vegetarian or plant-based protein.
Side Dish: Serve alongside grilled meats or roasted vegetables for a complete meal. It complements a wide range of main dishes, especially grilled lamb, pork or baked chicken. Try with our Ginger Spiced Pork Roast.
Potluck or Picnic: This salad is a crowd-pleaser for gatherings. Its vibrant colors and flavors are sure to stand out on any communal table.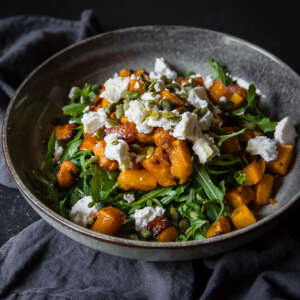 Roasted Pumpkin & Feta Salad
Roasted Pumpkin Salad with feta, arugula, and crunchy pepitas. A simple, low-carb dish blending fresh flavors and inviting textures.
Print
Pin
Rate
Ingredients
½

small pumpkin (about 10.5 oz)

(or winter squash such as Hokkaido)

1

cup

crumbled feta or goat's cheese

1

bunch

arugula

(rocket)

4

tbsp

olive oil

(extra virgin )

1

tbsp

coconut aminos

5

tbsp

pumpkin seeds

(pepitas)

salt and pepper

(to taste)
Instructions
Preheat your oven to

400

°F

(

200

°C

) for fan-assisted or

425

°F

(

220

°C

) for conventional. Cut the pumpkin into bite-sized cubes and arrange on a baking tray. Drizzle with olive oil and coconut aminos, then season with salt and pepper. Roast for

20-30 minutes

until tender and caramelized. Let cool.

In a large serving bowl, place arugula, add the cooled roasted pumpkin, and crumble feta (or goat's cheese) over the top. If desired, toast pepitas in a dry pan for

1-2 minutes

and sprinkle over the salad.

Drizzle the remaining olive oil over the salad, toss gently, and serve. Enjoy as a refreshing side or a light main dish.
Nutrition
Serving:
150
g
Calories:
299
kcal
Net Carbs:
7.1
g
Carbohydrates:
8.3
g
Protein:
9.5
g
Fat:
26.6
g
Saturated Fat:
8.4
g
Sodium:
520
mg
Magnesium:
82
mg
Potassium:
408
mg
Fiber:
1.2
g
Sugar:
4
g
Notes
Serving Size: About 150 g (5.3 oz).
Pumpkin Preparation: No need to peel Hokkaido squash; for other types, peeling is recommended. Cut into even cubes for uniform cooking.
Cheese Options: Use feta for a tangier salad, or goat's cheese for a milder flavor. Crumble cheese over the salad just before serving to maintain its texture.
Pepitas: For extra crunch and flavor, lightly toast the pepitas before adding them to the salad.
Serving: Best served fresh, but if storing, keep dressing separate to avoid soggy greens.
Storage: Store in an airtight container in the fridge for up to 3-4 days. Not suitable for freezing.
Related Posts