Table of Contents
Got basil? Let's turn it into pesto! If you think making your own pesto is complicated, think again. My go-to homemade pesto recipe is super simple and quick. With a handful of ingredients and just 5 minutes, you can whip up a sauce that's great on pretty much everything. Trust me, once you try this homemade version, you won't go back to store-bought.
This isn't just about saving a few bucks; it's about creating something fresh, flavorful, and so easy that you'll laugh. Whether you're a pesto pro or trying it for the first time, this homemade pesto recipe is all you need to nail it.
Why You'll Love This Pesto Recipe
Bright and Zesty: The perfect balance of freshness and tang.
Creamy Yet Light: Delivers a smooth texture without feeling heavy.
Simple Ingredients: Just 5 key ingredients!
Quick to Make: Ready in just 5 minutes for instant flavor upgrades.
Low Carb & Flavorful: Ideal for a low-carb diet without skimping on taste.
Versatile: Great not just for pasta but also sandwiches, salads, and more.
What is Pesto?
Pesto is a vibrant green sauce that hails from Genoa in the Liguria region of Italy. Traditionally, it's a blend of fresh basil, garlic, pine nuts, Parmesan cheese, and olive oil. It's known for its bright, herby flavor and is often used to add a punch of flavor to pasta dishes, meats, and vegetables. It's a versatile sauce that can also work as a spread, dip, or marinade.
Ingredients & Substitutions
This homemade pesto recipe comes together with ingredients you probably have on hand, and I'll even throw in some swap ideas. It's all about mixing and matching what you like to get that perfect taste. All you need is 5 ingredients plus seasoning:
Nuts: Start with classic pine nuts, or use other nuts or seeds. Try macadamias, almonds, walnuts, or even sunflower seeds for to keep the recipe nut-free (pine nuts are technically a seed too).
Fresh Herbs: Basil is the go-to, but don't be afraid to experiment with other greens like parsley, cilantro, or mint for different flavor profiles. You can also use greens like arugula, spinach or even kale for a fun twist.
Parmesan Cheese: Adds that sharp, savory kick. Asagio or Pecorino Romano, which is made with sheep's milk, is a great option if you can't have cow's milk products. Or swap in nutritional yeast for a dairy-free, vegetarian alternative.
Olive Oil: Go for extra virgin for richness or use what's in your pantry. Macadamia nut oil or hazelnut oil are a healthy option if you like to experiment with flavors.
Garlic: Fresh cloves are best for that zing, but the jarred stuff will do in a pinch.
Seasoning: Sea salt or pink Himalayan salt, and pepper to taste.
Recipe Variations
Feeling adventurous? Try adding any of the ingredients below!
Lemon Juice: A splash can brighten the flavor, make it more tangy, preserve the color and make it last longer.
Lemon zest: Add finely grated lemon zest from half to one organic lemon for a fragrant twist.
Avocado: For an extra creamy texture, blend in some ripe avocado.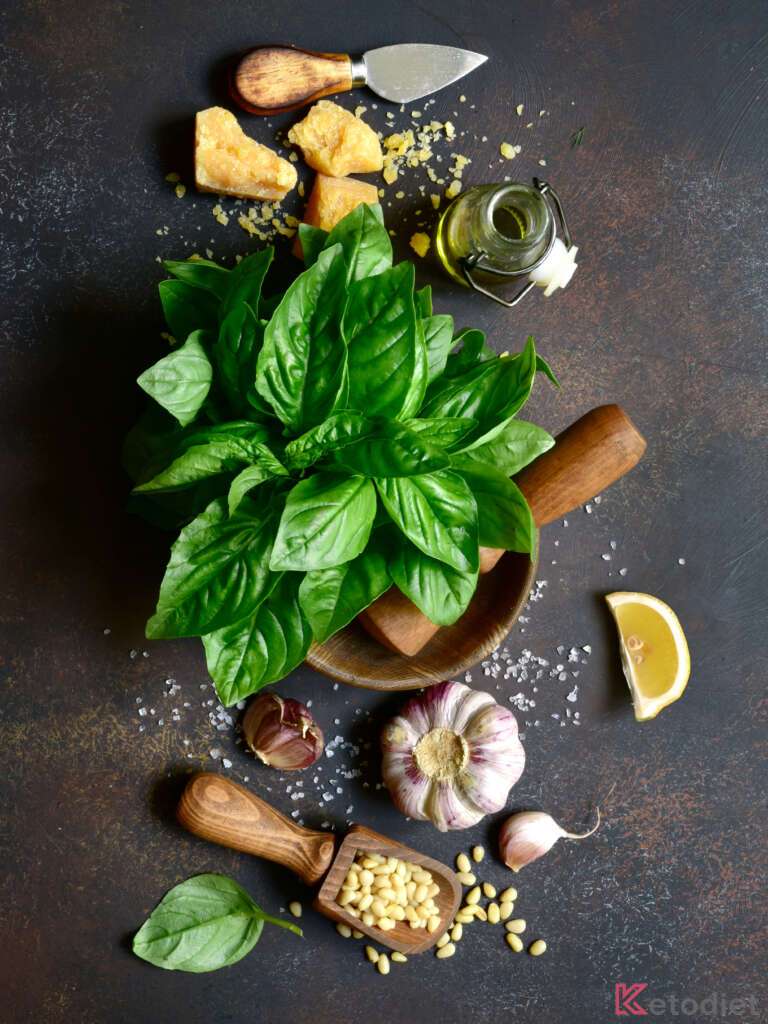 How to Make Pesto Sauce
Step 1: Start with the nuts. Toss them into your blender or food processor and give them a few pulses until they're just broken up. Keep it chunky – we're not making nut butter!
Step 2: Pile in the good stuff. Add your fresh herbs, grated cheese, olive oil, minced garlic, and a pinch of salt and pepper right on top of the nuts.
Step 3: Blend it up. Hit that pulse button in short bursts. You're looking for a textured, green glory – not a smoothie. Scrape down the sides between pulses to make sure everything gets in on the action. This homemade pesto recipe is ready to be used or stored!
Tips for the Best Pesto
Here are some pointers to ensure your homemade pesto recipe turns out top-notch every time:
Toast the nuts for extra flavor kick. For more flavor, briefly toast the pine nuts (or any nuts and seeds) on a hot dry pan until fragrant.
Do not over-process the nuts. Pulse the nuts briefly to keep the pesto rustic, not pasty.
Drizzle in the oil. If your food processor is large, try drizzling the oil in slowly while it runs to blend evenly. Otherwise, you can just make a double batch!
Pulse your pesto, don't puree. Use quick pulses to control the texture and avoid over-blending.
No food processor? Use the mortar and pestle method if you don't have a food processor. Crush and blend your ingredients for a traditional touch. For this you'll need to use chopped nuts and mashed garlic.
Use oil to get desired texture. Add more oil if needed to get the consistency just right for your taste and use.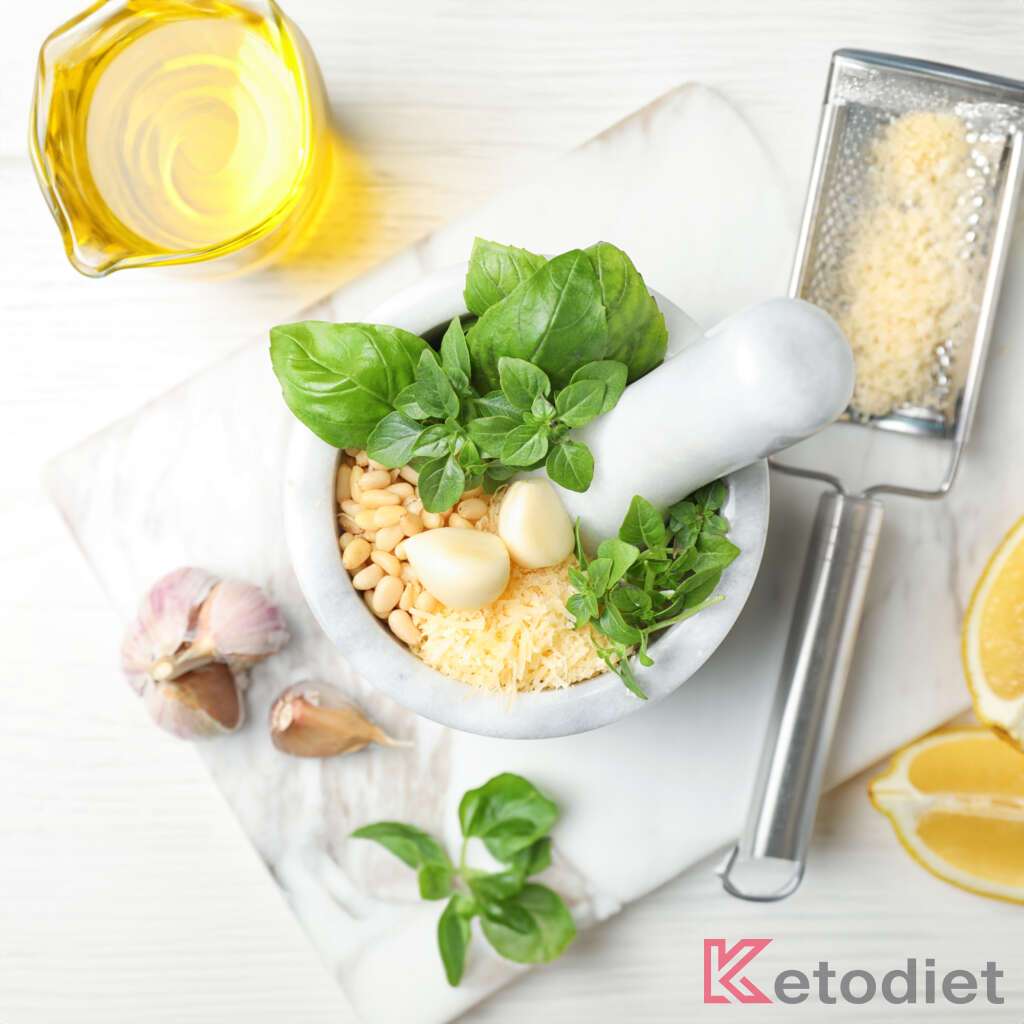 Storage Instructions
How long does pesto last?
Your homemade pesto recipe will stay fresh in the fridge for up to 2 weeks. Keep it in a jar or an airtight container, and press a piece of plastic wrap onto the surface of the pesto before sealing to help keep it green.
Can I freeze pesto?
For longer storage, pesto freezes beautifully. Spoon it into ice cube trays, freeze solid, then pop out the cubes and store them in a freezer bag. Use them within 6 months for the best quality. Thaw as needed, and it's ready to go!
How to Use Pesto Sauce in Recipes
Pesto isn't just for pasta—its herby goodness can jazz up a whole host of dishes! Here's how you can get creative with it:
On Protein: Smear it on chicken or fish before cooking for an instant flavor upgrade.
With Eggs: Stir into scrambled eggs or dollop on an omelet for a fresh twist.
As a Spread: Perfect for bread, sandwiches or as a vibrant base for your pizza.
With Veggies: Mix into roasted or steamed veggies for an extra zing.
In Salads: Swap out your regular dressing and toss your greens with a bit of pesto.
Dress Up Soups: Swirl into soups for a burst of color and flavor.
Snack Time: Use it as a dip for your favorite crackers or breadsticks.
Pasta Pairing: Swirl this pesto into any pasta, from traditional noodles to lighter zucchini noodles or spaghetti squash, for a tasty twist.
Get experimenting and see how this homemade pesto recipe can transform your meals!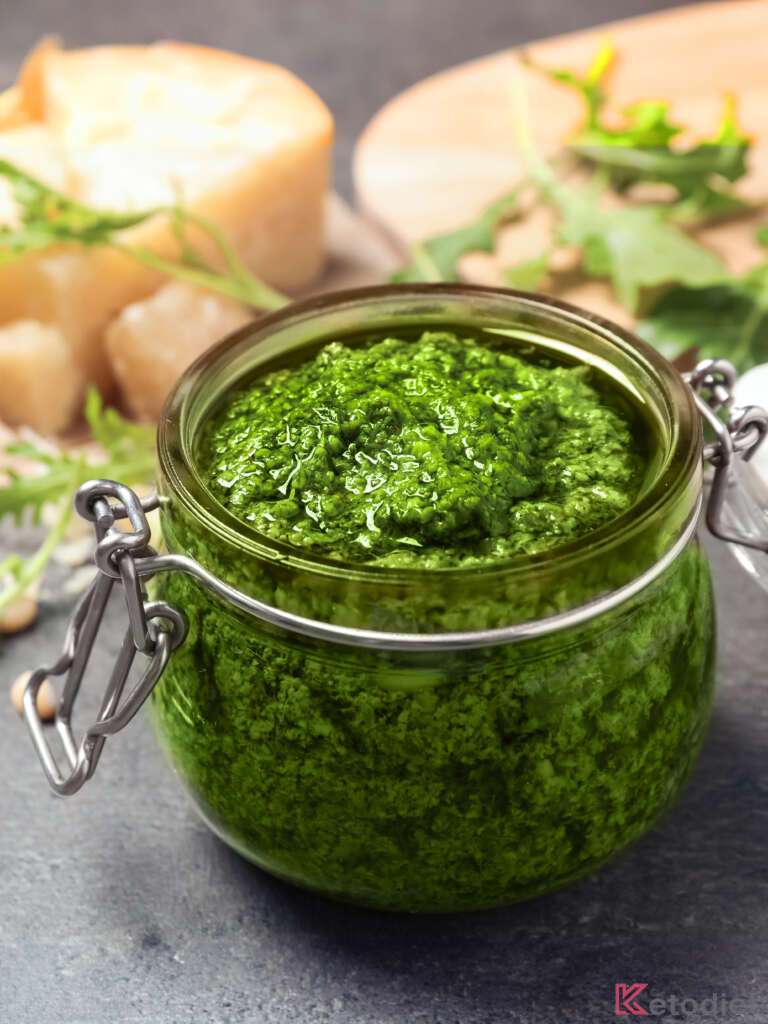 Tools for This Pesto Recipe
Food Processor or Blender: Essential for combining your ingredients quickly and getting that perfect pesto texture.
Mortar and Pestle: For those who love the traditional method, this tool can help you achieve a coarser, more artisanal pesto.
Spatula: Handy for scraping down the sides of the processor or blender to ensure all ingredients are well blended.
Ice Cube Trays: If you're planning to freeze your pesto, these are great for portioning it out.
Airtight Containers: Whether you're storing your pesto in the fridge or freezer, these will keep it fresh.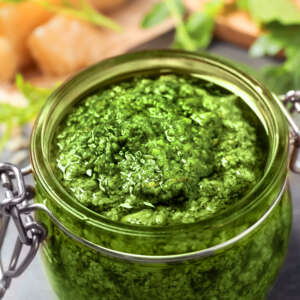 The Ultimate Pesto Sauce
Unlock the secret to perfect pesto with this foolproof, 5-ingredient recipe that's bursting with fresh, herby flavor and ready in minutes.
Print
Pin
Rate
Ingredients
¼

cup

pine nuts

(or substitute with nuts or seeds of choice)

2

cups

fresh basil

(tightly packed, or use other herbs)

½

cup

grated Parmesan cheese

(or 2-4 tbsp nutritional yeast for dairy-free)

½

cup

olive oil

(extra virgin, plus more if needed for consistency)

2

cloves

garlic

(minced)

½

tsp

sea salt

(or to taste)

¼

tsp

black pepper

(or to taste)

1

tablespoon

fresh lemon juice

(optional, for a tangy twist)
Instructions
Place the pine nuts in a food processor or blender and pulse a few times to coarsely chop.

Add the fresh herbs, parmesan cheese, olive oil, lemon juice (if using), garlic, sea salt, and black pepper to the container.

Pulse the mixture in short bursts, stopping to scrape down the sides with a spatula as necessary, until you reach the desired consistency. It should be cohesive and spreadable, but with some texture remaining.

Taste and adjust the seasoning, adding more salt or lemon juice if needed. If the pesto is too thick, drizzle in additional olive oil and pulse to combine until you're happy with the consistency.
Nutrition
Calories:
46
kcal
Net Carbs:
0.2
g
Carbohydrates:
0.3
g
Protein:
0.8
g
Fat:
4.8
g
Saturated Fat:
0.8
g
Sodium:
63
mg
Magnesium:
5
mg
Potassium:
14
mg
Fiber:
0.1
g
Sugar:
0.1
g
Notes
Serving Size: 1 tbsp (15 ml).
Consistency Adjustment: If your pesto is thicker than you'd like, gradually mix in more olive oil until it reaches your preferred texture.
Flavor Balance: Taste as you go and don't hesitate to adjust the ingredients to suit your palate. More garlic for punch, extra cheese for richness, or additional lemon juice for brightness.
Storage: To maintain that vibrant green color, top the pesto with a thin layer of olive oil before sealing it in the container.
Freezing: Freeze in small portions for easy thawing. Use plastic wrap pressed directly onto the surface of the pesto to prevent oxidation before freezing.
Related Posts