Table of Contents
Spaghetti squash offers a unique, fun twist to traditional vegetable dishes. Many wonder about the best way to cook spaghetti squash to maintain its texture and flavor. Here, we share a tried-and-true method for roasting spaghetti squash that ensures those perfect al dente strands every time.
Why You'll Love Spaghetti Squash Noodles
Low-Carb Alternative: Enjoy pasta-like dishes with fewer carbs.
Perfect Texture: Achieve al dente strands that mimic real noodles.
Simple Preparation: Easy roasting method for hassle-free cooking.
Versatile Base: Pairs well with a variety of sauces and toppings.
Nutrient-Rich: Offers vitamins and minerals with a amazing flavor.
How To Cook Spaghetti Squash: 4 Simple Steps
Preparation. Preheat your oven. Halve the spaghetti squash either lengthwise or widthwise for longer strands. Use a chef's knife to break through its hard skin, then scoop out the seeds.
Seasoning (optional). Brush the insides with your choice of fat or oil and season with salt. Remember, moderation is key at this stage to avoid a watery outcome. Cover with foil to prevent burning and place in the oven.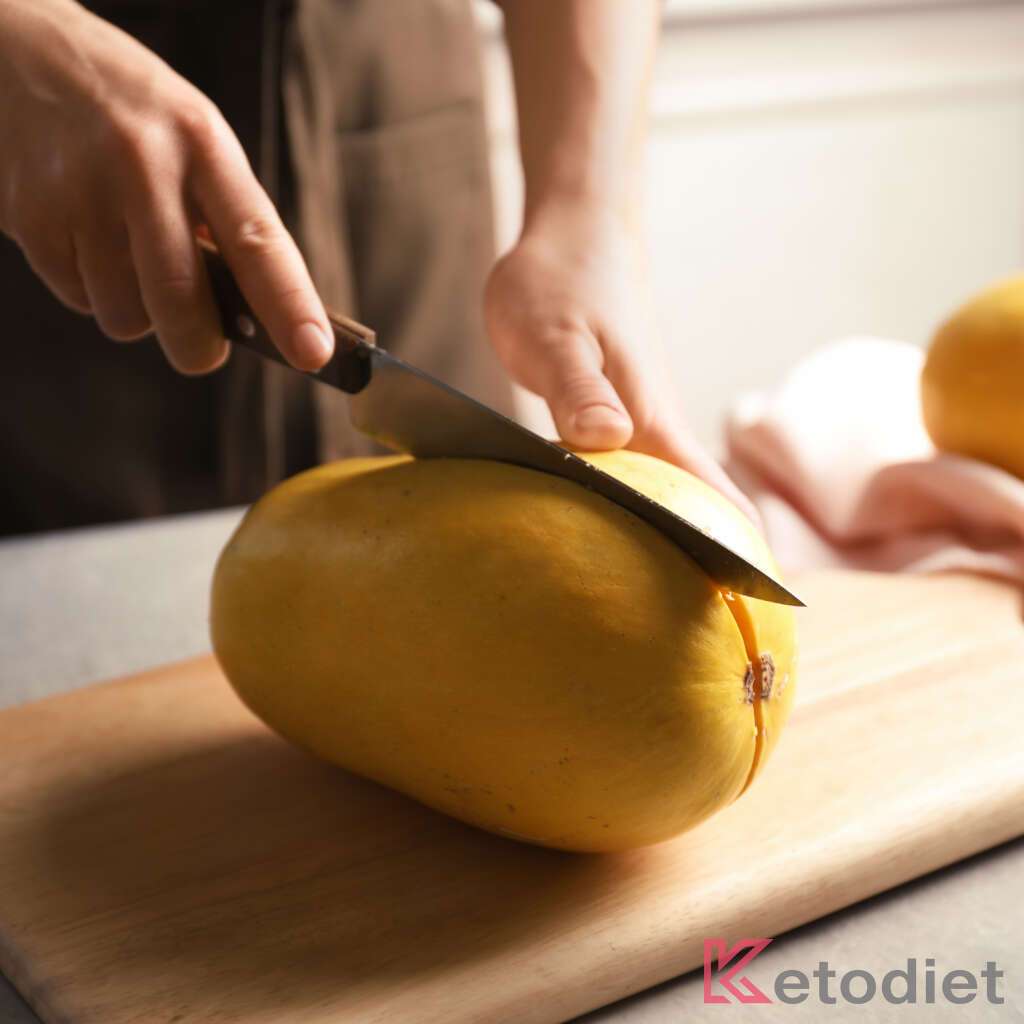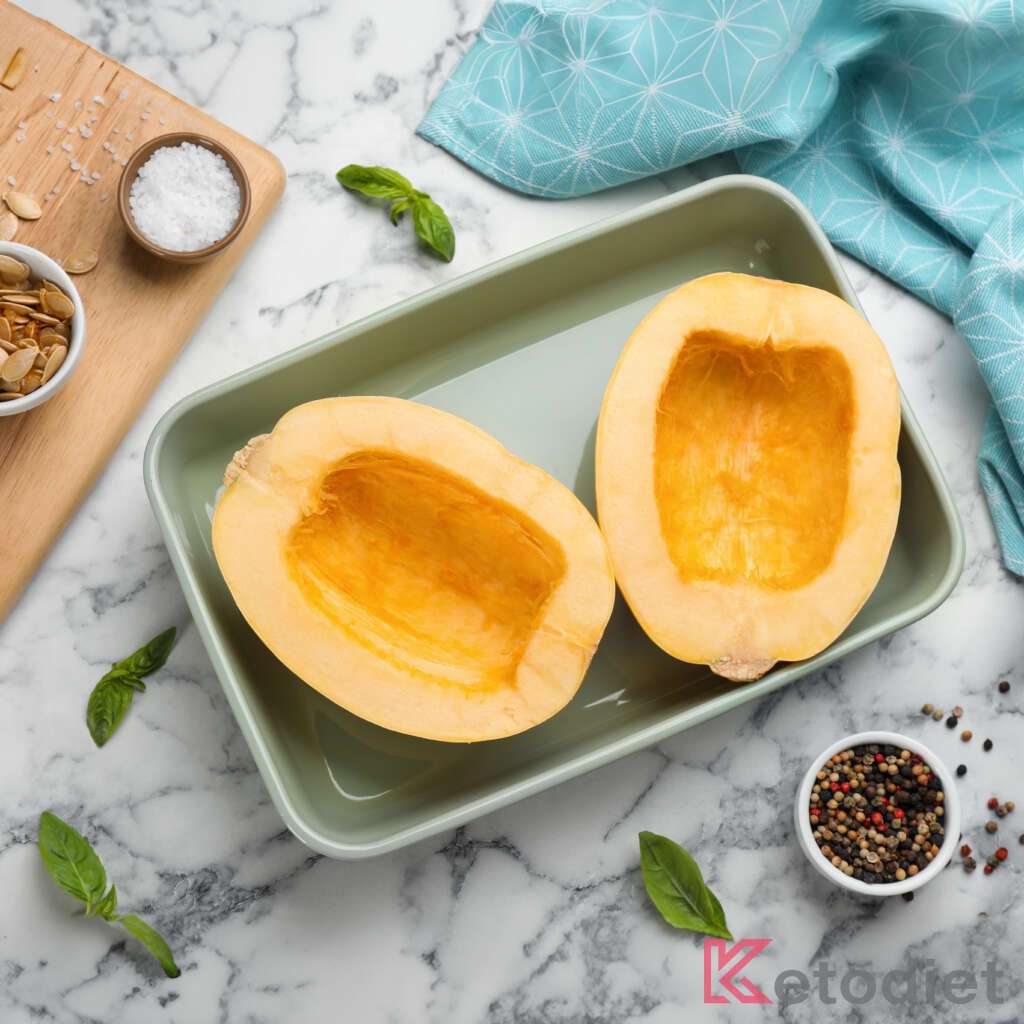 Roasting. After the initial roasting time, remove the foil and continue cooking until done. Once out of the oven, let it cool slightly. The key is not to over-roast; aim for a texture that's al dente rather than mushy.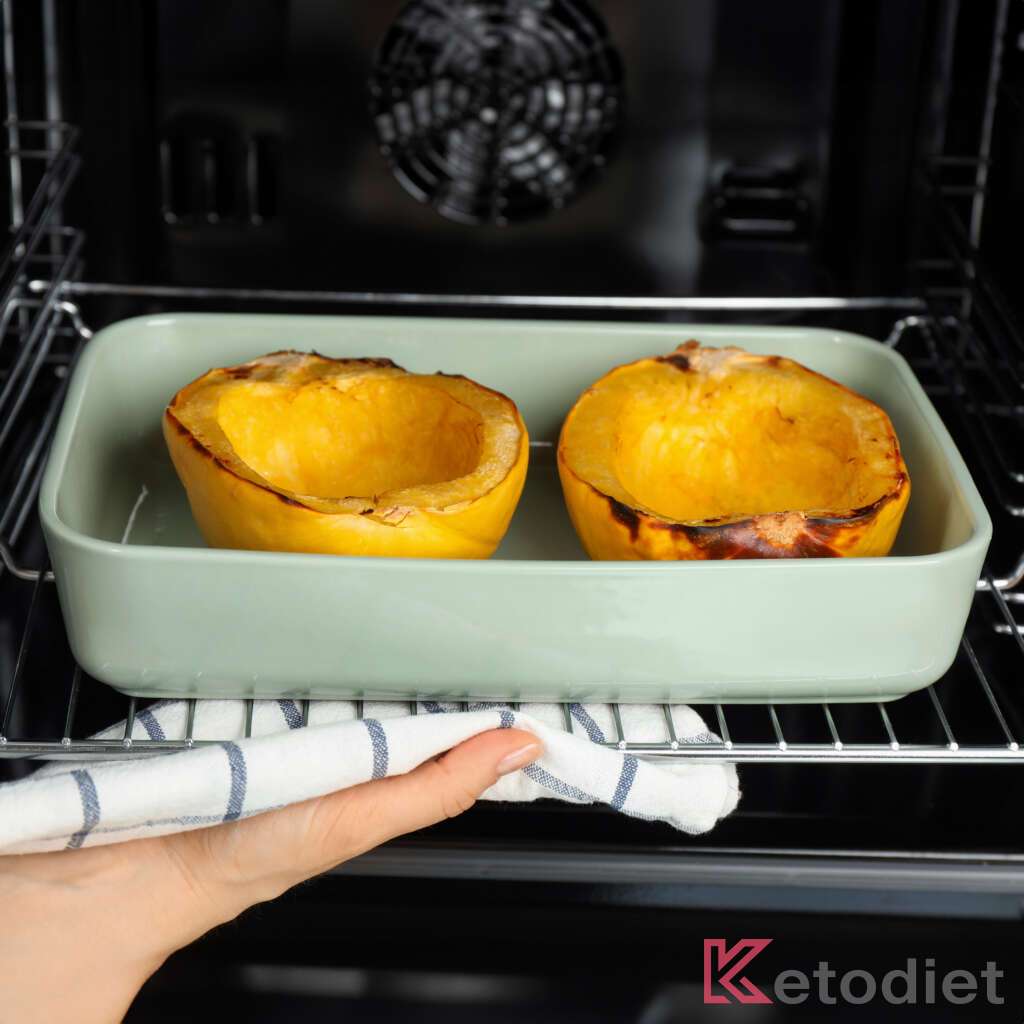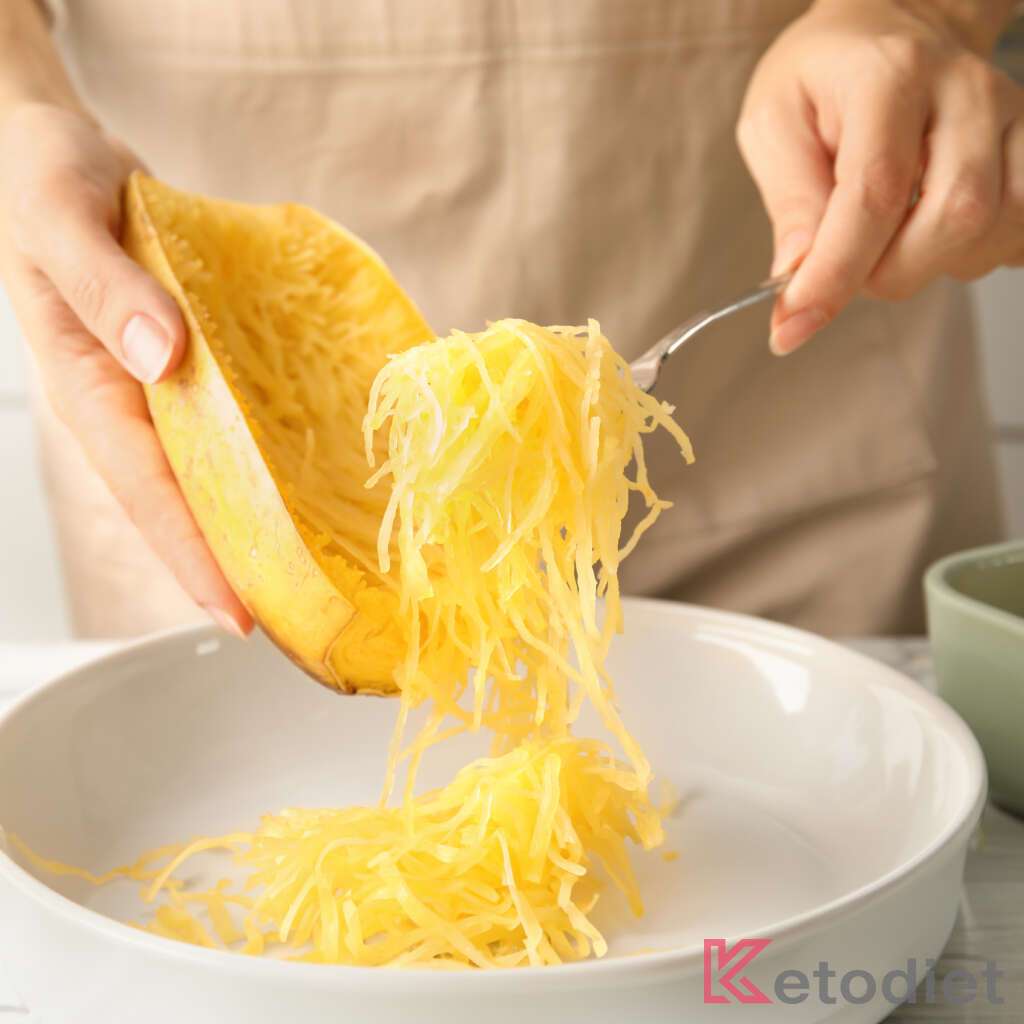 Serving. Once roasted and cooled, use a fork to tease out those delicious strands from the skin. Top with your favorite sauces such as Marinara Sauce or Cheese Sauce and any accompaniments such as grated Parmesan cheese, extra virgin olive oil and basil.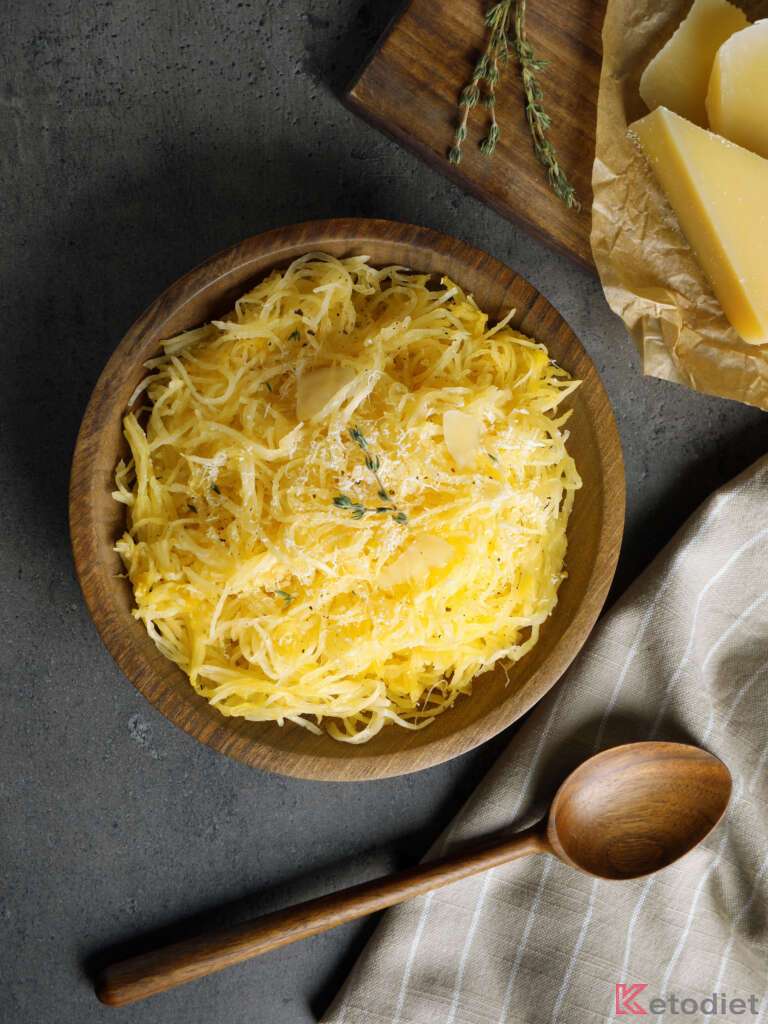 Tips for the Best Spaghetti Squash Noodles
Cut Carefully. Cutting through the tough skin of spaghetti squash can be challenging. To make it easier, you can microwave the whole squash for 3-5 minutes to soften it slightly. Ensure you pierce the skin with a fork a few times before microwaving to allow steam to escape. After microwaving, use a sharp chef's knife to cut it either lengthwise or widthwise, depending on your preference for the strand length.
Cut Smart for Longer Strands: For spaghetti-like strands that mimic traditional noodles, cut the squash widthwise. This orientation allows you to scrape out longer strands that hold up better when mixed with sauces or as a base for your favorite toppings.
Avoid Overcooking: To get that perfect al dente texture, avoid over-roasting your spaghetti squash. Overcooking can make the strands too soft and watery. Instead, check the squash periodically towards the end of roasting time and remove it from the oven as soon as it's tender but still holds some bite.
Let it Rest: After roasting, allow the squash to cool slightly before scraping out the strands. This resting period lets the steam escape and reduces the moisture content in the squash, preventing a soggy outcome.
Use the Right Fat: Brushing the squash with a high-heat tolerant fat like ghee or coconut oil before roasting can enhance flavor and prevent sticking. This also helps in achieving a slightly crisp texture on the edges of the strands.
Storage Instructions
If you have leftovers, store them properly in the refrigerator for up to 5 days. To reheat, gently sauté in a pan with a little oil or butter to revive the texture and warmth without making them mushy. For longer storage, freeze the cooked strands flat in storage bags for up to 6 months.
Can I cook the seeds like pumpkin seeds?
Absolutely! Spaghetti squash seeds can be roasted just like pumpkin seeds. After removing them from the squash, rinse and dry the seeds. Toss them in a bit of olive oil, salt, and any other seasonings you like. Spread them on a baking sheet and roast at 300°F (150°C) for 15-20 minutes or until golden and crispy.
How to Use Spaghetti Squash Noodles
Italian Twist: Replace traditional pasta with spaghetti squash noodles in your favorite Italian dishes. Top with marinara sauce, meatballs, and a sprinkle of fresh basil and grated Parmesan cheese for a low-carb take on spaghetti and meatballs. Don't forget to add our Marinara Pasta Sauce or simply use some Pesto Sauce!
Asian Flair: Toss the noodles with a savory peanut sauce, adding in shredded carrots, sliced bell peppers, and green onions for a colorful and crunchy texture. Finish with a sprinkle of sesame seeds and cilantro for an Asian-inspired noodle bowl.
Mediterranean Style: Mix the noodles with diced tomatoes, Kalamata olives, feta cheese, and a drizzle of olive oil and lemon juice. Serve with grilled chicken or shrimp for a Mediterranean-inspired meal.
Tex-Mex Tacos: Use the noodles as a base for taco filling. Top with seasoned ground beef or turkey, avocado slices, shredded lettuce, diced tomatoes, and a dollop of sour cream for a taco-style spaghetti squash bowl.
Cheesy Comfort: Stir in a rich, creamy cheese sauce, adding steamed broccoli and diced, cooked chicken for a low-carb take on chicken Alfredo. Garnish with black pepper and more cheese for extra flavor.
Veggie Packed: Sauté a variety of vegetables like spinach, mushrooms, and zucchini with garlic until tender. Combine with the squash noodles for a nutritious and filling vegetable primavera.
Seafood Dish: Top the noodles with sautéed shrimp, garlic, a splash of white wine, and lemon zest for a light and zesty seafood dish.
Breakfast Option: Create a breakfast nest with some marinara sauce and serving a poached or fried egg over a bed of spaghetti squash noodles. You can even add some crumbled bacon and a sprinkle of chives for a hearty start to the day.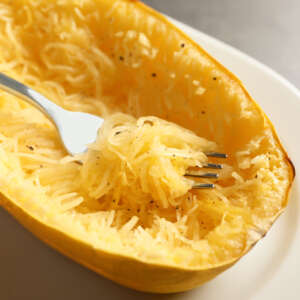 Spaghetti Squash Noodles
Discover the perfect way to achieve al dente spaghetti squash strands for your veggie sides and main dishes. With just the right oven time and a touch of seasoning, you can transform this underrated vegetable into a delicious dish.
Print
Pin
Rate
Ingredients
1

large spaghetti squash

1

tbsp

ghee

(optional)

pinch of salt

(optional)
Instructions
Preheat the oven to

400

°F

(

200

°C

), or

425

°F

(

220

°C

). Cut the spaghetti squash in half, either lengthwise or widthwise (if you cut it widthwise, you'll get slightly longer strands once it's cooked). Using a spoon, scoop out the seeds.

Brush with ghee and season with salt (optional but highly recommended). Cover with foil (it will prevent the squash from burning on top before it cooks through), place in the oven and cook for

30 minutes

. This timing works for medium-large spaghetti squash. Small quash will only need

15-20 minutes

.

After 30 minutes, remove the foil and cook for another

10-20 minutes

.

When done, remove from the oven and let it cool down on a rack for

5-10 minutes

. Using a fork, pull the strands out and place in a bowl.
Nutrition
Calories:
42
kcal
Net Carbs:
7.8
g
Carbohydrates:
10
g
Protein:
1
g
Fat:
0.4
g
Saturated Fat:
0.1
g
Sodium:
28
mg
Magnesium:
17
mg
Potassium:
180
mg
Fiber:
2.2
g
Sugar:
3.9
g
Notes
Serving Size: 1 cup (155 g/ 5.5 oz).
Cutting Tip: The skin of uncooked spaghetti squash is hard and it's difficult to cut through. Use the tip of a chef's knife to break through the skin in the middle part and push the blade down until cut through.
Cooking Fat: You can use any other fat or oil suitable for cooking (lard, duck fat, coconut oil or olive oil).
Alternative Baking Method: Consider baking the squash with the cut-side facing down. This approach steams the squash, minimizing excess moisture and avoiding the caramelized top that can occur when baked cut-side up.
For Longer Strands: If you're after spaghetti-like strands, opt to cut the squash widthwise.
Storage Tips: Store cooked spaghetti squash in the fridge for up to 5 days. For extended storage, place in plastic bags divided in manageable portions, flatten and freeze flat for up to 6 months. When ready to serve, let the prepared squash defrost at room temperature or in the fridge.
Serving Tips: To serve, top with options such as Marinara Sauce, Cheese Sauce, Pesto or Alfredo Sauce and serve with meatballs, meat skewers or simply topped with grated Parmesan cheese.
Related Posts