Table of Contents
Are you ready to elevate your cooking game? Today, we're diving into the world of Dukkah—a nutty, seedy, and aromatic blend that's incredibly versatile. Imagine transforming a plain fish dish or a simple salad into something extraordinary with just a sprinkle of this magic mix. Trust me, you'll want to keep a jar of Dukkah handy in your kitchen!
Why You'll Love This Dukkah Recipe
Bold Taste: Enhances meals with nutty, spicy flavors.
Easy Prep: Make it in 10 minutes.
Low-Carb: Ideal for healthy diets.
Adaptable: Tailor it with your favorite spices.
What is Dukkah?
Dukkah is a fragrant, Egyptian condiment consisting of a blend of roasted nuts, seeds, and spices. Traditionally, it includes hazelnuts or pistachios along with sesame, cumin, and coriander seeds, all ground together into a coarse mix. It's treasured for its crunchy texture and deep, toasty flavor, often used as a dip with bread and olive oil or as a versatile topping for meats, salads, and soups.
Ingredients & Substitutions
Heads up: For exact measurements, see the recipe card below.
Making your own Dukkah at home is easy! All you need is a few ingredients:
Hazelnuts: Provides a nutty aroma and crunch.
Pistachios: Adds color and a unique flavor.
Sesame Seeds: For a toasty finish.
Cumin Seeds: Adds a warm, spicy note.
Coriander Seeds: Brings in citrusy undertones.
Salt: Sea salt or pink Himalayan salt for seasoning.
Can I use other types of nuts to make Dukkah?
Absolutely! Almonds and cashews are great alternatives. You can also use macadamias, pecans, walnuts and hazelnuts.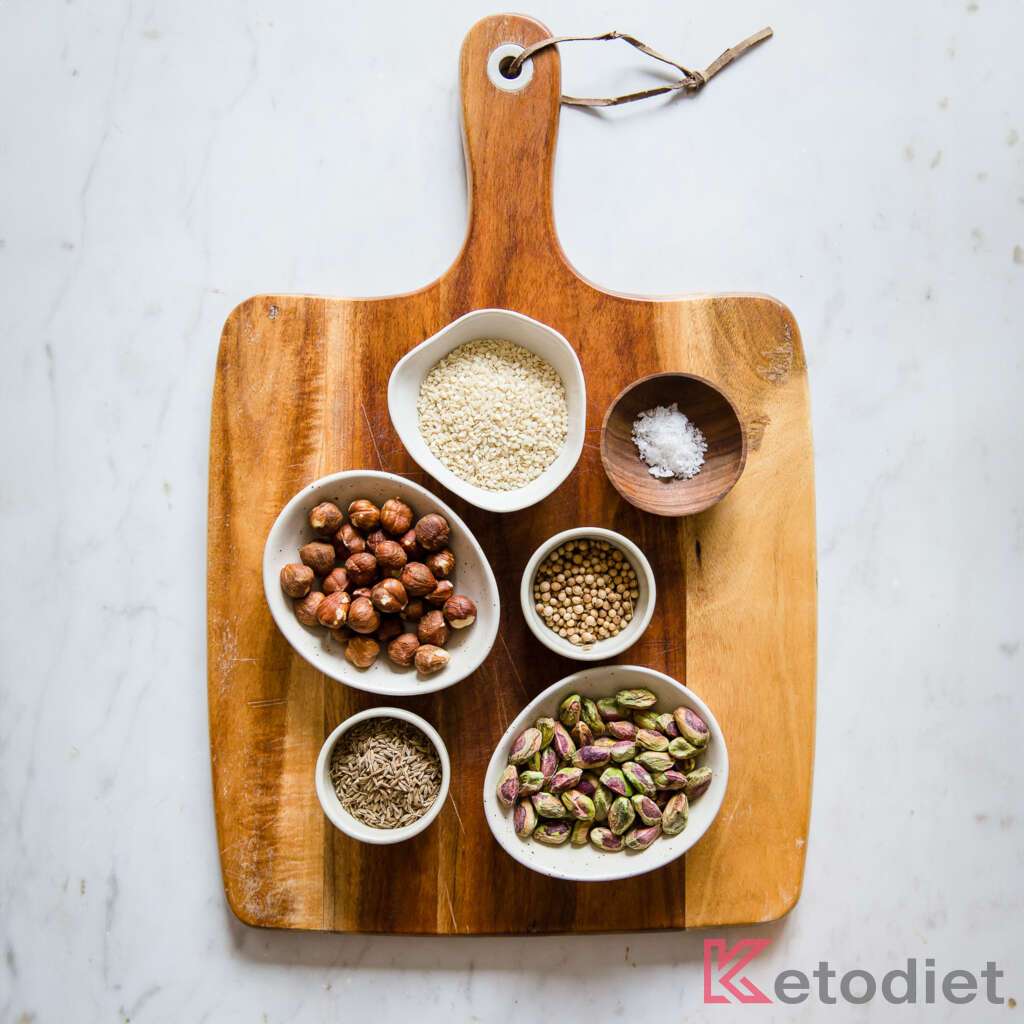 How To Make Dukkah
Prepare the Nuts. Start by placing the hazelnuts and pistachios in a heavy skillet over medium heat. Stir them until they become fragrant, which usually takes around 2-3 minutes. Remove and allow to cool.
Toast the Seeds and Spices. Add sesame seeds, cumin seeds, and coriander seeds to the skillet. Toast until the sesame seeds begin to brown, again for about 2 minutes. Remove and let cool.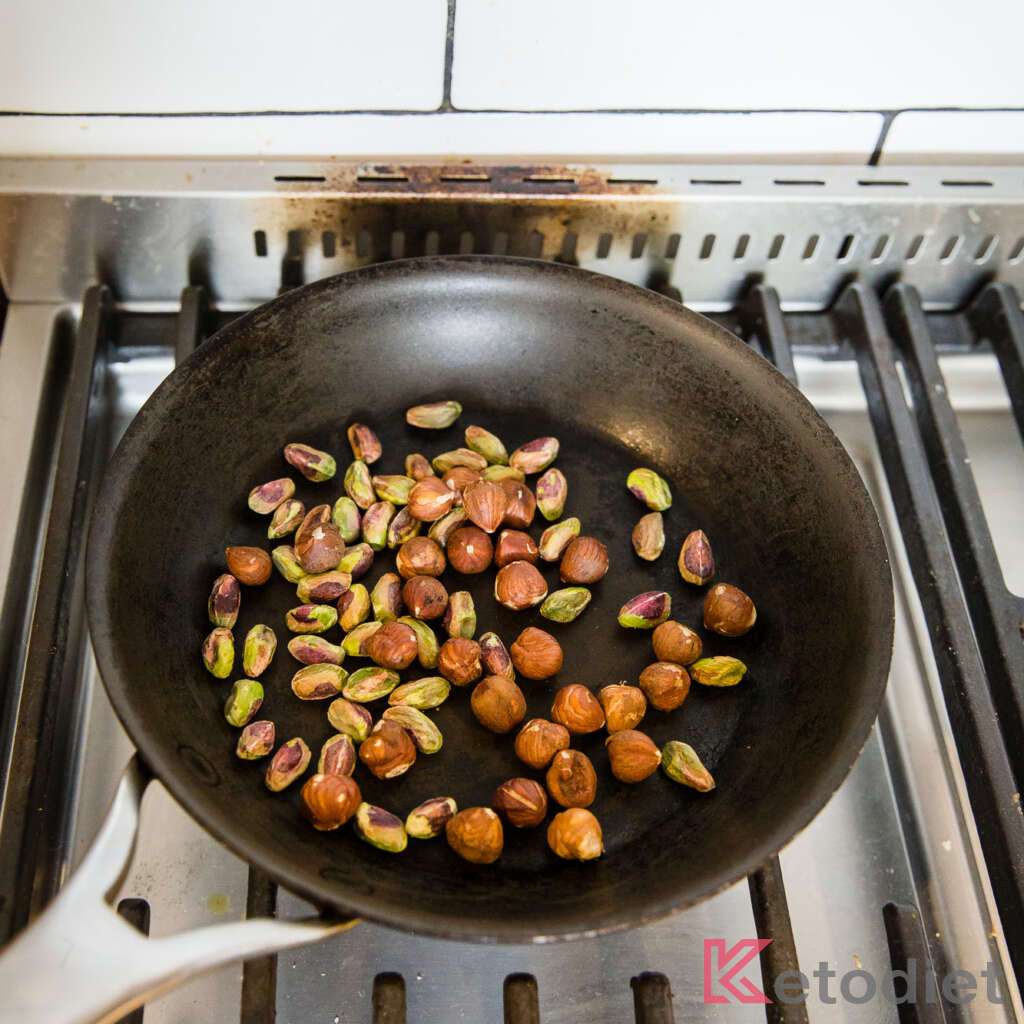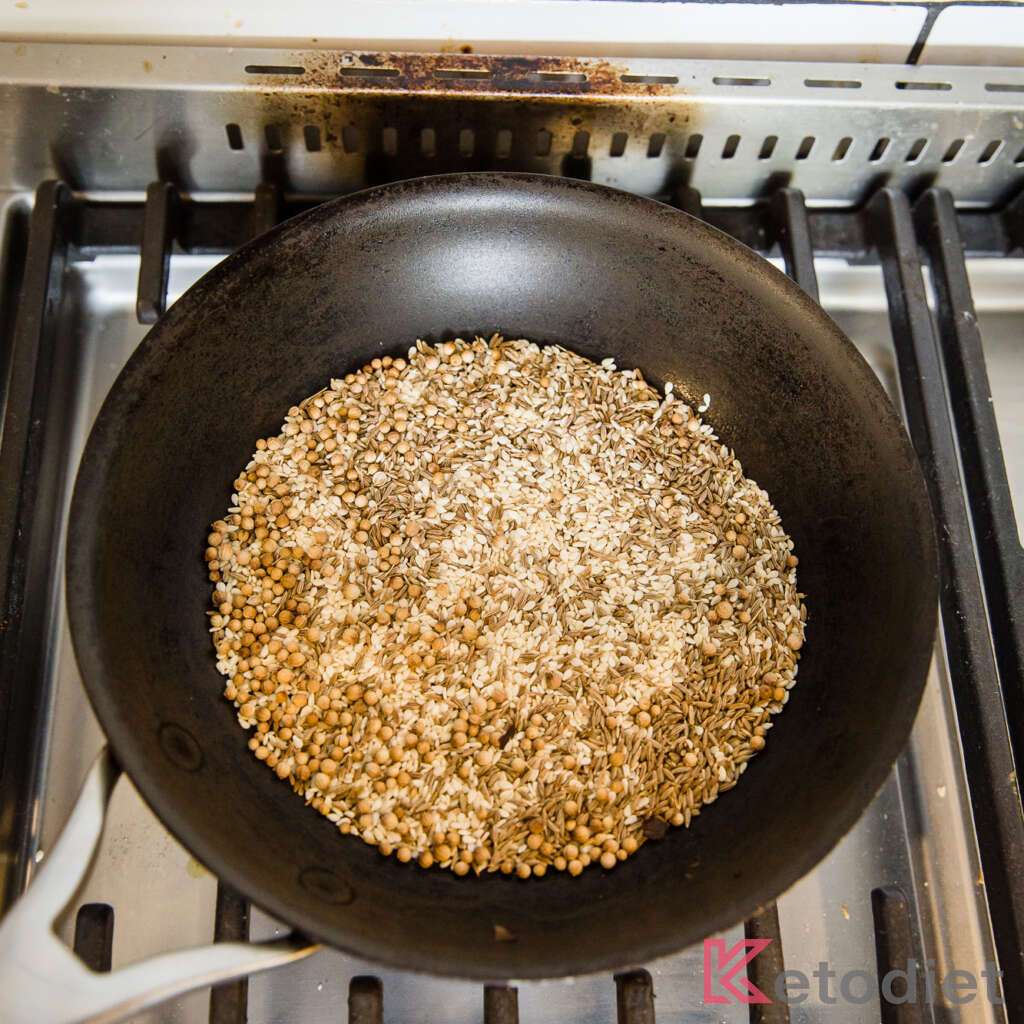 Combine and Pulse. Place the cooled nuts, seeds, and spices in a food processor. Pulse several times until the blend resembles coarse sand.
Season. Add 1 teaspoon of your chosen salt to the mix and give it a final pulse.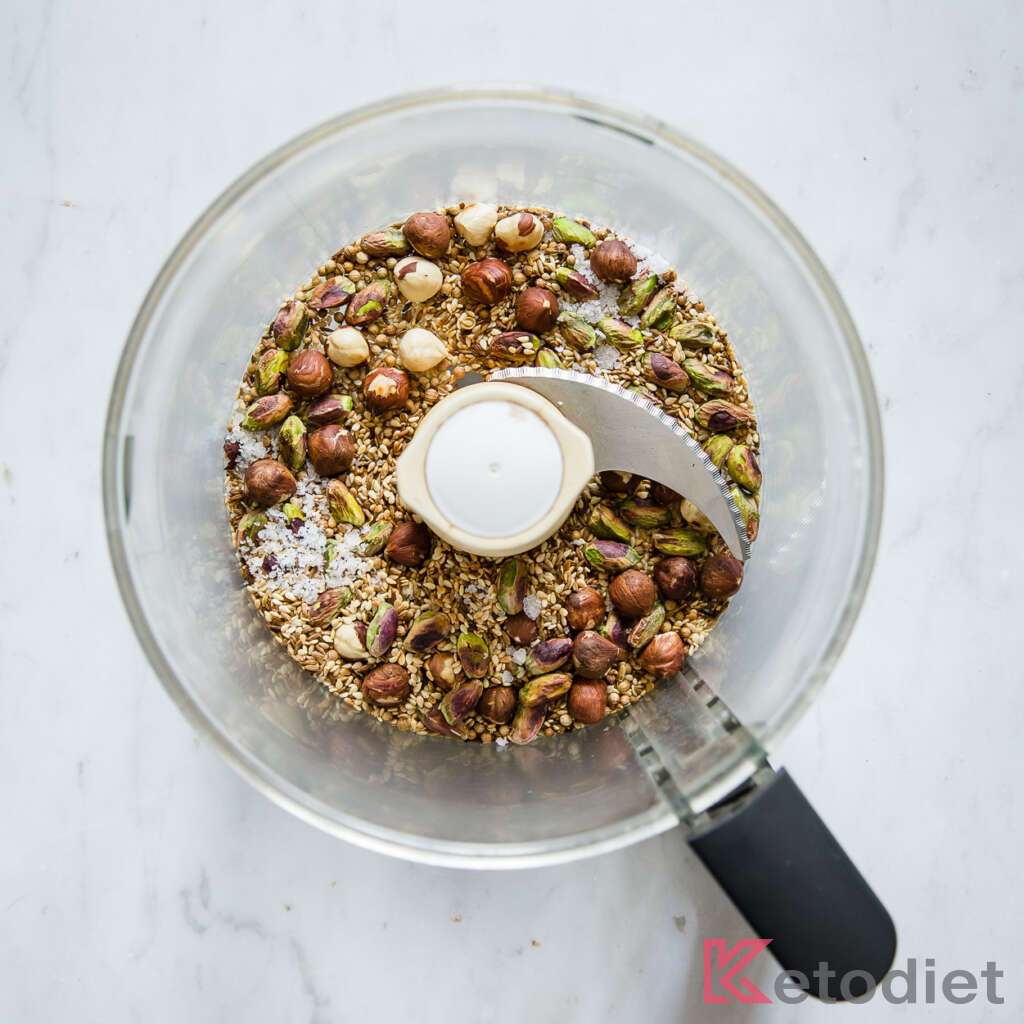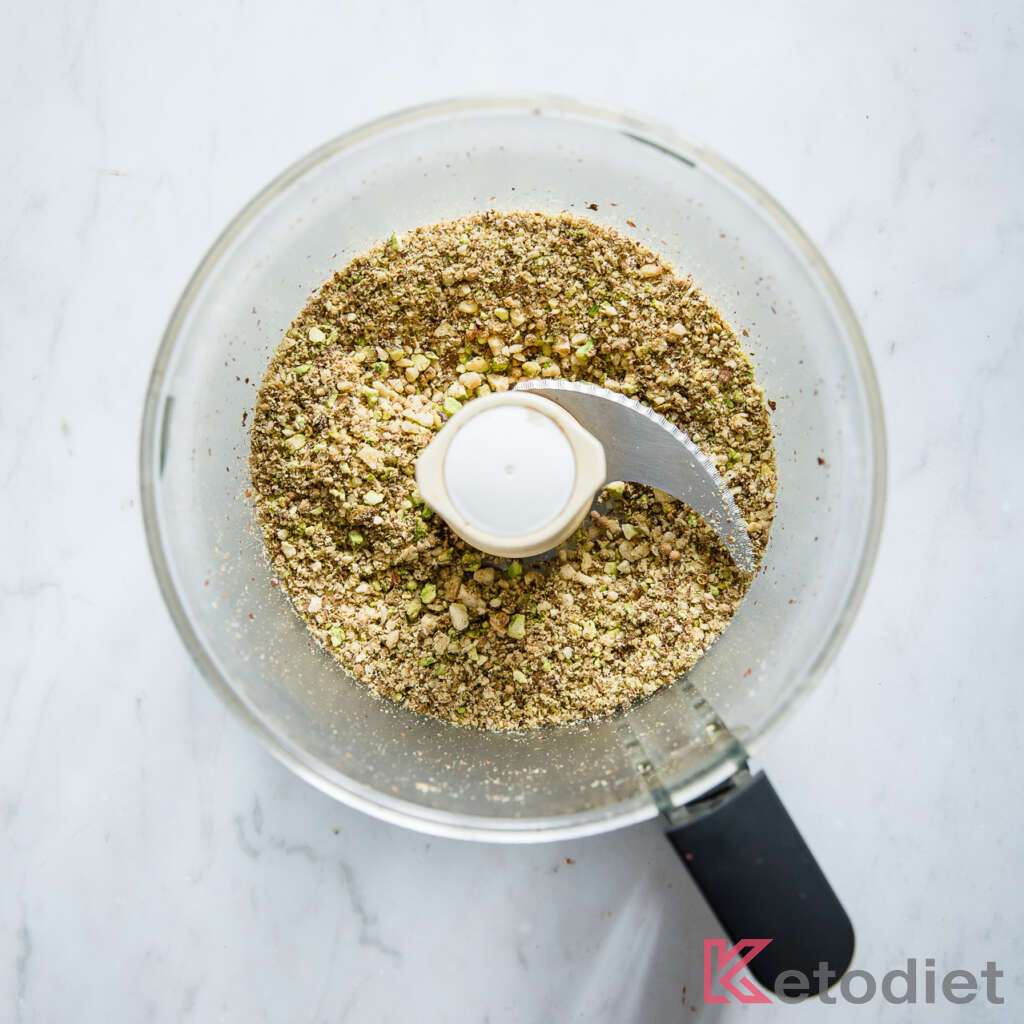 Store. Transfer the Dukkah mix to an airtight container and store in a cool, dry place for up to a month.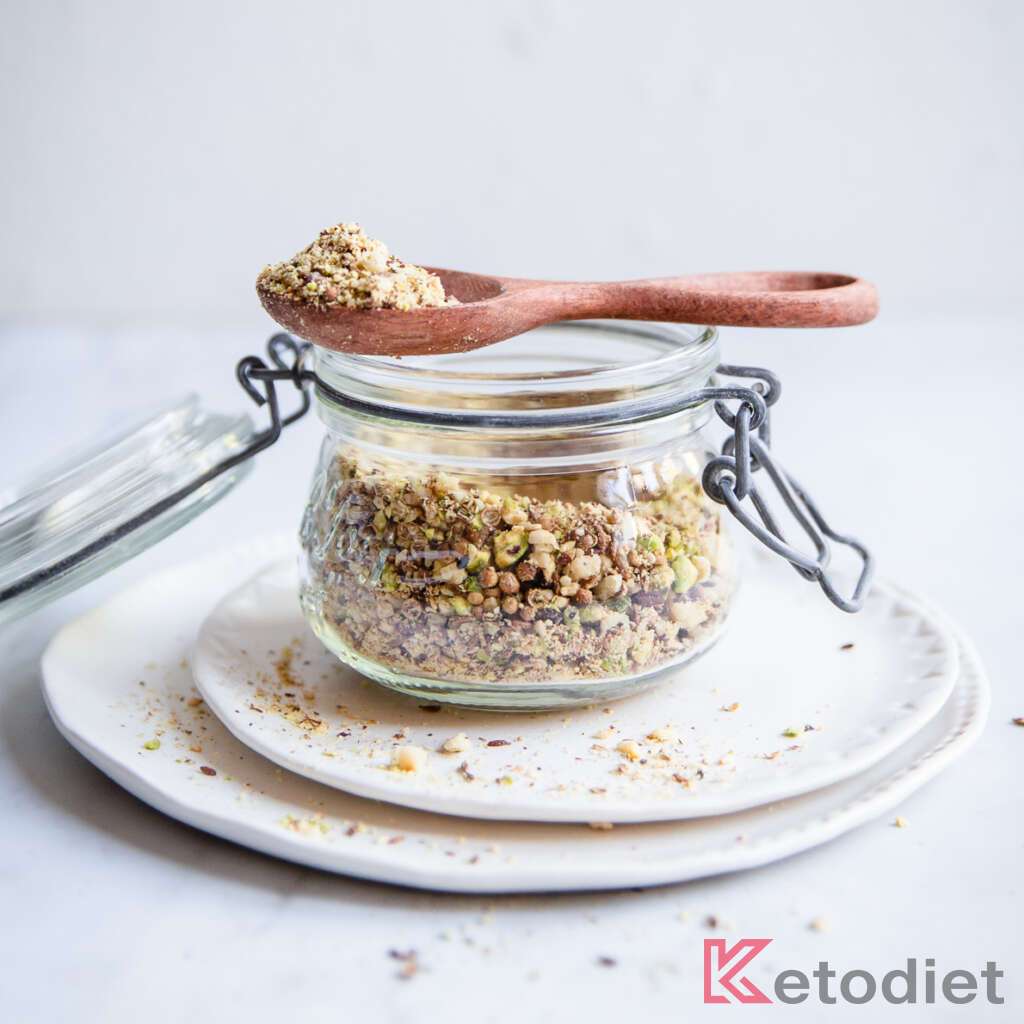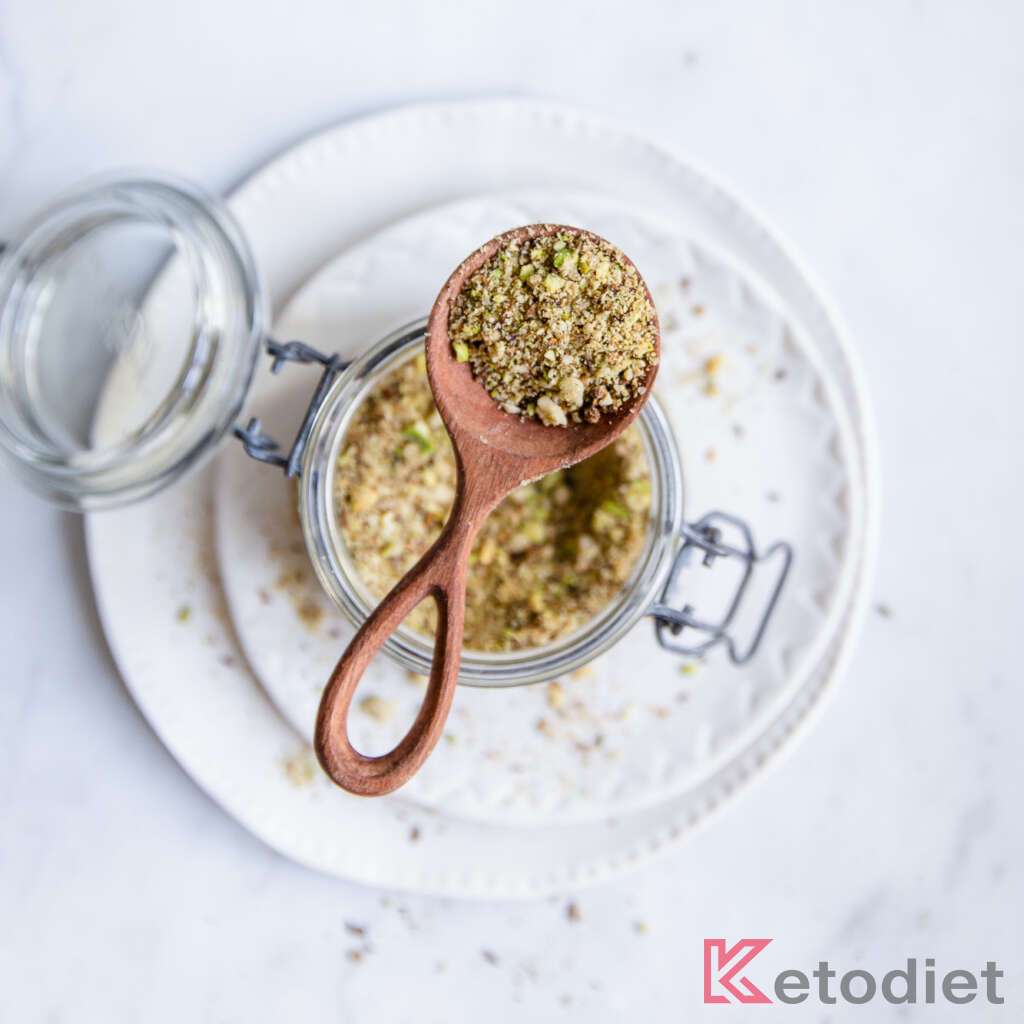 Tips for the Best Dukkah
Toast Nuts and Seeds Separately: Since they can have different cooking times, toast nuts and seeds separately to avoid burning.
Cool Before Grinding: Allow the toasted ingredients to cool completely to prevent them from turning into a paste when processed.
Pulse to Coarseness: Use short pulses in the food processor to control the texture, aiming for a coarse blend rather than a fine powder.
Storage Instructions
When stored in an airtight container, it lasts for up to a month. Freeze for up to 6 months for longer storage.
How To Use Dukkah
You can use Dukkah to:
Garnish soups
Sprinkle over fried or poached eggs
Add it to avocado wedges for a tasty snack
As salad topping
Serve sprinkled over Guacamole
Use as topping on various meals, including our Salmon Power Bowl
Tools for This Pesto Recipe
Food Processor or Blender: Essential for combining your ingredients quickly and getting that perfect dukkah texture.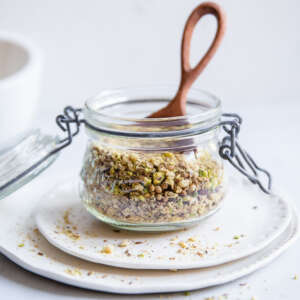 Roasted Nut & Seed Dukkah
This Dukkah blend combines roasted hazelnuts, pistachios, sesame, and aromatic spices. Ready in just 10 minutes, it's the perfect low-carb addition to elevate any meal. Sprinkle over salads, soups or use as crust before frying any meat, fish or halloumi.
Print
Pin
Rate
Ingredients
1

cup

hazelnuts

1

cup

pistachio nuts

⅔

cup

sesame seeds

½

cup

cumin seeds

¼

cup

coriander seeds

4

tsp

sea salt
Instructions
Prepare all the ingredients. Opt for peeled hazelnuts to avoid a slightly bitter aftertaste.

Toast the hazelnuts and pistachios in a skillet over medium heat until fragrant, around

2-3 minutes

. Remove and cool.

Toast sesame seeds and whole spices until fragrant and slightly browned, around

2 mins

. Remove and cool.

Add nuts, seeds, and spices to a food processor. Pulse until the mixture resembles coarse sand.

Add 1 tsp sea salt and give it a final pulse.
Nutrition
Calories:
29
kcal
Net Carbs:
0.8
g
Carbohydrates:
1.4
g
Protein:
0.9
g
Fat:
2.5
g
Saturated Fat:
0.3
g
Sodium:
118
mg
Magnesium:
12
mg
Potassium:
46
mg
Fiber:
0.6
g
Sugar:
0.2
g
Notes
Servings Size: 1 tablespoon.
Serving Suggestions: Use in salads or soups as a sprinkle or as a crust before frying any meat, fish or halloumi.
Storage: Store in an airtight container for up to a month.
Allergy-Free Options: If you're allergic to any of the nuts, feel free to substitute with seeds like sunflower or pumpkin seeds.
Low-Sodium Option: For those watching their sodium intake, you can either reduce the salt or use a salt substitute.
Spicier Option: If you prefer your Dukkah to be spicier, you can add a small amount of chili flakes or black pepper.
Related Posts