Table of Contents
Have you ever heard of low-carb apple butter? You read it right—this is an apple butter recipe with a twist. The secret ingredient is zucchini, and you won't believe how it mimics the texture and flavor of apples in this recipe! If you're on a low-carb journey or simply looking for unique ways to use your garden's zucchini bounty, this is a must-try.
This recipe comes straight from our "let's experiment" list, and it's a total win. Imagine the fun of tricking even your toughest critics into thinking they're enjoying apple-infused delicacies.
The beauty of this low-carb apple butter is its flexibility. While I've used cinnamon to impart that quintessential fall flavor, you're welcome to add your own twist. Nutmeg, cloves, or a hint of cardamom could elevate this to a whole new level.
Apple Butter Made From Zucchini: Why You'll Love It
Super easy to make
Low-carb, gluten-free, sugar-free and vegan
Versatile with different spice options
Tastes just like apple butter!
Ingredients & Substitutions
Heads up: For exact measurements, see the recipe card below.
Making apple butter with zucchini has never been easier! Here's what you need:
Zucchini: The main ingredient that mimics apple texture.
Apple cider vinegar: Adds tartness.
Water: For simmering the zucchini.
Lemon juice: Enhances flavor.
Low-carb sweetener: Allulose or a brown sugar substitute work great here.
Cinnamon: Adds the quintessential fall flavor.
Salt: Balances out the sweetness.
Can I use other summer squashes?
Yes, you can definitely use other summer squashes like yellow squash as a substitute for zucchini. The flavor may vary slightly, but the texture should be quite similar.
Can I add more spices?
Absolutely! If you prefer a richer, more complex flavor, feel free to add spices like nutmeg or cloves. Just be cautious because a little goes a long way with strong spices. Start with a small amount and then taste as you go.
How To Make Apple Butter From Zucchini
Prepare the Zucchini. Start by peeling and chopping the zucchini. Combine zucchini with sweetener, water, apple cider vinegar, and lemon juice in a large saucepan.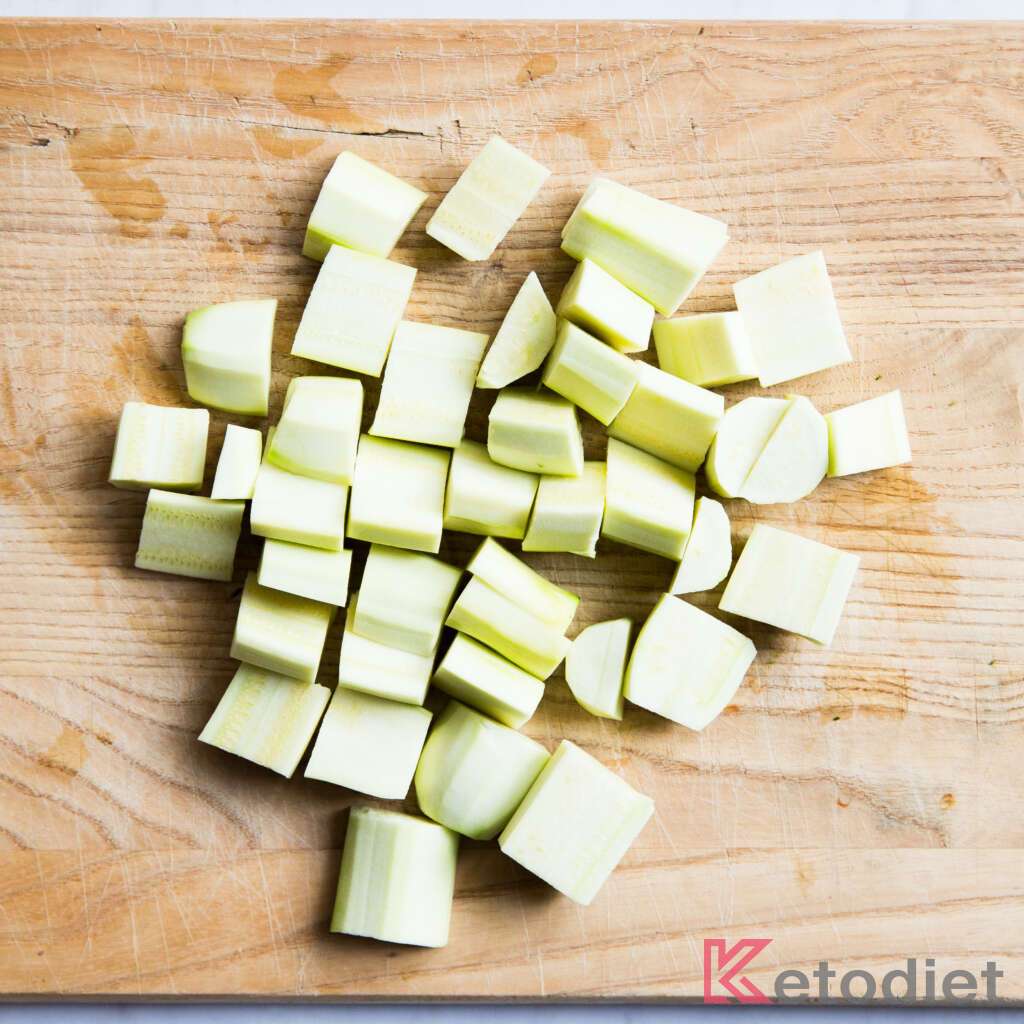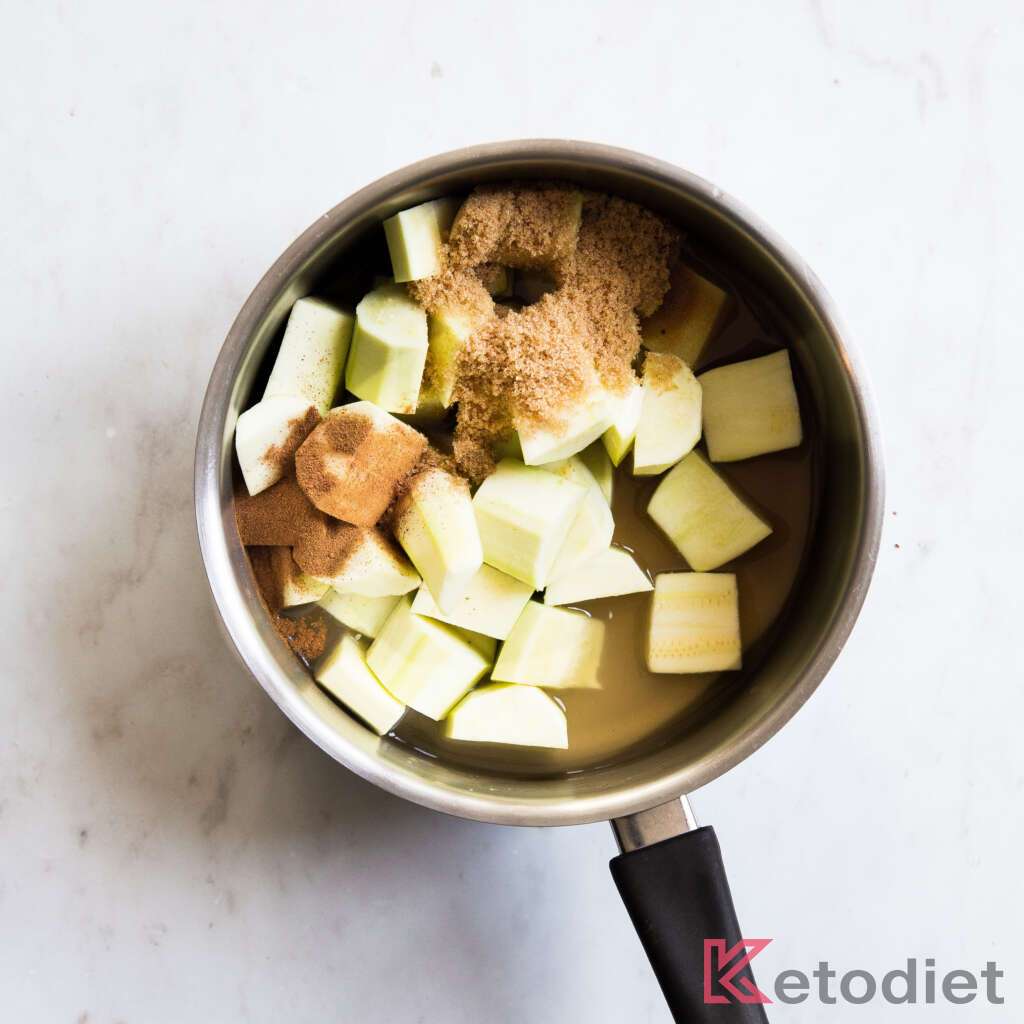 Cook the Zucchini. Cover with a lid and cook until the zucchini softens, for 20-25 minutes.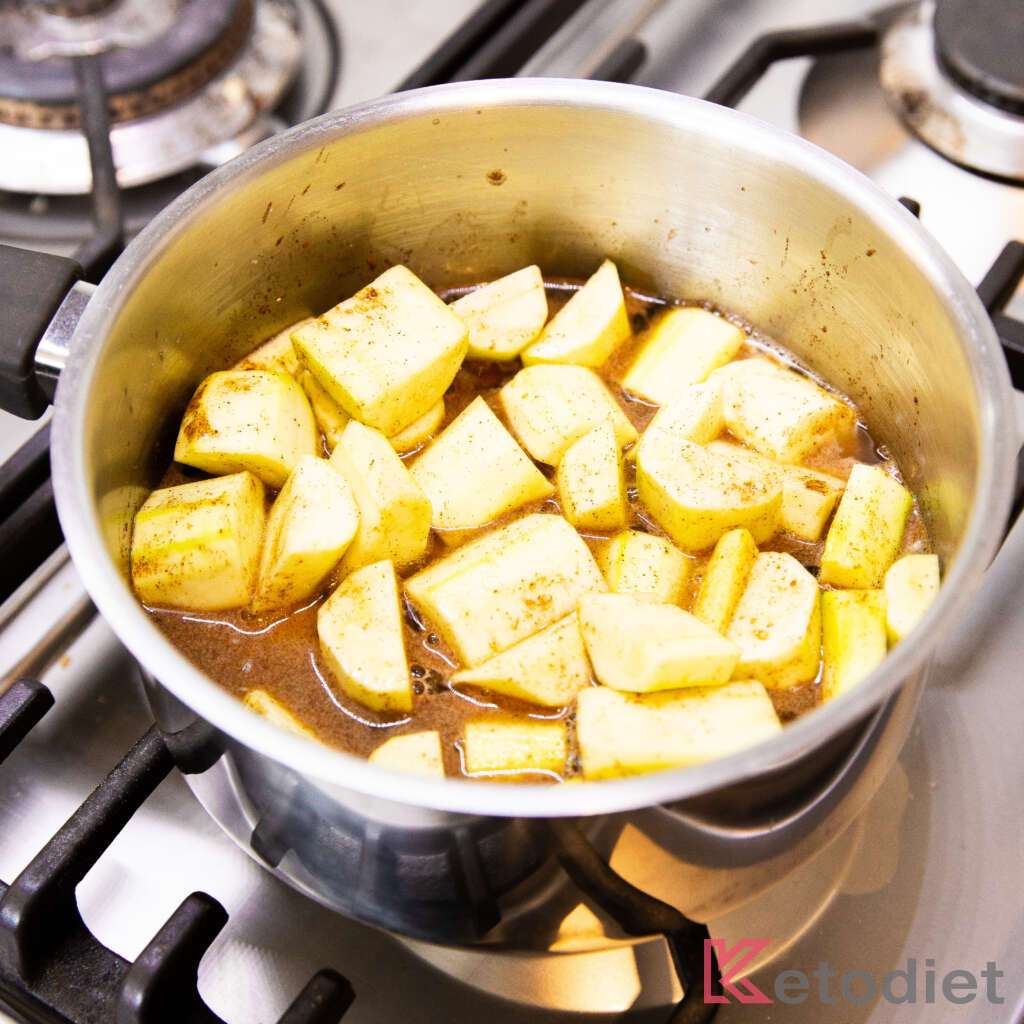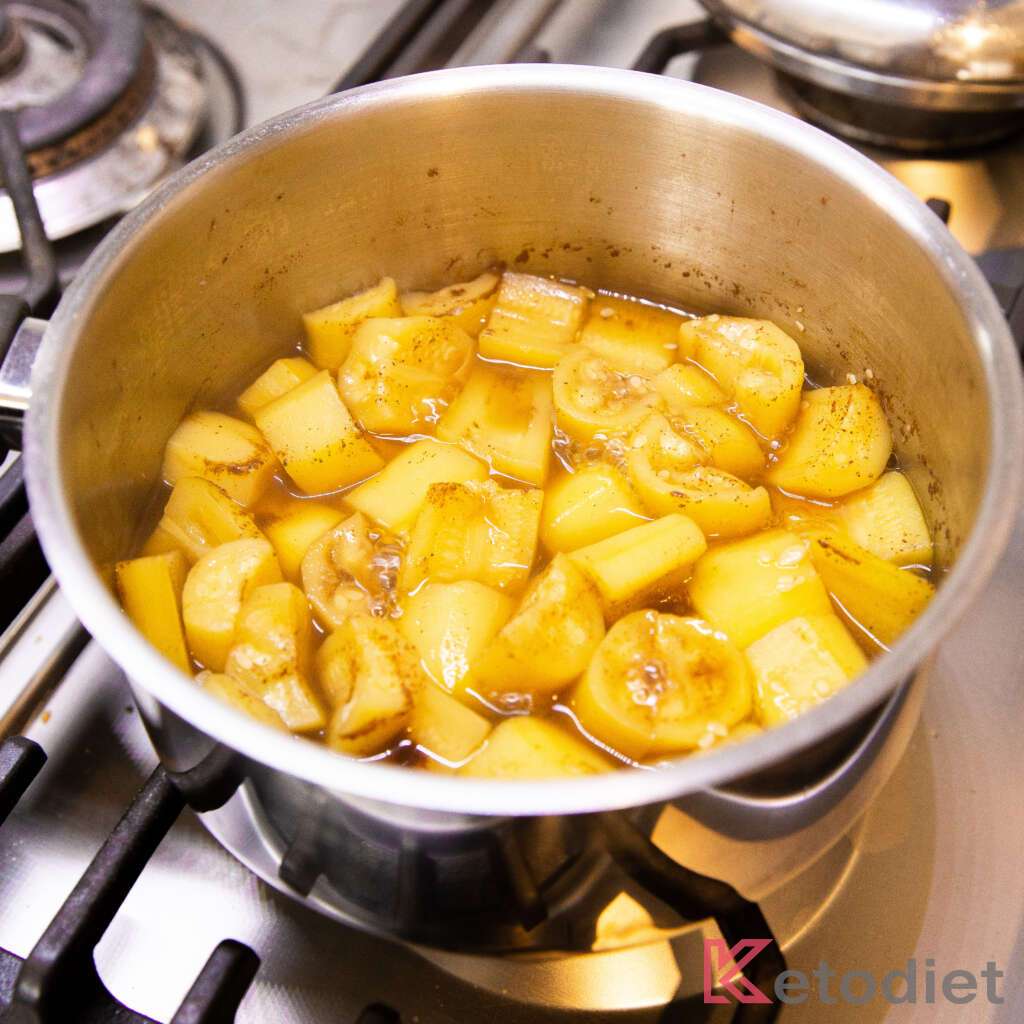 Blend and Cook More. Use a stick blender or a stand blender and process until smooth. Add cinnamon and salt, simmer on low for 45-60 minutes, until it reaches a deep caramel color.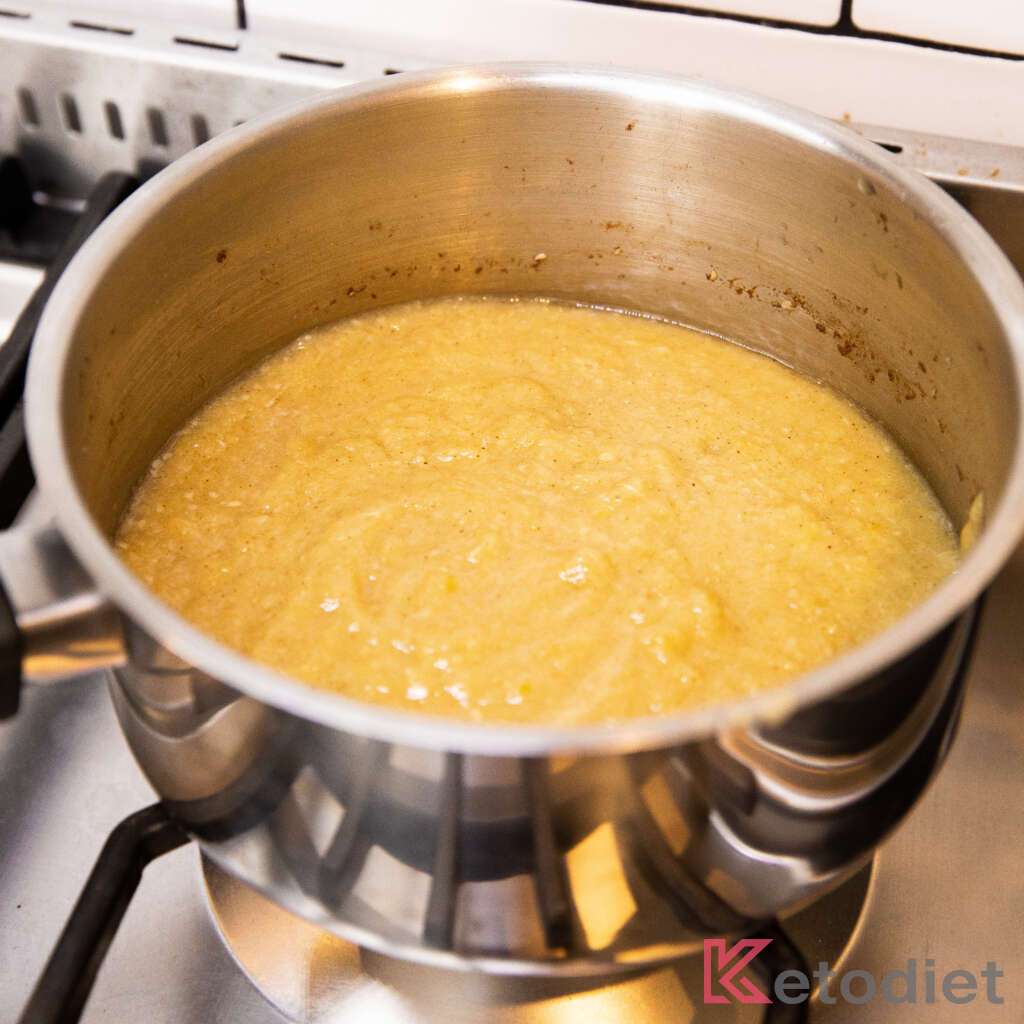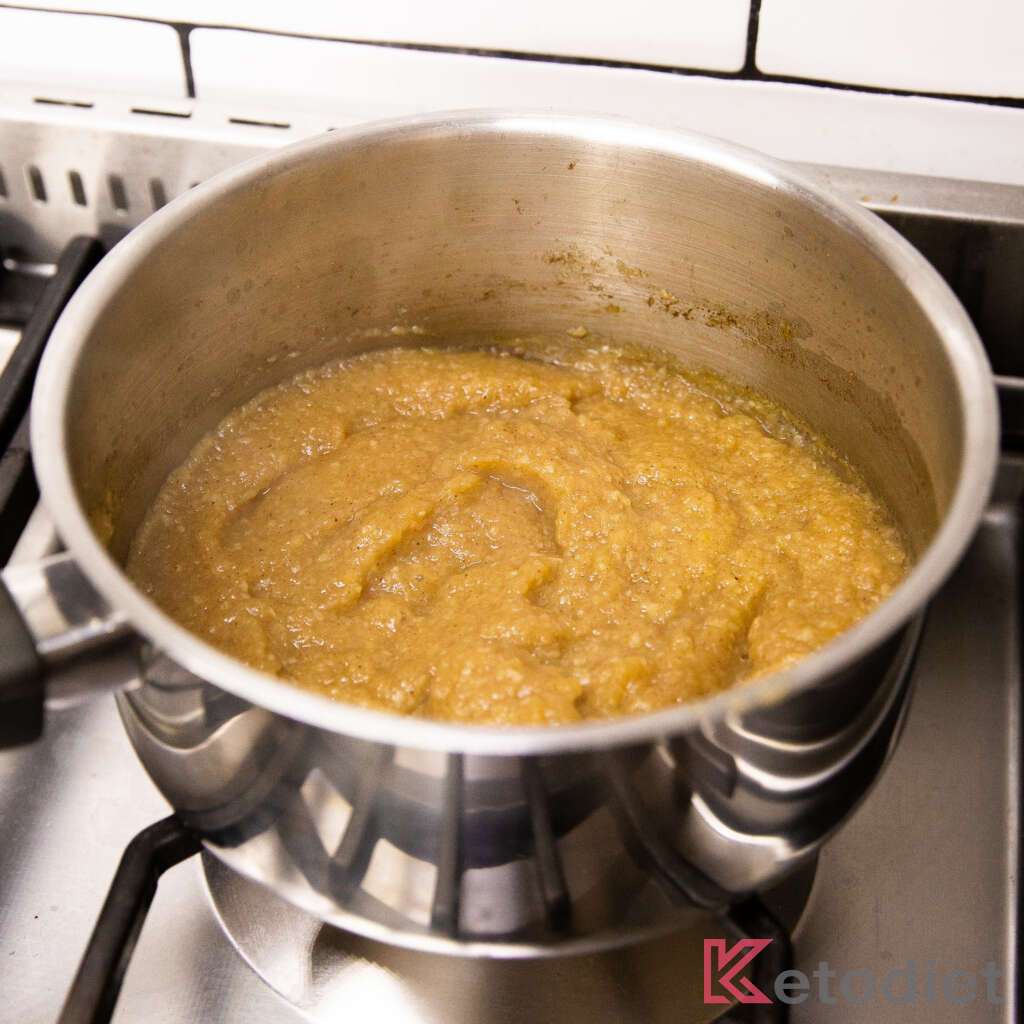 Cool and Store. Once cooked, let it cool down, and then transfer to a jar and store.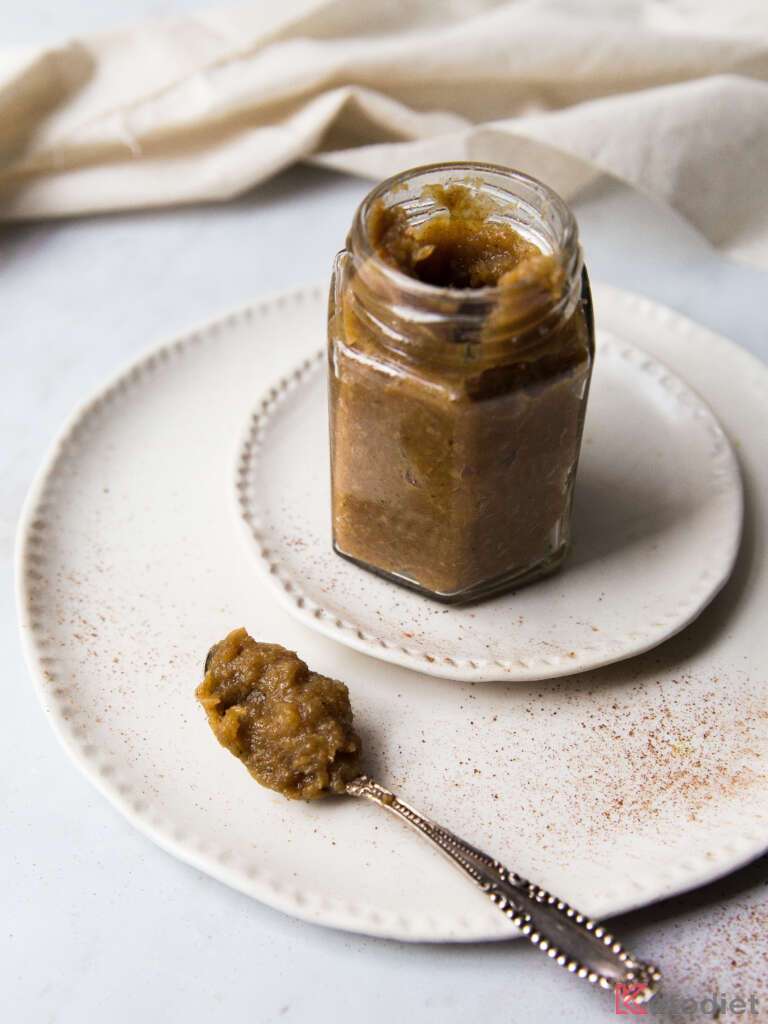 Tips for the Best Apple Butter Recipe
Simmer Slowly: Cook the zucchini on a low heat to allow the flavors to develop without burning.
Blend Well: For a smooth texture similar to traditional apple butter, blend the zucchini thoroughly after cooking.
Season to Taste: Adjust the cinnamon and sweetener to your liking. Start with the recipe's suggestion and add more if needed.
Watch the Consistency: The apple butter should coat the back of a spoon. If it's too thin, continue to simmer; if too thick, add a little water.
Store Correctly: Keep your apple butter in the fridge in an airtight container to maintain freshness.
Storage Instructions
How long will this apple butter last?
Your low-carb zucchini apple butter should last up to 3 weeks when stored in an airtight container in the refrigerator. If you notice any signs of spoilage like mold or off-putting smells, it's best to discard it.
Can I freeze this apple butter?
Yes, you can freeze this low-carb apple butter just like you would regular apple butter. Simply spoon into large ice tray, freeze, and then pop the butter out and store in a freezer a bag for up to 6 months.
How To Use Low-Carb Apple Butter
Sugar-free zucchini-based apple butter is a versatile and health-conscious alternative to traditional apple butter, and it can be used in a variety of ways. Here are a few suggestions for incorporating this delicious spread into meals and treats:
Low-Carb Apple Pie: A delicious alternative to classic Pumpkin Pie.
Breakfast Boost: Spread it over keto bread or muffin for a sweet start to the day.
Oatmeal Flavoring: Stir it into your morning oatmeal for a touch of sweetness and spice. If you're keto, you can make oatmeal from ingredients like chia seeds, coconut flakes and almond flakes.
Yogurt Parfait Layer: Mix it with Greek yogurt to create a parfait, layering with granola and fresh fruit.
Smoothie Ingredient: Blend it into smoothies for added flavor and a natural sweetener.
Sandwich Spread: Use it as a spread in a turkey or ham sandwich for a hint of sweetness. Use our Quick Keto Bread!
Baking Substitute: Substitute it for sugar or fat in muffins, bread, or cake recipes.
Pancake and Waffle Topping: Use it as a topping instead of syrup on pancakes and waffles.
Cheese Pairing: Pair it with sharp cheeses for a delicious snack or appetizer.
Meat Glaze: Glaze pork chops or chicken for a sweet and savory main course.
Dessert Swirl: Swirl it into low-carb brownies or cheesecake batter before baking for an unexpected twist.
Tools for This Apple Butter Recipe
Food Processor or Blender: Essential for combining your ingredients quickly and getting that perfect pesto texture.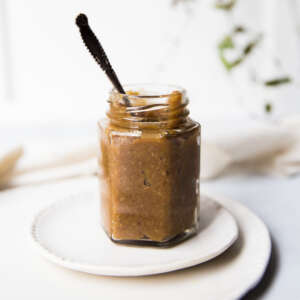 Low-Carb "Apple" Butter
This unique twist on apple butter uses zucchini instead of apples for a low-carb alternative. Infused with aromatic cinnamon, this sugar-free recipe will become your new favorite spread for fall-inspired dishes.
Print
Pin
Rate
Ingredients
2

medium zucchini

(peeled)

2

tbsp

apple cider vinegar

½

cup

water

2

tbsp

lemon juice

¼

cup

low-carb sweetener

(such as Allulose or brown sugar substitute)

1

tbsp

cinnamon

(or less to taste)

⅛

tsp

sea salt
Instructions
Peel the zucchini and roughly chop them. Combine with water, apple cider vinegar, and lemon juice in a large saucepan. (Weight is given for peeled zucchini.)

Bring the mixture to a simmer over medium-high heat. Once it starts simmering, reduce the heat to medium-low, cover the saucepan, and cook for

20-25 minutes

. The zucchini should soften and start to fall apart.

Remove the saucepan from heat and allow it to cool slightly. Use a hand blender to puree the mixture until smooth.

Return the pureed mixture to medium-low heat. Add in the cinnamon (adjust quantity to taste) and salt. Simmer gently, stirring often to prevent splattering, until the 'apple' butter becomes thick and takes on a deep caramel color. This should take around

45-60 minutes

.

Once thickened, transfer the apple butter to an airtight jar or container.
Nutrition
Calories:
4
kcal
Net Carbs:
0.5
g
Carbohydrates:
0.8
g
Protein:
0.2
g
Fat:
0.1
g
Sodium:
11
mg
Magnesium:
3
mg
Potassium:
46
mg
Fiber:
0.3
g
Sugar:
0.5
g
Notes
Serving Size: 1 tablespoon, or more depending on how it's used.
Storage: Store in the refrigerator for up to 3 weeks. If you wish to store it for longer, freeze the apple butter in an ice tray. Once frozen, transfer the cubes to a bag or container and store in the freezer for up to 6 months.
Spice it Up: Feel free to add nutmeg or cloves for extra flavor.Sweetener
Swap: You can use other low-carb sweeteners if you don't have Allulose or a brown sugar substitute.
Related Posts