Table of Contents
There's something satisfying about DIY-ing your kitchen staples. Skip the canned stuff and embrace the aromatic allure of roasting your own pumpkin. With just two main ingredients – pumpkin and salt (which is technically optional) – you can easily make tasty homemade pumpkin puree right at home.
With homemade pumpkin puree, you're sure of what's in it. It's fresh, you can tweak the flavor with your choice of spices, and it's versatile. Whether you're thinking of muffins, soups, or smoothies, this puree has got you covered. Perfect for all your pumpkin-based dishes, this puree is a game-changer for your kitchen adventures.
When you make it yourself, you're getting a fresher taste without the additives. Plus, you have the freedom to choose your squash, adjusting the flavor and carb content to your liking. Finally, it's always more budget-friendly to make your own, especially when using produce that's in season. The best part? Your home will be filled with the comforting scent of roasting pumpkin. Plus, this puree can be stored in the fridge for a week or frozen for longer use.
What is Pumpkin Puree?
Pumpkin puree is a staple in autumn cooking, known for its smooth texture and versatile use in both sweet and savory dishes. It's simply made by blending cooked pumpkin until it's perfectly smooth. This puree is not only a key ingredient for recipes like soups and baked goods, but it's also full of nutrients. Apart from pumpkin, the puree can be prepare from various types of winter and summer squash.
Ingredients: Choosing the Right Pumpkin
When it comes to crafting the perfect puree, size does matter. Opt for smaller baking pumpkins, often labeled as "sugar pumpkins" or "pie pumpkins." These varieties offer a sweeter, richer taste compared to their larger counterparts. If you're shopping at a farmer's market, don't hesitate to ask for recommendations.
While pumpkin is a classic choice, don't be afraid to experiment with other winter squashes. You can prepare winter squash like butternut, acorn, and even the unique honeynut using the same method. Each brings its own unique flavor profile to the table.
Other Types of Squash to Use
The flavor and color each squash brings can make a difference in your dishes. If you're trying to keep things low-carb or just curious about the nutritional content, here's a handy breakdown of net carbs in various squashes per 100 g/ 3.5 oz:
Butternut and Coquina squash: 9.7 g net carbs. Butternut has a sweet and slightly nutty flavor. It has a smooth texture and a warm orange color, making it a popular choice for purees.
Acorn squash: 8.9 g net carbs. This squash offers a milder, subtly sweet taste. When pureed, it presents a lovely golden hue.
Hokkaido, Onion & Ambercup squash: 7.1 g net carbs. Hokkaido (or Red Kuri) boasts a vibrant orange color and a rich, chestnut-like flavor.
Harlequin & Carnival squash: 7 g net carbs. These squashes have a mild and slightly sweet flavor, with a creamy texture that's perfect for purees.
Spaghetti squash: 5.4 g net carbs. Unlike others, when cooked, its flesh separates into pasta-like strands (best for Spaghetti Squash Noodles). It has a delicate flavor and a pale yellow color.
Hubbard squash: 4.8 g net carbs. This squash has a rich, pumpkin-like taste and deep orange color, making it ideal for pies and purees.
Pattypan squash: 2.6 g net carbs. With its mild and buttery flavor, pattypan is more commonly used in dishes where it can retain its unique shape, but it can be pureed for a milder mix.
Zucchini squash: 2.3 g net carbs. Zucchini is very mild in flavor with a hint of sweetness. It has a light green color, and while not traditional for pumpkin purees, you can use it to reduce carb content. Zucchini squash is less ideal for making puree, but it is great for making zucchini noodles!
Indian squash: 1.7 g net carbs. It's mildly sweet with a texture that's perfect for pureeing. Its pale color can be a good base for mixing with other squashes.
Scallop squash: 1.4 g net carbs. Also known as pattypan, it has a delicate flavor and a creamy texture. Its pale color makes it versatile for mixing.
How To Make Pumpkin Puree at Home: 3 Simple Steps
Preparation. Give your pumpkin a thorough rinse. Slice it in half, avoiding the tough stem. Scoop out the seeds and stringy bits. A sprinkle of sea salt inside the pumpkin halves can enhance the flavor.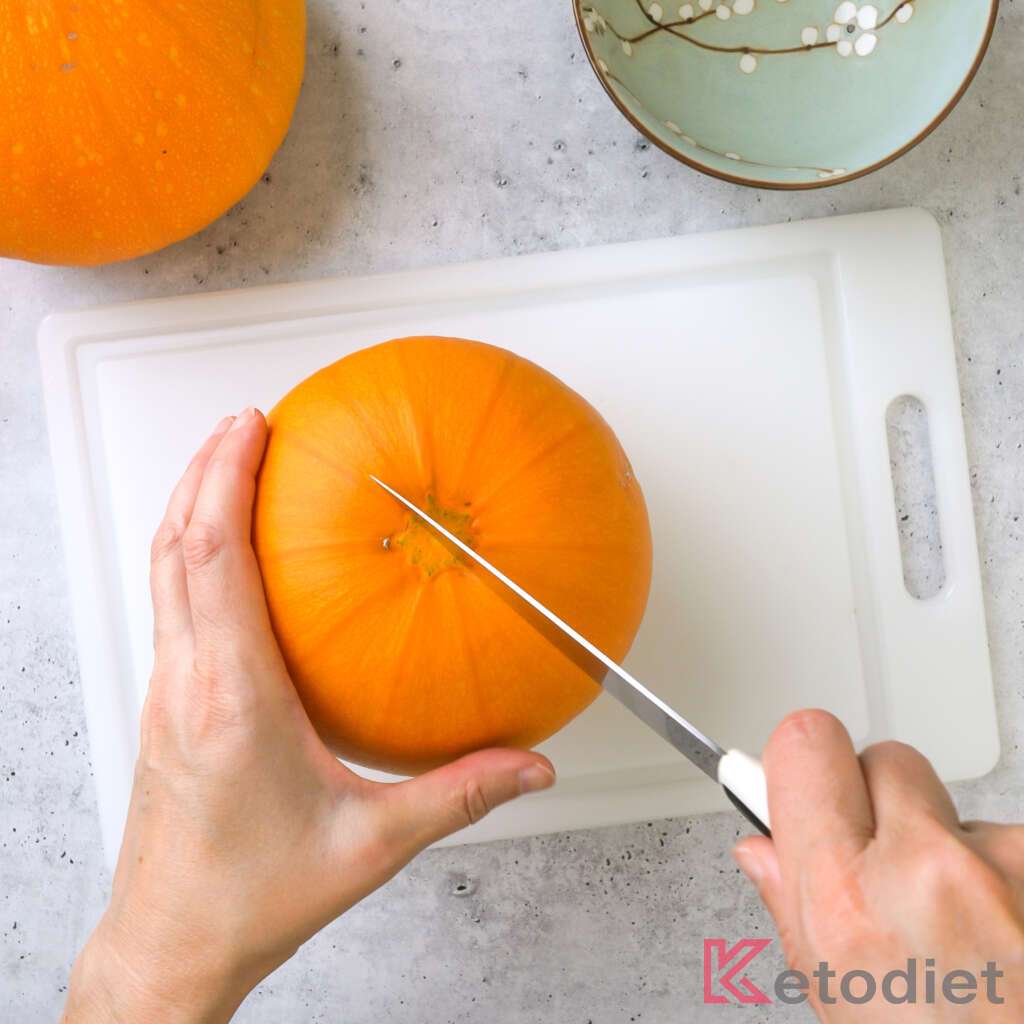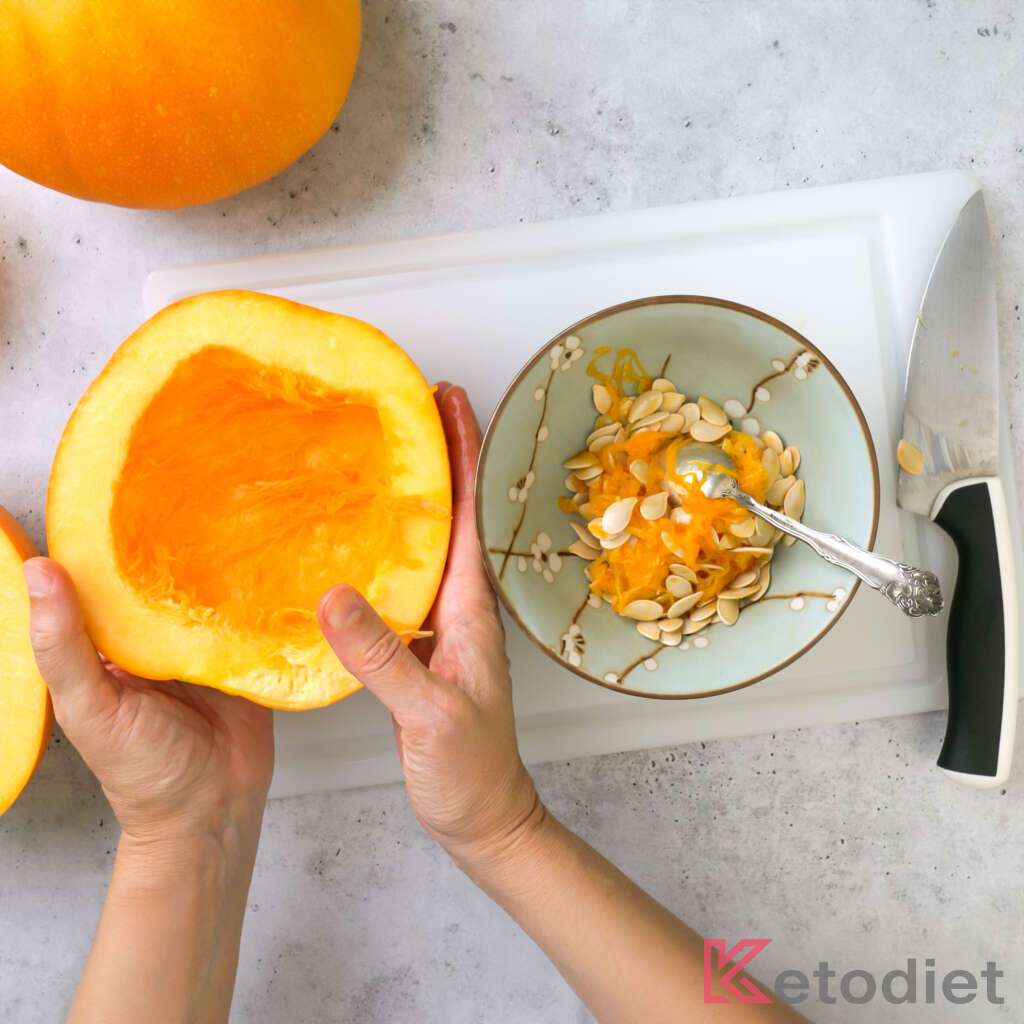 Roasting. Preheat the oven to 300 °F (150 °C) fan, or 340°F (170°C) conventional. Lay the pumpkin halves cut-side-up on a parchment-lined baking sheet. Roast until the flesh is tender, slightly caramelized, and easily pierced with a knife.
Blending. Once cooled, scoop out the soft pumpkin flesh and blend until you achieve a velvety-smooth puree.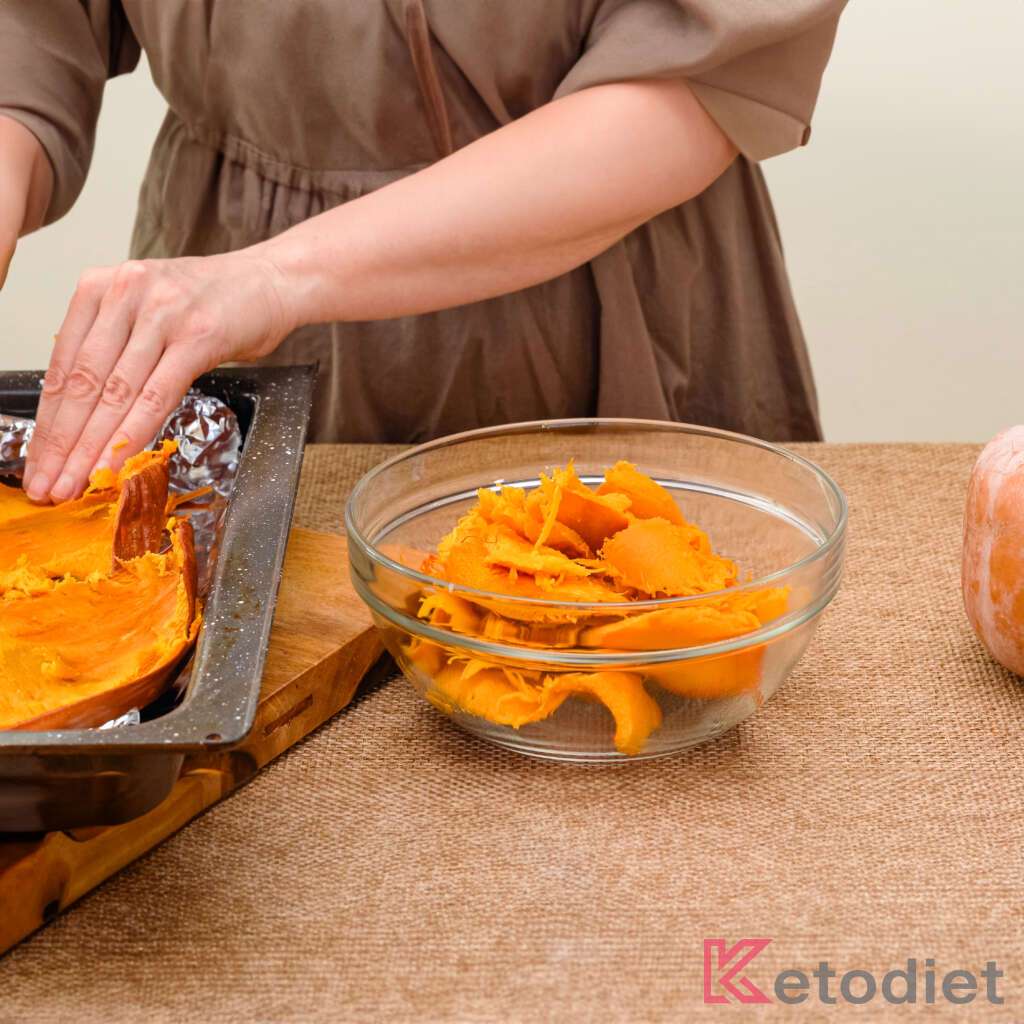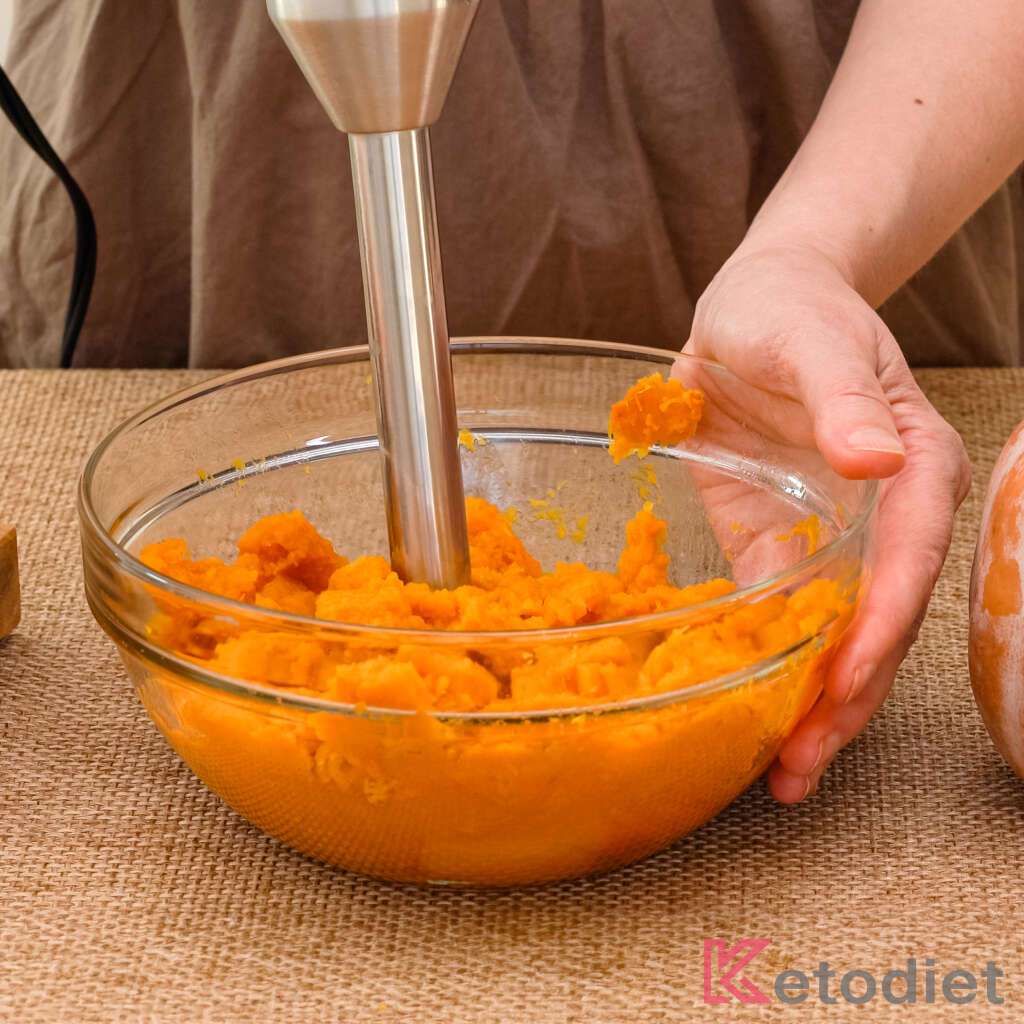 Tips for Best Pumpkin Puree
Homemade pumpkin puree is very simple to make, but here are a few tips I discovered that might be helpful:
Bake the pumpkin cut-side up. Positioning the pumpkin with the cut side facing up allows the edges to caramelize during baking, imparting a richer, sweeter flavor to the puree.
Select the right type. The variety of squash affects the flavor. A Hokkaido, for instance, yields a sweeter puree compared to one made from an Indian squash. Consider the flavor profile you prefer when selecting your pumpkin.
Roast over boil. Roasting the pumpkin instead of boiling it can reduce the water content, resulting in a thicker, more flavorful puree.
Season for depth. A sprinkle of salt before roasting can help deepen the flavor. For a warm, spiced puree, consider adding a pinch of cinnamon, nutmeg, or allspice.
Strain if necessary. If the puree is too watery, let it strain through cheesecloth set in a sieve over a bowl to remove excess liquid. This will give you a firmer, more concentrated puree.
Cool before blending. Allow the roasted pumpkin to cool slightly before blending. This makes it easier to handle and can also protect your blender from steam buildup.
Use fresh pumpkins when in season. For the best flavor, make your puree with fresh pumpkins during the fall season. Outside of fall, canned pumpkin can be a convenient and tasty alternative.
Storage Instructions
How long will pumpkin puree last?
Pumpkin puree can be refrigerated for up to a week.
Can I freeze pumpkin puree?
Yes, you can. For longer storage, freeze in suitable containers for up to 6 months. You can use an ice tray to do that. Once frozen, pop them out into a freezer bag and store.
How to Use Pumpkin Puree
Pumpkin puree isn't just for pies. You can use it to make this Low-Carb Pumpkin Pie, Creamy Pumpkin Spice Latte, in muffins, soups, smoothies, and even some unconventional dishes. Let your culinary creativity run wild!
Tools for This Pumpkin Puree Recipe
Food Processor or Blender: Essential for combining your ingredients quickly and getting that perfect pesto texture.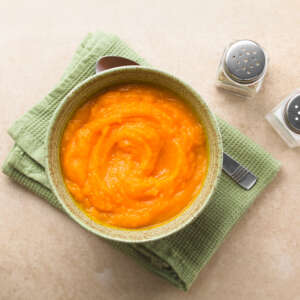 Homemade Pumpkin Puree
Make your own pumpkin puree right at home with this simple method. It's great for low-carb muffins, soups, and smoothies. Using the oven to bake the pumpkin gives it a sweet touch, making it way better than the store-bought stuff.
Print
Pin
Rate
Ingredients
1

medium baking pumpkin

(4 to 6 lbs)

pinch

of sea salt

(optional)
Instructions
Preheat the oven to

300

°F

(

150

°C

), or

340

°F

(

170

°C

). Halve the pumpkin and place the halves face up on a parchment paper-lined baking tray. Optionally, season with a pinch of salt.

Bake for

60 to 90 minutes

, until soft and caramelized. Check doneness by piercing the skin with a fork.

Once cooked, remove from the oven and allow to cool. De-seed the pumpkin using a spoon. Scoop out the pumpkin flesh into a bowl.

If there's excess moisture, using a cheesecloth, squeeze out excess juices from the pumpkin.

Place in a food processor or blender and process the pumpkin until you achieve a smooth puree. Alternatively, use a stick blender or potato masher and mash until smooth.
Nutrition
Calories:
17
kcal
Net Carbs:
2.5
g
Carbohydrates:
4
g
Protein:
0.6
g
Fat:
0.1
g
Saturated Fat:
0.3
g
Sodium:
3
mg
Magnesium:
12
mg
Potassium:
103
mg
Fiber:
1.5
g
Sugar:
1.7
g
Notes
Serving Size:

¼

cup (50 g/ 1.8 oz), although it will depend on how it's used.
Storage: Pumpkin puree can be refrigerated for up to a week. For longer storage, freeze in suitable containers for up to 6 months.
Cutting Pumpkin: Ensure your pumpkin sits steady while cutting. If it wobbles, trim a small section from the bottom for stability.
Allergy & Dietary Adjustments: This recipe is naturally low-carb, gluten-free and vegan. Adjust the type of squash to control carb content.
Flavor Boost: Enhance your puree with spices like cinnamon, ginger, or cloves.
Pumpkin Seeds: Wash under running water, dry and reserve the seeds for another use. You can roast them in the oven for a healthy anf satisfying snack!
Recipe Ideas: Use this puree in dishes like low-carb muffins, pumpkin soup, and even brownies. Pumpkin puree is ideal for thickening curries and stews – no flour needed!
Nutrition: The nutrition facts provided are estimates and the exact numbers will depend on the type of squash used.
Related Posts