Table of Contents
Ever tried zucchini noodles recipe and thought, "Well, these could be better"? You're not alone. Zucchini noodles, aka zoodles, a fantastic pasta alternative for those on a low-carb diet, often get a bad rap for being mushy or bland.
But guess what? It doesn't have to be that way! Let's dive into how you can turn these humble veggies into something you'll actually look forward to eating. Spoiler alert: It's easier than you think and way tastier than you remember!
Why You'll Love This Zucchini Noodles Recipe
Keto-Friendly: Perfect for low-carb diets without sacrificing flavor.
Allergy-friendly: Zucchini noodles are naturally gluten-free, grain-free and vegan.
Texture Perfection: Say goodbye to mushy zoodles; hello to crisp, satisfying bites.
Quick & Easy: From kitchen to table in just 30 minutes.
Versatile: Great as a main dish or a side, pairs well with a variety of sauces and toppings.
Nutrient-Rich: Zucchini is a great source of vitamins and potassium, making it as healthy as it is tasty.
Ingredients & Substitutions
Heads up: For exact measurements, see the recipe card below.
Making this zucchini noodles recipe is a breeze with just a handful of simple ingredients. Here's what you'll need for this nutritious and tasty dish:
Zucchini (Courgettes) or Yellow Summer Squash: The star of the show, these veggies transform into your noodle base.
Salt: Helps to draw out excess moisture from the zucchini, ensuring a better texture. Seas salt or pink Himalayan salt are good options.
Cooking Fat: Olive oil, ghee, or avocado oil used for cooking, these add a hint of flavor and helps in achieving that perfect sauté.
Variations
Looking to spice things up a bit? Zucchini noodles are incredibly versatile and take on flavors well. Here are some ideas to add a punch of flavor:
Herbs: Fresh basil, parsley, or cilantro can add a refreshing twist. Dried herbs like oregano or Italian seasoning work great too.
Spices: For a bit of heat, sprinkle in some red pepper flakes or cayenne. Garlic powder or onion powder can add depth.
Citrus Zest: A bit of lemon or lime zest can brighten up the dish wonderfully.
Can I make different shapes other than spaghetti?
Absolutely! While spaghetti-style zoodles are popular, you're not limited to just one shape. Depending on the tools you have, you can create a variety of noodle shapes. Use spiralizer or julienne peeler for noodles, or potato peeler for ribbon-like noodles.
What should I do with the zucchini cores?
Chopped zucchini cores and offcuts can be cooked with the noodles, or used in another recipe. If you want to cook them with the noodles, they will need an extra 2 to 3 more minutes.
How to Prepare Zucchini Noodles
Making this zucchini noodles recipe is easy and fun. Here's how you can do it:
Choose Your Zucchini. Select medium-sized zucchini or summer squash. They're easier to handle and usually have the best texture.
Step 2: Make Noodles. Use a spiralizer or a julienne peeler to create your noodles. If you don't have these tools, you can use a regular peeler for wider ribbons.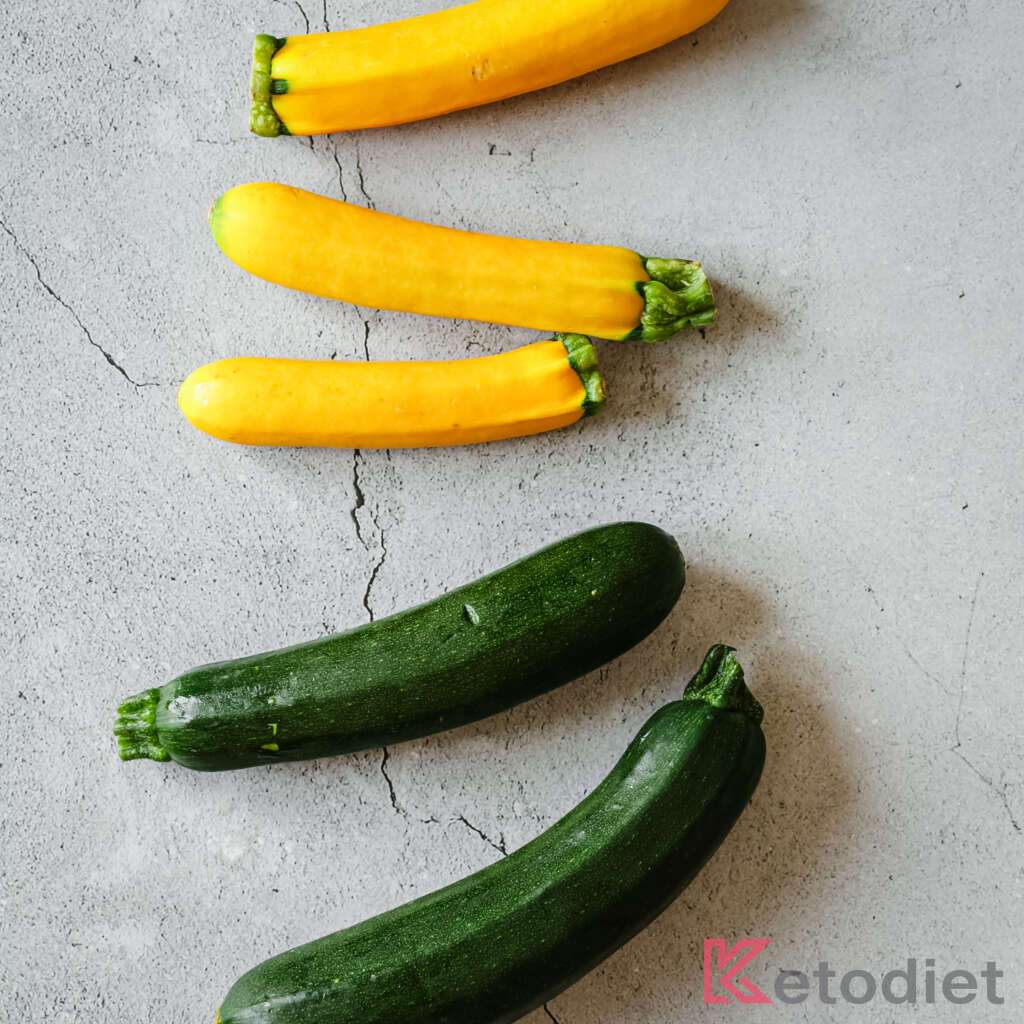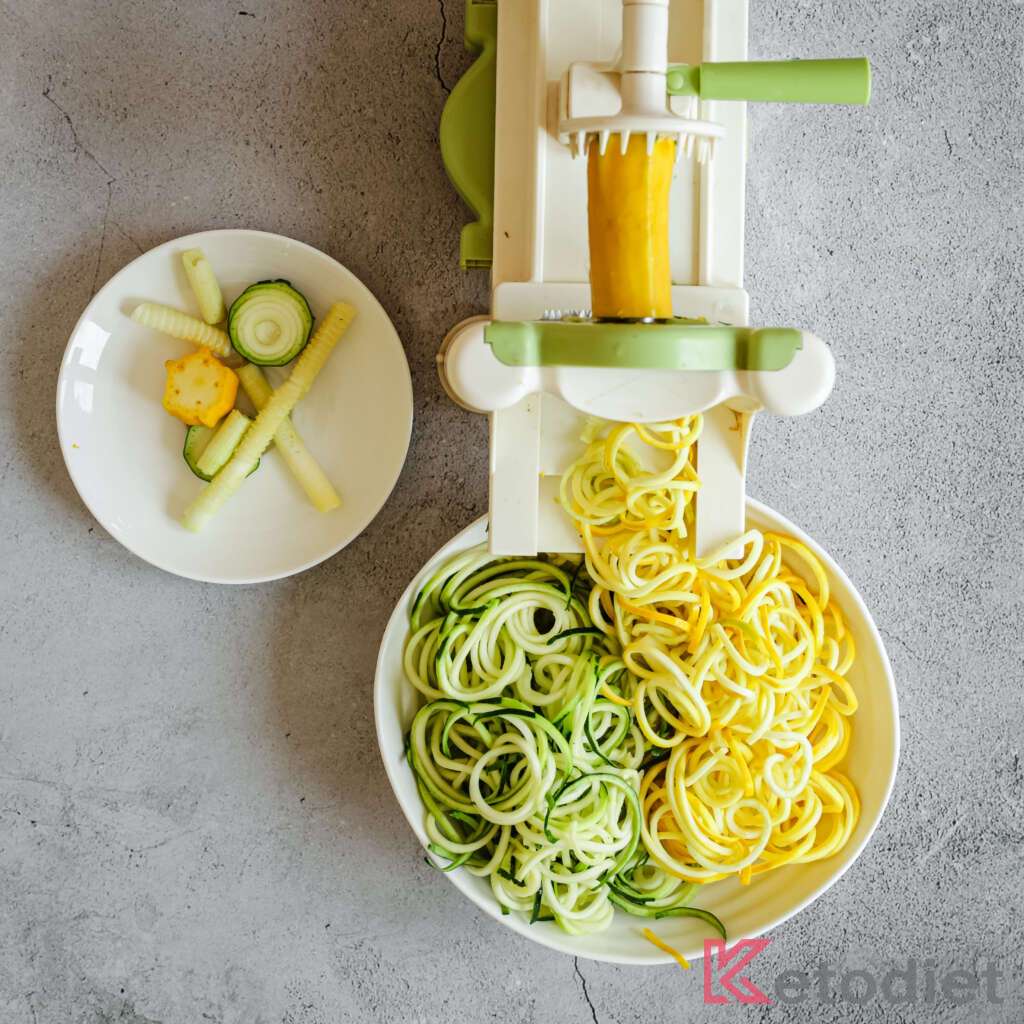 Salt and Sit, Then Pat Dry. Once you've got your noodles, spread them out and sprinkle with sea salt. Let them sit for about 10 minutes. This step helps to draw out moisture, preventing soggy noodles. After 10 minutes, pat the noodles dry with a paper towel or use a salad spinner. Removing excess moisture is key for the best texture.
Quick Cook (Optional). Heat a bit of oil in a skillet over medium heat. Add the noodles, cooking for 2 to 5 minutes, depending on how crisp you like them. Remember, less cooking time means firmer noodles. You can skip this step altogether.
Serve and Enjoy. Now that your noodles are ready, it's time to dress them up with your favorite sauce or toppings and enjoy!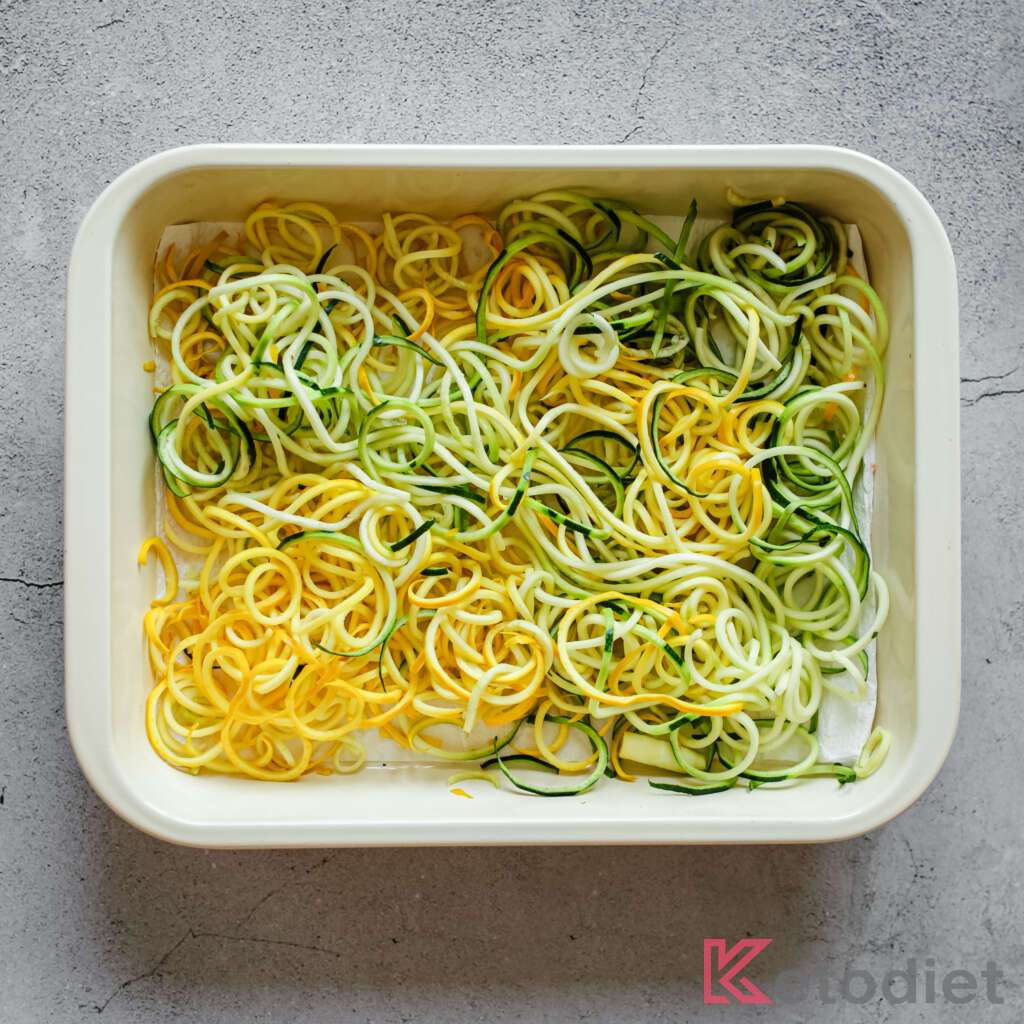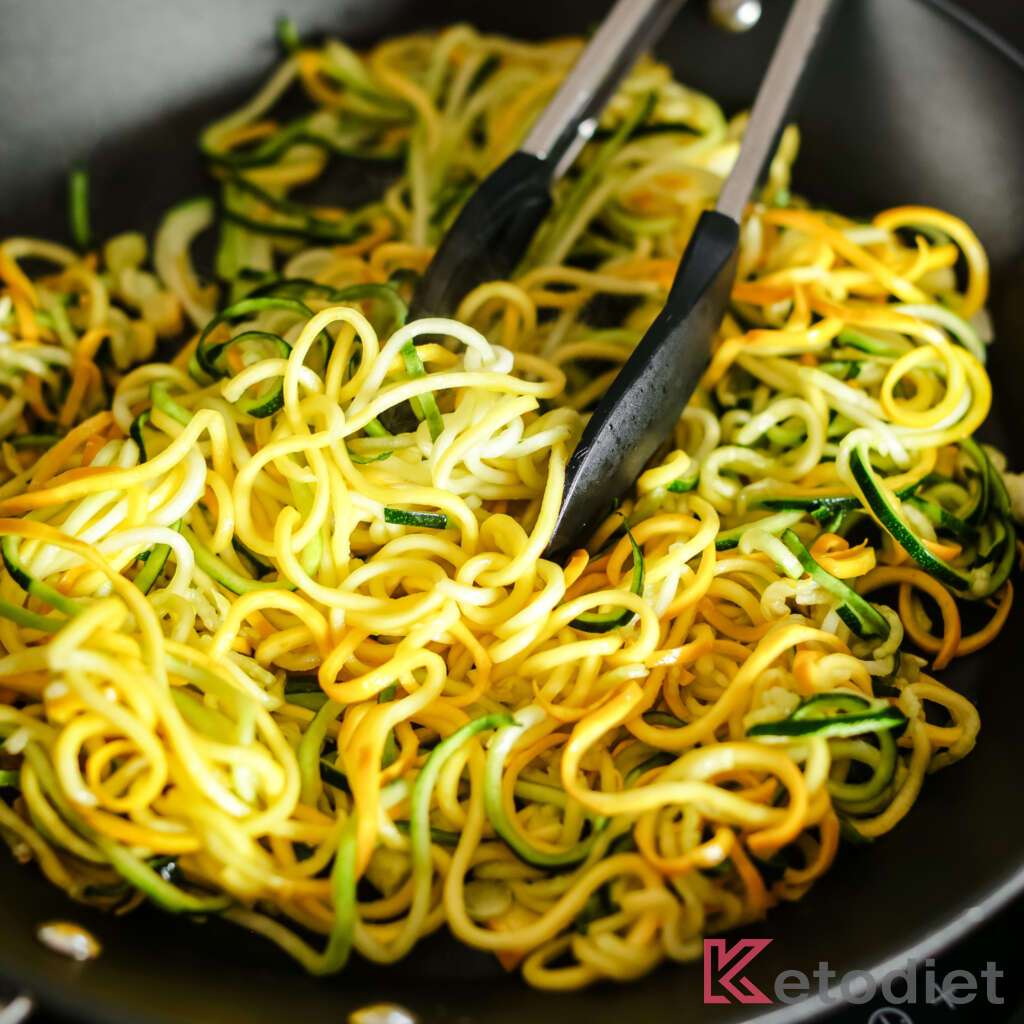 Tips for Best Zucchini Noodles Recipe
Creating the perfect zucchini noodles is all about technique and a few handy tips. Here's what I've found works best:
Size Matters: Medium-sized zucchini are ideal. They're not too seedy and have the right amount of moisture for noodles.
Salt Sparingly: While salting helps draw out moisture, too much can make the noodles too salty. A light sprinkle is all you need.
Avoid Overcooking: To keep that perfect al dente texture, cook the noodles just for a few minutes. They should be tender but still have a bit of bite. For a firmer texture, feel free to skip the cooking step altogether. The salt itself will make these noodles softer.
Dry Thoroughly: After salting, be sure to pat the noodles dry very well. Excess moisture and too much salt are the enemies of the perfect zoodle!
Prep in Advance: You can spiralize and salt your zucchini ahead of time. Just store them in the fridge in a sealed container and cook when you're ready to eat.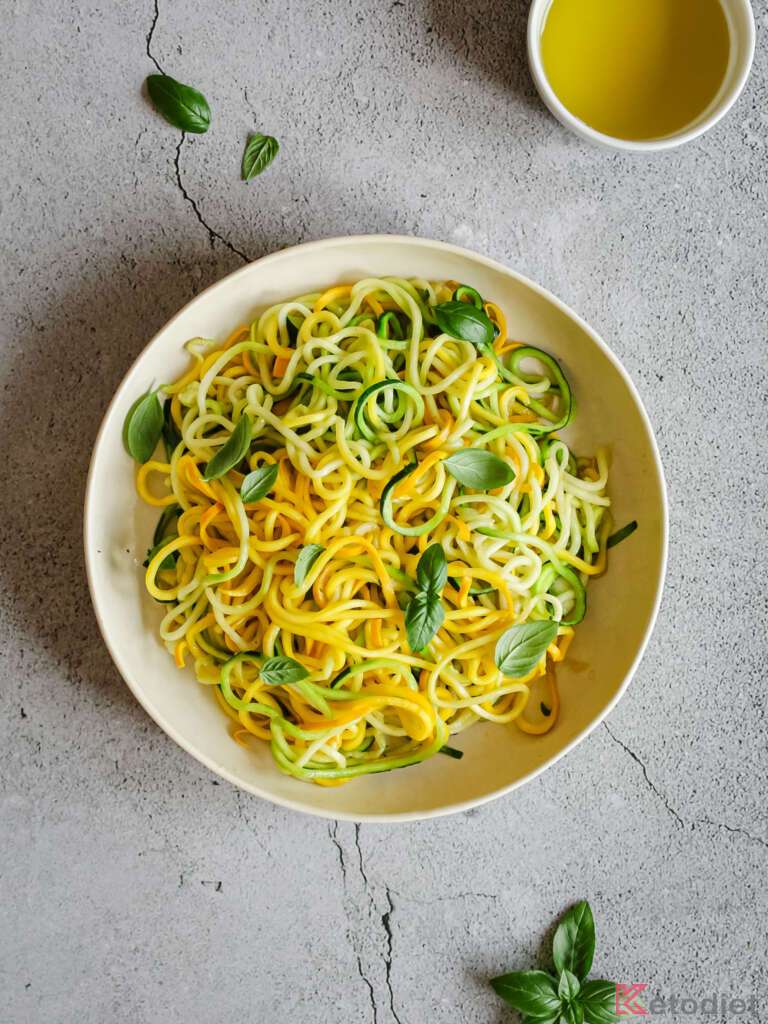 Storage Instructions
Zucchini noodles are best when fresh, but you can store them if needed.
How long will zucchini noodles last in the fridge?
Freshly spiralized, uncooked and unsalted zucchini noodles can last in the fridge for 2 to 3 days. Be sure to store them in an airtight container. Salt them just before cooking to remove excess moisture and ensure the best texture.
Can I make zucchini noodles in advance for meal prep?
Yes, you can spiralize zucchini noodles ahead of time and store them (unsalted) in the fridge in an airtight container. This way, they stay fresh and retain their firmness. When you're ready to cook, apply the salt and let the noodles sit for about 10 minutes to draw out the excess moisture before cooking.
Can I freeze zucchini noodles?
It's not recommended to freeze zucchini noodles as they can become mushy and watery when thawed. For the best texture and flavor, enjoy them fresh.
How To Use Zucchini Noodles
Zucchini noodles are incredibly versatile and can be served in a variety of delicious ways. Here are some ideas to get you started:
As a Pasta Substitute: Use them as a low-carb, nutrient-rich replacement for traditional pasta. Top with your favorite sauces like marinara, pesto, or Alfredo. Try noodles with our Marinara Meatballs!
In Salads: Add a fresh twist to salads by including raw zucchini noodles for extra crunch and nutrition.
Stir-Fries: Toss them into stir-fries in the last few minutes of cooking for a quick and healthy addition.
With Protein: Pair them with grilled or air fryer chicken, shrimp, or halloumi for a balanced, satisfying meal.
Cheese Topping: Sprinkle with Parmesan or nutritional yeast for a dairy-free option to add a savory finish.
Herb Garnish: Fresh herbs like basil, parsley, or cilantro can elevate the flavor profile of your dish.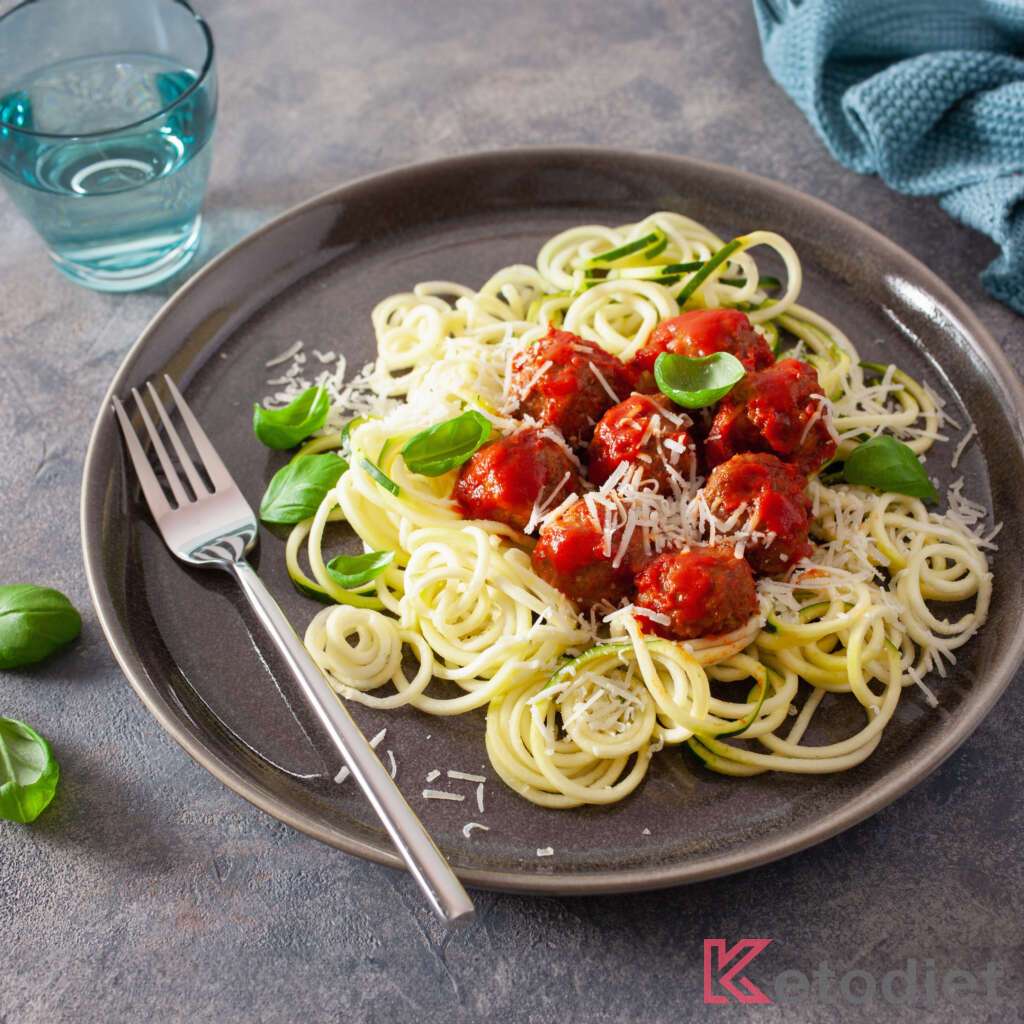 Tools For the Perfect Zucchini Noodles
Spiralizer: This tool is perfect for making different types of shapes. Besides spaghetti, many spiralizers come with blades for making wider shapes like fettuccine or ribbon cuts, similar to pappardelle. This variety can add a fun twist to your dishes.
Potato Peeler: If you don't have a spiralizer, a regular potato peeler works great for making wider, ribbon-like noodles. These are excellent for dishes where a heftier noodle is desired, like in a zoodle lasagna or a hearty salad.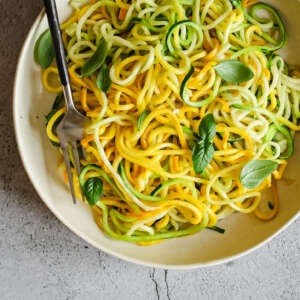 How To Prepare Zucchini Noodles
Learn to make zucchini noodles the right way! Our guide shows you how to avoid soggy results, ensuring a tasty and healthy keto-friendly dish. Ideal for a quick, nutritious meal.
Print
Pin
Rate
Ingredients
4

medium zucchini

(or yellow summer squash (about 2 lbs))

1

tsp

sea salt

2

tbsp

olive oil

(extra virgin, or ghee or avocado oil)
Instructions
Use a spiralizer, julienne peeler, or potato peeler to create zucchini noodles. For spiralizer, choose the blade for your desired noodle shape.

Spread the noodles out and sprinkle them lightly with sea salt. Let them sit for

10 minutes

to release moisture. Then, pat them dry with a paper towel or use a salad spinner.

Add the zucchini noodles to a preheated skillet. Cook for

2 to 5 minutes

, depending on your preference for noodle texture (less time for al dente).

Once cooked to your liking, remove from heat and serve with your choice of sauce or toppings.
Nutrition
Calories:
98
kcal
Net Carbs:
4.7
g
Carbohydrates:
7
g
Protein:
2.7
g
Fat:
7.5
g
Saturated Fat:
1.1
g
Sodium:
163
mg
Magnesium:
41
mg
Potassium:
587
mg
Fiber:
2.3
g
Sugar:
5.6
g
Notes
Serving Size: About 225 g (8 oz) raw noodles.
Avoid Over-Salting: Be cautious with salt; a light sprinkle is enough to help draw out moisture without making the noodles too salty.
Cooking Time: Adjust the cooking time to get your preferred noodle texture. Less cooking time means firmer noodles, more cooking time will make them softer. You can skip this step for firmer noodles.
Storage: Store uncooked zucchini noodles in the fridge in an airtight container for 2-3 days if preparing in advance.
Reheating: If you need to reheat the noodles, do it in a skillet rather than a microwave to maintain texture.
Related Posts