Table of Contents
Craving that seasonal pumpkin spice latte from popular coffee chains? Look no further! This Creamy Keto Pumpkin Spice Latte (also known as PSL) offers a delicious twist on traditional egg coffee, giving you all the warmth and flavor of fall without the added sugars.
Not only is it thicker and creamier than what you'd get at Starbucks, but it's also packed with nutritious ingredients like egg yolks and collagen. This beverage is so fulfilling, it can even replace a full breakfast meal.
PSL: Why You'll Love It
Keto-Friendly: Satisfies your PSL cravings without the carbs.
Rich & Creamy: Thicker texture for a more indulgent experience.
Nutrient-Dense: Packed with protein from egg yolks and collagen.
Sugar-Free: Enjoy the sweetness without the sugar spike.
Meal Replacement: So filling, it can stand in for breakfast.
What is Pumpkin Pie Spice Latte?
A Pumpkin Pie Spice Latte is a signature fall beverage popularized by coffee giants like Starbucks and Costa. It blends espresso with pumpkin and classic spices, topped with cream.
Ingredients & Substitutions
Heads up: For exact measurements, see the recipe card below.
Here's what you'll need to make creamy keto coffee drink in just 5 minutes:
Coffee: Provides the robust base flavor and a caffeine kick.
Egg yolks: Add creaminess and richness to the beverage, making it more satiating.
Pumpkin puree: Gives a natural pumpkin flavor and adds a touch of fall to the drink.
Heavy whipping cream: Enhances the creamy texture and adds a luxurious mouthfeel.
Collagen powder: Boosts the protein content, making the drink more nutritious and filling.
Pumpkin pie spice: Infuses the coffee with warm, aromatic spices typical of the fall season. You can even make your own.
Low-carb sweetener: Adds sweetness without the carbs, making it keto-friendly. Allulose, Swerve, monk fruit or stevia to taste are good options.
Whipped cream and cinnamon on top (optional): For garnish, adding an extra layer of flavor and visual appeal.
What can I use instead of collagen to make it vegetarian?
You can use egg white protein powder or whey protein powder. Look for unsweetened or sugar-free options.
How To Make Creamy Keto Pumpkin Spice Latte
Prep the ingredients. Brew a cup of your favorite coffee. Separate the egg yolks from the whites. (Store the egg whites for another recipe.)
Blend everything. In a blender, combine the coffee, pumpkin puree (you can make your own), egg yolks, whipping cream, collagen, pumpkin pie spice (you can make your own), and sweetener. Blend until the mixture is smooth and frothy.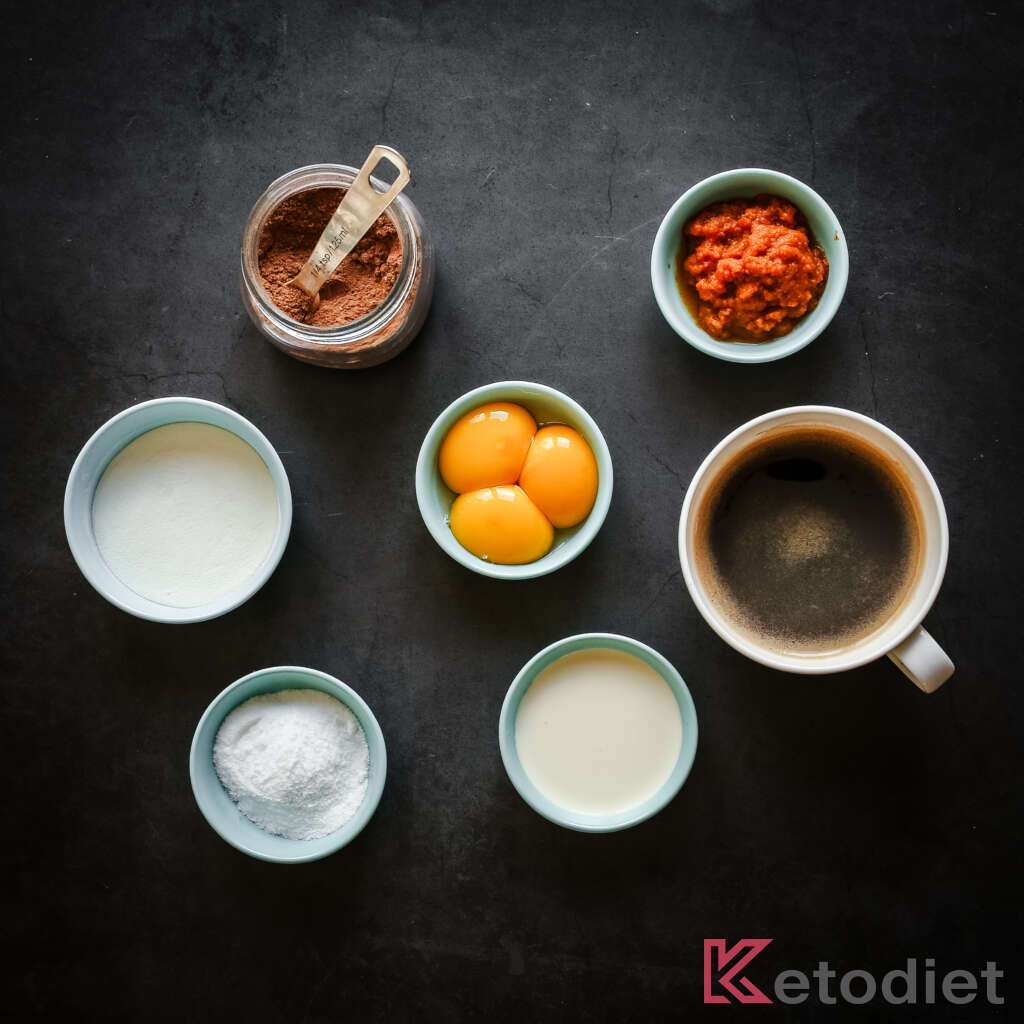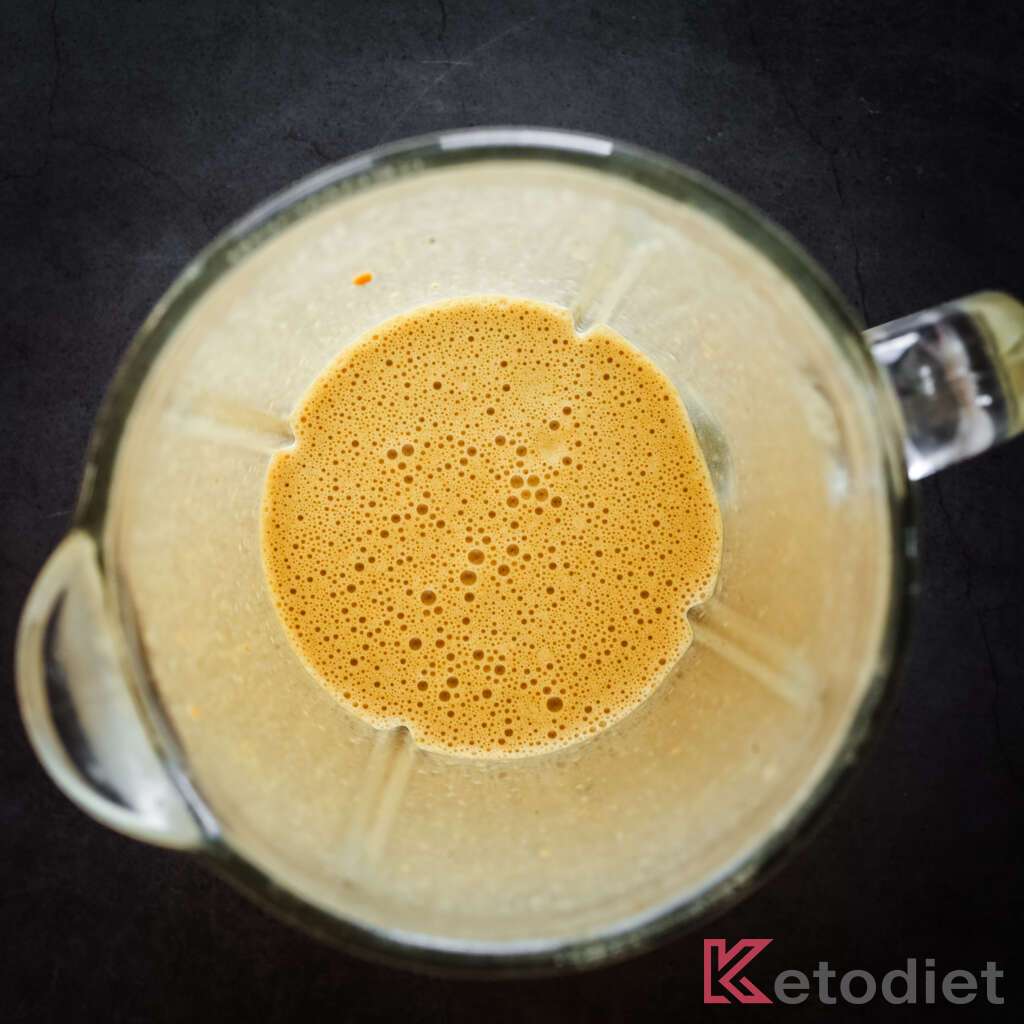 Serve. Pour into a mug, and if desired, top with whipped cream and a sprinkle of cinnamon. Enjoy!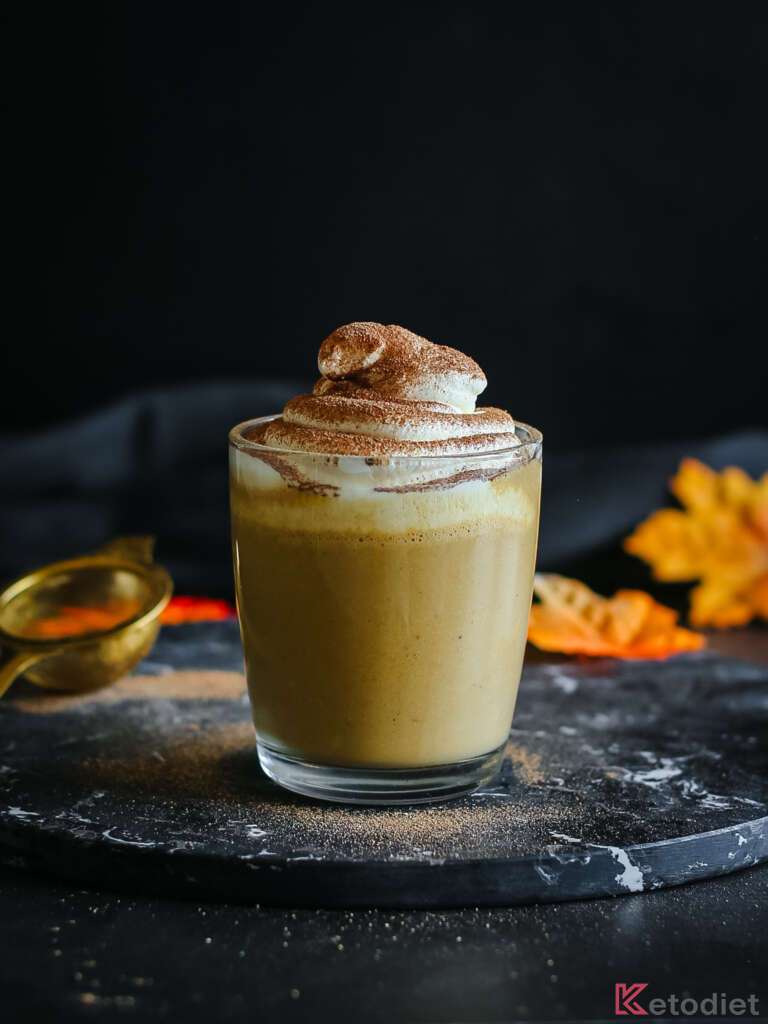 Raw Eggs: Food Safety Tips
Know your source. When using raw egg yolks in this recipe, it's essential to ensure they are safe for consumption. Opt for pasteurized eggs to minimize the risk of harmful bacteria. If you're in the UK, eggs stamped with the British Lion mark are another safe choice. If you're uncertain about the eggs you have, you can pasteurize them at home.
How to Pasteurize eggs at home: Place the eggs in water heated to about 140°F (60°C) and keep them submerged for about 3 minutes. This process should effectively kill any potential bacteria. After pasteurizing, let the eggs cool and store them in the fridge for 6-8 weeks.
Will the eggs cook in the hot coffee?
No worries here! The egg yolks blend smoothly into the coffee, making it creamy without any scrambled bits.
Can I turn this creamy pumpkin spice latte into a classic latte?
Absolutely! If this coffee is too creamy for you, add about ½ cup (120 ml) of hot water or milk to lighten it up.
How does this differ from Bulletproof or Butter Coffee?
This recipe incorporates egg yolks and pumpkin puree, giving it a distinct flavor and texture compared to the more traditional butter or Bulletproof coffee.
Tools for This PSL Recipe
Blender: Essential for combining your ingredients quickly and getting that perfect pesto texture.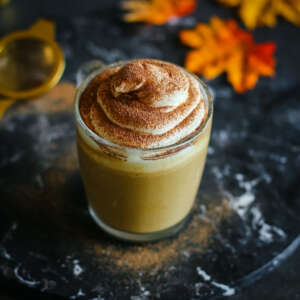 Low-Carb Creamy Pumpkin Spice Latte
Ditch your usual seasonal favorite from coffee chains and embrace this creamy egg-infused pumpkin spice coffee. It's richer, healthier, and offers a taste that's far superior to any Starbucks pumpkin spice latte.
Print
Pin
Rate
Ingredients
1

cup

coffee

(hot brewed)

2

tbsp

pumpkin puree

2

tbsp

cream

(heavy whipping )

3

large egg yolks

1

tbsp

collagen powder

(or protein powder of choice)

1/4

tsp

pumpkin pie spice mix

(or more to taste)

1

tbsp

low-carb sweetener

(Allulose, Erythritol or Swerve)

whipped cream and cinnamon on top

(optional)
Instructions
Prepare the coffee. Place all of the ingredients in a blender.

Blend until smooth and frothy, for 15 to 20 seconds. If needed, add more pumpkin pie spice and/or sweetener. Optionally, if you don't want your coffee too thick and creamy, you can add ¼ to ½ cup (60 ml to 120 ml) of hot almond milk.

Serve immediately. Optionally, add some whipped cream on top and sprinkle with cinnamon, or grated dark chocolate.
Nutrition
Calories:
316
kcal
Net Carbs:
5.4
g
Carbohydrates:
6.8
g
Protein:
15.4
g
Fat:
25.1
g
Saturated Fat:
12.2
g
Sodium:
56
mg
Magnesium:
23
mg
Potassium:
280
mg
Fiber:
1.4
g
Sugar:
2.9
g
Notes
Serving Size: 1 glass/mug.
Caffeine-Free Version: Opt for Swiss water process decaf coffee, black tea, or your favorite herbal tea.
Vegetarian Option: Use whey protein isolate or egg white protein powder.
Collagen Boost: Add more collagen powder for added protein. Ensure you're using collagen powder and not regular gelatin to avoid clumping.
Latte Lovers: For a less creamy texture, add ¼ to ½ cup of hot unsweetened almond or cashew milk.
Related Posts