Table of Contents
If you're on the hunt for a dessert that fits into your low-carb lifestyle, this Low-Carb Basque Burnt Cheesecake is just the ticket. It's a creamy, melt-in-your-mouth treat that's as easy to make as it is delicious. Forget about fussy baking techniques; this rustic, crustless cheesecake is all about simplicity and flavor.
Ever tried a cheesecake that's meant to look beautifully browned? That's the charm of a traditional Basque Cheesecake, and this keto-friendly version doesn't miss a beat. With a few smart swaps, you get all the rich, caramelized goodness of the original without the carbs weighing you down. It's a breeze to whip up, and even if you're new to the idea of a "burnt" dessert, I'm betting this one will win you over in no time.
Low-Carb Burnt Basque Cheesecake: Why You'll Love it
Keto-Friendly: This cheesecake fits right into your low-carb diet.
Easy to Make: No crust, no hassle – just mix, bake, and enjoy.
Rich and Creamy: Indulge in the creamy, rich texture with every bite.
Perfectly Caramelized: That caramelized top brings a delicious twist to your dessert game.
Customizable: Swap in your favorite sweeteners or toppings to make it your own.
What is Basque Burnt Cheesecake?
Basque Burnt Cheesecake is a crustless dessert from Spain's Basque region, famous for its caramelized exterior and creamy inside. It's baked at high heat to achieve a rich, toasted flavor that contrasts with its smooth, soft center—a straightforward yet sophisticated treat.
Ingredients & Substitutions
Heads up: For exact measurements, see the recipe card below.
Whipping up this Basque Burnt Cheesecake is a breeze, and all you need are a handful of simple ingredients that come together to create something truly special. Here's what you'll be using:
Full-fat cream cheese: The star of the show, giving the cheesecake its classic rich and creamy texture.
Heavy whipping cream: Adds smoothness and body, making each slice luxuriously dense.
Low-carb sweetener: They keep things sweet without the carbs. Ideally, use granulated Allulose as it's the only sweetener that will caramelize beautifully for that perfect top.
Eggs: They bind everything together and give the cheesecake its characteristic custard-like consistency.
Coconut flour: A low-carb alternative to traditional flour, it helps thicken the batter without adding extra carbs.
Vanilla extract: For that hint of warm, aromatic flavor.
Sea salt: Just a pinch to enhance all the flavors and balance the sweetness.
Butter or coconut oil: For greasing the pan, ensuring your cheesecake doesn't stick and comes out looking as good as it tastes.
Can I use a different sweetener if I don't have Allulose?
Absolutely! While Allulose is great for caramelization, and the best option to use, erythritol or Swerve are excellent substitutes that still keep the recipe low-carb and provide a similar sweetness.
What can I use instead of coconut flour?
Almond flour can be used in place of coconut flour. Use about ⅔ to ¾ cup of almond flour for every 3 tablespoons of coconut flour called for in the recipe.
How To Make Low-Carb Basque Burnt Cheesecake
Creating this low-carb Basque Burnt Cheesecake is straightforward. Here's how to bring this delicious dessert to life in your kitchen:
Prep Your Pan. Start by greasing an 8-inch (20 cm) springform pan with butter or coconut oil. Then, line it with parchment paper, making sure the edges of the paper extend above the pan's sides. The grease will help the paper stick to the pan and make it easier to remove the cheesecake after baking.
Mix the Ingredients. In a large mixing bowl, combine the full-fat cream cheese, heavy whipping cream, your choice of low-carb sweetener, eggs, vanilla extract, and a pinch of sea salt. Use an electric mixer to blend until the mixture is smooth and creamy. Finally, fold in the coconut flour until just combined.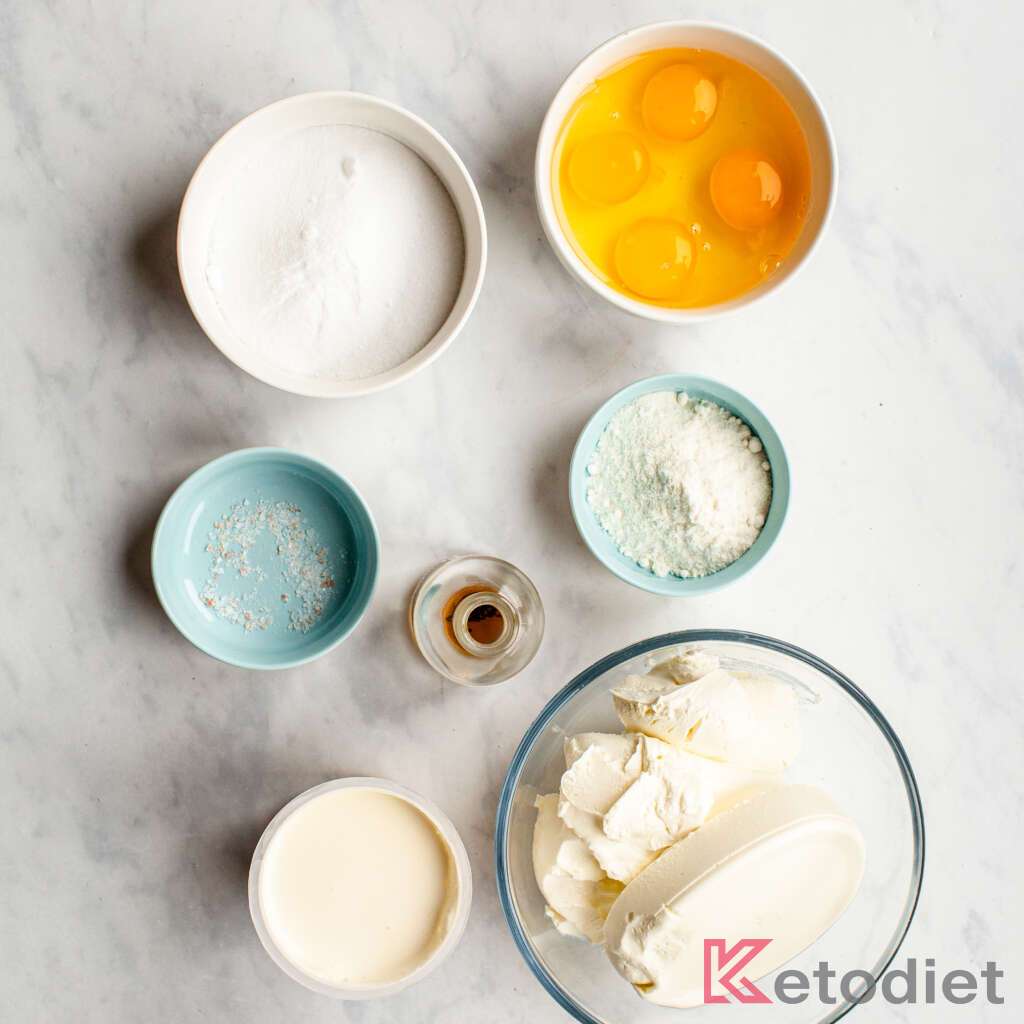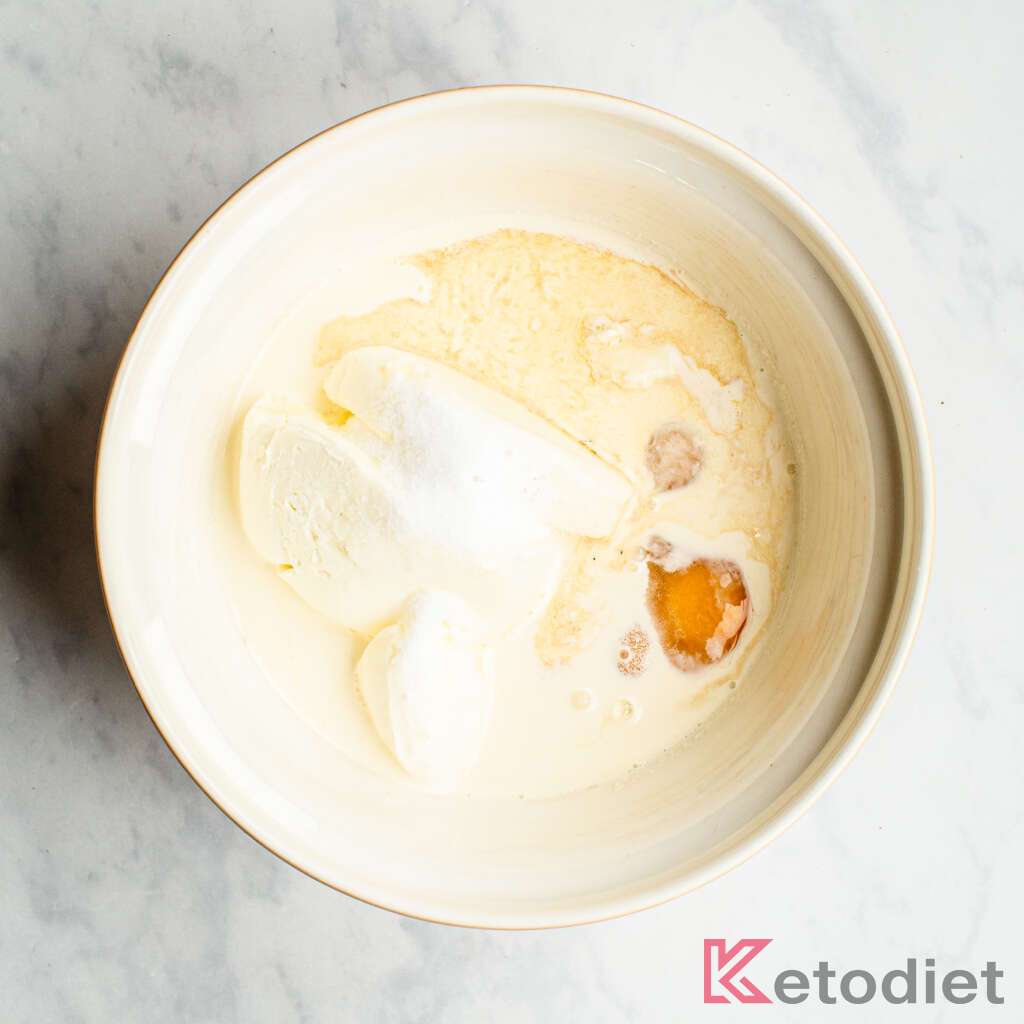 Bake the Cheesecake. Pour the cheesecake batter into your prepared pan. Smooth the top with a spatula and give the pan a gentle tap to remove any air bubbles. Place the pan in a preheated oven at 400°F (200°C) if you're using a fan-assisted oven, or 425°F (220°C) for conventional settings. Bake for 45 to 60 minutes until the top is a deep golden brown and the cheesecake is set but still slightly jiggly in the center.
Cool and Serve. Once baked, remove the cheesecake from the oven and let it cool to room temperature. The cheesecake will sink slightly, creating a beautiful rustic appearance. When ready to serve, release the springform and gently peel away the parchment paper. Slice and enjoy!
Remember, the goal is to achieve that signature caramelized top, so don't be afraid if it looks darker than your usual cheesecake—it's all part of the charm!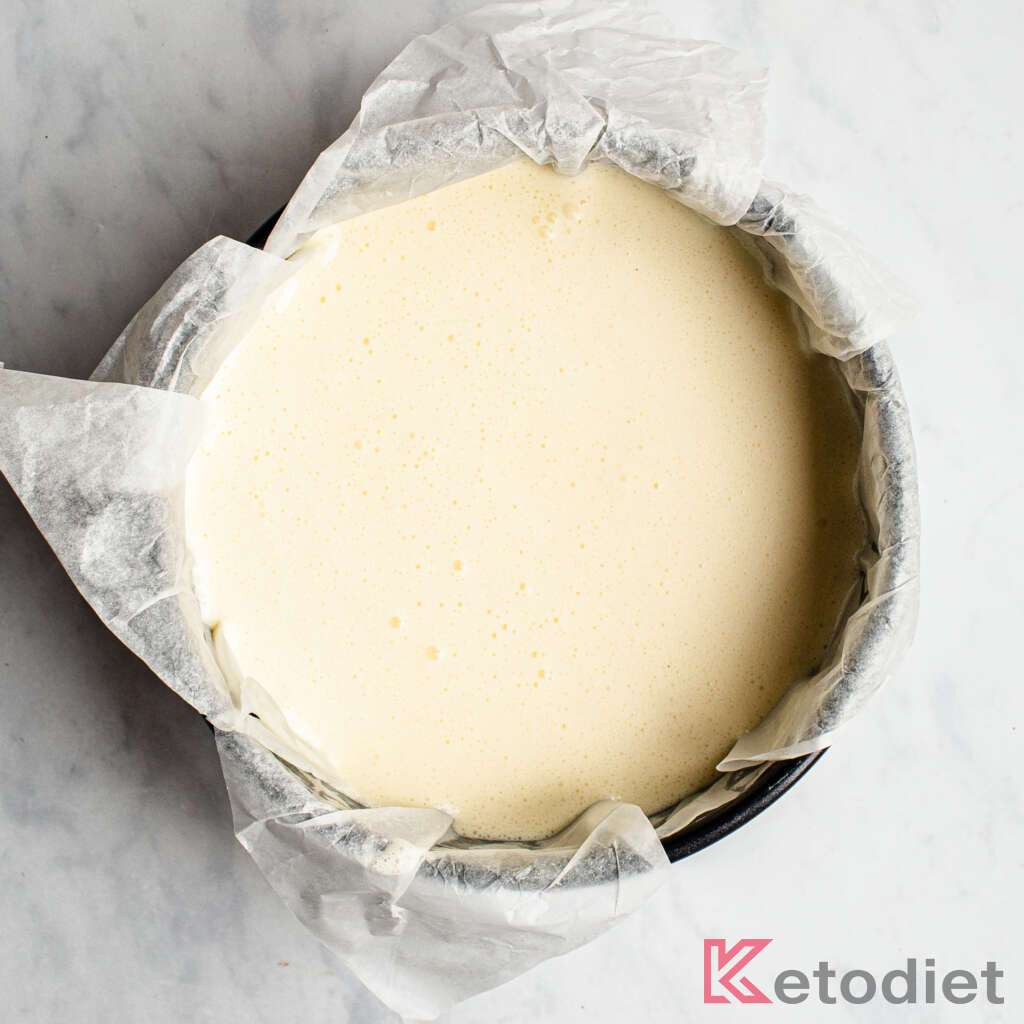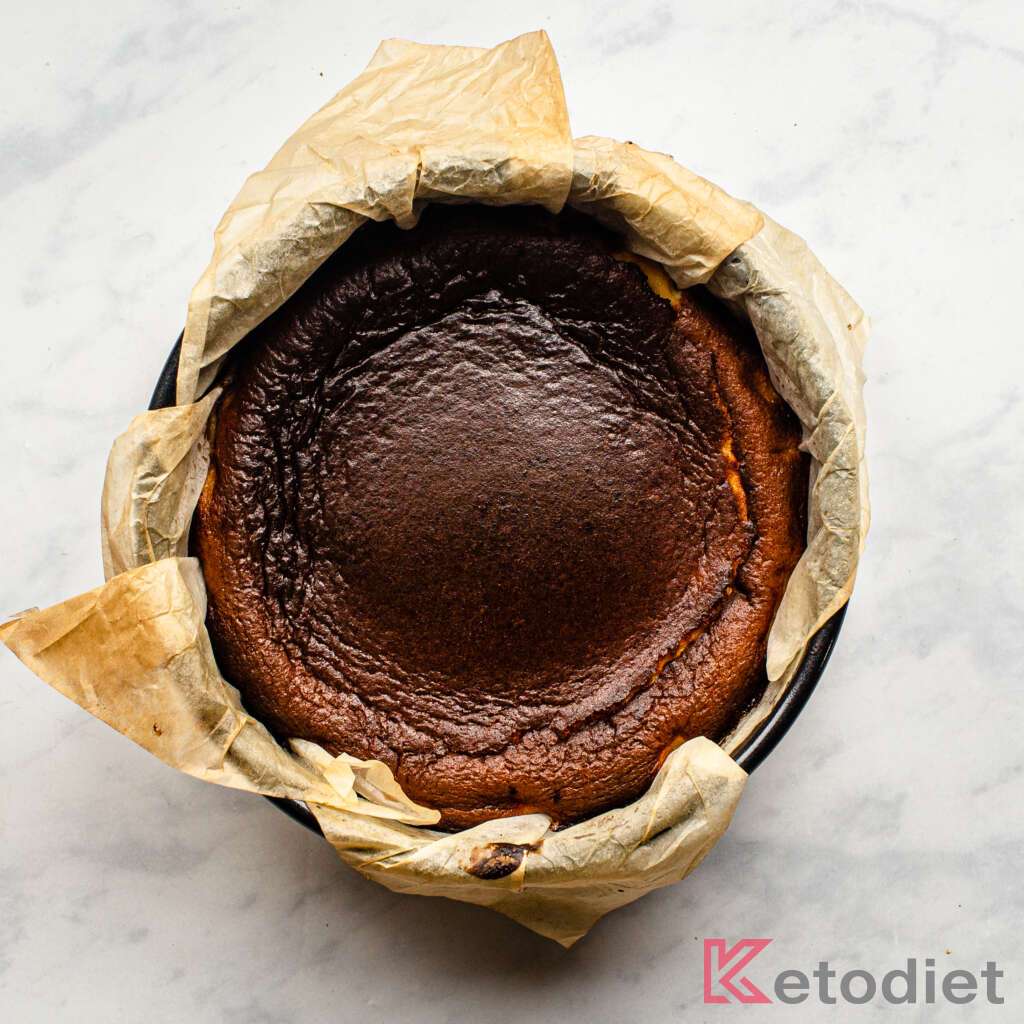 Tips for the Best Low-Carb Burnt Basque Cheesecake
Before you dive into making this low-carb delicacy, keep these tips in mind for the best results:
Watch the Time: Baking time can make or break your cheesecake. Aim for that golden-brown top, but start checking at 45 minutes to avoid over-baking.
Room Temperature Ingredients: For the smoothest batter, make sure your cream cheese and eggs are at room temperature before mixing.
No Overmixing: Mix just until the ingredients are combined. Overmixing can incorporate too much air, leading to cracks.
The Jiggle is Good: Don't worry if the center of your cheesecake still wobbles a bit when you take it out of the oven. It will set as it cools.
Chill Before Serving: This cheesecake tastes best when it's had time to set. A few hours in the fridge will make it perfectly sliceable.
How to Convert This Recipe to Fit a 10-inch Pan
This recipe uses an 8-inch (20 cm) springform pan. If you have a 10-inch (25 cm) springform pan, use the following amounts and bake for 60 to 75 minutes:
2 lbs full-fat cream cheese (900 g)
2 cups heavy whipping cream (480 ml)
1 cup granulated Allulose, Erythritol or Swerve (200 g)
6 large eggs
1 tbsp sugar-free vanilla extract
4 tbsp coconut flour (32 g)
pinch of sea salt
1 tbsp unsalted butter for greasing (14 g)
Storage Instructions
How should I store the Basque Burnt Cheesecake?
Once the cheesecake has cooled to room temperature, cover it and store it in the refrigerator. It will keep well for up to 5 days.
Can I freeze Basque Burnt Cheesecake?
Yes, this cheesecake freezes beautifully. Wrap individual slices or the entire cheesecake in plastic wrap and then foil. It can be frozen for up to 2 months. Thaw in the fridge overnight before serving.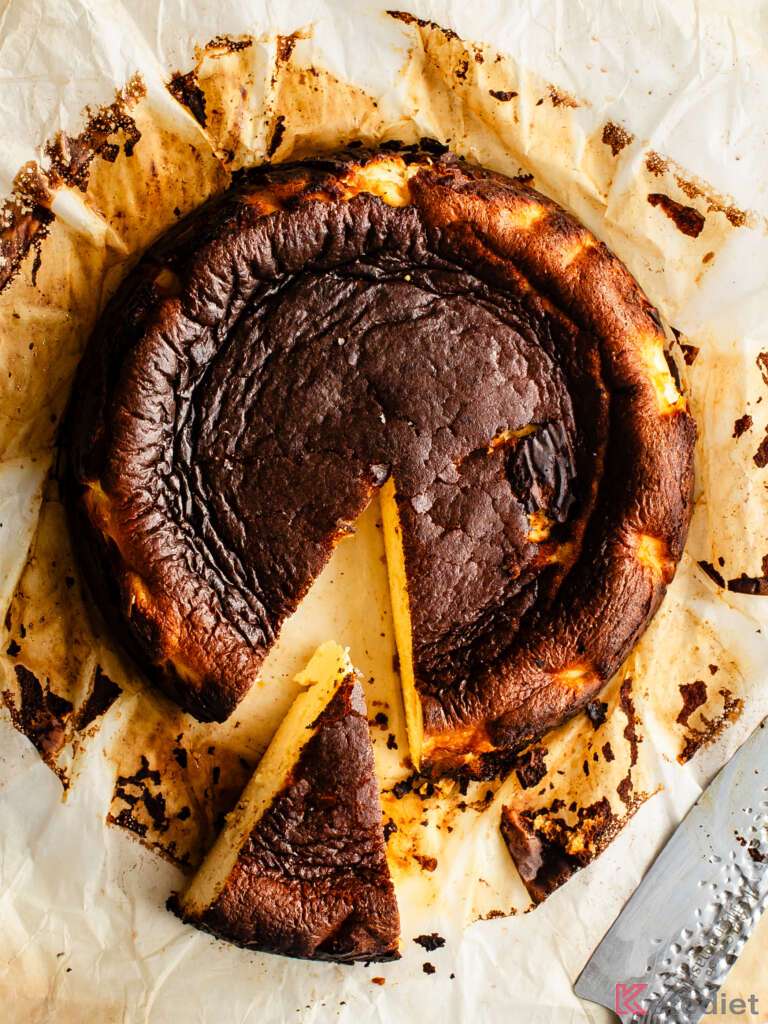 Tools for This Cheesecake Recipe
Springform Pan: An 8-inch (20 cm) springform pan, or a pan with removable bottom, are ideal for this recipe, allowing you to easily release the cheesecake once it's set without damaging its rustic look.
Electric Mixer: Whether it's a stand mixer or a hand mixer, you'll need this to blend your ingredients into a smooth, creamy filling with ease.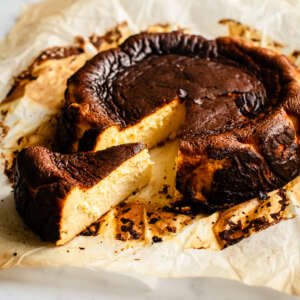 Low-Carb Basque Burnt Cheesecake
Whip up this Low-Carb Burnt Basque Cheesecake for a keto-friendly dessert that doesn't skimp on flavor. Crustless, creamy, and effortlessly caramelized – it's an instant favorite.
Print
Pin
Rate
Ingredients
1.3

lbs

cream cheese

(full-fat )

1 ¼

cups

cream

(heavy whipping )

¾

cup

granulated Allulose

(or Erythritol or Swerve)

4

large eggs

2

tsp

vanilla extract

(sugar-free )

pinch

of sea salt

3

tbsp

coconut flour

1

tbsp

butter

(or coconut oil for greasing)
Instructions
Set your oven to

400

°F

(

200

°C

), or

425

°F

(

220

°C

). Grease your 8-inch (20 cm) springform pan with butter or coconut oil, line with parchment paper, and set aside.

In a large bowl, add cream cheese, heavy whipping cream, sweetener, eggs, vanilla extract, and a pinch of sea salt. Blend with an electric mixer until you achieve a smooth consistency.

Sprinkle in coconut flour and blend again until just combined. Be careful not to overmix.

Pour the batter into the prepared pan. Gently tap the pan on the counter to remove any air bubbles. Place in the oven and bake for

45 to 60 minutes

, until the top is caramelized and the center has a slight jiggle.

Remove from the oven and let it cool at room temperature. The center will sink slightly as it cools, forming a dip with a raised edge.

Once cooled, release the springform clasp, remove the cheesecake, and gently peel off the parchment paper. Slice into portions and serve. For the best flavor and texture, let the cheesecake come to room temperature before enjoying.
Nutrition
Calories:
249
kcal
Net Carbs:
3.2
g
Carbohydrates:
3.7
g
Protein:
6.4
g
Fat:
25.4
g
Saturated Fat:
15.9
g
Sodium:
194
mg
Magnesium:
8
mg
Potassium:
106
mg
Fiber:
0.5
g
Sugar:
3.1
g
Notes
Serving Size: 1 slice.
Serving Suggestion: Let it set completely in the pan before slicing. Serve at room temperature for the best flavor profile.
Ingredient Temperatures: For a smooth cheesecake, use room temperature cream cheese and eggs to avoid lumps.
Sweetener Selection: Allulose is preferred for a deeper caramelization, but erythritol or Swerve are fine alternatives.
Don't Overmix: Mix until just combined to prevent cracks.
Baking Watch: Keep an eye on your cheesecake after 45 minutes to avoid over-browning.
Cooling Patience: Let it cool at room temperature before refrigerating to maintain the texture.
Storage: Keep refrigerated in an airtight container for up to 5 days, or wrap and freeze for up to two months. Thaw in the fridge overnight before serving.
Related Posts