Table of Contents
Get ready to cozy up with our Low-Carb Mulled Wine, a perfect fit for your keto lifestyle this winter season. Imagine sipping on a mug full of warm, spiced wine with a hint of orange and cranberry – all the festive flavors you love, minus the sugar! This recipe is not just easy to whip up, but also a guilt-free way to enjoy your holiday evenings. Whether you're hosting a get-together or just treating yourself, this mulled wine is a must-try for a chilly night in.
Why You'll Love This Low-Carb Mulled Wine
Keto-Friendly: Perfect for low-carb holiday menu.
Easy & Quick: Simple steps, ready in minutes.
Rich Flavor: Warm spices and citrus blend beautifully.
No Sugar Rush: Naturally sweetened, guilt-free.
Customizable: Adjust to your taste easily.
Ingredients & Substitutions
Heads up: For exact measurements, see the recipe card below.
Making this Low-Carb Mulled Wine is a breeze, and you only need a handful of ingredients to create this festive drink. Here's what you'll need:
Dry Red Wine: Forms the rich, robust base of the mulled wine (Merlot recommended).
Orange Wedges: Adds a fresh, citrusy aroma and subtle sweetness.
Cranberries: Bring a slight tartness and festive color.
Cloves, Cinnamon Sticks, and Star Anise: These spices are key for that classic mulled wine warmth and aroma.
Low-Carb Sweetener: Provides a sugar-free sweetness without the carbs.
Can I use a different type of wine besides Merlot?
Absolutely! While Merlot is recommended for its rich flavor, feel free to use any dry red wine you prefer. Cabernet Sauvignon or Pinot Noir can also work well, giving slightly different but equally delicious results.
Can I make this with different spices?
es, you can customize the spices to your liking. While cloves, cinnamon, and star anise are traditional, adding a bit of nutmeg or a few cardamom pods can introduce a unique twist to your mulled wine. Experiment to find your perfect spice blend!
What low-carb sweetener can I use?
Allulose is a fantastic first choice for a natural, low-carb sweetener that blends well in mulled wine. If you don't have allulose, other keto-friendly options like monk fruit sweetener or stevia are excellent alternatives. Just remember to adjust the amount based on how sweet you like your wine, as the sweetness intensity can vary between different sweeteners.
How To Make Low-Carb Mulled Wine
Prepare Your Ingredients. Start by gathering all your ingredients. Slice half an orange into wedges and measure out your cranberries, spices, and low-carb sweetener. Having everything ready will make the process smooth and enjoyable.
Combine Ingredients in the Pot. Next, pour the dry red wine into a medium-sized pot. Add the orange wedges and cranberries to the wine, followed by the cloves, cinnamon sticks, and star anise. The blend of fruit and spices will start to release their aromas, setting the stage for a delicious mulled wine.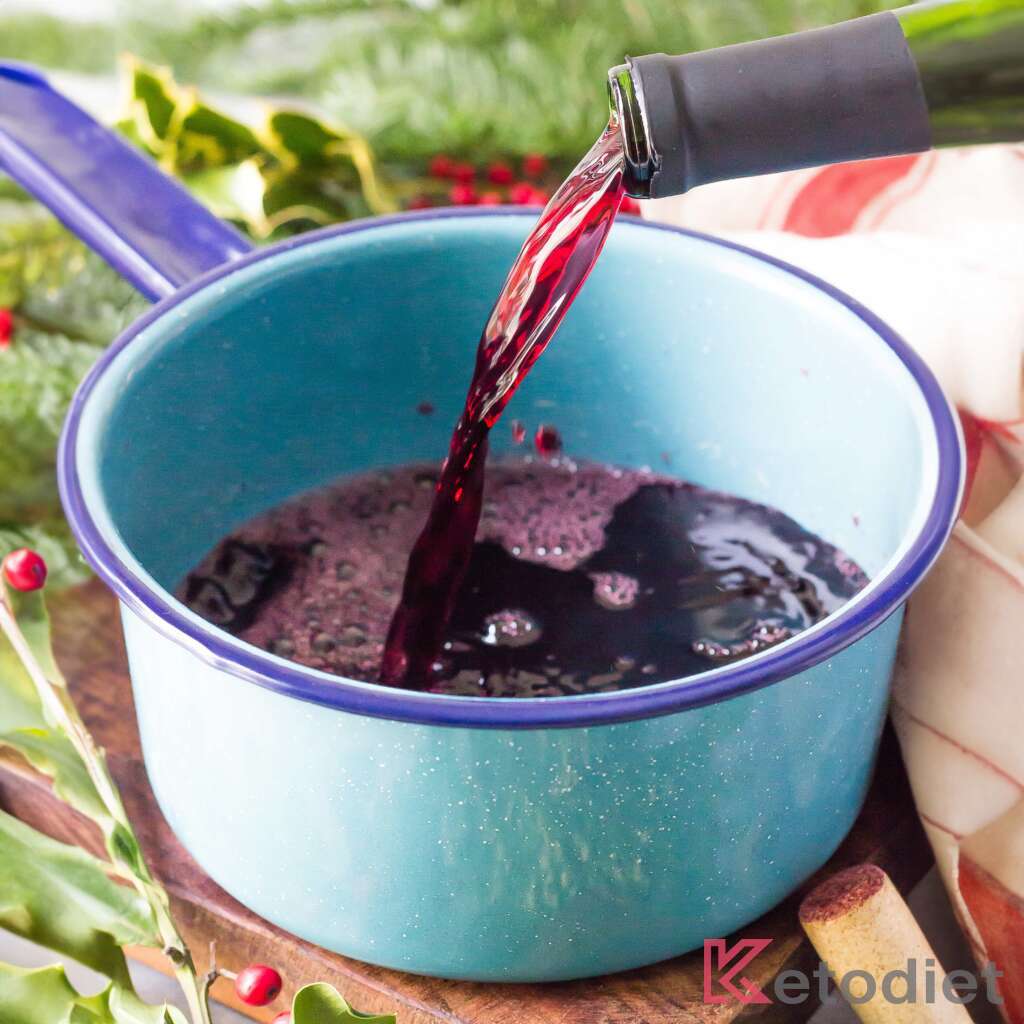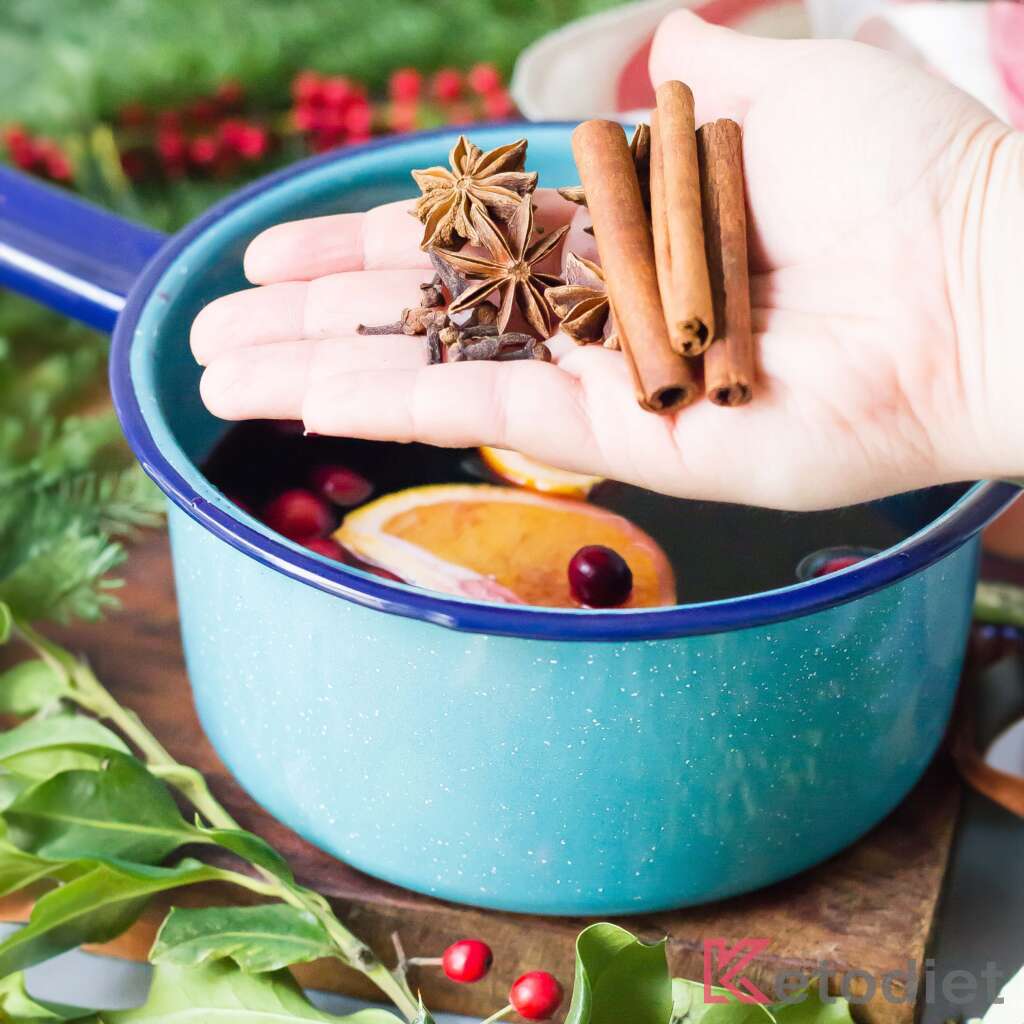 Add Sweetener and Simmer. Now, stir in your chosen low-carb sweetener, such as allulose, Erythritol, or Swerve. Bring the mixture to a gentle simmer over medium-low heat – not a boil, as we want to preserve the wine's flavors. Simmer for 10 to 15 minutes, allowing the spices and fruit to infuse the wine with their warm, festive flavors.
Strain and Serve. Finally, after simmering, strain the mulled wine into glasses or mugs, leaving behind the solid ingredients. Serve warm, ideally in a festive setting. Whether you're hosting a holiday party or simply enjoying a quiet evening, this sugar-free mulled wine is the perfect addition to your winter celebrations.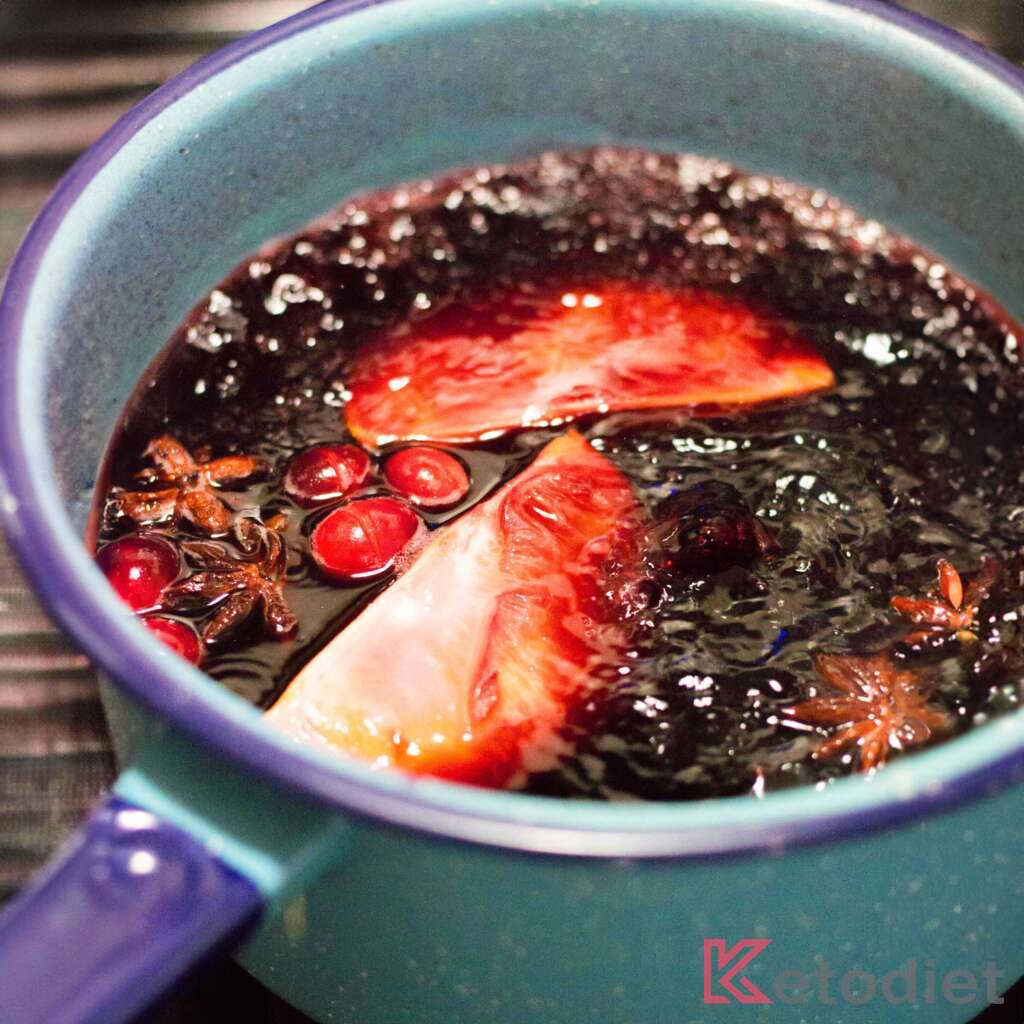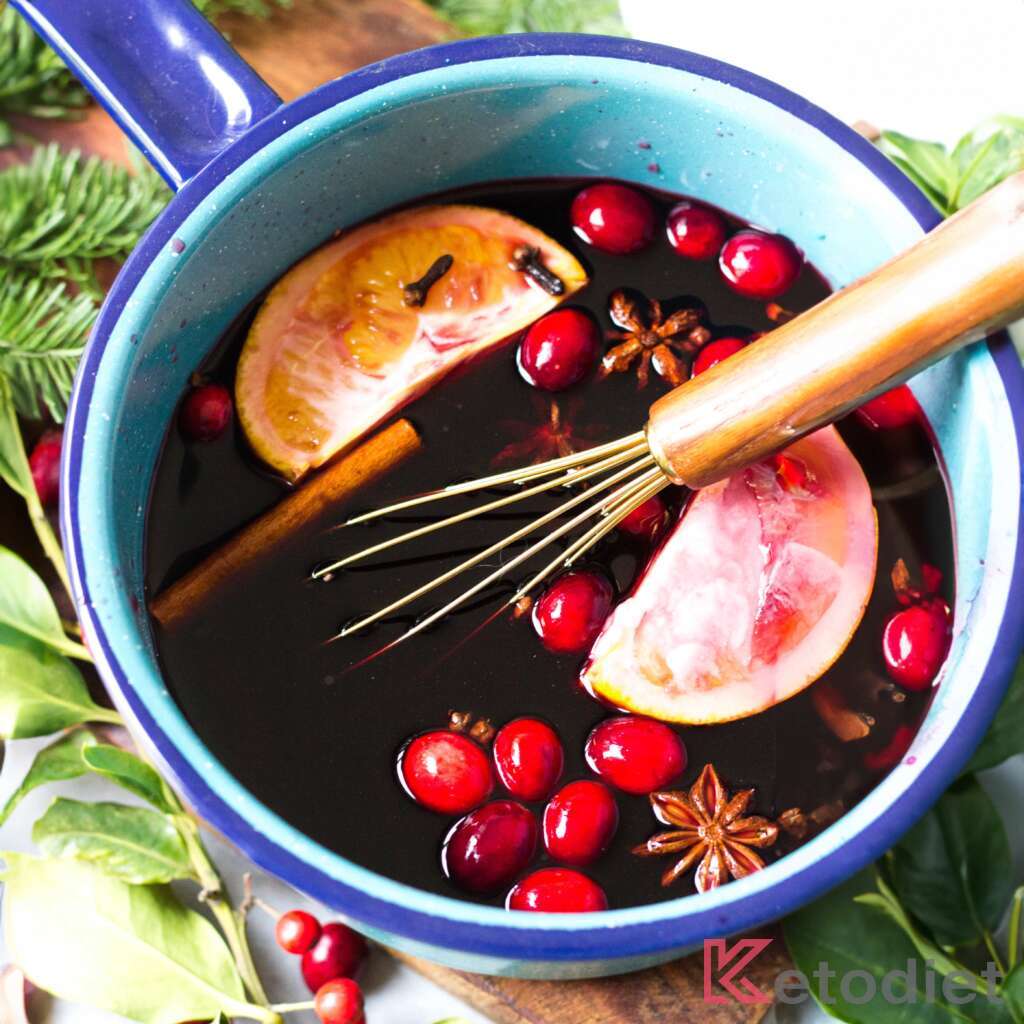 Tips for Best Low-Carb Mulled Wine
Gentle Heat is Key: To preserve the flavors and prevent alcohol from evaporating too quickly, simmer the wine on low heat. Avoid boiling to keep the delicate balance of flavors intact.
Quality of Wine Matters: Choose a good quality dry red wine that you enjoy drinking. The wine's flavor is the foundation of this mulled wine, so starting with a wine you like ensures a delicious end result.
Adjust Sweetness to Taste: While the recipe suggests a specific amount of low-carb sweetener, feel free to adjust according to your preference. Start with a smaller amount and add more if needed after tasting.
Experiment with Spices: While the classic spices are cinnamon, cloves, and star anise, don't hesitate to add a personal touch. A little nutmeg or a few cardamom pods can add an interesting twist.
Serve it Warm, Not Hot: Mulled wine is best enjoyed warm. Allowing it to cool slightly before serving enhances the flavors and makes it more pleasant to drink.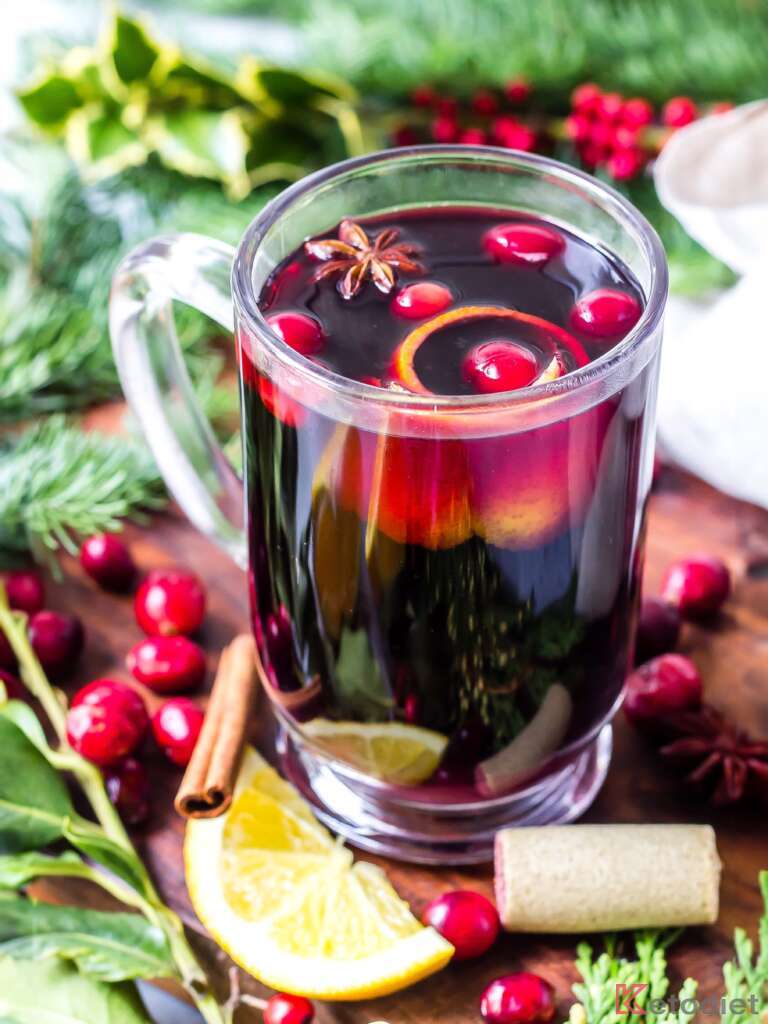 Is Mulled Wine Keto?
Mulled wine is a warm, spiced beverage made from red wine, often enjoyed in the winter. It combines aromatic spices like cinnamon, cloves, and star anise with a sweetener for a cozy, flavorful drink. Our sugar-free mulled wine uses a low-carb sweetener, making it a great choice for those on a keto diet.
Storage Instructions
Keep any leftover Low-Carb Mulled Wine in a sealed container in the fridge, where it will stay good for up to 3-4 days. To reheat, simply warm it gently on the stove, avoiding the microwave to preserve the flavors. Got any leftover mulled wine? Use it to make this delicious Mulled Wine Berry Jam!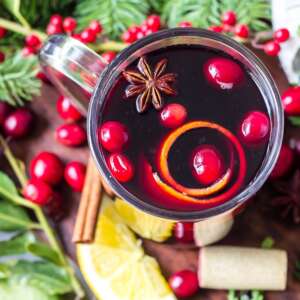 Low-Carb Mulled Wine
Get into the festive spirit with this low-carb, sugar-free mulled wine. Packed with spices like cinnamon and cloves, plus a hint of orange, it's a winter favorite that's both easy and quick to prepare.
Print
Pin
Rate
Ingredients
1

750 ml bottle dry red wine

(merlot works best)

½

orange

(organic, cut into wedges)

¼

cup

cranberries

(fresh or frozen)

8

cloves

3

cinnamon sticks

4

star anise pods

¼

cup

granulated low-carb sweetener

(such as Allulose)
Instructions
Pour 750 ml of dry red wine (like Merlot) into a medium pot.

Add the orange cut into wedges, and cranberries. Include cloves, cinnamon sticks, and star anise pods. Stir in the low-carb sweetener.

Bring the pot to a gentle simmer over medium-low heat for

10 to 15 minutes

, then strain into glasses and serve. Best enjoyed warm, but not too hot, to appreciate the flavors.
Nutrition
Calories:
126
kcal
Net Carbs:
4.2
g
Carbohydrates:
4.2
g
Protein:
0.1
g
Sodium:
6
mg
Magnesium:
18
mg
Potassium:
189
mg
Sugar:
0.9
g
Notes
Serving Size: 5 fl oz (150 ml) glass.
Wine Selection: A good quality dry red wine is essential for the best flavor.
Sweetness: Adjust the amount of sweetener according to your taste.
Storage: Store cooled mulled wine in the refrigerator for 3-4 days and reheat gently on the stove.
Related Posts