Table of Contents
Whether you're a busy parent, a health enthusiast, or just someone who loves good food, you'll find that making your own marinara sauce is a game-changer. This recipe calls for only a few basic ingredients, but the result is a rich and flavorful sauce that can be used in a multitude of dishes.
Why You'll Love This Marinara Sauce
Quick and Easy: Ready in just 5 minutes, and you don't even need to turn on the stove.
Healthy and Low-Carb: Free from added sugar, making it ideal for a low-carb lifestyle.
Packed Full of Flavor: Delicious pasta sauce made with fresh ingredients.
Versatile: Use it on as pizza sauce, with pasta, as a marinade or dip.
What is Marinara Sauce?
Marinara sauce is a quick and vibrant Italian tomato sauce flavored with garlic, onions, and fresh basil. Originating from Italy's coastal regions, it's named after 'marinaro,' meaning sailor. This versatile sauce is a cornerstone of Italian dishes, enhancing pasta, pizza, and more with its bright, herby taste.
Ingredients & Substitutions
Heads up: For exact measurements, see the recipe card below.
To make marinara sauce at home, you'll only need 5 main ingredients, plus oil and seasoning:
Tomatoes: Cherry tomatoes are ideal because they are packed with flavor but any tomatoes will work.
Basil: Fresh basil is a must.
Garlic: A key ingredient.
Shallot: Use shallots, or red, white or brown onions. No spring onions here.
Tomato paste: Make sure you use tomato paste and not passata sauce which is too thin. You want concentrated flavors!
Olive oil: Always extra virgin.
Salt and pepper: Use to taste!
Easy Substitutions
For the best flavor, use fresh garlic, but if necessary, jarred garlic is an adequate substitute. If shallots aren't available, red onions make a good alternative due to their similar sweetness. White and brown onions can also be used, though they're not as sweet but will still work in a pinch.
How To Make Marinara Sauce
Prepare Ingredients. Wash your tomatoes and basil, and peel and chop your shallots and garlic.
Blend. Add everything to a blender or food processor and pulse until your desired consistency is reached.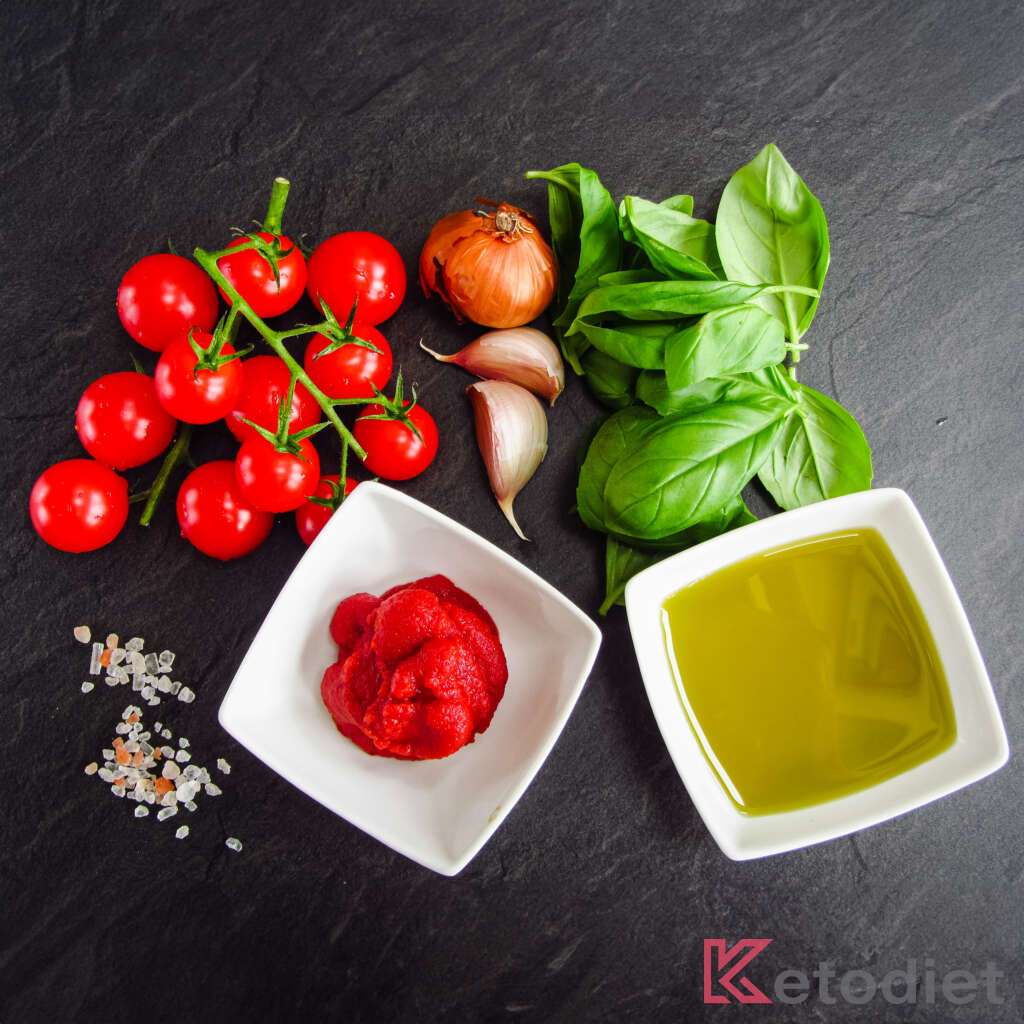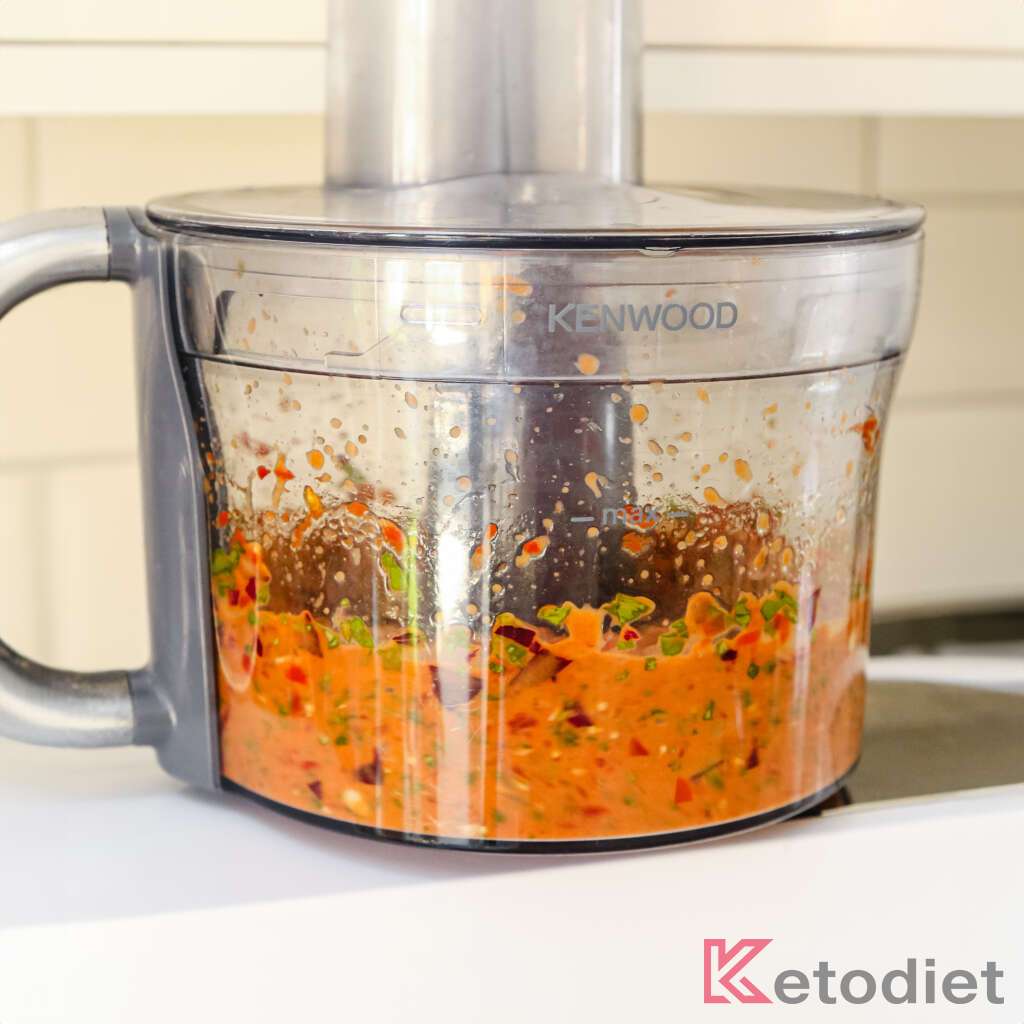 Serve or Store. The sauce is ready to serve immediately or you can store it for later use.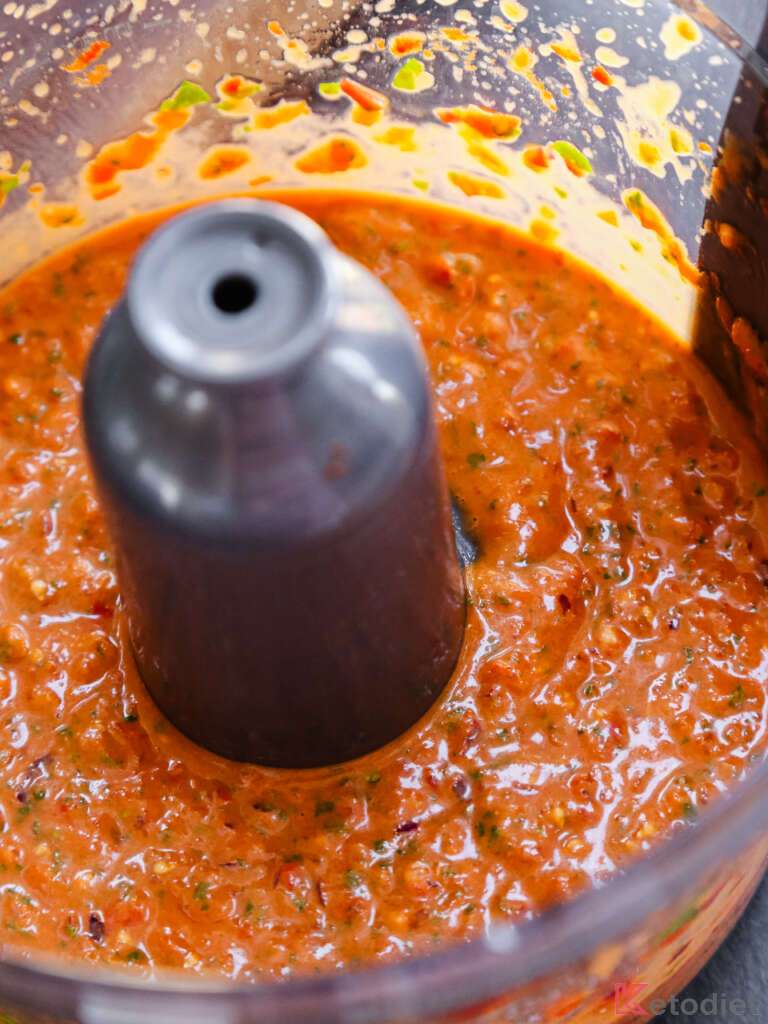 Tips for the Best Marinara Sauce
Quality Tomatoes: The foundation of any good marinara sauce is the tomatoes. Use the freshest cherry tomatoes you can find for a naturally sweet and robust flavor. If cherry tomatoes are not available, any ripe tomatoes will do, but consider adding a pinch of sweetener if they lack natural sweetness.
Fresh Herbs: Fresh basil is essential for that authentic Italian taste. It brings a bright and aromatic quality to your sauce that dried herbs can't match. Always opt for fresh over dried when possible.
Consistency Control: The texture of your sauce is personal. For a smoother sauce, blend thoroughly. If you prefer a rustic, chunkier texture, pulse briefly or hand-crush the tomatoes, and consider adding some finely diced ingredients after blending.
Balance the Flavors: A good marinara sauce has a balance of acidity, sweetness, and savory notes. Adjust these by adding a dash of sea salt or a sprinkle of pepper to taste. A small amount of sugar or a sugar substitute can balance excess acidity if needed.
Bonus Tip: No-Cook Versatility: Embrace the no-cook nature of this sauce by using it in dishes that don't require additional heating, like as a fresh dressing for a cold pasta salad or a vibrant dip for grilled vegetables. This preserves the fresh taste and nutrients of the raw ingredients.
Storage Instructions
How long will marinara sauce last?
If you're not using the sauce immediately, store it in the fridge in an airtight container for up to a week, topped with a thin layer of extra virgin olive oil. This helps preserve the freshness and prevent oxidation.
Can I freeze this marinara sauce?
Yes! The sauce can also be frozen for up to 3 months—just thaw overnight in the fridge before use.
How to Use Marinara Sauce
This Marinara Sauce is so versatile! Here are just some of the many ways you can use marinara:
Pasta Dishes: Toss it with al dente zoodles (zucchini noodles), spaghetti squash noodles, palmini noodles (made from hearts of palm), or shirataki noodles for a low-carb pasta dish.
Pizza Base: Spread it on a low-carb pizza crust before adding your favorite toppings and cheese.
Dipping Option: Serve it as a dip with a platter of fresh vegetables, cheese sticks, or low-carb breadsticks.
Stuffed Vegetables: Use it to enhance the flavor of stuffed bell peppers or stuffed mushrooms.
Protein Glaze: Spoon it over grilled or baked chicken, fish, or halloumi for added zest.
Egg-cellent Idea: Use as a base in these Breakfast Pizza Eggs, or it to shakshuka, the classic Middle Eastern dish of poached eggs in a spicy tomato sauce.
Meatball Dish: Pair it with homemade meatballs, either as a standalone dish or served over spaghetti squash.
Layer in Lasagna: Use it in layers of a low-carb lasagna, alternating with slices of zucchini, cheese, and meat.
Soup Starter: Kick-start a minestrone or Italian tomato soup by using the marinara sauce as a flavorful base.
Casserole Component: Mix it into a casserole with layers of roasted vegetables and cheese for a hearty meal.
Ratatouille Rendition: Incorporate it into a ratatouille for a touch of Italian flair in this French vegetable stew.
Savory Oats: Stir into savory oatmeal or cauliflower rice for a quick and nutritious meal.
Quick Marinade: Use it as a marinade for proteins before grilling or roasting to infuse them with Italian flavors.
Gratin Garnish: Drizzle atop a vegetable gratin before baking for a tomatoey crust.
Tools for This Marinara Sauce Recipe
Food Processor or Blender: Essential for combining your ingredients quickly and getting that perfect marinara sauce texture.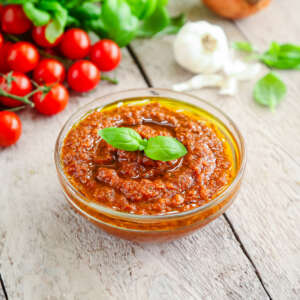 Marinara Sauce
This Marinara Sauce recipe is not only quick and easy but also packed with rich, authentic Italian flavors. Elevate your low-carb meals without any added sugar or unwanted ingredients. It's so simple to make, you won't believe it doesn't require any cooking!
Print
Pin
Rate
Ingredients
1

cup

cherry tomatoes

(or regular tomatoes, chopped)

1 cup fresh basil leaves

2

cloves

garlic

1

shallot

(or small onion)

4

tbsp

tomato paste

(unsweetened)

¼

cup

extra virgin olive oil

sea salt and ground pepper

(to taste)
Instructions
Wash and drain tomatoes and basil. Peel the onion and garlic.

Blend all ingredients until smooth in a food processor.

For a chunkier texture, set aside some tomatoes and basil to dice and add afterward.
Recipe Video
Nutrition
Calories:
101
kcal
Net Carbs:
2.7
g
Carbohydrates:
3.5
g
Protein:
0.7
g
Fat:
9.8
g
Sodium:
121
mg
Magnesium:
5
mg
Potassium:
81
mg
Fiber:
0.8
g
Sugar:
2
g
Notes
Serving Size:

¼

cup (60 ml).
Storage: Store in an airtight container in the fridge for up to a week or two weeks with a layer of olive oil.
Serving Suggestion: Great as pasta sauce with some Spaghetti Squash Noodles, pizza topping, marinade, or as a dip for veggies and crackers.
Related Posts