Table of Contents
Who says Brussels sprouts can't be the star of the show? Forget just steaming them — let's roast these little guys with a cheesy, pancetta-packed punch. Whether you're team sprout or still on the fence, this Roasted Brussels Sprouts recipe will make you think twice. It's all about turning the humble Brussels into a dish that gets everyone asking for seconds.
Ready to give your meal an upgrade? This Roasted Brussels Sprouts recipe is just the ticket. With an easy prep process, you're well on your way to a low-carb side that's packed with flavor. Add in the irresistible Swiss cheese and the satisfying crunch of pancetta, and you've got a dish that could very well steal the show. So, let's get those sprouts in the oven and onto your plate!
Why You'll Love These Roasted Brussels Sprouts
Low-Carb Side: Fits right into your healthy eating plan without skimping on flavor.
Unbelievably Cheesy: Every bite melts with the goodness of Swiss and cheddar cheese.
Crisp Pancetta Addition: Adds a savory crunch that elevates this dish from ordinary to extraordinary.
Easy Prep: Spend less time prepping and more time enjoying your meal.
Versatile Dish: Perfect for a regular weeknight or as a standout dish for special occasions.
Ingredients & Substitutions
Heads up: For exact measurements, see the recipe card below.
Putting this dish together is super easy — just a few basic ingredients and you're on your way to some serious yum. Grab these items and get ready for a side that'll have everyone talking:
Brussels Sprouts: The star of the show, bringing fiber, nutrients, and a satisfying bite.
Ghee or Butter: For sautéing to perfection, adding richness to every sprout.
Heavy Whipping Cream: It's all about creating that creamy texture that clings to the veggies.
Swiss Cheese: Melts beautifully for that stretchy, cheesy pull.
Cheddar Cheese: Adds a sharp, tangy depth to balance the creamy Swiss.
Cream Cheese: The secret to a silky, velvety sauce.
Garlic: Just a clove for that aromatic kick.
Pancetta or Bacon: For that irresistible salty crunch.
Salt and Pepper: Essential seasonings to enhance all the flavors.
Parsley (Optional): A sprinkle on top for a fresh, herbaceous finish.
With these ingredients on hand, you're all set to whip up a side that's as nutritious as it is delicious!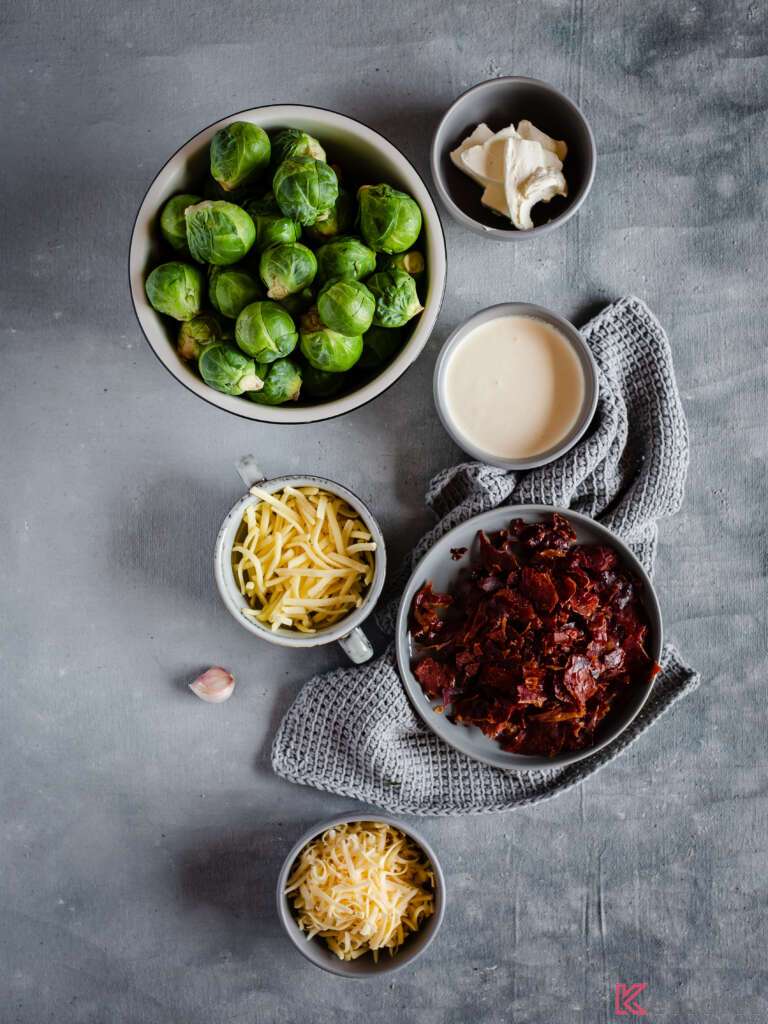 What can I use instead of Swiss cheese?
Got no Swiss cheese? No sweat. You can just switch it up with whatever melty cheese you've got. Mozzarella? Perfect for that gooey stretch. Provolone? It'll give you that nice tang. Basically, you're shooting for that super creamy, dreamy melt.
Can I make this without pancetta?
No pancetta? No problem. Swap in some diced smoked ham and you've still got that savory edge. If you're keeping it vegetarian, smoked almonds or seeds are great for a bit of crunch. And hey, if you're cutting back, turkey bacon is a fantastic lighter pick.
What if I'm all out of cream cheese?
If cream cheese is off the table, ricotta can step in to keep things creamy. Or, if you're in a pinch, a dollop of sour cream or Greek yogurt can do the trick — just add it towards the end of cooking to avoid curdling.
How To Make Roasted Brussels Sprouts
Crisp the Pancetta. Begin by laying out the pancetta strips on a baking rack. Pop them into a preheated oven at 355°F (180°C) for fan-assisted or 400°F (200°C) for conventional ovens. Let them sizzle for about 10 minutes until they reach a golden crispness. Remember, they'll crisp up even more as they cool, so don't let them go too fa
Cut the Brussels Sprouts. Depending on the size, cut the Brussels sprouts into halves or quarters.
Prep the Creamy Cheese Mixture. While the pancetta is doing its thing, grab a saucepan and combine the heavy whipping cream, cream cheese, and a pinch of salt and pepper. Warm it over medium heat just until the cheeses melt into the cream, creating a smooth, velvety sauce.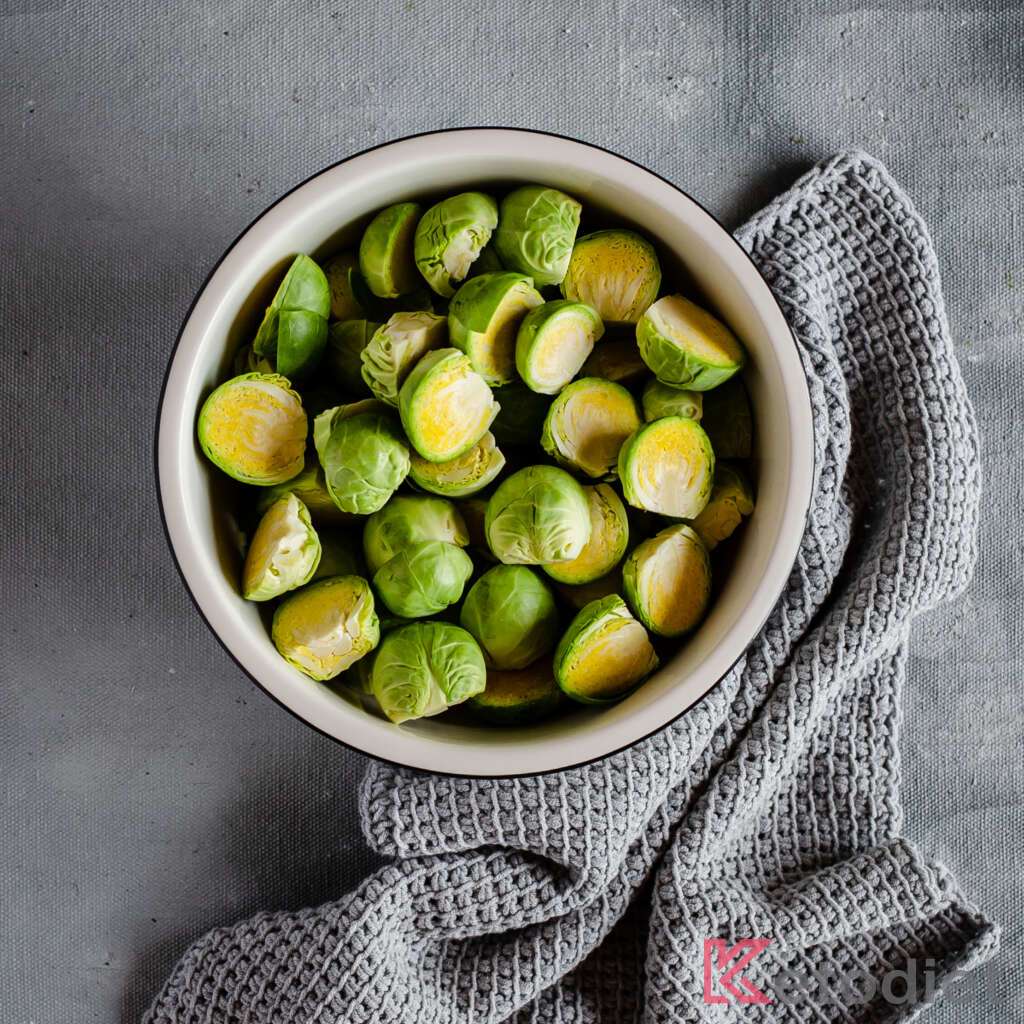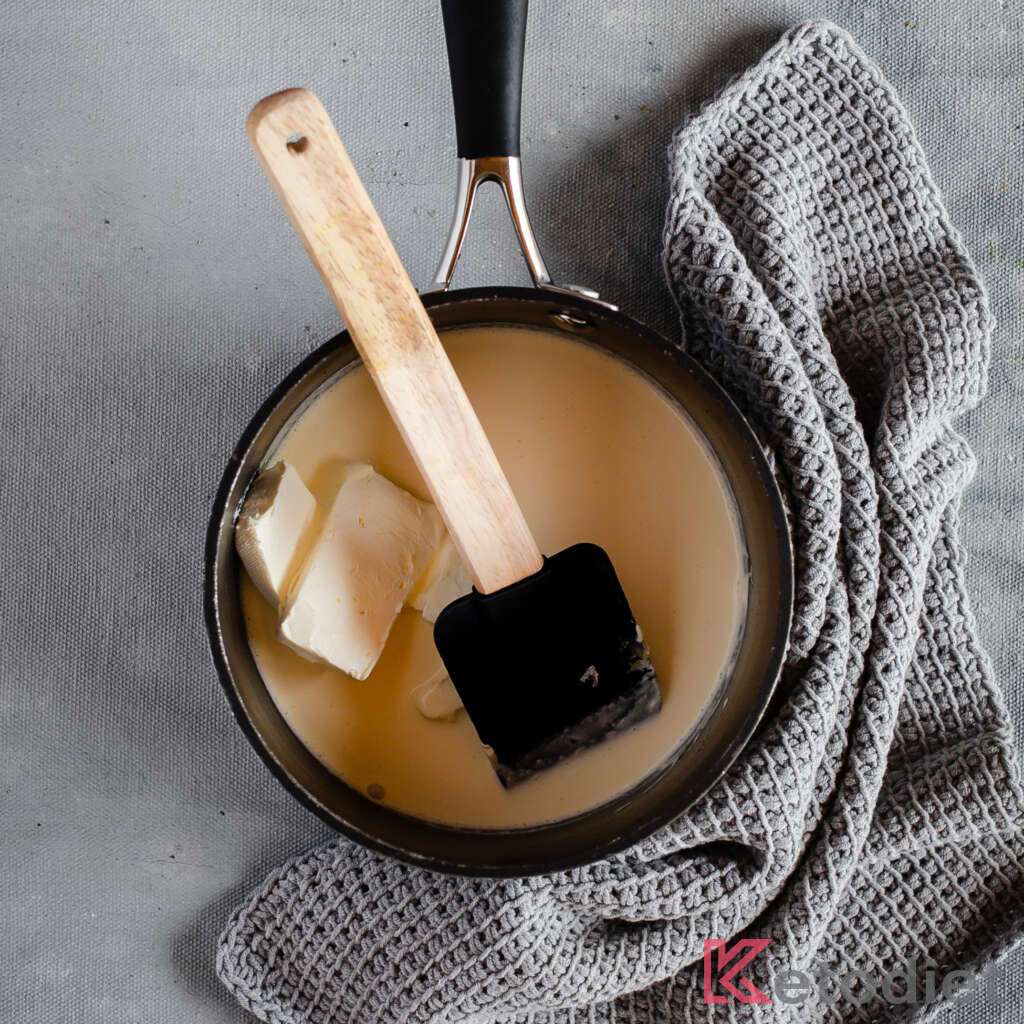 Sauté the Sprouts. Next, heat the ghee or butter in an oven-safe skillet over medium heat. Toss in the Brussels sprouts and minced garlic, and sauté them until they're tender but still have some bite. This is where the flavors start to marry!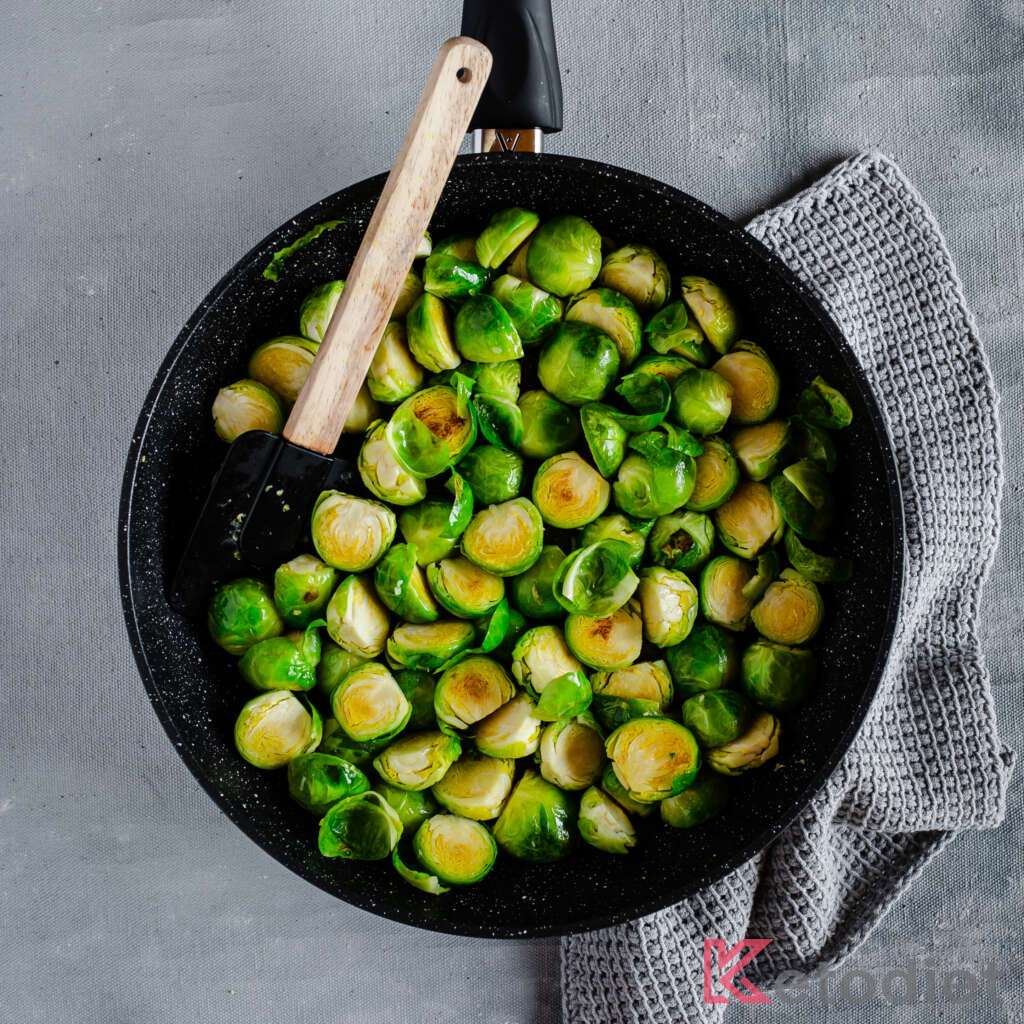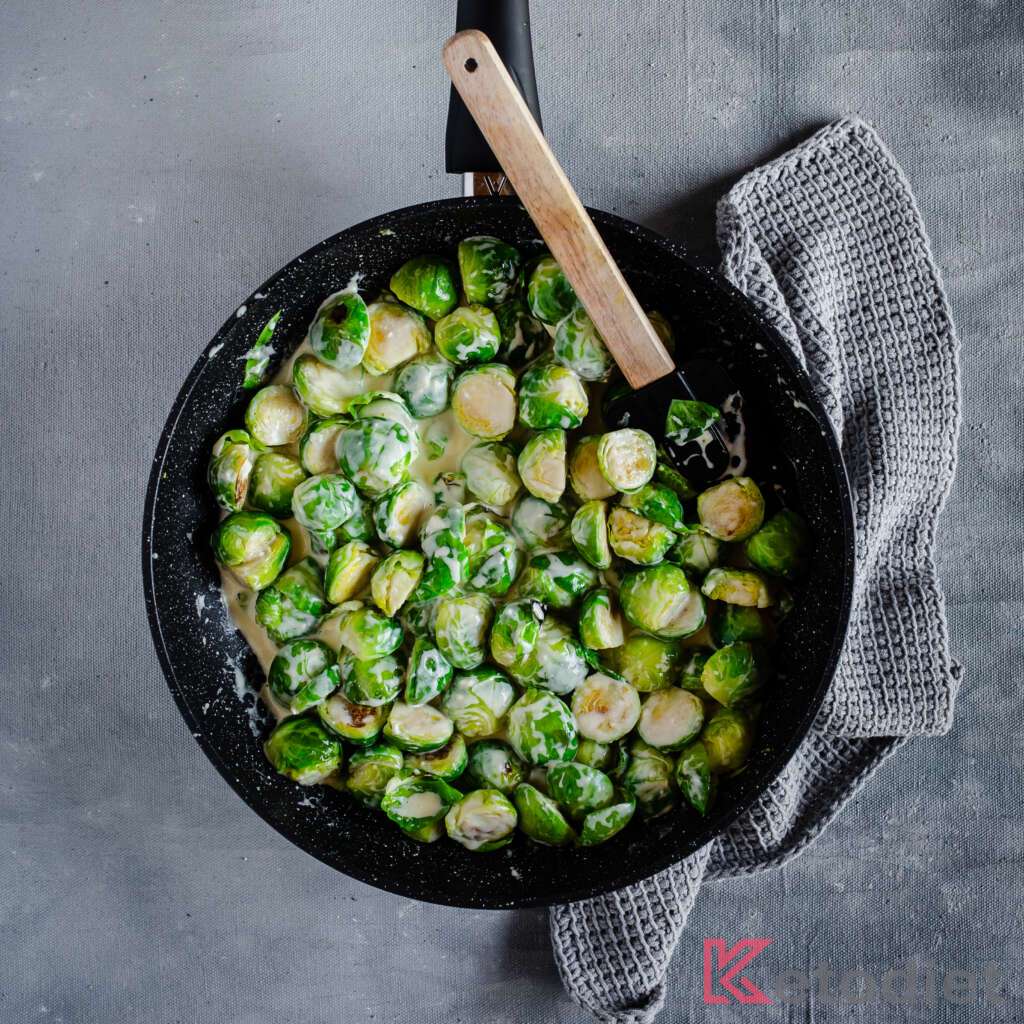 Combine and Bake. Preheat your oven to 375°F (190°C) for fan-assisted or 410°F (210°C) for conventional settings. Now, pour the creamy cheese sauce over the sprouts in the skillet. If it's looking a bit thick, splash in a couple of tablespoons of water to help everything soften up nicely. Fold in half of your crispy pancetta, and let the whole skillet dive into the oven for about 15 minutes, or until you see a golden cheesy crust form on top.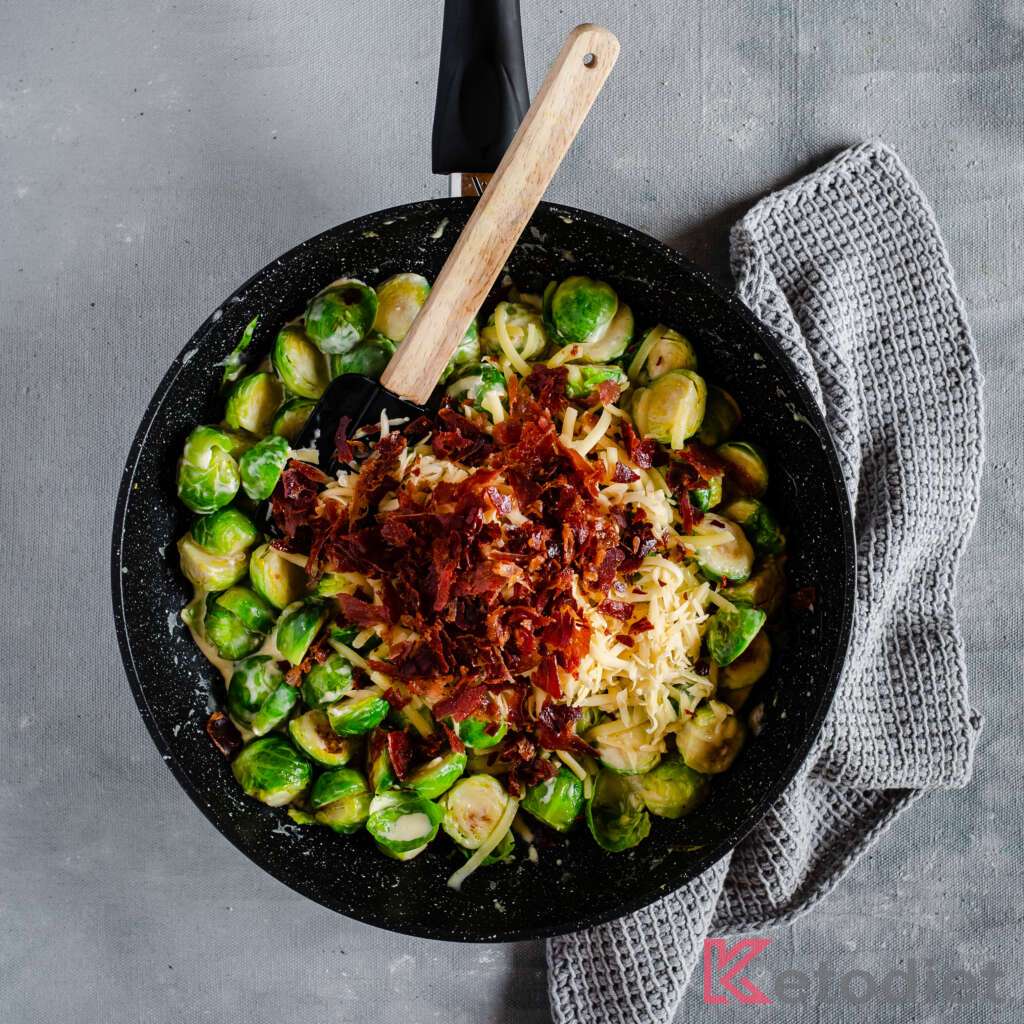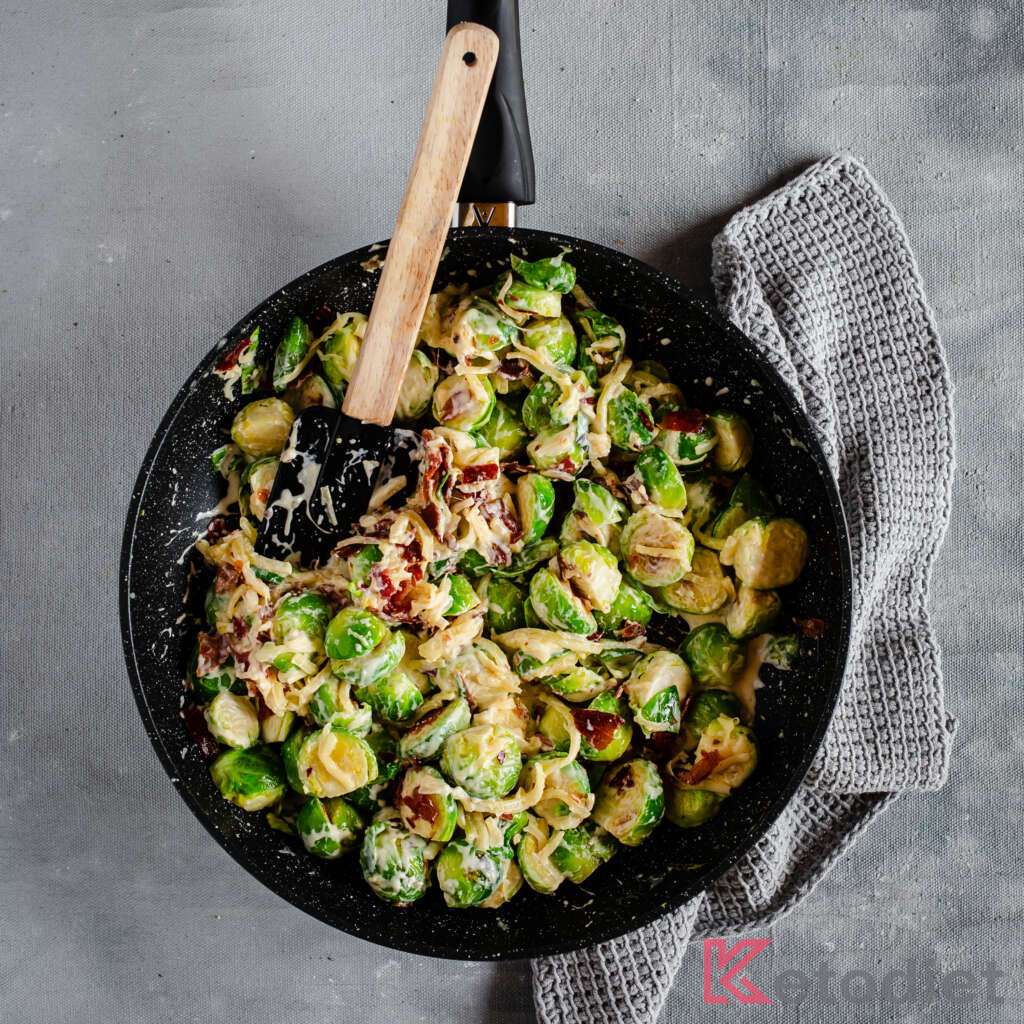 Garnish and Serve. Once out of the oven, give the dish some final flair by sprinkling over the remaining pancetta. If you've opted for parsley, now's the time to scatter those fresh herbs on top. Serve it warm and watch as it disappears from the plate!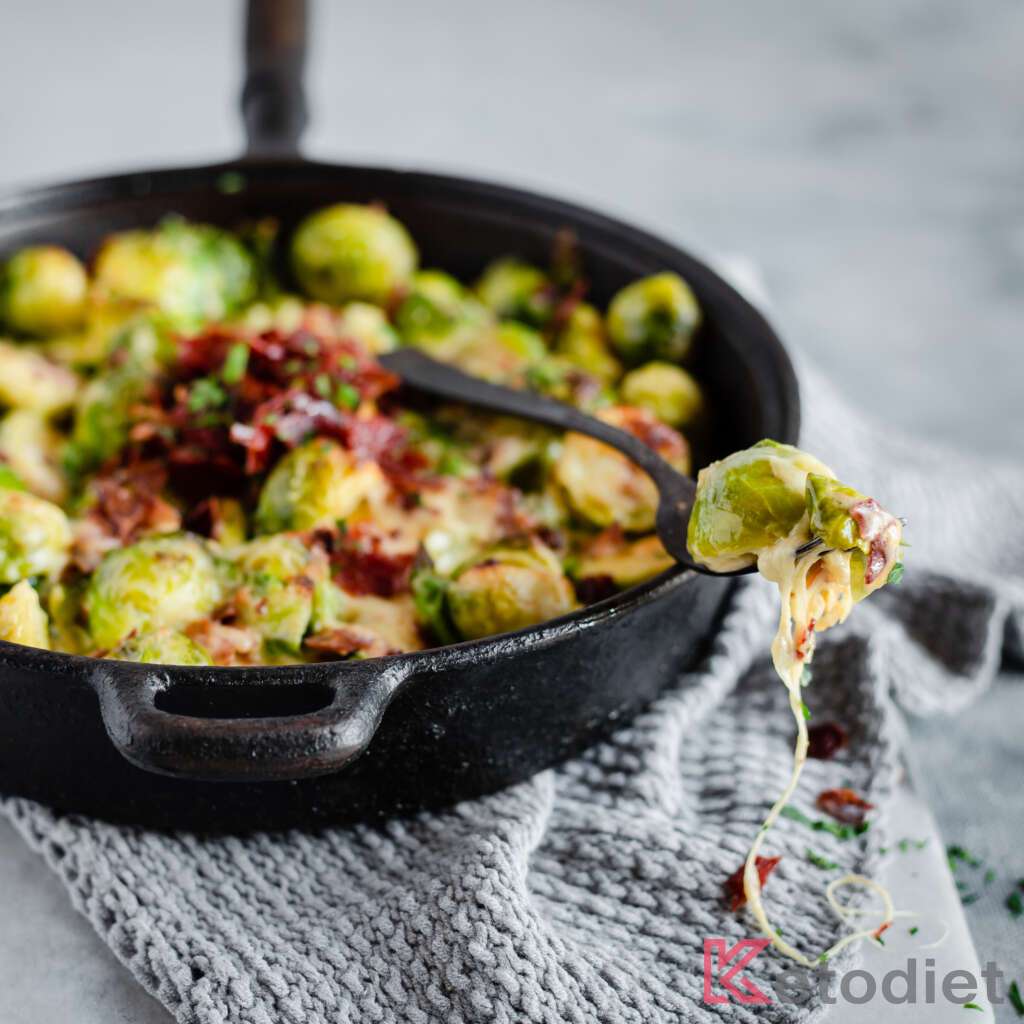 Tips for Best Roasted Brussels Sprouts
Making this dish a standout is all in the details. Here are a few tips to get it just right:
Sprout Selection Counts: Firstly, picking the right Brussels sprouts is key. Aim for even sizes to ensure they all roast at the same rate. The fresher, the better – look for bright green heads that are firm to the touch.
Cheese Choices: Secondly, don't underestimate the power of high-quality cheese. A good Gruyere or Emmental not only melts wonderfully but also brings a depth of flavor that elevates the dish.
Pancetta Perfection: Thirdly, when it comes to pancetta, patience is a virtue. Watch it closely as it crisps in the oven; it's all about achieving that delicate balance between crispy and overdone.
Creamy Consistency: Moreover, if your sauce seems too thick, a little extra milk or water can bring it back to the right consistency. It should gracefully coat the sprouts, not clump around them.
Roasting Right: Lastly, give your sprouts space to shine. Avoid crowding them in the pan to prevent steaming and ensure each one gets a bit of that roasted, caramelized edge.
Storage Instructions
How should I store leftover roasted Brussels sprouts?
Keep any leftovers in a covered container in the fridge. They'll stay fresh and tasty for up to four days.
Can I make this dish ahead of time?
Yes, you can prepare the dish up to the point before you bake it and keep it refrigerated. When you're ready, simply bake it fresh for optimal taste.
Is this dish freezer-friendly?
While you can freeze the baked dish, the texture of the Brussels sprouts may change slightly upon thawing. For best results, enjoy it fresh or stored in the fridge.
What's the best way to reheat the sprouts?
Reheat them in the oven or in a skillet over medium heat until they're warmed through. This method helps retain the dish's texture and flavor better than a microwave would.
How To Serve Roasted Brussels Sprouts
This Roasted Brussels Sprouts with Swiss Cheese and Pancetta recipe is incredibly versatile and pairs well with a variety of main courses. Here are some serving suggestions to make the most out of this dish:
As a Standalone Dish: Serve it as the main event for a light, low-carb lunch. It's hearty enough to satisfy on its own.
With Grilled Meats: The perfect companion to a grilled steak, roast chicken, pork chops, or fish, adding a rich and comforting side to your lean protein.
Holiday Side: Elevate your holiday meals by serving this dish alongside turkey, ham, or roast beef. It's sure to be a hit!
With Eggs: Try it for breakfast, topped with a poached egg for a nutritious start to your day.
Tools for Roasted Brussels Sprouts
Oven-Friendly Skillet: A good, heavy skillet that's safe for both stovetop and oven is crucial. It allows you to sauté your sprouts to tender perfection before getting that golden, bubbly cheese topping in the oven. Cast iron skillets are excellent for this job, as they retain heat well and make for an evenly cooked, crispy-edged finish.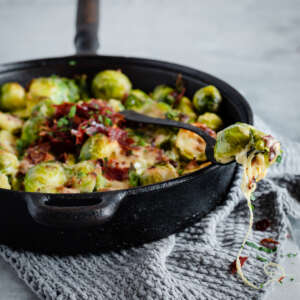 Roasted Brussels Sprouts with Swiss Cheese & Pancetta
Upgrade your veggies with this roasted Brussels sprouts recipe, featuring a creamy cheese blend and pancetta. It's the low-carb, high-flavor side dish ideal for busy weeknights or festive gatherings. Ready in 45 minutes!
Print
Pin
Rate
Ingredients
2

lbs

Brussels sprouts

(trimmed and halved)

2

tbsp

ghee

(or butter)

½

cup

cream

(heavy whipping )

½

cup

grated Swiss cheese

(such as Gruyere or similar melty cheese)

½

cup

grated cheddar cheese

¼

cup

cream cheese

1

garlic clove

(minced)

6

slices

pancetta

(or bacon, crisped and crumbled)

salt and pepper

(to taste)

fresh parsley

(optional, to taste)
Instructions
Preheat your oven to

355

°F

(

180

°C

) or

400

°F

(

200

°F

). Arrange pancetta strips on a baking rack and bake for

5 to 10 minutes

until golden. They'll crisp as they cool, so take care not to overcook.

While the pancetta is in the oven, warm the heavy whipping cream and cream cheese in a saucepan over medium heat. Season with salt and pepper, stirring until smooth and fully combined.

Heat ghee or butter in an oven-safe skillet. Add halved Brussels sprouts and minced garlic, sautéing until the sprouts are tender.

Increase oven temperature to

375

°F

(

190

°C

) or

410

°F

(

210

°C

). Pour the cream mixture over the sprouts, adding water if needed. Mix in half the pancetta. Bake for

15 minutes

until the cheese is bubbly and brown.

Remove the skillet from the oven, top with the remaining pancetta, and parsley if using. Serve warm and enjoy!
Nutrition
Calories:
334
kcal
Net Carbs:
9
g
Carbohydrates:
14.8
g
Protein:
13.9
g
Fat:
26.2
g
Saturated Fat:
14.7
g
Sodium:
630
mg
Magnesium:
44
mg
Potassium:
647
mg
Fiber:
5.8
g
Sugar:
4.2
g
Notes
Serving Size: About 1 cup.
Sauce Consistency: If the sauce thickens too much, thin it out with a bit of milk or water for the perfect consistency.
Don't Overcrowd: Spread the sprouts out in the pan to ensure they roast instead of steam.
Storage: Keep any leftovers in a covered container in the fridge. They'll stay fresh and tasty for up to four days.
Related Posts