Table of Contents
Looking for a salad that's both hearty and light? You've got to try our Winter Pork Salad with Pear and Green Beans. It's a unique combo that's simple yet packs an elegant punch. We've got paper-thin pear slices that add just the right touch of sweetness to complement the juicy pork. And hey, if you're watching your carbs, feel free to skip the pear or swap it with roasted pumpkin.
I was on the fence about including pears since they're not a staple in keto diets. But then I thought, a couple of slices won't hurt, right? And trust me, they add a fantastic twist to this dairy-free dish. This salad is a lifesaver on busy days, especially if you've got some pre-cooked pork. It's not just about the taste; it's loaded with electrolytes and essential micronutrients. Want a boost of healthy fats? Toss in some walnuts and you're all set. Let's dive into making this delightful, nutrient-packed salad!
Why You'll Love This Winter Pork Salad
Tasty Combo: Savory pork meets sweet pear and crisp greens.
Low-Carb: Perfect for keto, high-protein and dairy-free diets.
Easy & Quick: Ideal for busy days.
Nutritious: Full of essential nutrients.
Customizable: Easy to adapt to your taste.
Ingredients & Substitutions
Heads up: For exact measurements, see the recipe card below.
Whipping up this Winter Pork Salad is so easy, and you only need a handful of ingredients to bring it to life. Here's what you'll need:
Pork Tenderloin: The star of the dish, bringing in a rich, savory flavor.
Green Beans: Adds a fresh, crunchy element.
Arugula (Rocket): For a peppery, fresh taste.
Pear: Thin slices for a touch of natural sweetness.
Red Onion: A sharp, tangy addition.
Sea Salt & Pepper: To enhance all the flavors.
Walnuts (Optional): For an extra crunch and a boost of healthy fats.
Variations
Can I replace the pork in this salad?
Absolutely! If pork isn't your thing or you're looking for a lighter option, grilled chicken breast or turkey slices are great alternatives. They're lean, protein-packed, and complement the other flavors of the salad beautifully. Thinly sliced steak is another great high-protein option.
What if I want to leave out the pear?
No problem! If you're cutting back on carbs or just not a fan of pears, try adding roasted pumpkin or apple slices for a similar sweetness. Another option is to increase the amount of green beans for extra crunch without the added sweetness.
How to Make Winter Pork Salad
Prepare the Pork: Start by preheating your oven to 430°F (220°C) fan-assisted, or 465°F (240°C) conventional. Season the pork tenderloin generously with salt and pepper. Heat a skillet over high heat and sear the pork on all sides, about 8 minutes. Then, wrap it loosely in foil and put it in the oven for another 10 minutes. Let it rest for about 15 minutes after removing it from the oven.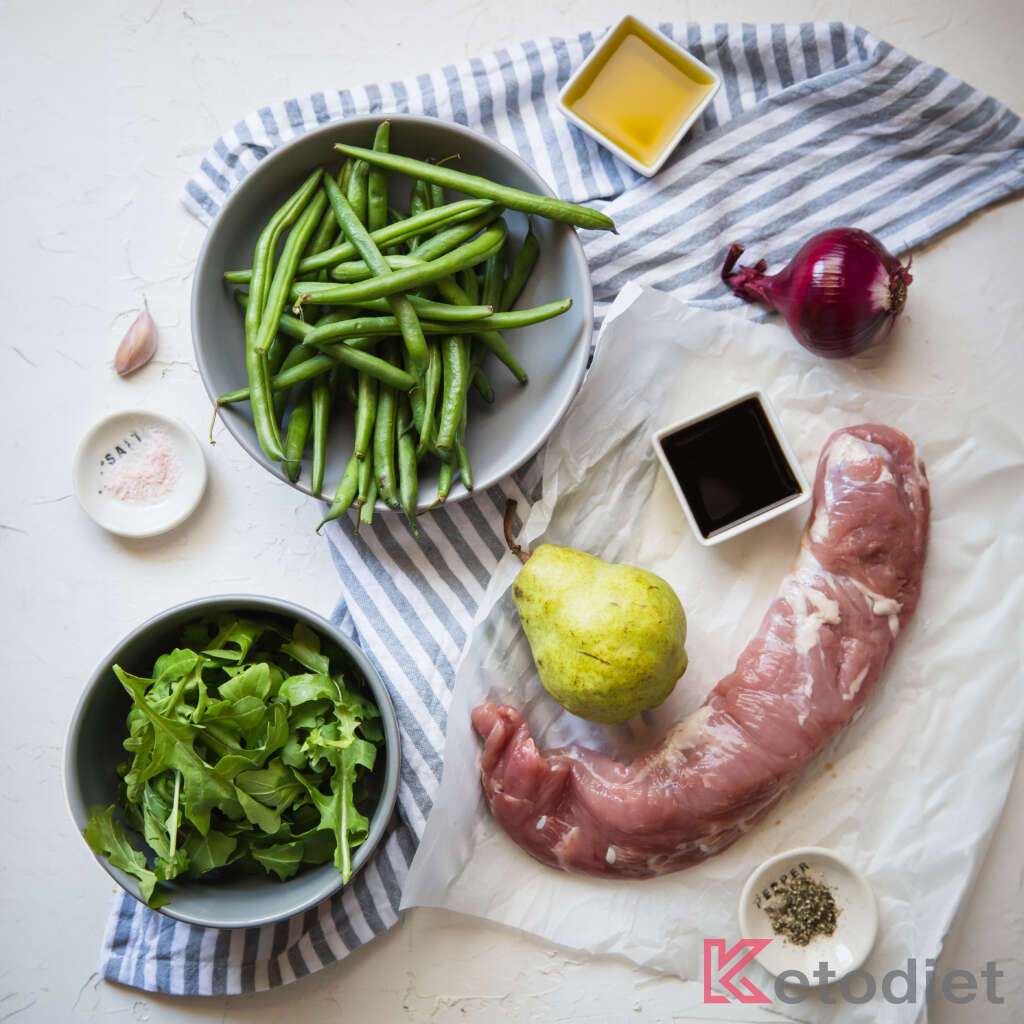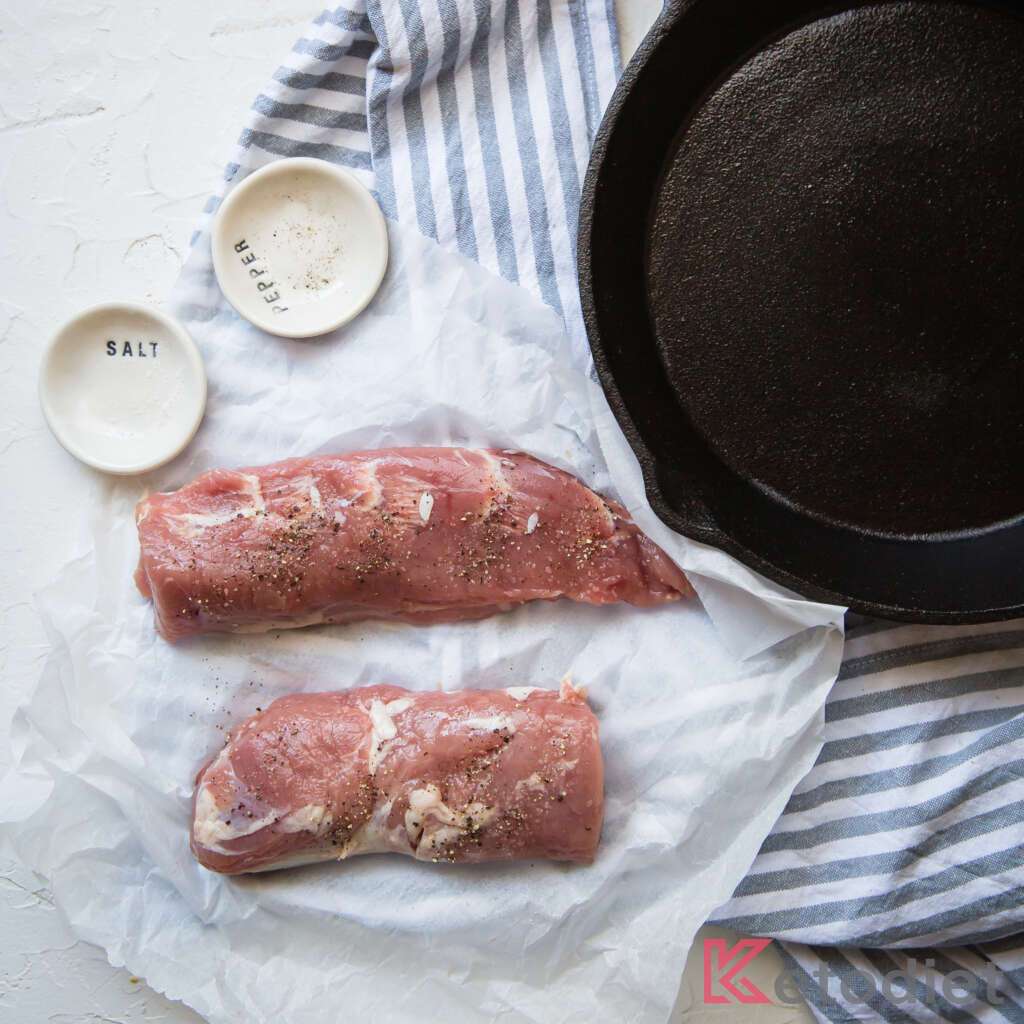 Blanch the Green Beans: While the pork is in the oven, prepare the green beans. Top and tail them, then blanch in boiling water for 3 minutes. Immediately cool them in ice water afterwards to maintain their vibrant color.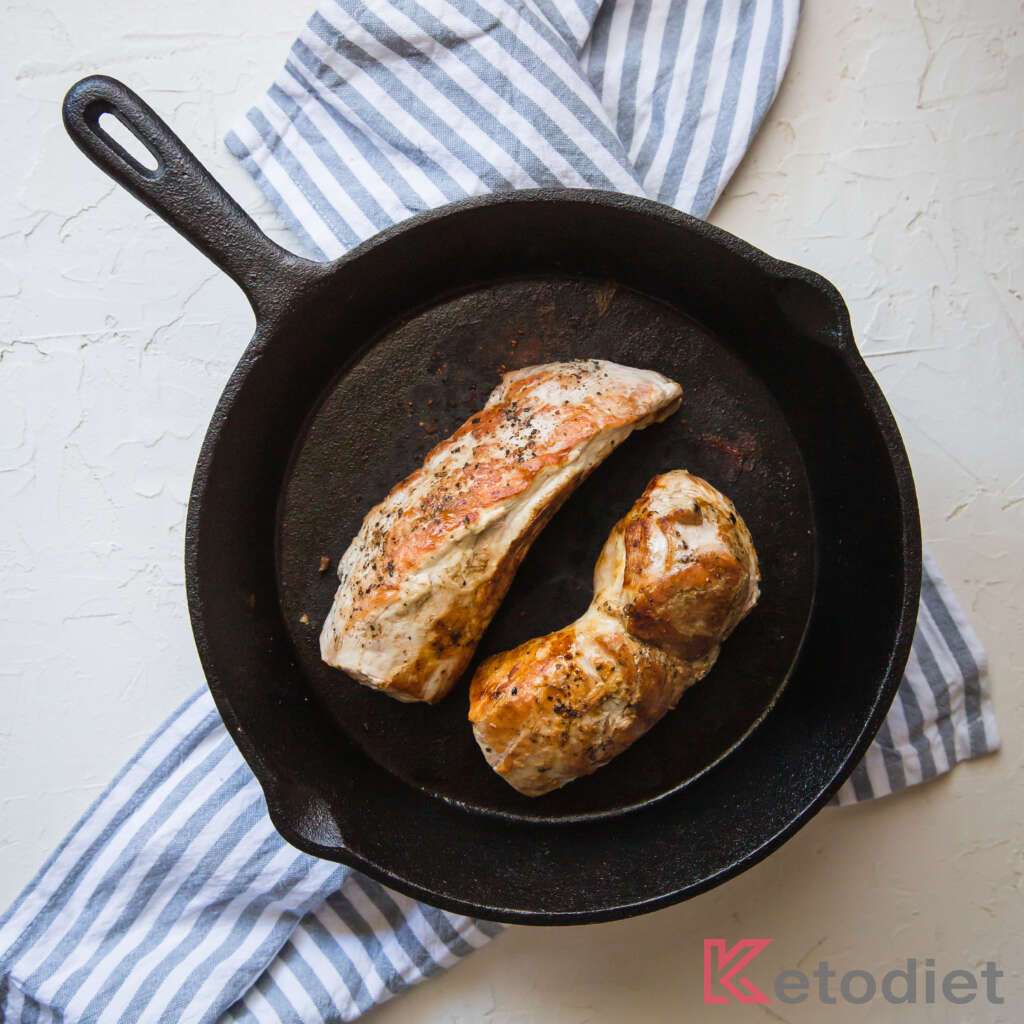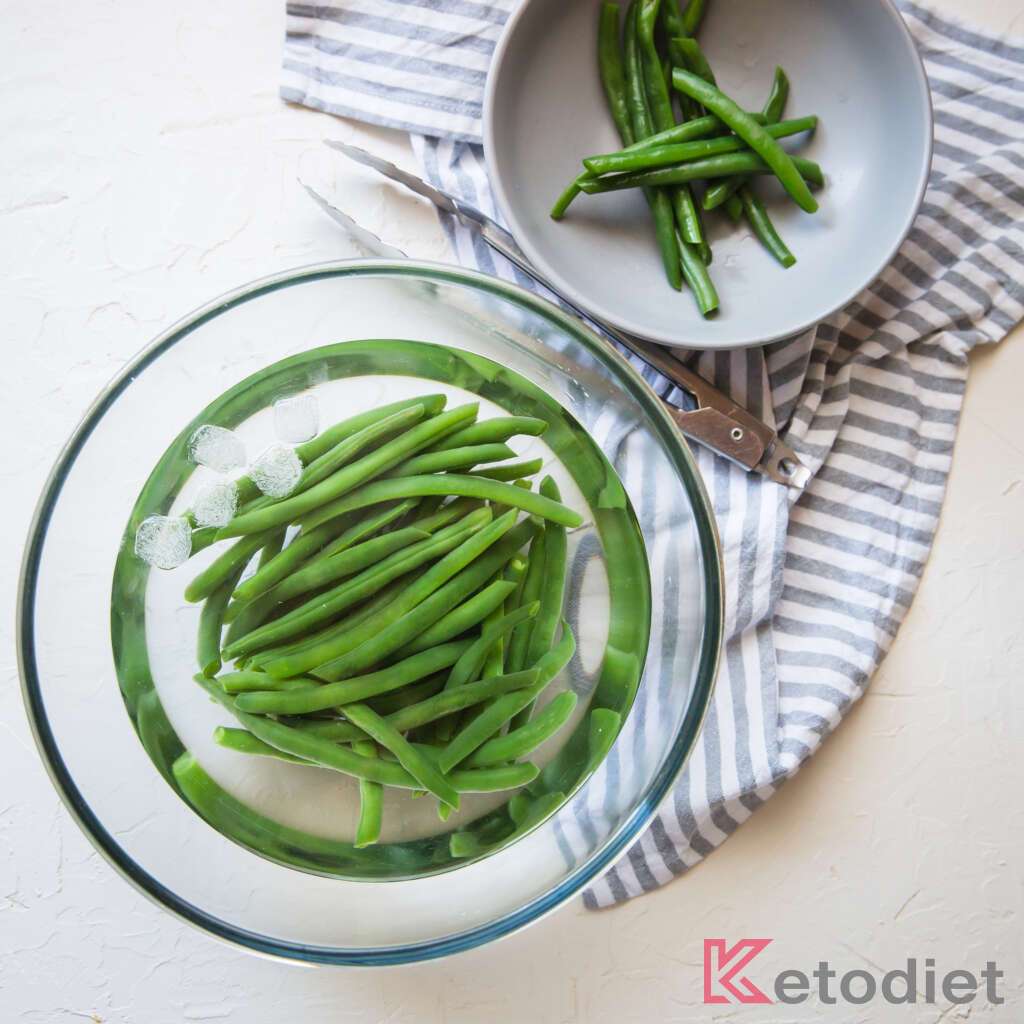 Assemble the Salad: Thinly slice the rested pork tenderloin. Arrange the dressed greens on a platter or in a salad bowl. Place the pork slices on top and generously drizzle with the remaining dressing. Your Winter Pork Salad is now ready to enjoy!
Prepare the Salad Base: While the pork rests, thinly slice the red onion and pear. In a bowl, whisk together the olive oil, balsamic vinegar, and crushed garlic. Toss the green beans and arugula in this dressing and set aside.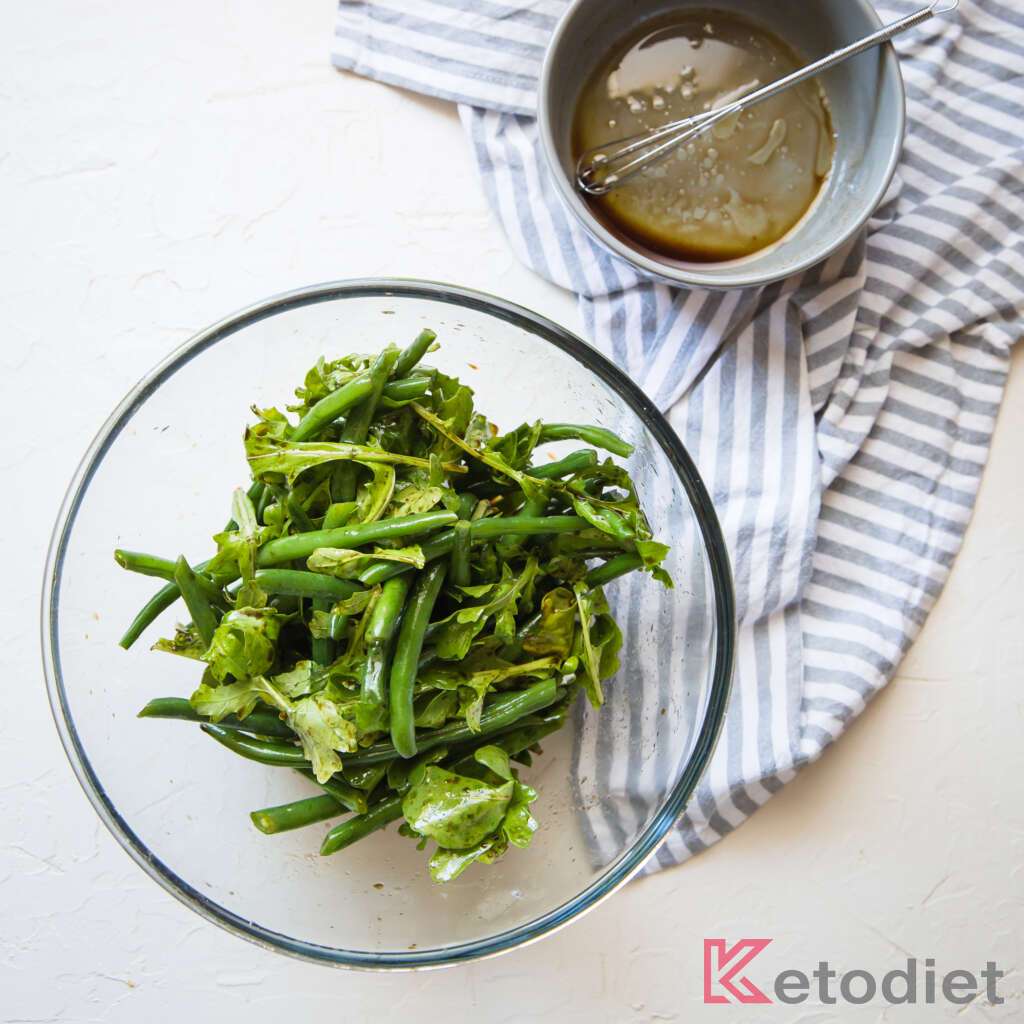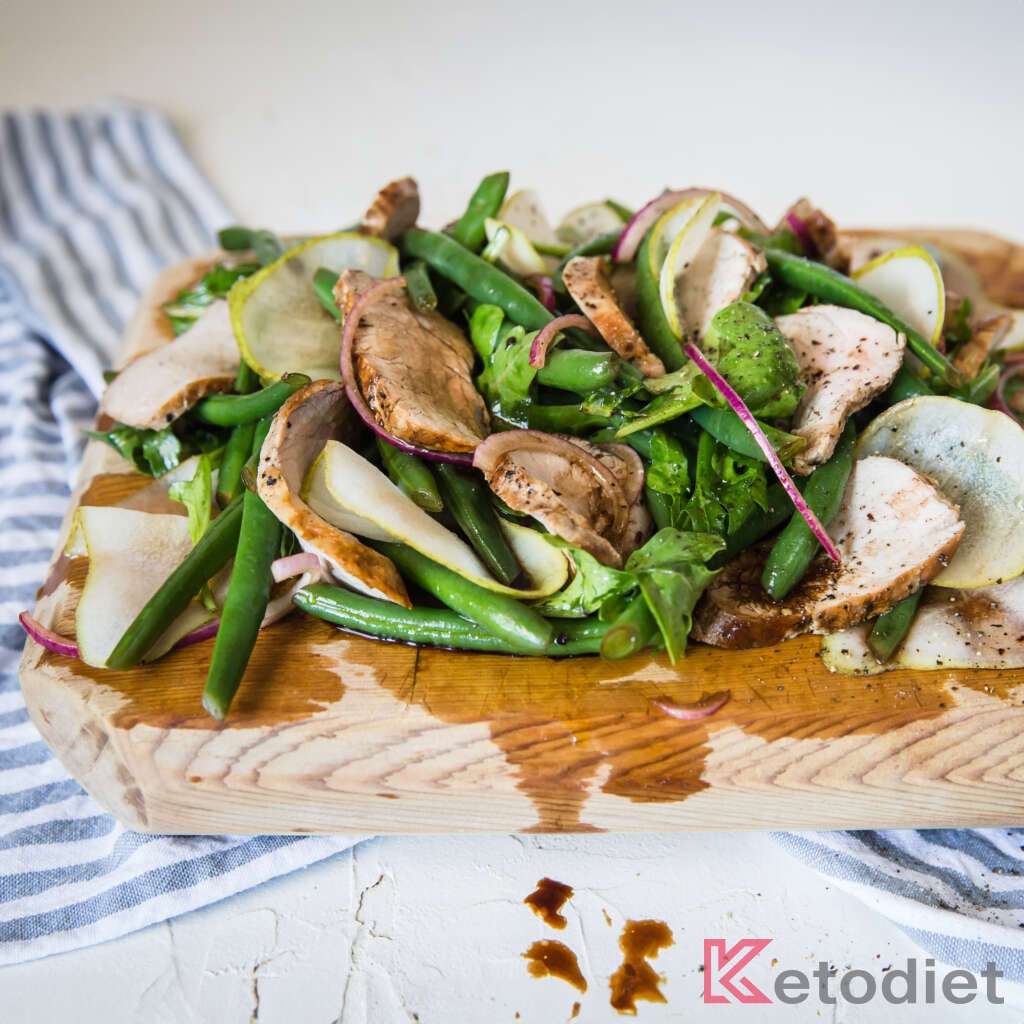 Tips for Best Winter Pork Salad
Making this Winter Pork Salad is straightforward, but here are a few tips to make sure it turns out perfectly every time:
Don't Overcook the Pork: For the juiciest result, keep an eye on the pork while it's in the oven. It should be slightly pink in the center when you take it out. Letting it rest is crucial for it to be tender and moist.
Slice the Pear Thinly: Thin slices of pear not only look elegant but also blend seamlessly with the other textures in the salad. Use a mandoline for consistently thin slices.
Balance the Dressing: The right balance of oil and vinegar in the dressing is key. Taste as you go and adjust if needed. A little extra dash of vinegar can brighten the entire salad.
Ice Bath for Green Beans: Plunging the blanched green beans into an ice bath immediately after cooking will stop the cooking process and help retain their crispness and bright green color.
Serve Immediately: This salad is best served fresh. If you're prepping ahead, keep the dressing separate and toss it in just before serving to keep everything crisp and fresh.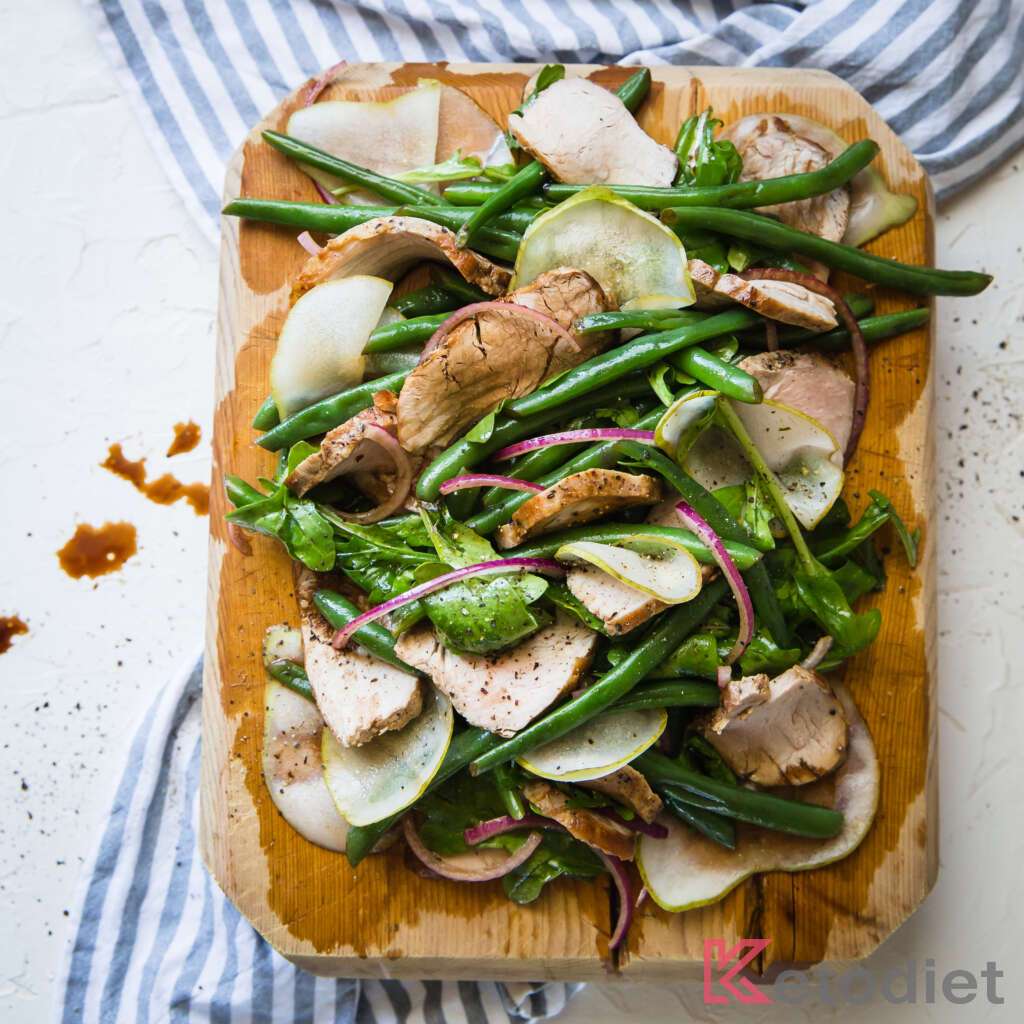 Storage Instructions
How should I store any leftover salad?
Store any leftovers in an airtight container in the refrigerator. It's best to keep the dressing separate if possible, as this will help maintain the freshness and texture of the greens. The salad will stay fresh for up to 4 days in the fridge. Remember, the fresher it is, the better it tastes, so try to enjoy it sooner rather than later.
Can I make this salad ahead of time?
Yes, you can! If you're planning ahead, you can prepare the pork and green beans in advance. Just assemble the salad with the fresh arugula, pear, and dressing when you're ready to serve.
Are Pears Keto?
When it comes to a keto diet, it's all about managing your carb intake. Pears, like many fruits, do contain natural sugars and carbs. However, the key is moderation. Including a few slices of pear in your salad won't necessarily kick you out of ketosis, especially if you're mindful of the rest of your day's carb intake. When deciding on what to eat and what to avoid, always look beyond the labels.
How to enjoy pears on a low-carb diet:
Portion Control: A small amount, like the couple of slices used in this salad, can be a great way to add flavor without too many carbs.
Balance Your Meal: If you include pear in your salad, consider reducing carbs in other meals throughout the day.
Listen to Your Body: Everyone's carb tolerance is different. Pay attention to how your body responds and adjust accordingly.
Tools For Winter Pork Salad with Pean & Green Beans
While this recipe doesn't require any specialized kitchen equipment, having the right tools on hand can make the preparation process smoother and more enjoyable. Here's what you'll find useful:
Frying Pan: A good ovenproof cast iron frying pan is ideal for cooking pork tenderloin to get that deliciously crispy exterior.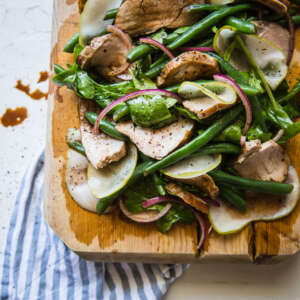 Winter Pork Salad with Pears and Green Beans
Whip up this delicious pork tenderloin salad with crisp green beans and sweet pear slices. It's a quick, low-carb dish that's both satisfying and healthy.
Print
Pin
Rate
Ingredients
Salad
2

lbs

pork tenderloin

2

cups

green beans

(trimmed)

2

cups

rocket

(arugula)

1

small pear

(sliced)

1

small red onion

(sliced)

sea salt and pepper

(to taste)

4

tbsp

crumbled walnuts

(optional)
Dressing
⅓

cup

olive oil

(extra virgin )

2

tbsp

balsamic vinegar

(30 ml)

1

clove

garlic

(crushed)
Instructions
Preheat the oven to

430

°F

(

220

°C

), or

465

°F

(

240

°C

). Season the pork tenderloin with salt and pepper. In a hot skillet, sear the pork on all sides for about 8 minutes. Wrap it loosely in foil and bake in the oven for

10 minutes

. Let it rest for

15 minutes

after removing it.

Top and tail the green beans. Blanch them in boiling water for

3 minutes

, then quickly cool in ice water to preserve their color and crunch.

Thinly slice the red onion and pear. Whisk together olive oil, balsamic vinegar, and crushed garlic. Toss the green beans and arugula in the dressing.

Slice the pork tenderloin thinly. Arrange the dressed greens on a platter or in a salad bowl. Add the pork slices on top and drizzle with the remaining dressing.
Nutrition
Serving:
300
g
Calories:
456
kcal
Net Carbs:
9.2
g
Carbohydrates:
12
g
Protein:
48.6
g
Fat:
23.1
g
Saturated Fat:
4.1
g
Sodium:
418
mg
Magnesium:
80
mg
Potassium:
1100
mg
Fiber:
2.8
g
Sugar:
7.1
g
Notes
Serving Size: About 300-320 g.
Storage: Store in a fridge for up to 4 days in an airtight container. Keep dressing separate for optimal freshness.
Lower Carb: To maintain a strict keto diet, limit pear slices or replace with a lower-carb fruit like berries or use roast pumpkin.
Pork Preparation: For extra tenderness, ensure the pork is not overcooked. A slight pinkness in the center is ideal.
Dressing Tip: Balance the dressing to your taste. A bit more vinegar can add a refreshing zing to the salad.
Serving Suggestion: This salad is best enjoyed fresh. If preparing ahead, assemble the ingredients without the dressing and add just before serving.
Related Posts